Are you ready to find out how to create an Instagram landing page that makes sales?
Companies are spending nearly $95 billion (combined) on Facebook and Instagram ads annually. Unless you're living under a rock, you could probably guess the reason for all that social media spending.
More than half the world is on social media, but only about 'a handful' are your audience. It's relatively easy to get new social media followers, but the real challenge lies in converting your audience to paying customers.

Source: Datareportal
Why are social media landing pages important?
Social media campaigns can get your engagement rates sky-high, but they can also convert your audience to paying customers. Strategy and marketing tactics aside, you'll need good social media landing pages to impress your audience and get them to do your desired actions.
This article will take a deep dive into creating social media landing pages that improve your brand's conversion rates.
By reading this post, you discover more information about social media landing pages. You also find out why you need an Instagram landing page and see examples so you can make your own effective Instagram landing page that converts Instagram users to buyers.
Let's get started learning about social media landing pages and specifically Instagram landing pages.
Are you ready to discover how to make a highly converting landing page for free that brings you tons of business?
What Is a Social Media Landing Page?
At its minimum, a landing page is a simple page on a website where visitors land to take specific actions. Depending on your reason for creating one, a landing page could be a lead capture for your sales funnels or a linking page to an eCommerce store.
A social media landing page, however, is the destination page for specific social media marketing campaigns.
Compared to website landing pages, your social media followers, well, land on this page when they click paid or organic promotional links on a social media account or ad. These landing pages often have simple layouts and clear call-to-actions — think: "Shop Now," "Buy Now," "Send a Message."
Because of this, it's easy to customize them for specific campaigns with simple yet specific instructions on social media.
Here's a typical example from Cold Stone Creamery's Instagram bio.
Source: Coldstone Instagram
Cold Stone Creamery's organic promotional link transfers visitors to a landing page with a specific call to action: "Order Online!"

Source: Coldstone
Because there's only one call to action, landing page visitors tend to focus on it and are more likely to take the action you desire. This drives up click-through rates and increases the chances of conversion.
The example above shows how social media landing pages work.
Why Do You Need a Social Media Landing Page?
Social media landing pages boost your chances of conversion. By directing your audience to campaign-specific landing pages — instead of general destinations like your company's homepage — you shoot up conversions.
That said, there are various reasons why landing pages are vital components of social media marketing campaigns. We'll discuss them in a bit.
Brand Awareness
When done correctly, social media landing pages increase awareness for your brand. Not just through paid campaigns but also organic click-throughs. For instance, clicking on Skullcandy's Instagram bio leads to this Linktree landing page:
As you can see, it directs visitors to a curated social media landing page with links to their Discord channel, TikTok, YouTube, and eCommerce products. This doesn't just help Skullcandy promote their products, but also gives their other social channels some extra exposure.
Product trials and demos
If your company develops or manufactures products for their eCommerce store, then getting people to beta test or do a product demo is pretty much standard practice. Your landing page can get visitors to click through, sign up, and get started immediately.
Like this example here:

Source: Instapage
The SharpSpring demo page follows landing page best practices by being simple and having a straightforward call-to-action. Social media landing pages are an efficient way to put the word out about this new product and have new users try it out.
A landing page is also an effective method of getting potential customers' contact details for future marketing campaigns and segmenting them according to industry. In the example above, SharpSpring asks whether the user works at a marketing agency.
This short question will help SharpSpring's email marketing team send relevant content in the form of newsletters or promotions. We will discuss this method in greater detail in the next section.
Lead Capture and Generation
You'll need landing pages to capture or generate leads via social media. You can do this when you ask for customer information before they sign up for a free event or webinar.
See this landing page example by Ontraport. Notice that A and B are different pages? This is because the first page (A) takes visitors to the next page (B). However, visitors must fill in their information to download a gated content — the buyer's guide.
The good thing about this is you can link this funnel to your marketing funnel and send the generated leads to your sales team. In addition, linking your social media landing page to a marketing funnel will help determine the success of your campaign and show you verticals to improve on in the next marketing campaign.
Hult International Business School uses a special-edition Monopoly board game as a lead magnet:
When the user clicks on "Sign Up", they get directed to the quiz below:
The quiz gauges the user's awareness of the brand and allows Hult to collect the user's contact details and location. Hult then uses this data to determine the type of content that it will send to the user.
For instance, if the lead does not know much about Hult, the school's marketing team will send introductory content. If the answers indicate that the lead is already aware of the school, Hult will then send content that seeks to convince the reader that its MBA program is the right one for them.
What is an Instagram Landing Page?
An Instagram landing page is a static page. In other words, it doesn't run through your feed where it gets pushed down by newer posts. Instead, your Instagram landing page sits permanently on your website.

For instance, if you look at the top of the screen and hover over the + signs, you can access my landing pages.
One important note, though…
You don't need to display your Instagram landing page on your website. For this strategy to be effective, you just need to publish it. Then, you need to link to your Instagram landing page from Instagram.
You can set up your Instagram landing page on any website. For instance, you can use Content Management Systems such as WordPress, Wix, or even ClickFunnels.
Let's look at an example of an Instagram landing page.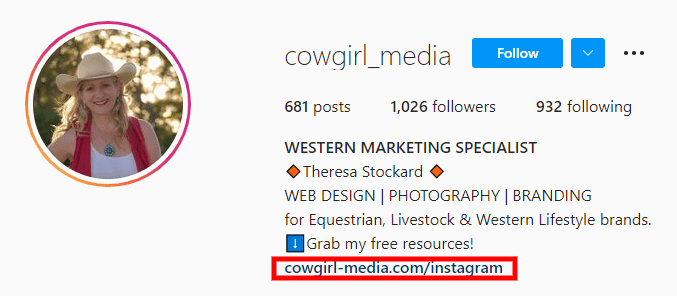 Look what happens when Instagrammers click the live link in Cowgirl Media's bio:
Do you see how this is a designated Instagram landing page?
To recap: An Instagram landing page is not on Instagram. It is a static page on your website. People come from Instagram and land on your Instagram landing page on your business website.
Why Do You Need an Instagram Landing Page?
There are many advantages to Instagram.
Instagrammers are easily engaged.
The audience is massive. Instagram boasts over one billion users.
You can make money on Instagram.
These free strategies teach you to use an Instagram landing page to generate business. Your aim is to drive traffic from Instagram to your Instagram landing page where people can make purchases.
The difference between your landing pages and your Instagram landing page is that, in contrast to other static landing pages on your site, Instagram landing pages are designed to lure people from Instagram to your business website.
Your Instagram landing page has your visuals, testimonials, resources, and your Calls to Action. Everything is together.
Unfortunately, Instagram doesn't allow you to have live links in your Instagram caption. You are only allowed one link in your bio.
I understand that you can have a Linktree which gives you many live links. However, Linktree has gone down before.
Also, your Instagram landing page sends people to your website. If they follow you, you have their emails. You don't own your Instagram followers' emails.
How to Create a Winning Instagram Landing Page
Now, let's get into the nitty-gritty of how you can create high-converting landing pages for your next social media campaign.
While you have creative freedom when it comes to crafting social media landing pages, there are a few best practices that marketers follow.
Here are some social media landing page building tips you can use:
1. Have a strong call-to-action (CTA)
Your visitor has made an effort to click through to your landing page. It's up to you to give them specific instructions next so they don't second guess their next course of action.
Aim for clear, concise, and compelling CTAs. Check out the example from Dear Klairs' Instagram ad landing page sample below.

Source: Dear Klairs
The message on this social media landing page is clear: "Shop Now."
It also has a minimalist design without distracting images or words, enabling customers to click just one button: the one that takes them to Dear Klairs' ecommerce store.
That said, it's best to stick to one CTA per landing page. Landing pages with more than one CTA button have an average conversion rate of 11.9 percent, compared to 13.5 percent of those with one CTA link.

Source: Unbounce
Moreover, ensure your headline is just as persuasive and clear as the CTA. For example, if you want visitors to purchase your products, consider "Buy Now" or "Shop Now." If you need to send them to a subcategory of your ecommerce shop, then use "See More." Simple CTA techniques like these will result in drastic improvements in your click-through rates.
The goal here is to get more conversions with fewer words in record time. Nevertheless, if your headline and CTA are vague or don't compliment each other, you'll leave your visitors confused, and they might leave without performing an action.
2. Keep fewer elements on the page
Whether it's architecture, writing, or ecommerce web design development, one thing is true for different kinds of art: Less is more. Landing pages are no exception. Social media platforms have a lot going on at once, so your landing page should stand out from the noise by being clean and straightforward.
Declutter the page by getting rid of clashing colors, lengthy (and otherwise unhelpful) copy, website menus, social share buttons, and other things that might bombard your visitors with unnecessary information.
The most successful landing pages I've seen stick to the following basic elements:
Product name: This should include the name of the company and the specific product/s you're promoting.
Description: Write a brief copy with enough information to motivate visitors to make a purchase or other actions.
Product photos: Use just a few quality images that show your product in action.
Social proof: Show review and testimonials of customers where necessary.
CTA: Give the final instruction to spur action.
Your landing pages' color schemes must be consistent with your branding and allow you to create a clean look. Check out this simple social media landing page by Leadpages.

Source: Leadpages
You will notice that the landing page above shows the logo, a photo of a Facebook page, a strong and prominent headline, and the time and date of the event.
While there are two CTA buttons (one at the top right and another at the bottom), they lead to the same page. Clean and simple landing pages like the one above keep your visitors on the right track and convince them to click through to your product or event page.
You don't need to create your own landing page. For instance, PosterMyWall has landing page templates you can use.
3. Make it mobile-friendly
Nine out of ten internet users interact on social networks via mobile, which implies that a large proportion of them also visit landing pages using mobile devices. It only makes sense that you optimize your social media landing pages for them as a necessity, not an afterthought.

Source: SproutSocial
Taking a cue from HostGator's mobile landing page, all their elements are accessible on a phone screen. Visitors can see all the elements or features of the landing page, including the CTA, without having to scroll down. The page above uses responsive design, which allows it to adjust to any type of browser or screen size automatically.
Aside from using responsive design, your social media landing page should use fonts that are available to mobile devices. You also need to reduce the number of images or resize them to help the page load quickly.
4. Use consistent messaging
Users have expectations whenever they interact with a business on social media. When you throw them off by being inconsistent with your brand voice, identity, and messaging, their expectation of you drops.
We'll put this into perspective with a sample from Soko Glam on Instagram.
We got to this page by clicking the link on their Instagram bio. You'll notice that they've stayed consistent with their color palettes by using the same photos as on their social media page. However, if Soko Glam used a weird color palette like a purple background, it might turn off potential customers who might think it's a scam of some sort.
Aside from being consistent with your branding, you also need to write compelling copy that's consistent with what you promised on your social media account. If your social media post promoted discounts or bonus items, your landing page should reflect the same promotions. Otherwise, users will go away believing that you just tried to rip them off.
5. Test your landing page
Test, optimize, adapt and test again. Don't be afraid to do this till you find the perfect landing page formula for your social media campaigns.
Social media is constantly evolving, and your social media landing pages need to keep up with the change. To find what works for your social media landing page, you must monitor and perform several A/B tests.
A/B testing refers to a set of tests where you change one landing page element at a time and compare their performance with that of the existing landing page. For example, you can change either the color of the CTA or the copy inside the CTA button, but not both at the same time. This allows you to isolate the element that needs to change for your landing page to perform better.
Testing one element at a time sounds tedious. However, it will allow you to create landing pages that are optimized for maximum conversions.
Instagram Landing Page Frequently Asked Questions
How do you create a landing page on Instagram?
You don't. You create the Instagram landing page on your website and link to your Instagram landing page in your Instagram bio or as one of your Linktree links.
Do I need a landing page for Instagram?
You are leaving traffic and money on the table by not taking advantage of the massive exposure your business gets on Instagram. Generate sales by linking your Instagram landing page from Instagram to your website.
What is an Instagram landing page?
An Instagram landing page is a static page you publish on your website. Link to it from Instagram. Offer a single CTA with attractive graphics so Instagrammers follow you to your website. Build traffic and sales.
In Closing: How to Build a Money-Making Instagram Landing Page
Social media landing pages drive targeted traffic or visitors to conversion, making them essential for a successful social media campaign. But it's not enough to just whip up any kind of landing page; you'll need to strategize, test, and optimize these pages to see what works best.
Ideally, an excellent social media landing page is clean, simple, and concise. It has the necessary information without going over the top. Be brief, focused, and use a compelling way to drive conversions towards your goal.
Follow our actionable steps in this guide to take your social media campaigns to the next level.
Readers, please share so social media marketers discover how to build an Instagram landing page that makes sales.
I look forward to your views in the comments section. Do you have any suggestions for building a social media landing page?
Author Bios:
Ian Loew is a web entrepreneur and inbound marketing expert, and the Owner & Head of Business Development of Lform Design. After four years of helping Fortune 500 companies with MGT Design, Ian embarked on his freelance career before establishing Lform Design in 2005. He leads a team of creative professionals to deliver inspired online experiences via modern, responsive websites that reflect his clients' core values. When not at the helm, Ian can be found mountain biking with friends or spending time with his family.

Janice Wald is the founder of MostlyBlogging.com and co-founder of the Mostly Blogging Academy. She is an ebook author, blogger, blogging coach, blogging judge, freelance writer, and speaker. She won the Best Internet Marketer Award and the Best Blogger Award at the 2021 Infinity Blog Awards. Wald was also nominated as 2019 Best Internet Marketer by the Infinity Blog Awards and in 2017 as the Most Informative Blogger by the London Bloggers Bash. She's been featured on Small Business Trends, the Huffington Post, and Lifehack.
This post was made possible by the support of our readers.