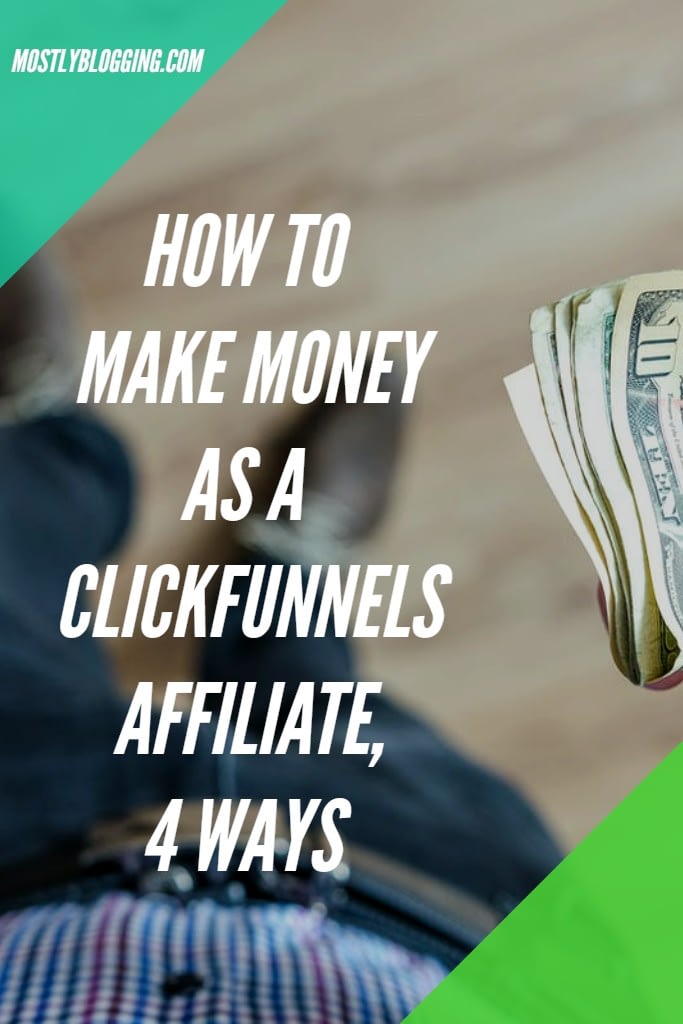 Are you interested in learning how to make money as a ClickFunnels affiliate?
Many marketers make money through affiliate programs.
For instance, I just became an affiliate for TubeBuddy. If you look in my right sidebar, you see I am also an affiliate for KWFinder and SpyFu.
This guide explains how to make money as a ClickFunnels affiliate.
By reading this post, you discover how you can have a viable income source through ClickFunnels affiliate programs and four strategies to marketing ClickFunnels.
Everyone likes to earn a bit more money to supplement their primary income. Sometimes, this additional amount could become big enough to replace the need for actually going to a job.
This is where ClickFunnels come in. Signing up for an affiliate marketing job where you promote ClickFunnels can catapult you into a life of financial security.
This article elaborates on how to make money as a ClickFunnels affiliate marketer.
How to Make Money as a ClickFunnels Affiliate
Learn the ins and outs of the trade, and don't forget to bring your A-game to your work. This might be a passive way to make money but by no means is it an easy one. You need to work very hard to bring in and retain your valuable customers.
What are Clickfunnels and How Can They Help?
Before you can know how to make money as a ClickFunnels affiliate, you need to understand what sales funnels are. For every customer looking to buy from a business, there is a journey involved starting from learning about the product in the beginning to buying it at the end.
This can be illustrated by the simple AIDA model which explains every stage of the consumer experience when purchasing anything: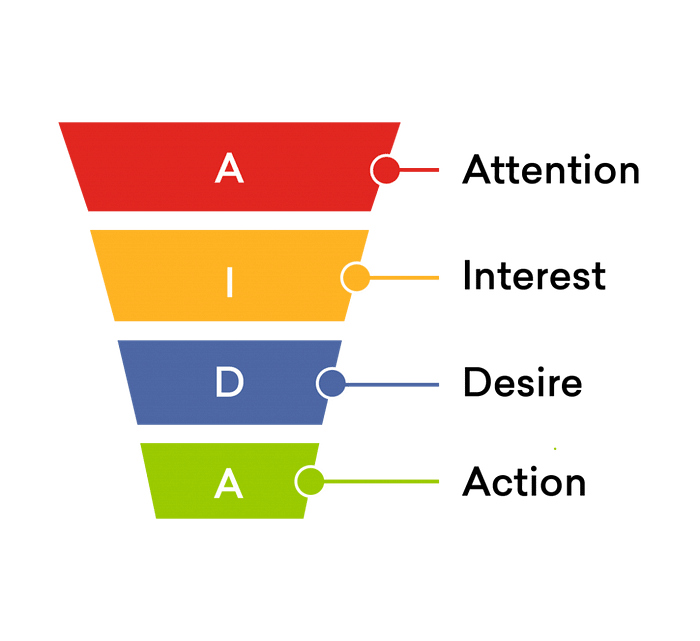 Awareness: Customer learns about the existence of the good.
Interest: The customer shows interest in learning more about the good and its alternatives.
Decision: The customer decides whether to buy the good or not based on his research.
Action: The customer purchases the goods.
The concept of ClickFunnels is rooted in digitizing this entire journey and giving the marketer control over every stage of the AIDA process. The ClickFunnel software was created to simplify online marketing for businesses without trouble for entrepreneurs to learn complex coding and programming to set off with their careers.
Not only will ClickFunnels boost leads to online stores, but it also generates higher leads than regular digital advertising. This gives a massive boost to the return earned on investment by its users.
Why Become a ClickFunnel Affiliate Marketer?
An affiliate marketer is one who promotes goods or services provided by an online retailer and is paid a certain percentage for every sale generated on behalf of the retailer. This marketing arrangement could also be applied to selling ClickFunnels usually for providers such as ClickFunnel. 
The monetary benefits of doing so involve earning a recurrent 40% commission for every sale. ClickFunnel's starter plan offers $97 per month which translates to $38.80 per sale. If you can get even 10 customers to use the service through you, you could earn a whopping $388.8 every month. This isn't just limited to selling ClickFunnels but related items – notably books.
If this hasn't already blown your mind, there is more good news. Through this program, you could lease or buy your very own car! Hitting a 100 customer count will be rewarded with a $500 bonus which will go into making these lease payments. Moreover, this amount doubles to $1000 if you manage to get 200 customers.
The ClickFunnel Affiliate program works through its sticky cookie mechanism. This is where any referral through you is tracked by the website. If a customer accesses the website through your link, your sticky cookie latches onto the customer and any items bought would cause you to earn a commission no matter what the date.
For more details on how everything works, you can check their FAQ and Facebook page.
How ClickFunnel Affiliate Training Programs Teach You the Tools of This Trade
For an inexperienced newbie in a sea of seasoned affiliates, good luck making sales unless you have prodigious talent! As mentioned before, this job isn't easy. Good affiliates do not pressure or deceive customers into buying. They treat them with respect, give out valuable guidance, support them on their buying journey, and continue to assist them long after purchase.
To earn respect and reliability, you need to know the tools of the trade and thankfully the pros have agreed to bless us all with their precious knowledge, for a fee. Top dogs will often charge $25,000+ and the numbers keep climbing higher with the more skilled the affiliate is.
Fortunately, Greg Jeffries, an insanely successful affiliate marketer who brings in 6 figures from his sheer talent, has been sharing his secrets on his course which you can enroll in to pick up some valuable skills. This ClickFunnels affiliate training program will teach you all that you need to know to rake in the cash, at just 40% of the price charged by those with the same credentials.
Top Strategies to Market ClickFunnels
So, you know what Clickfunnels are and are already willing to enter into a program to get started. Hold your horses! You need a game plan to get on the field and be successful at it.
If you want to know how to make money as a ClickFunnels affiliate, here are 4 major strategies that you can adopt, to boost your chances of earning big bucks:
Market ClickFunnels Through Legendary Marketer System
Legendary Marketer is an online marketing educational platform for those seeking to grow their online business and enhance their digital marketing skills. Luckily, it covers ClickFunnels as well, offering information on them and its very own affiliate programs. As their affiliate, when you promote them to customers, they will use your affiliate link to refer customers to sign up for ClickFunnels.
Motivate Customers by Utilizing Share Funnels
There is a bit of background that you need to be aware of before using share funnels. If a funnel is created through your account, you can give out this funnel to new users through a shareable URL, called a share funnel.
Clicking on this URL will direct users to your affiliate page where they have to enroll to access the content. Unfortunately, this feature is only available to ClickFunnels users.
To do this:
Sign in to your ClickFunnels account and make any changes as per your needs.
Click the Settings menu.
Look for the 'Share This Funnel URL' option and click on it to access your unique link. 
Copy the link and share it!
Now, that all this info dump is out of the way, let's move on to how you can effectively use this share funnel for maximum leads and conversions. Keep in mind that you need to target people who aren't ClickFunnel users so that they will enroll by using your link to bring the funnel into their dashboard.
The benefit of doing this is that the potential customer can access the funnel instantly and get new trials for their products while the creator gets new trials on their funnel. From that point on, you can prod the potential customer into buying through supportive advice and emails.
Create Your Own Funnel
We mentioned the funnel consultants before: Pros who teach how to make money as a ClickFunnels affiliate marketer and make big bucks while doing it. However, there is a lot more to this world than the gurus. With more and more companies going digital due to flexibility, costs, and exposure reasons, the demand for Clickfunnels is steeply rising. 
This creates a lucrative opportunity for you to make good money as a funnel builder. Combine skills with experience, and you will have a steady stream of good work and thus more money.
The largest freelancer network, Upwork, is a great website to look for great jobs by showcasing your work. Don't forget to use your share funnel URL for additional commissions.
Provide Funnel Services to Small Businesses
The next best thing after shared funnels is using share funnels and targeting the brick and mortar stores in your own community. Regardless of the kind of strategy you use to promote these funnels, you will have to use shared funnels to get these business owners to sign up for the ClickFunnel software.
For promotion, ditch the gadgets and try personal meetings to demonstrate your integrity. Small business owners are cautious and prefer to build personal rapport before committing to any business decisions. Often, they are inexperienced in the realm of digital marketing and will look up to you to explain what is going on. If you succeed in earning their trust, you will have gained a long-term paying customer.
Additionally, you can search for these customers in niche businesses such as law, fitness, real estate, etc.
How to Make Money As a ClickFunnels Affiliate
How much do ClickFunnels affiliates make?
With some programs, you can get a car! Hitting a 100 customer count will be rewarded with a $500 bonus which will go into making these lease payments. Moreover, this amount doubles to $1000 if you manage to get 200 customers.
Conclusion: How to Make Money As a ClickFunnels Affiliate
What we have shared with you is a drop in the vast ocean of strategies out there. There are many, many ways you can combine or separately use certain strategies to yield results. Only, the sky's the limit here. Good luck on your journey as an affiliate marketer. With a little hard work, all is possible!
Readers, please share so marketers eager to learn how to make money as a ClickFunnels affiliate discover this post.
I look forward to your views in the comments section. Do you know how to make money as a ClickFunnels affiliate? What are your experiences?
This post was contributed and made possible by the support of our readers.