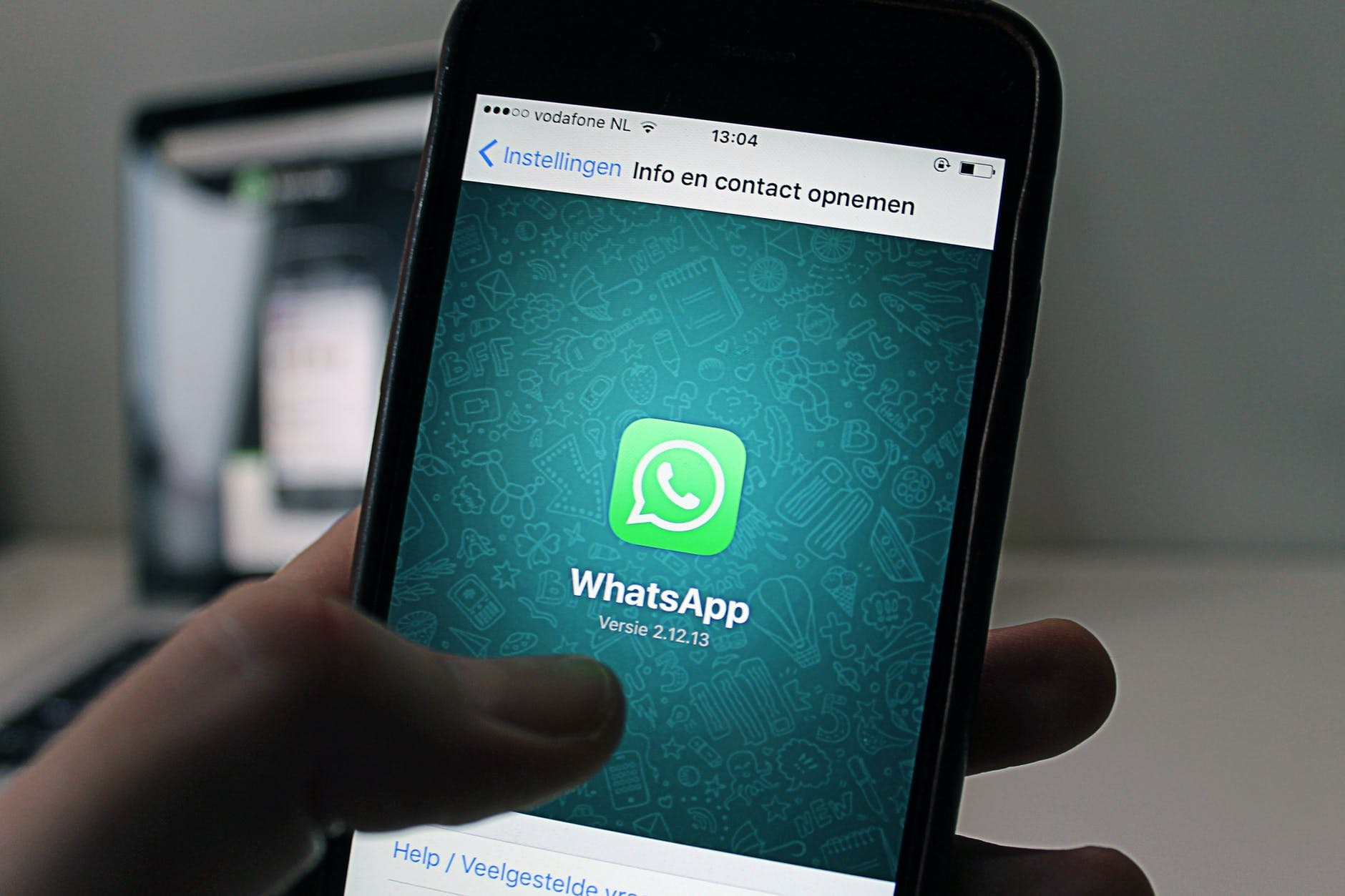 Update July 2020: Coronavirus restrictions continue. Use free social networking sites for chatting to avoid isolation.
Since people started sheltering in place, free social sites for chatting help people feel connected.
If we have to be in lockdown, it's important we have ways to stay connected. The free social networking sites provided in this post provide those ways using social chat sites.
You and I don't need to feel alone. We can have a social media chat using the places provided in this post.
Social chatting sites are easy to use even for people not tech savvy and are free networking sites.
Using social media for chatting is ideal while you are in sheltering in place.
Let's dive in and learn about free social networking sites.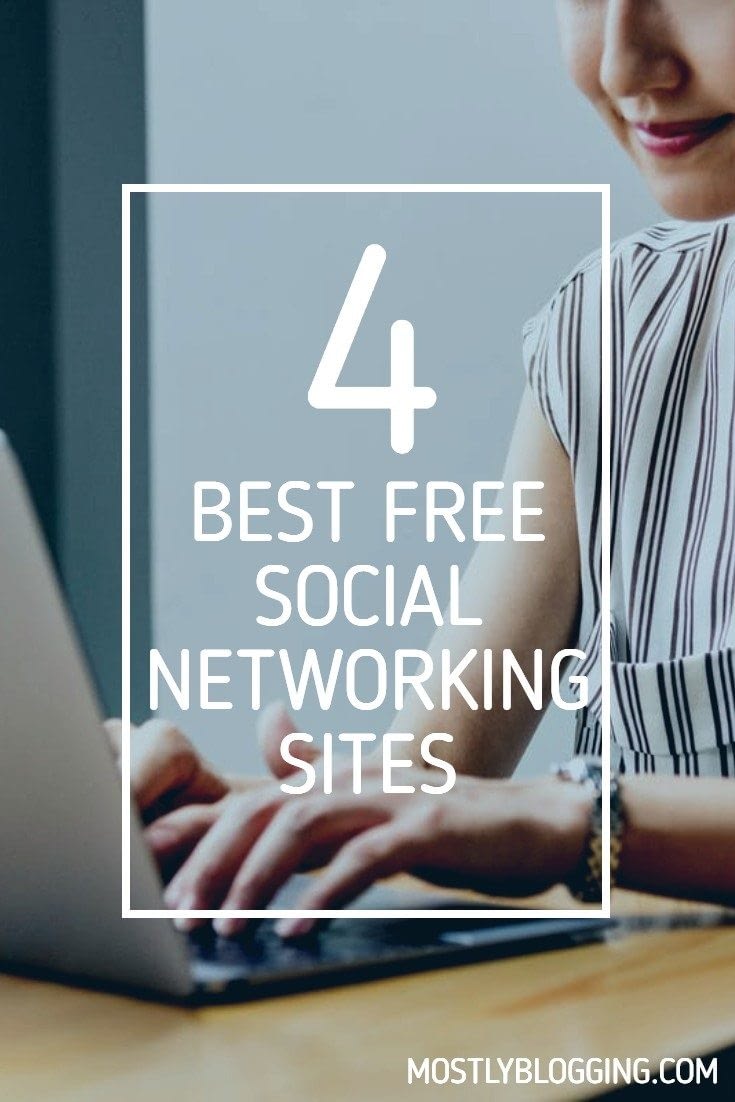 Bloggers routinely use free social networking sites to promote their blog posts. 
Yet, bloggers don't know where to promote anymore.
They lost their footing, their confidence, since the Facebook and Google+ data breaches of 2018.
What can you do to promote, and boost your brand, traffic, and credibility?
The answer: You can use free social networking sites. 
Access to networking groups is one of the advantages of social media sites.
Use them to network and grow your brand, your social media following, your email list, and maybe even make sales.
How to use them to engage in social media chats is the subject of this post. 
This article focuses on explaining how to use the following chats:
Twitter Chat, Instagram Chat Online, Facebook Chat, and MeWe Chat. Be sure to stay until the end of the post where you discover how to use LinkedIn as one of your free social networking sites.
Aren't bonus tips fun?
Let's get started learning about free social networking sites.
What is a Social Networking Site?
A social networking site is a website which people use to build social communities with other people who share similar interests, backgrounds, or off-line connections. 
Social networking sites are the same communities as social chatting sites.
The social chat websites described in this post are free for you to use and effective in growing your brand, traffic, and SEO.
Advantages of Online Chats
There are many types of social media chats. Before this post reviews the benefits of participating in four online chats at social media sites, you should know an added advantage of online chats is you can get paid for participating in them. [See how to get paid doing online chats.]  
Twitter Chats (also called "Tweet Chats")
I asked strategist Gail Gordon how to grow my Twitter following. 
She recommended Twitter chats.
What are Twitter Chats?
A Twitter chat is a public Twitter conversation around one unique hashtag. This hashtag allows you to follow the discussion so you can participate. Twitter chats reoccur at scheduled times and on specific topics to regularly connect people with these interests. 
In the past, the experiences I had attending Twitter chats resulted in my being put on Twitter lists. Therefore, I could see her idea definitely had potential.
The value of Twitter chats:
Twitter chats have many advantages.
First, you can use them to organize the online chat participants into groups. Let's say you have many Twitter followers from different niches. How will you organize them?
The  Twitter Chat I attended recently centered on how to avoid Blogger Burnout. I could make a list and organize the participants around the common interest of blogging. 
Also, you get put on lists and people follow you knowing you are like-minded. Your Twitter following grows and your blog traffic as well since you'll promote to your new Twitter followers.
Do Twitter Chats effectively grow your Twitter following?
Here is a screenshot showing the percentage of referral traffic from Twitter before I started attending Twitter chats: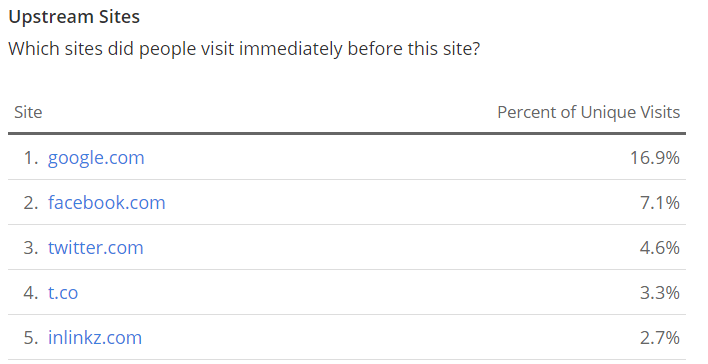 What did my Twitter count start as?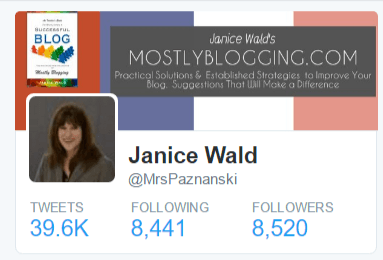 I just hosted my second Twitter Chat. Now look:

By looking at the screenshot, you can see that I've significantly grown my Twitter following since I started participating in Twitter chats. My Twitter following has grown by 10,000 since my first Twitter Chat.
Twitter chats enable you to build your brand by letting people know about you and, in turn, help you meet like-minded people in your niche.
You can also learn by participating in Twitter chats. During my last chat, the participants recommended blogging tools I had not heard of.
How to Participate in a Tweet Chat
Here is the Twitter chat schedule: https://tweetreports.com/twitter-chat-schedule/ 
How to access a Twitter Chat:
Go to http://tweetchat.com/.
Enter a hashtag. I entered #socialmedia since I was interested in attending a Twitter chat on that topic.
Tweets using the #socialmedia hashtag appeared on the screen. 
I wanted to go to a room having a Twitter chat on social media. I clicked "active rooms".
I knew there was a #socialmedia chat I was interested in attending since I put the day and time of the chat in my calendar. You might want to consider scheduling the chats you're interested in on your calendar. I scrolled down to #socialmedia. Your choices are listed alphabetically.
I tweeted a message using the hashtag I discovered, #socialcafe.
After I was welcomed, I wanted to respond with appreciation. Look in the top box where I replied to Deborah. Her Twitter handle, @socialwebcafe, is already in the box so she will get my reply.
Here is a screenshot showing a different Twitter Chat hosted by Viral Content Buzz, #VCBuzz (now #ViralContentBee):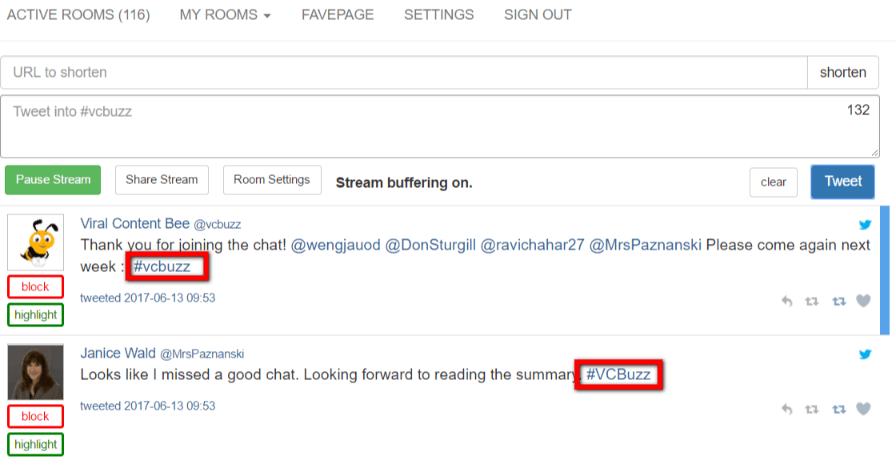 How to Grow Your Traffic and Brand by Attending Twitter Chats
Let's look again at the Twitter screenshot showing my stats.
I have six groups of like-minded people that I can use for influencer outreach or traffic generation. I can share my posts with people on the lists by adding "FYI" and their Twitter handles in my tweets.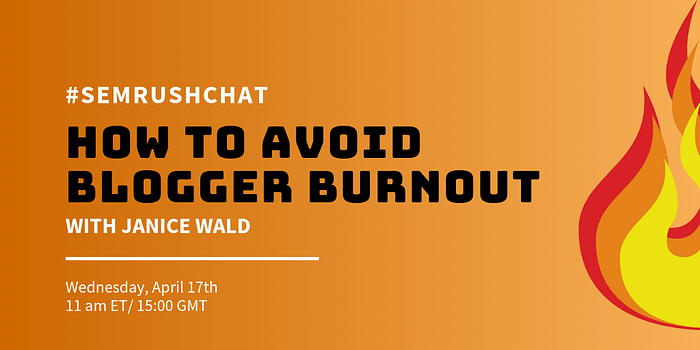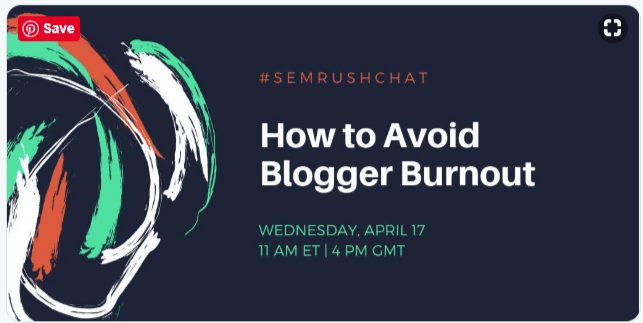 By looking at these two images, you can see how hosting Twitter Chats boosts my brand.
The fact that I hosted Twitter Chats twice gives me social proof. My brand's credibility is enhanced. Putting these graphics in my sidebar or on my About Me page, shows visitors my tips have credibility or I wouldn't have been asked to host the chats.
The PRBrainbusters blog calls Twitter Chats, "a great vehicle for 2-way online engagement." Clearly, this strong testimonial proves you should use Twitter as one of your free social networking sites.
How to View Private Twitter Chats
The way to view a private Twitter Chat is to start one.

Click Messages/New Message.
You can start a message with people you follow and who follow you back.
Their names will populate in order of recency. This means the last people you had Direct Messages with will populate first.
Click the names you want to send a group message to. Click Next.
Type your message and click Send.
Instagram Chat Online
Update 1 October 2020
Now, when you use Instagram as one of your free social networking sites, you can express yourself with Selfie Stickers. In fact, you can share an animated Selfie Sticker when you want to react with more than an emoji.
Update 2 October 2020
Interested in chatting with other subRedditors?
Reddit now pairs you with people in your subReddit you want to chat with.
Instagram Direct Message Online
Have you ever wished you could send private Instagram comments, comments you don't want the rest of your Instagram followers to see?
Good news: You can send private Instagram comments not intended for public eyes by sending your comments through Instagram Direct Message. You can participate in Instagram Chats of up to 15 people.
Being able to chat privately and in groups is one of the advantages of using Instagram.
It is possible to participate in Instagram Chats of up to 15 people.
Here's how:
Start a DM (Direct Message) using the Instagram app.
Click the pencil icon which you will find in the upper right-hand corner. Choose up to 15 people. Name your group. Click Next.
Click the photo icon. If you want to write about the photo, click the microphone icon to record or start typing.
Option:
Although Instagram is a photo-sharing site, you do not have to send a photo to your group when you have an Instagram chat. You can merely send a message and have a group conversation about that topic.
Update: September 2020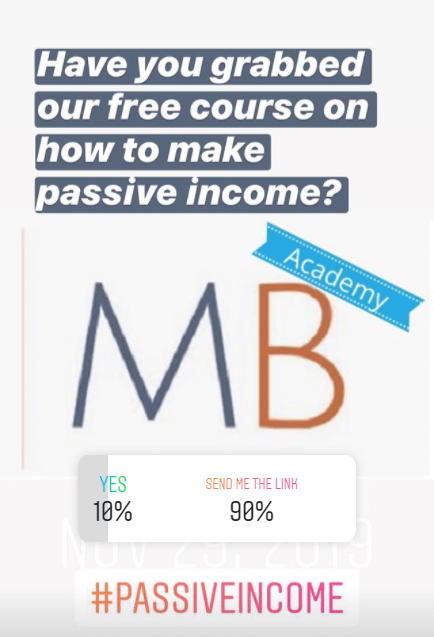 I used a poll and gave people two choices when trying to generate interest in my free passive income course.
When people chose "Send Me the Link," I followed up in the Direct Message.
A percentage of these signed up for my course.
These strategies effectively get people into your marketing funnel.
When you follow up in the DM, two purposes are served:
You boost your visibility at Instagram since the site feels you have a connection with the person. Also, the personal touch makes people more inclined to buy from you.
Update: July 2020
Since publication of this post, I discovered how to start a group chat in a DM. Also, for convenience, you can name the chat to easily find in your DM list.
Here are the steps:
Go to your direct messages.
Click the pencil icon in the upper right-hand corner of the screen.
Start clicking on the names of the people you want in your DM Chat group. When done, click Chat.
At the top of the screen, name the group. At the bottom of the screen, type your message.
As you can see, Instagram is definitely one of the best free social networking sites for this reason as well as the others originally mentioned in this post.
UPDATE: April 2020
Instagram DM's have often been used for Instagram reciprocal groups. For example, people boost Instagram likes, comments, and follows by making requests in Instagram DM's.
In addition, people try to boost YouTube success by using Instagram DM's. I know this first-hand since I was recruited for one such group through my Instagram DM.
Note: If you want to use Instagram DM's for this purpose, make sure your requests are not perceived as spam.
Clearly, marketers use free social networking sites to market social media interests as well as products and services.
Facebook Chat
Are you concerned that information shared in a Facebook Chat will be subject to the same vulnerability that Facebook data shared on Facebook.com is subject to?
According to the Facebook founder, Mark Zuckerberg, information shared in a Facebook Chat is as safe as money in a bank vault since Facebook Chats use the private Facebook Messenger app. Zuckerberg assures users Facebook Messenger is encrypted so no one can steal data.
How to Engage in an Online Chat at Facebook

Click the message icon.

Click New Group.
Name your group and search for people to add.
Click Create.
Start typing your message at the bottom of the screen. When you click Send, everyone in the group will see it and can communicate.
Updates
November 2020 Update 1
The U.S. Presidential Election occurred November 3. As a result, Facebook is shutting down groups which are looking for another online home.
As a result of Facebook's actions, groups are flocking to MeWe and Parler. MeWe is already reviews in this post, but Parler can also be used as one of the free social networking sites.
Parler is considered a site for people who are conservative-minded politically. Perhaps when the furor of the 2020 Presidential Election dies down, you might consider trying Parler as one of the free social networking sites.
Important note: Parler is founded on the notion of free speech. Therefore, the social media site does not censor its content. I have not personally been to Parler, but downloads of the Parler app are soaring, so I wanted to mention Parler as an option with these considerations in mind. If you are politically-minded and right-leaning, you might be interested.
November Update 2
"Chatting" is actually predicted to be a 2021 marketing trend. However, this networking activity is not expected to only occur on free social networking sites.
In fact, Live Chat and chat apps are increasing in popularity and expected to take off in 2021.
July 2020
A new social media trend involves marketers sending spam messages to people's Facebook Messenger.
After polling Instagrammers, I found people consider this annoying.
May 2020
Facebook started Messenger Rooms. This allows up to 49 people to have a video chat.
Speculation: In response to the popularity of Zoom, Facebook also now has a way for people to video chat during the Coronavirus Shelter-in-Place.
WhatsApp offers this capability for groups to chat as well.
For more information about Facebook's response to the Coronavirus, see this Mostly Blogging post about the advantages of using Facebook.
MeWe Chat
I published a positive MeWe review several months ago. Since publication, I learned more about this new social media site.
For example, engaging in a MeWe Chat seems to be a popular activity at MeWe.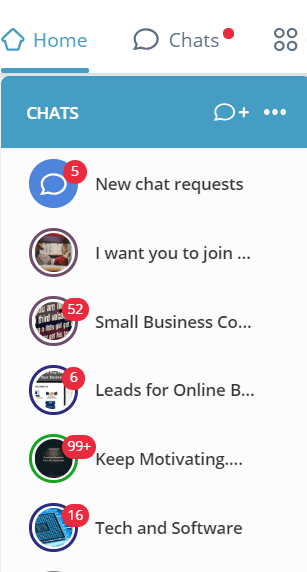 As you can see, as soon as you log into MeWe, you'll see group members requesting to chat with you.
Just click on the number to engage in a MeWe chat.
There are two ways to engage in a MeWe chat. You can have chats with one person or groups of people.
If you want to start your own chat, click New Chat.
Then, pick a group or an individual from the list that populates.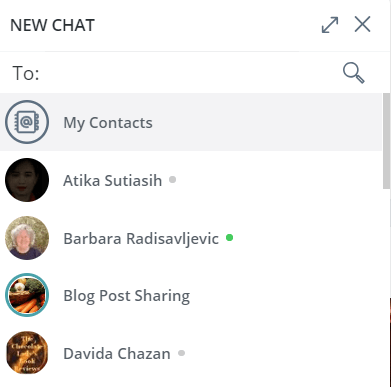 Type your message. Press Enter to send.
Update: Bonus Tip 1
The Ringr App
This app functions like Skype on your phone. Ringr is free and is available for both the iPhone and Android.
Ringr is simple to use.
Download the app. Invite someone to a conversation using their email.
I was interviewed using the Ringr app. I heard the interview questions through headphones and responded by talking into my phone.
Update: Bonus Tip 2
Quora
On other social media sites like Facebook and Twitter, people communicate. They leave comments for each other.
We leave comments for each other on Quora which also makes it one of the free social networking sites.
People comment about my answers, for instance, and I comment back. My friend Dennis Chikwayi and I often communicate about the WebTalk social media site.

Do you see the number on my gravatar?
That number indicates I have a message.
It's true! You can privately chat at Quora!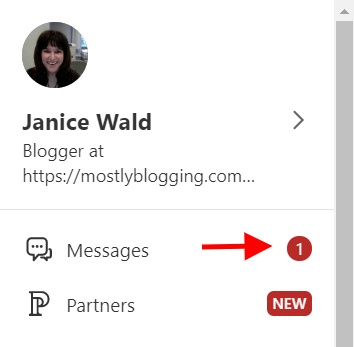 Click the number next to Messages to read your messages.
[Read: How to Be a Better Blogger with Quora]
Since you can network on Quora with other Quorans, you can use Quora as one of your free social networking sites.
Update: Bonus Tip 3
Huddol
Have you heard of Huddol?
Huddol is a new social networking site for people seeking personal growth that you can also use as a social chat site.
There are all sorts of groups at Huddol where you can talk publicly and privately.
The groups vary in topic area. For example, you can chat about loneliness, anxiety, eating disorders, suicidal thoughts, and even business.
In April of 2020, Huddol brought 40 professionals on staff.
Update: More Free Social Networking Sites for Chatting
July 2020
LinkedIn
You can also use LinkedIn as one of your free social networking sites. I network with people in the Direct Message section consistently.
Look:

This screenshot shows the LinkedIn toolbar. Do you see the word Messaging? I have 2 messages waiting for me.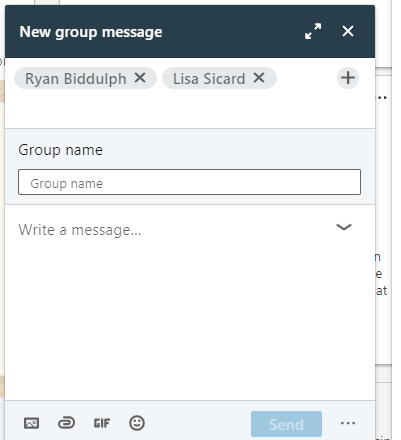 At the bottom of the screen is the messaging area. Click the pencil to start a new message. Click the Plus Signs + to add people to your group. When you start typing their name, their name come up. Then, just click. At the bottom of the screen is where you type your message to your group.
Clearly, LinkedIn is a great choice as one of your free social networking sites.
Reddit
The social media site and information hub Reddit is also an option if you need free social networking sites.
There are various ways to use Reddit as one of your free social networking sites.
For instance, if you see content that interests you on your personalized Reddit homepage, click the title which is a clickable link.
You will see a comment box. Type your comment and click Save.
Free Social Networking Sites: FAQ
Social networking sites give you the ability to network with other users and share content you comment on. Therefore, any site where you can't network regularly is not a social networking site.
The most popular social media is Facebook with 3 billion users.
Wrapping Up: Free Social Networking Sites
This post covered four free social networking sites: Twitter, Instagram, Facebook, and MeWe.
As can be seen, there are many advantages to networking at these free social networking sites.
Your exposure grows as more people learn about your content. Since your reach grows, your potential for traffic generation and sales grow. Finally, your credibility grows as more people learn about your brand.
The best part: These sites are free to use and the information you share in the chats is secure since communication is made through private messaging.
Readers, please share so other bloggers and social media users discover how to network at these free social networking sites.
I look forward to your views in the comment section. Did I miss any? What free social networking sites do you use?
Related Reading
If you are interested in free social networking sites, you might be interested in free social bookmarking sites:
These 6 Free Social Bookmarking Sites Will Make You a Better Blogger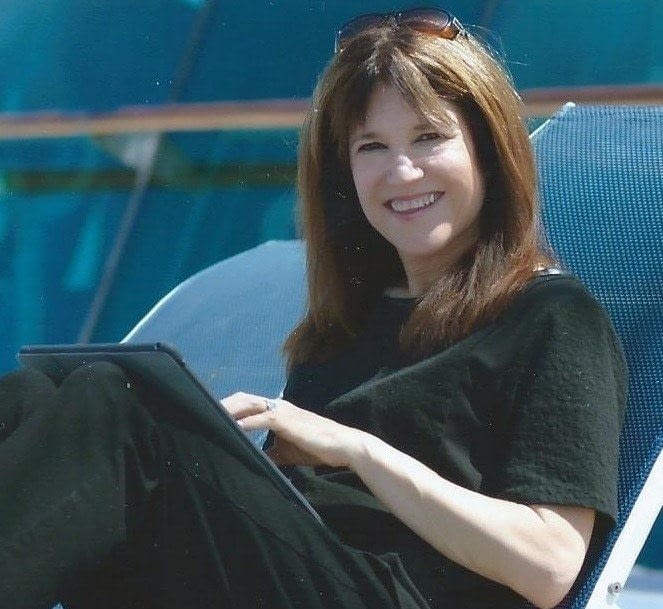 Janice Wald is the founder of MostlyBlogging.com. She is an ebook author, blogger, blogging coach, blogging judge, freelance writer, and speaker. She was nominated as the 2019 Best Internet Marketer by the Infinity Blog Awards and in 2017 as the Most Informative Blogger by the London Bloggers Bash. She's been featured on Small Business Trends, the Huffington Post, and Lifehack.