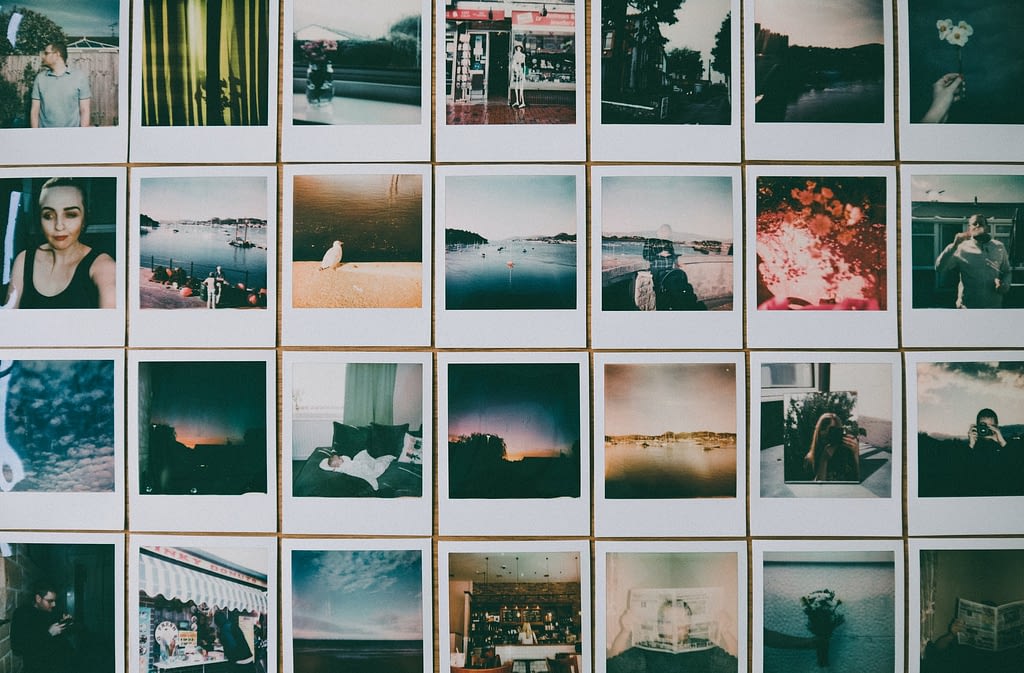 Are you here for a MeWe review?
UPDATE: On November 9, 2020, MeWe was the most downloaded app at the iOS Store. According to the Miami Herald, MeWe's downloads surpassed that of Tik Tok.
Did you know MeWe bills itself as the "anti-Facebook?"
There are actually many social media sites you can use to generate website traffic like StumbleUpon which folded.
However, MeWe social media offers an alternative from traditional social media sites such as Facebook.
This MeWe review explains
Is MeWe private?
Is MeWe a dating app?
What is the MeWe app used for?
Is MeWe better than Facebook?
What is MeWe?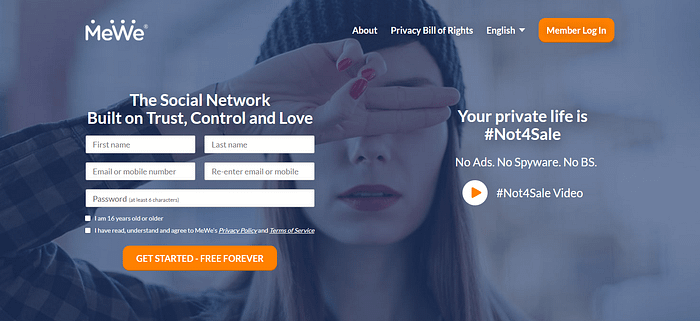 The social media site is called "The Next Gen Social Network."
MeWe is owned by Sgrouples, a company based in Culver City, California in the United States.
MeWe is a social media site. Its CEO and Founder is Mark Weinstein.
Although the site has many similarities to Facebook, MeWe has been called the "anti-Facebook" due to its strict rules about protecting users' privacy that Facebook hasn't had.
If you are over 16 years old, the minimum age allowed to use the site, keep reading this MeWe review. MeWe, the anti-Facebook, might be for you.
Update December 2020: MeWe is currently surging in popularity as conservatives leave Facebook and look for a new social media site to call home. They are turning to two sites, MeWe and Parler.
Update January 2021: January 8, two days after the insurrection in the U.S. Capitol, Google banned the Parler app. Apparently, Apple is considering doing the same. I predict this will result in even more downloads for MeWe and an expansion of MeWe's user base. Watch this space for more updates on this situation.
MeWe Review
This MeWe review offers advantages and disadvantages of MeWe.
Advantages of MeWe:
MeWe is called the "Private Social Network" since it protects your data.
According to Google Play:
"MeWe is the uplifting Next-Gen Social Network with awesome social features and No BS.

MeWe members see every post, chat, comment, etc., made by individuals, pages, and groups they are connected with, in a true timeline order.

MeWe members own their data and enjoy the protection of MeWe's Privacy Bill Of Rights."
August 2020
I encourage you to read the comment section of this post. To quote one commenter, "Your review is by far not my experience after using MeWe for over two years."
At the time of this writing, there are 51 comments on this post. By reading the comments section. you get a more comprehensive MeWe review which presents both sides, both positive and negative, as any well-written review should.
July 2020 Update: MeWe vs Facebook
This MeWe review is certainly timely. Facebook's troubles continue as advertisers boycott the site for preferring "hate for profit."
MeWe reviews will show MeWe is the "anti-Facebook." and a viable Facebook alternative.
This MeWe review shows that MeWe doesn't sell personal data. This is in contrast to Facebook which has already admitted doing so.
If you have seen recent MeWe reviews 2020, you know that MeWe's contributors continue to donate large amounts to the site.
Let's get started learning about MeWe, the anti-Facebook. Bring on the MeWe review!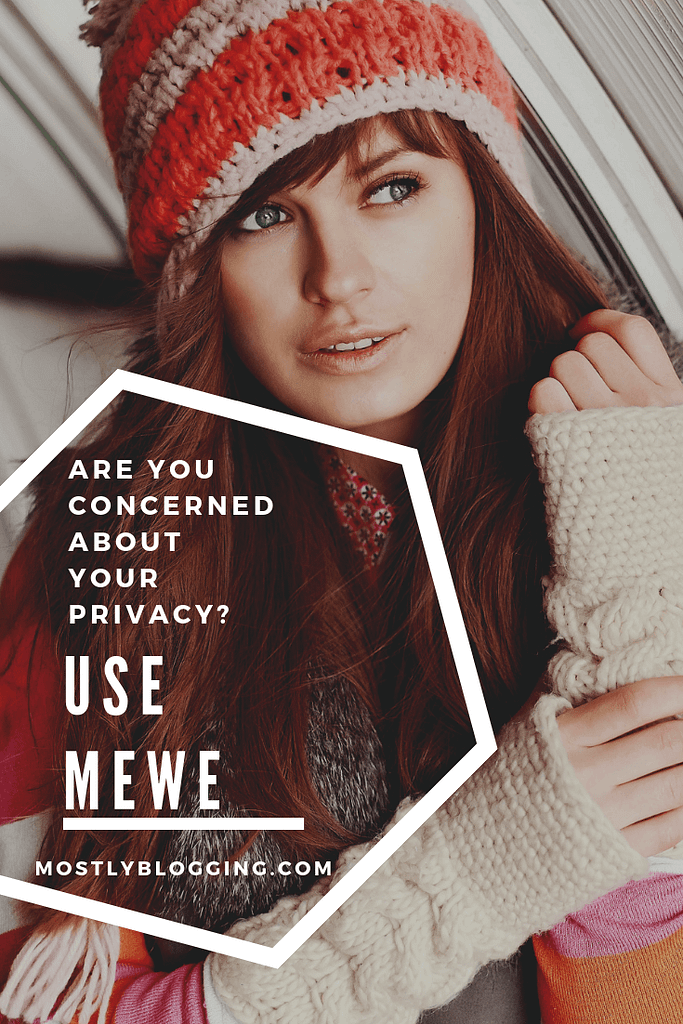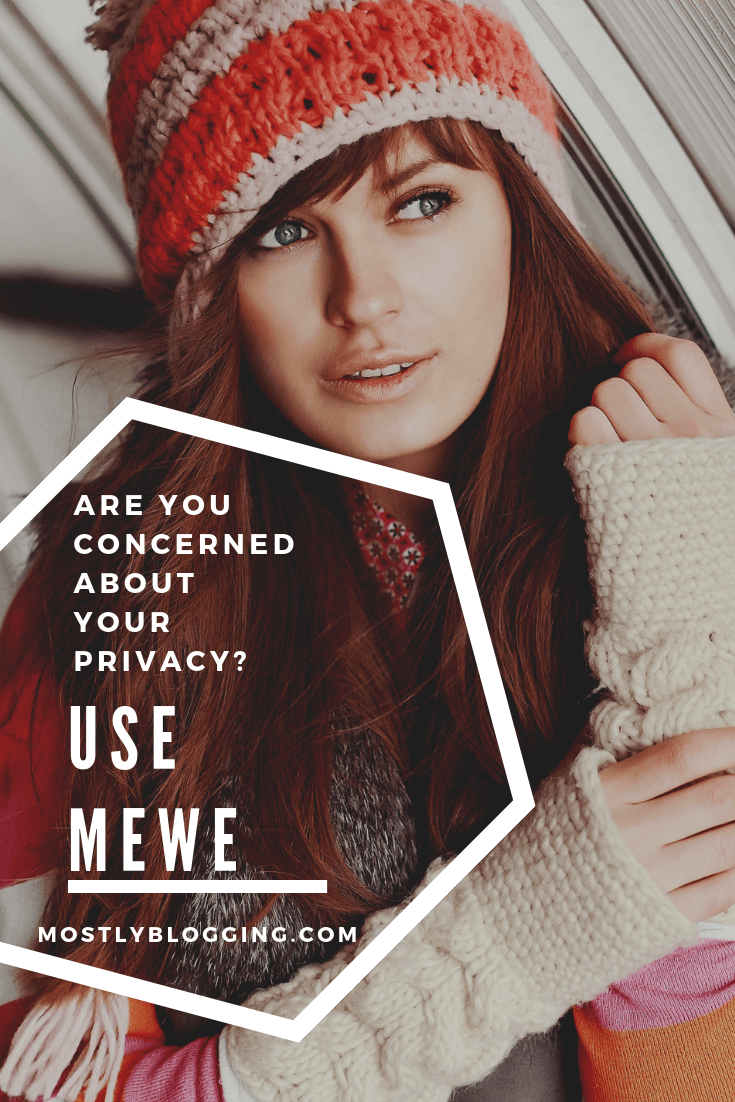 Updates in January 2019: Now that Google+ is closing, MeWe is enabling all Google+ users to update their Google+ content directly to MeWe.
Also, since the original publication of this post, I discovered MeWe has an app called, "MeWe Network."
Quite a stir.
That's what the impending closure of Google+ caused.
The announcement caused quite a stir twice: once when the site first initially announced it was closing due to a data breach, and then again when Google+ announced it was closing four months earlier than planned due to a second data breach.
I came to the rescue by researching and publishing my findings: 13 social media websites still growing their user bases.
A commenter informed me that although my choices of rising social media sites were good ones, there was even a better choice for an active social media site, a new site called "MeWe."
The commenter, Alexa Shaw, authored this MeWe review to tell you about MeWe, the exciting social media site.
According to Alexa, "MeWe allows us to share our photographic adventures, visually and through the written word. They don't allow commercial ads either. So, to be able to introduce people to a non-commercial social media gathering site to help them find a new home to replace G+, I'd be honored to send a little something your way."
Bring on Alexa's MeWe review and discover the advantages of using MeWe, a new social media site.
MeWe Reviews Update
Since starting as a social media platform and Facebook alternative, MeWe continues to generate a great deal of hype.
There are many positive MeWe reviews such as this one:
Posted July 26, 2020:
"Left Facebook for MeWe and so far it's a nice experience. There's still room for growth such as more videos and groups but I like the fact that everything is in one app instead of having to download two like you have to do with Facebook. Plus, the privacy is welcoming. Don't have to worry so much about Big Brother having access to everything I do on my phone. Keep it up MeWe! I believe in you! (Source)"
A Facebook Alternative
MeWe Review: An Introduction To MeWe
Social Media – The Way It Was Intended
Google Plus Is Shutting Down. Facebook Sells Your Personal Data — MeWe.com Can Help
Alexa Shaw
When Janice asked me to write a MeWe review, I was happy to add my 2-cents. My non-profit, This Is Saipan, and I have been members of MeWe since 2016. I can't tell you about Mark Weinstein's visionary origin story behind MeWe, but I can certainly fill you in on its cornucopia of features.
What convinced the others and me at This Is Saipan & 15th Parallel Photography, is the fact Mark Weinstein, the founder, and creator of MeWe, intentionally designed his social media platform around a shield of "personal privacy."
Imagine, a social network designed with the specific intent of building an infrastructure that maintains OUR privacy and not to strip it away. Another feature we really appreciate – NO ADS! There are no commercial ads on MeWe.
Your pages, group meetings, conversations, chats, messages, etc. are ALL ad-free. Unlike Google+ and Facebook, MeWe is a website without commercial influence. That leaves us free to write, post, meet-up, chat, upload pics/clips/videos and more about pretty much anything when we adhere to common sense and follow the current laws of society.
With so many recent US and EU new requirements drowning social networking, Facebook and Google+ began to lose ground years ago, not to mention collecting numerous fines and lawsuits, and they continue to do so.
MeWe is fairly new, and in July 2018, it surpassed 2 million active members (many coming from Facebook and Google+), with rapid growth and it is predicted to reach millions more by 2021. For a complete paradigm shift in social networking standards, laws, requirements and infrastructure building, those are pretty awesome numbers.
I admit I was a bit overwhelmed on our MeWe homepage after logging in for the first time. As with anything, however, you need to spend a little time getting used to what's in front of you. Once I did, I felt free and introduced MeWe to everyone at work – then we told our friends in the US. We live and work in the Northern Mariana Islands. I know, but someone has to live in a tropical paradise, right?
Some of MeWe's features include:
No ads;
No spying;
No BS;
#Not4Sale (the members – we're NOT for sale – think Instagram, Twitter, Google+ and Facebook are selling your personal data);
Unlimited group creation;
1-on-1 private and open chats;
Open personal and group chats;
Disappearing content;
Custom camera w/GIF creation;
Live voice and video;
"Next-Gen" voice messaging;
Ultra secret chats with double-ratchet encryption (a paid feature add-on);
Custom personal and group profile creation;
Personal cloud storage;
Total control over your data and content – you own what you upload – period.
NO censorship (beyond societal requirements);
NO content manipulation;
NO news feed to push your content to the bottom of the page;
NO facial recognition;
Every public post, chat, image, video, comment, etc. is seen by all of your fellow MeWe members;
TRUE timeline ordering – with no outside interference;
Custom profile pics;
Custom banner images;
Notifications you customize;
Member suggestions for improvements, new features, etc. – that actually get applied;
The feedback that's actually read and answered;
Events calendars;
Multi-language capable;
A separate "Pro" MeWe (mewepro.com), and so much more.
MeWe is browser-based, so it's cross-platform: Windows, Mac, Linux, *iOS, *Android (*through free mobile apps or mobile browsers).
MeWe also has a store so members can purchase add-ons and features to personalize their MeWe experience without requiring a subscription fee. With so many free features, we're quite happy with what we've been given already.
If you are looking (or someone you know is looking), for a Facebook alternative or as an alternative to Google Plus since the site is closing, you might want to try MeWe as a viable replacement. It's free, private, and not too difficult to make the leap. We took a chance on this Next-Gen "2016 Innovative World Technology Finalist," and we're all glad we did. We've never looked back.
Everyone reading this should give MeWe a spin. It's fresh and filled with features not found elsewhere. It costs nothing, is fun, exhilarating and an awesome alternative to Google Plus. You can choose the site as a Facebook alternative or use MeWe as an addition.
MeWe's been around for about 4 years, starting out under another name and changing it to MeWe in 2016, receiving high praise and innovative technology recognition in that same year.
MeWe is edgy, smart, intuitive, and features rich content right from the start. There are many ways MeWe is better than other social networks. The most important is that MeWe was created by putting the privacy needs of its members FIRST! Mark Weinstein, founded MeWe with the belief social media isn't for sale and neither is our privacy.
There's no one looking over your shoulder as you work or play. There are no big corporations demanding advertising favors for support dollars. There's no tracking, no commercial ads and no push toward corporate interests.
Everything you say, type, upload or produce, belongs to you. It's never given away or sold to anyone. There's no data mining of your personal information for private, corporate, or government agencies.
MeWe runs on Next Generation Technology (think 2G to 5G!). Using the power of next-gen tech is propelling MeWe to the forefront of social media worldwide. It's been gaining momentum since the first day it went into operation.
If you want a fantastic alternative to Google Plus or an alternative to Facebook, or you just want another social media outlet, MeWe should be on your immediate things-to-do list.
MeWe is new, fresh, and social media 2.0 and beyond; better than Google Plus and Facebook; great fun for personal use; well suited to carry on business needs and collaboration in real-time – with NO big bro listening/tracking; has plenty of customizing features; runs smoother and faster than other social media network sites and has no corporations pushing THEIR products on to you.
Each of us at This Is Saipan & 15th Parallel Photography made the move to MeWe in 2016 and we haven't looked back. MeWe is our social media home to post, play, discuss, educate and inform people of just about everything photography. We even started the MeWe group 'Self-Taught Photographers,' so anyone and everyone can ask us questions and learn about the joys of photography and how to get the most out of their DSLR.
Mark Weinstein and his team are showing the social media giants that dedication to the people and our privacy needs is far more rewarding than indulging in corporate greed. We agree. Seriously consider giving MeWe a try. You really can't beat the price! MeWe is free!
15th Parallel Photography's MeWe Homepage
Author Bio: Alexa Shaw, Photographer Co-founder of This Is Saipan
I went from model to photographer because I DON'T like talking about myself, and because I love what photographs bring to the people who hire me.
Host blogger's comments
As you see, Alexa gave a positive MeWe review.
MeWe Awards
If you go to MeWe.com, you'll see MeWe received many honors:
Startup of the Year Finalist
Best Entrepreneurial Companies in America
2018: "One to Watch" TechTrends Report
Wrapping Up MeWe Review: Facebook Alternative An Introduction to MeWe
I have firmly maintained bloggers should use Facebook groups to promote their articles despite the accusations against Facebook regarding data breaches. Alexa offers a different perspective in this article.
If you, too, are concerned about Google+ closing and the potential for continual security problems using Facebook, consider using MeWe. Alexa presents MeWe has a viable Facebook alternative and one of the alternatives to Google Plus.
Readers, please share so other people concerned about data breaches read this MeWe review and consider using MeWe as an alternative to GooglePlus or as an alternative to Facebook.
I look forward to your views in the comments section. What is your opinion after reading this MeWe Review? Do you think you might consider giving MeWe a try?
UPDATES
July 2019 Update
MeWe announced it collected $4.5 million from high-net-worth investors and passed five million members.
Mark makes the case that Facebook should not be broken up by antitrust regulators– MeWe's success proves that Facebook is not a monopoly.
More exciting news: MeWe is predicted to have 30 million members by the end of 2019, and 150 million by the end of 2020.
Update October 2019
According to MeWe's David Westreich,
"MeWe just announced it surpasses 6 million members and is named a 2019 "Best Entrepreneurial Company in America" by Entrepreneur magazine.
Recently MeWe has ranked as a "Top 10" Social App and the #1 Trending Social App in the Google Play Store.

Here's the press release:
https://www.
prnewswire.com/news-releases/
facebook-competitor-mewe-
surpasses-6-million-members-
becomes-1-trending-social-app-
and-named-a-2019-best-
entrepreneurial-company-300930269.html

New announcements include:

MeWe expects over 100 million members by the end of 2020, having achieved 405% growth in 2018 and growing twice as fast on a daily basis in 2019

60% of MeWe's traffic is international and 35% of members are active–exceeding industry standards."
Additional Updates
December 2020 Update 2
In the days following the U.S. Presidential Election, many conservatives moved from Facebook to MeWe.
Look: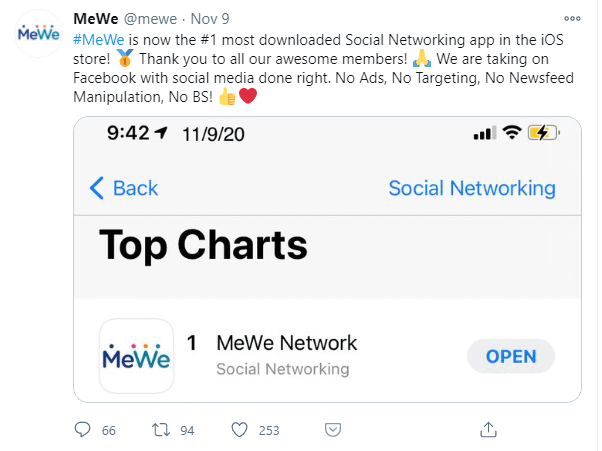 According to MeWe's announcement on November 9, MeWe became the #1 most downloaded Social Networking app at the iOS Store.
December 2020 Update 1
Despite people going to MeWe in record numbers, the site keeps getting accused of porn. A MeWe user posted a definition of porn in the comments and suggested the definition be put in the post to give clarity to this MeWe Review:
"That which is of or pertaining to obscene literature; obscene; licentious. Material is pornographic or obscene if the average person, applying contemporary community standards, would find that the work taken as a whole appeals to the prurient interest…" Source: Black's Law Dictionary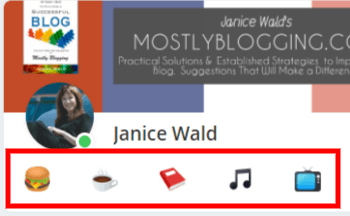 Since publishing this MeWe review, I discovered these emojis MeWe offers. You can use the emojis to tell people on the site what you're eating, drinking, reading, hearing, and watching.
February 2020
MeWe users are writing to complain about negativity and spam at MeWe.
I only promote in MeWe groups. I have not encountered any spam. If I did, I would ignore it the way I do at LinkedIn where I encounter spam promotions regularly.
March 2020
MeWe responds to the Coronavirus by assisting in social distancing.
Social distancing is known to prevent the spread of the Coronavirus, so MeWe invented the first-ever dual-camera video on a social media site. This assists people in virtually communicating.
A 2020 Press Release also announced MeWe is beginning to use Stories.
Exciting: According to the Press Release, MeWe was named 2020 Most Innovative Social Media Company by Fast Company.
In March, MeWe also announced its user-base surpassed 7 million members.
April 2020
Look what happens when you have a connection request on MeWe: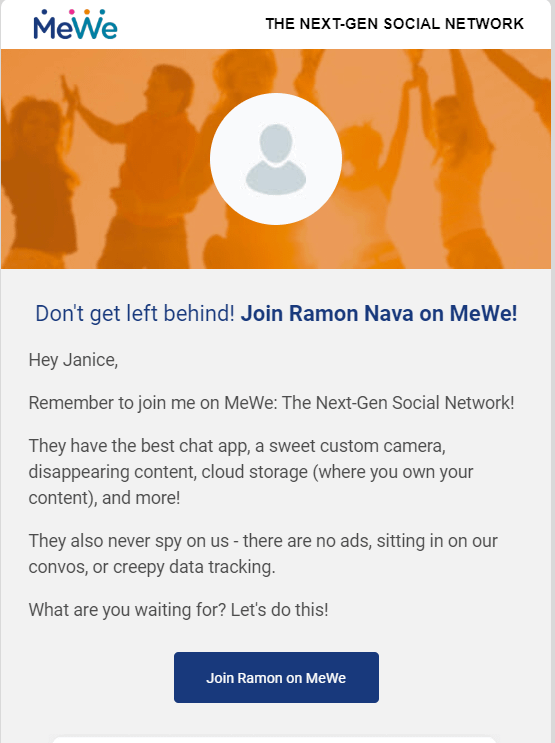 You are reminded of all the perks MeWe offers along with the notification of your connection request.
May 2020
Yesterday, someone found this MeWe review by typing this question into Google's search bar:
"Is Mewe.com a scam or a legit company?"
Of course, MeWe is a legitimate company! I don't know why people would think otherwise.
MeWe is a company run by Mark Weinstein and makes a great Facebook alternative.
June 2020
Since MeWe started in 2012, the site has continued strong.
Let me share some data:
Globally, Alexa has an Alexa rank of about 8,000 which means it's one of the world's best websites according to Alexa.com. More information about the Alexa rank can be found here.
July 2020
The Chicago Sun Times published a list of social media sites that could be potential Facebook replacements amidst Facebook's troubles with advertisers pulling their revenue money.
MeWe was among the social media sites listed. According to CEO Mark Weinstein :
""We have all the features people love about social, great groups, private news feeds for close friends, and none of the BS," he says. "There is no way for a marketer to target you."
September 2020 Update 1
This review of MeWe social media mentioned MeWe groups. Did you know WebTalk and MeWe are cross-platform? WebTalk, another social media site for business people, holds its groups on MeWe's social media platform.
Look: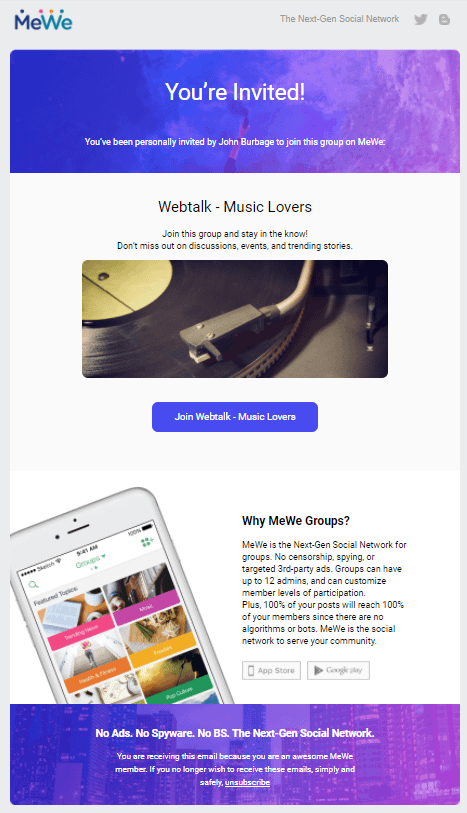 September 2020 Update 2
If you read the comments section, you'll see MeWe users complained about the site.
Loyal MeWe user Alexa Shaw responded to those concerns:
Alexa Shaw back with the results of my poll/test in response to "Sheila" and her earlier writing about MeWe. Sheila wrote:

"Your MeWe review is by far not my experience after using MeWe for over two years.

It is slow, it takes ages to load, often the app is offline, content not loading, chats disappearing, I get 'harassed' by MeWe if I don't want to upgrade while I type a message, groups often not refreshing, sometimes groups are not shown, lots of spam.

If you report, MeWe doesn't do anything, it is not even following its own policy.

A lot of members use many accounts to cyberbully and harass, post illegal materials, post copyright materials, and reporting doesn't help.

Mewe is protecting the hate spreaders and cyberbullies by its policy, and not protecting the victims.

Never experienced such a bad platform.

Facebook and Twitter might not be perfect, but at least they have dignity."

So, I let Mostly Blogging's readers know I'd be testing these claims and posting the results.

THE RESULTS ARE IN!

I posted what she wrote, on MeWe's main page, on our pages: 15th Parallel Photography and our group: Self Taught Photographers.

With 163 total replies, the results are: 1 person said they had an issue with a stalker. She blocked him, reported him, and has never heard from him again.

The remaining 162 responses provided:

NO stalkers, no forced ads,

MeWe is not slow except on the phone app in the 'Notifications' section which takes time to load,

No one is being openly harassed,

No one has ever had chats or any other conversations "vanish" without being deleted by them, all groups that MeWe members have joined show at all times (unless of course you're being bad or you whine a lot, in which case you get blocked by the Admin or Moderator),

No one gets "SPAMMED," unless they press the wrong link and get into a "BOT" fight,

No one has reported MeWe's owners or moderators blatantly or deliberately failing to follow their own policies and DO enforce the rules as stated.

No one has ever witnessed/noticed MeWe members creating MeWe pages or profiles with the sole, or shared, intent to cyberbully or harass someone else.

MeWe members report they have never witnessed "dignity," "respect," or "victim protections" on Facebook or Twitter,

Nor compliance with laws or policies, frequently changing these same rules without notice to the subscriber

No one that responded has ever witnessed a MeWe member posting "illegal materials," other than posts that contain "copyrighted" materials that do not provide credit to the owner(s) of the material and do not fall within the legal parameters allowed by US Copyright laws of being newsworthy, educational or beneficial to society as a whole.

These are the results I collected since the day Sheila posted her claims. I hope these results help clarify what she has said and based on these results it clearly shows a different outcome.

Alexa Shaw
October 2020 Update
Look: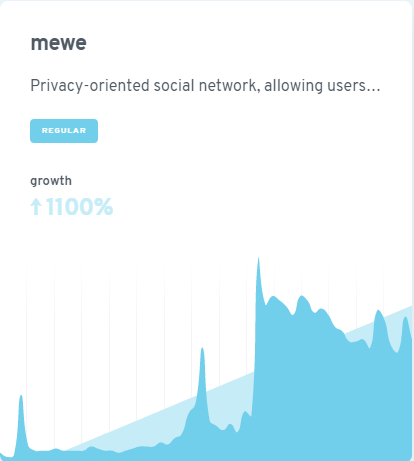 According to the screenshot, the Exploding Topics website shows MeWe's growth at 1100%.
MeWe Review: FAQ
Is MeWe really private?
Yes! MeWe assures users they will never sell your data. Founder Mark Weinstein started MeWe with this promise.
Who owns MeWe?
Mark Weinstein is MeWe's founder.
What can you do with the MeWe app?
The app makes using MeWe convenient since you can access the site on your mobile device.
Related Reading
Livinvia is another new social media site: Why Livinvia is social media similar to Facebook.