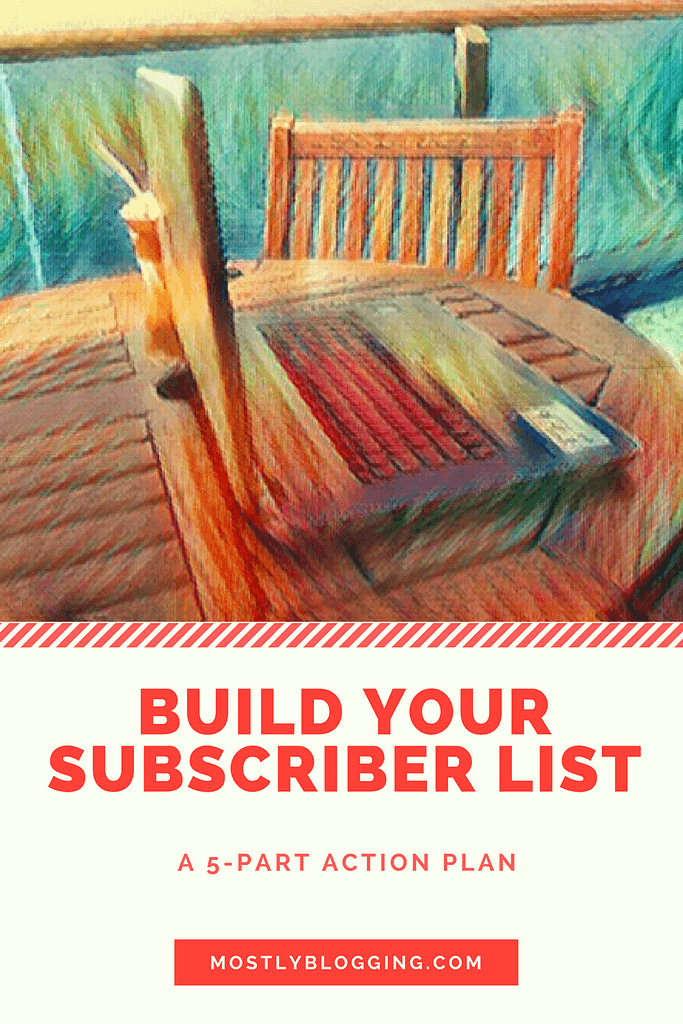 5 Techniques That Never Fail to Bring Blog Subscribers
by Youness Bermime
The real currency in the blogging world isn't the number of visitors per month, but the loyal subscribers you have. That's why you need to bring blog subscribers every day.
Many bloggers struggle to drive consistent traffic to their blogs. And when they figure out the power of growing an email list, they fail at getting visitors to sign up.
It is not a lack of available options for how to do so. In fact, there is this list here that includes more than 101 ways to bring in more subscribers.
It's all good, except that not all those techniques actually work. And those that do, may not fit your blog.
So the question remains: how to get more blog subscribers?
In this article; you'll get the proven techniques that actually work all the time. All you have to do is apply them and watch your email blog subscribers' number grow.
Technique #1: Produce High-Quality Content On Your Blog
Now, the most important thing that bloggers forget about when they are growing their email lists is the quality of the content they publish.
Let me be clear…
Subscribers sign up because they want to see more of your HIGH-QUALITY content.
If you aren't giving them that without a subscription on a frequent basis, they won't trust your newsletter to be anything more valuable.
Therefore, the first thing to worry about when you are not seeing large numbers of subscribers is the quality you produce. You want your readers to always come back for more "good stuff" and not close your time a second after they land on it.
But don't worry, there are many ways to make your content stand out. You can start by writing ultimate guides, step-by-step tutorials, case studies, and more.
When a visitor finds your blog posts valuable, they'll want to get alerts for more great content.
Also, don't forget a relevant CTA with your blog posts. I'll mention this twice more in the article just so you don't forget about it.
Technique #2: Make Your Emails Worth The Subscription
You don't only need great content on your blog, but even greater content in their newsletter.
To convince a new blog visitor to subscribe to your email list, you need to offer a valuable return.
Usually, when you read blog posts about growing your list of subscribers, they always mention freebies in form of ebooks, email courses, and much more.
But if you come down to it; it's all about giving your loyal subscribers even more valuable content than what is on your blog. There are hundreds of ways to do so, but the important part is to do it.
Find out what your audience needs the most and give it away in return for an email sign up. You can go from "0 to 100 real quick". Actually, I've gone from 0 to 250 in no time when I published an SEO Resource Guide Book even before I had content on my blog.

[Read: How to Easily Get New Followers with Optins: an Update]
How I gained these subscribers? That's where the next tip comes in.
Technique #3: Be Active On Relevant Forums
I mention social media a lot when I talk about getting free and relevant traffic to your blog. (You can read about that here, or read this one by Iyiola Owabumowa on Janice's blog. All great content if you are looking for more traffic.)
What I don't mention a lot is how these forums are a special place for gaining blog subscribers as well.
I have been active in a White Hat SEO Facebook group for several months. I've asked and answered quite a lot of questions, enough to be on the list of the most active members for 3 months.
So when I asked if anyone is interested in a free ebook that includes more than 100 links to the best articles about advanced SEO while it explains the very basics, more than 130 people said YES in the first 24 hours.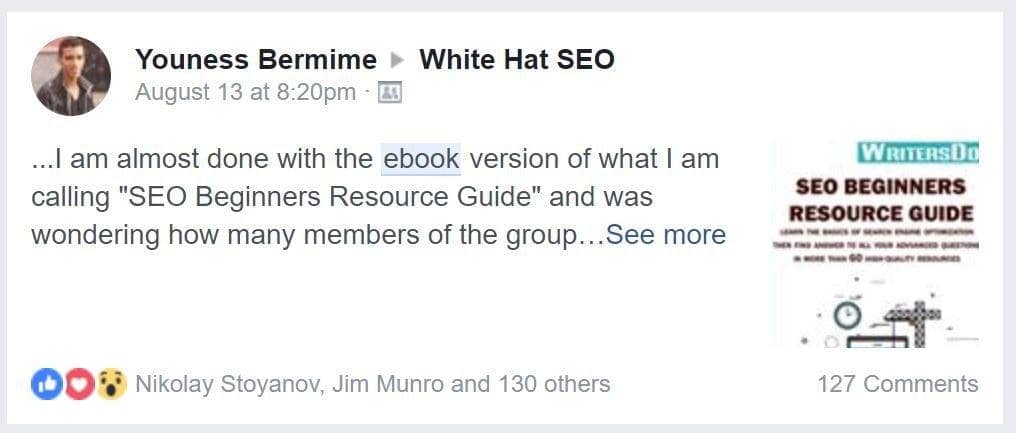 When I published it on my blog and sent the group members to the landing page, almost all of them subscribed to the email list with double opt-in.
I also answered a few questions on Quora and received more subscribers.
Remember: I had literally NO CONTENT on the blog except the landing page. 150 Subscribers is a pretty good number if you ask me.
Moral of the story: offer as much value as you can, when you can, where you can. Your email list will grow immensely like that.
Technique #4: Keep It Simple, and Friendly
Way more often than not, I land on blogs with intrusive pop-ups and welcoming mats that hide the content and are almost impossible to close.
Even more annoying are those with a second sign-up request after you said 'no' to the first one.
And yet more enraging are those with rude suggestions accompanied with the "NO".
I actually close these pages and avoid those blogs in the future every time I can. There is no way I'm giving my email to someone who is most likely going to spam the heck out of me.
I prefer simple CTAs at the end of blog posts, or even within content when appropriate. At least, I know I wanted to sign up for a newsletter if I've read enough to reach the end of the article.
That should be your strategy as well. You want your email list subscriber to do it with a happy face rather than because they couldn't see the "X" button on your welcoming mat.
Quick note: subscribers tend to unsubscribe just as fast as they receive the first email that they didn't want to receive in the first place.
Technique #5: Promote Your Landing Page Elsewhere
Most of the time when you are building links to your blog, you focus on linking to the homepage or to relevant blog posts.
Nothing wrong with link building that way, but you are missing out on a huge opportunity for more email signups.
Instead of negotiating for do-follow links on your guest post, spend more time negotiating a relevant Call-to-Action that'll get you more subscribers.
As long as it is value-focused and value delivered, you won't have any problems getting more blog subscribers.
You need to be careful, though. Make sure that the blogs you are negotiating with all have great content, engaging readers, and definitely aren't spamming the internet.
Also, there is no point in trying this with your direct competitors. Related blogs are easier to convince than a blog with the exact same audience as yours.
With this technique, you are not only getting a quality backlink, relevant referral traffic to your blog, but also gaining subscribers along the way.
It doesn't hurt to reciprocate also. If both blogs have something valuable to offer to each other's audiences, then by all means! Remember that your audience comes to you for value first.
It doesn't matter how you deliver that value as long as they learn and come back for more.
Conclusion
These 5 techniques will help secure a good number of daily subscribers. Ranking #1 on Google is good and appreciated, but if you can't convert visitors into leads and loyal customers, you are doing it wrong.
In a world where most of the information is free and available to everyone who knows how to look for it, think value first, selling later.
Most of the time, you will grow your list of blog subscribers just by publishing frequent high-quality content. Of course, never forget about a clear CTA at the end of every article.
At some point in their 30-minute session, a visitor will be inclined to subscribe for more.
Let me know in the comments down below what you think the best way to get blog subscribers is.
I'd love to read your thoughts on this one!
Happy blogging!
Author bio: Youness Bermime is a professional content writer and marketer. He writes for ActionTakingMogul, a blog that encourages readers to take action and start making money online in many different ways. You can get his free SEO Beginners Resource Guidebook here. Many have learned a lot from it, so why don't you?
Readers, please share so other bloggers can discover Youness's tips for increasing your blog subscribers.
Related
How to Quickly Get 3,000 New Blog Followers