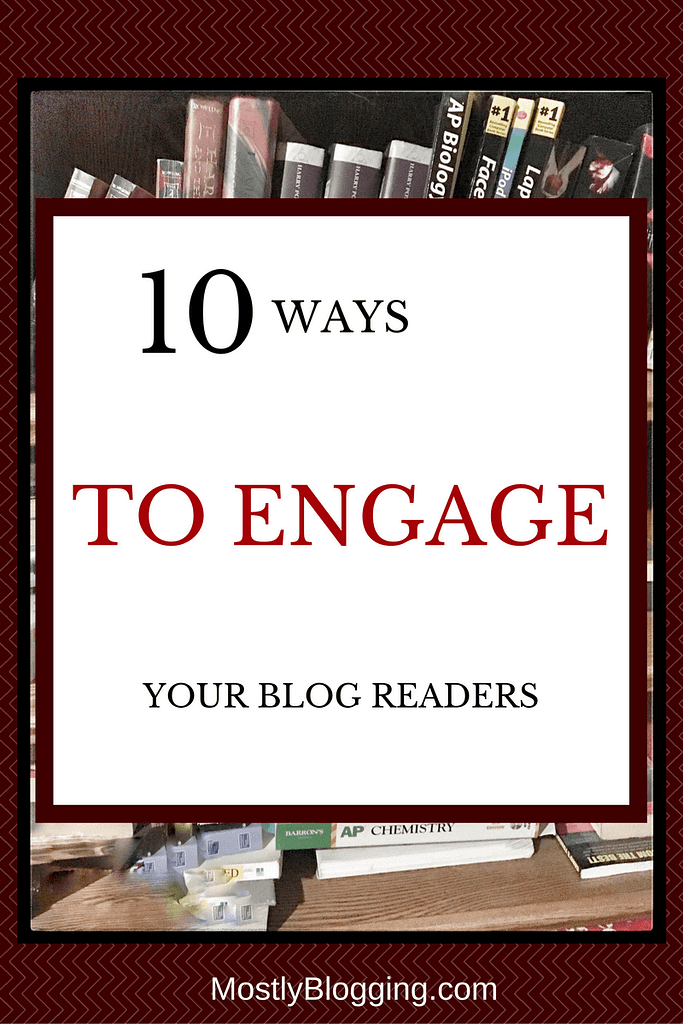 Whose side did you take?
In my post, Are High Page Views the Greatest Thing in the World? I was overwhelmingly outnumbered when readers voiced their collective opinions: Engagement if far more important than page views on a blog.
After all, there are many upsides to having engaged readers. For example, engaged readers will create bonds, and those bonds will create communities.
Also, readers will spend so much time on your blog, your bounce rate will improve.
Now that commenters have echoed the importance of engaged readers, the question is how to go about hooking them.
Fortunately, today's guest author Terry Meiners is here to explain 10 unique ways to engage your readers.
Do You Want to See More Engaged Readers on Your Blog?
by Terry Meiners
You've built your social media campaign for your blog or business; now how do you get your audience engaged?
We have put together some tips for you that will help you get your audience more engaged leading to more likes, shares, and comments.
Personality

– allow your personality to come through your writing, videos, and comments. However, you need to adjust that accordingly to the post you are making; an example would be you would not be joyous or happy if you were posting about an Amber Alert unless the post is to notify that the child had been found and the Amber Alert is canceled.

Ask questions – ask questions of your audience. They need not all be about your business or industry either. You could use something like how often do you go out to dinner? Who does the cooking in your house?
Share videos and photos – share tutorial videos on your product, share your audience's photos or videos if they fit into one of the posts you have made. For instance, if you are making a post on how to properly bake a roast, you wouldn't include a photo of dogs or cats.
Post consistently – post consistently doesn't mean you have to post every day, but at least publish twice a week. Also, take a few minutes at least every other day to recognize your audience; give simple thanks for sharing or that's a great idea or even just a like to their posts lets them know that you appreciate them.
Keep posts simple – keep posts simple does not mean talk down to the audience as if they are 3

rd

graders but use a plain way of speaking, especially when it comes to technical stuff. In fact, if a 5-letter word will work for a 20-letter word that most people won't have any idea of the meaning, then use the 5-letter word. Many people will say keep it short, people online do not have a large attention span but the truth is they will read a longer post if it is what they are looking for which brings us to our next tip.
Write engaging and valuable posts – make sure your post provides valuable information that your audience is looking for. Make that information engaging. In many instances, a 1500 or 2000 word post on your blog will work better than 5 separate shorter posts. An in-depth article is also going to help increase your SEO ranking better than 5 short articles. Basically, if your post is not valuable to your audience, they will go elsewhere which brings us to the next tip.
Know your audience – getting to know your audience may seem a little difficult, but you really can get to know them before they start engaging with your posts. This can be accomplished by reading articles of your audience's age group or interests. This will show you what they are engaging with and what type of information they are looking for. For instance, if your niche is fashion clothing for young hip older teens to young adults, you want to see what they are reading– what type of information they are looking for– and provide it in a new and interesting way. You can make sure they have all the facts or maybe some reviews.
Call to action – a call to action could be rewarded very simply with a giveaway such as a gift certificate for the most shares and likes. It could also be a photo contest; have your audience post photos of them using one of their favorite products or shopping in your store,
Make sure that you post a Get to Know Us – A Get to Know Us post should include photos of your work, possibly customers with their permission, the outside of your business, if you have one, and things around it. Include the address and phone number. Explain what your company is about; it is the mission of ____ to provide you the best clothing made in the US or Italy (or where ever it is you are located), to always be honest and forthcoming with our customers. Allow them to get to know you and your business.
Have fun

– Have fun with your audience but always stay respectful. Let them see you have a humorous side, a side that feels compassion and love. Basically show them you are human as well.
Conclusion
There are many things you can do to help get your audience become engaged with likes, comments, and shares. Whichever engagement strategies you adopt, don't forget one important rule: Always write for your audience.
About the author: Terry Meiners is a business owner and a passionate writer. He loves to share his experience about business and help people to understand business better. He is the co-founder of TopWritersReviews.com
Host blogger's commentary:
Bloggers frequently ask how to build a community of engaged blog readers. Readers, please share, so other bloggers know how to engage their readers.
Terry presented many unique ideas for getting engaged blog readers. What do you feel was his most valuable tip? Did any surprise you? How do you ensure readers are engaged on your blog? I look forward to your views in the comments section.
Related Posts:
How To Engage Your Blog Readers
How to Engage Blog Readers Who Are in a Rush
Your Blog Needs Video Content. Here's Why…
How to Make People Spend More Time on Your Blog with Stories
Source: