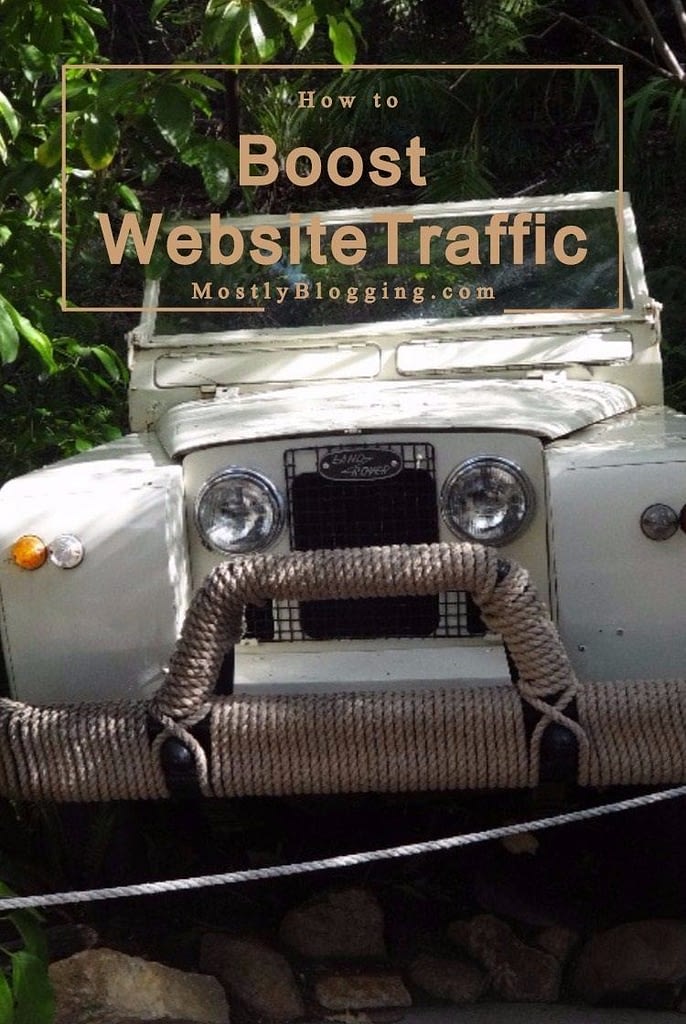 Do you know bloggers' most frequent question?
"How do I get blog traffic?"
Someone just emailed me today and asked me to share promotion strategies.
I get asked to share promotion strategies on my blog and on Quora.com as well.
My post 79 of the Most Effective Ways to Get Free Blog Traffic is still one of my most popular articles. The post still picks up page views although it was written two years ago.
Why is the article still relevant?
People say you should write 20% of your time and promote 80% of your time.
The article is still relevant because you need promotion strategies so people learn about your blog.
Today's guest author, Iyiola Owabumowa, offers 5 promotion strategies you may not be using.
All of them are effective and all of them are free.
The best part: Iyiola has invented a promotion strategy called "The CN Highway Technique" which works even on new blogs.
The post describes this proven method as well as 5 other effective promotion strategies.
How to Grow Your Blog Audience from Nothing: 5 Strategies You Can Implement Now
Iyiola Owabumowa
One of the world's longest traffic jams in history was the 12 days and 62 miles one that happened on China's National Highway.
It's very possible to drive that much traffic to your blog.
Many experts have achieved it.
But you don't know how or where to start.
Basically, there are five ways you could channel that much traffic to your blog.
I'm pretty sure I'm not the only one who thinks traffic from Twitter and Facebook isn't enough to drive meaningful passive income home.
Picture the China National Highway Traffic Jam for a minute.
It just doesn't happen.
Not for 12 painful days!
And the cause of this outrageous event?
Different channels of cars coming from different places.
You could have this same effect on your blog.
And create a blog that drives traffic from five different channels.
I've used this formula and I got perfect results.
I didn't use this formula on a 3-year-old blog but a 2 month-old blog and got the desired results.
The "CN Highway Technique" like I love to call it.
I'm going to walk you through 5 Smart Techniques to grow your blog from nothing to a successful blog.
Note: These steps in the CN Highway technique are linked together so missing a step might just make you miss everything.
Consistency on Pinterest
There's one thing Pinterest loves: high pinning frequency.
Pinterest also loves to see high quality repins.
Repinning low-quality pins all in the name of consistency would just lower your chances of getting found on Pinterest.
Yep! Early grave it is.
Then, how exactly do you get noticed on Pinterest?
How do you be the one to always get the hits and click-throughs?
You might have seen other Pinterest faces like Raelyn Tan, Meera Kothand, and a few other experts.
That's because of 3 things they do well on Pinterest:
All the images you pin should have a unified design.
This establishes your brand and attaches more recognition to your pins.
Also, people begin to view you as an expert in your niche.
Pinning consistently should be part of your priorities if you want to thrive on Pinterest.
That's why you should use Tailwind.
Tailwind knows when your pins get the most engagement so Tailwind helps you schedule them for maximum results.
[
Host Blogger's Comments:
Tailwind is not a free tool.
Viralwoot
is a free pin scheduler. I use and recommend Viralwoot.]
[Read: This Wonderful Pin Scheduler is the Fastest Thing I've Ever Seen: Viralwoot]
High-quality pins get you a lot of repins in return and also tells Pinterest that you are worthy of the front page.
A single pin could make you go viral.
After you've gotten validated by other pinners, you'll need to do something more awesome.
Maybe ground-breaking, whatever you prefer 🙂
You'll need to create a roundup post.
Creating Expert Roundup Posts
From the last step, you'd have established yourself as an authority in whatever niche you blog in. So getting influencers to notice you wouldn't be a big deal.
Roundup Posts don't have to bring in the results you want.
They don't even have to bring in any results. Yes.
All you need a roundup post for is to get a little traffic for day one (and then you can go back to the trickles you've been receiving).
You also need roundup posts for the next step.
So what exactly is an expert roundup post and how do you do it?
Expert roundup posts are posts that contain a bit of information from different experts on a particular topic.
There's been quite a lot. So everyone does it and experts see it as a waste of their time.
No one actually tells you this, but only a few roundup posts actually make your blog popular.
But what is the main reason for this step?
For blogger outreach.
This step is actually to get a little bit of traffic and awareness on the side but mainly to reach out to those expert bloggers.
After you get the contributions ready, publish the roundup post and let the experts know.
Hint: Don't put too much expectation on roundups in case they don't explode.
Once you are done with the roundup, then you'll have the chance to proceed to Step 3.
[Read: How to Write an Expert Round-Up Even if You Don't Know Any Experts]
Blogger Outreach from a Smarter Angle
No matter how much you try to reach expert bloggers in your niche through social media, blogger outreach is mostly done the cold way.
That's the main reason why you needed Step 2.
Growing your audience is the key step in blogging.
And blogger outreach would help you solve part of your problem.
Until now, I was skeptical about this step.
Because I know everyone is always talking about blogger outreach.
But that's not all. They were definitely hiding something.
So you reach out to bloggers and just get traffic from social shares? No freakin' way
Blogger outreach should be done this way:
And after a couple of blogger outreach attempts, ask for guest opportunities from those expert bloggers.
Guest Blogging
Guest Blogging is as good as roundup posts but not all the time. It is just a subset of roundup posts.
Sometimes a unique guest post on a quality site that gets a lot of traffic might just be the key.
Everyone says you could borrow someone's audience and if you really hit the nail on the head for your guest post, you'll be able to build your audience.
Yes, that's true.
But not always.
I've seen a whole lot of people trying to guest post for low-quality sites and get nothing in return.
So post about 3-5 topics on your blog that you could use as proof when walking your way up the ladder.
What do I mean?
Have cornerstone pieces.
Posts that remain evergreen and all your other posts originate from.
While you've done, this you could easily use it as a measure of your quality when submitting your guest post.
Then in your guest post, you need to write specific content
Writing Specific Content
The guest blog you want to write for might require you to write in the tone or style of the blog.
But not to worry, you could still add a bit of specification.
It's important you do this because it allows you to drive the category of traffic you want on your blog.
For example,
Adam Connell gave this example on my site:
if you're starting a blog on health – there are likely already countless posts about how to make exercise a habit. Now, let's turn that "How To Make Exercising A Habit" post into something like "The Asthma-Friendly Guide To Exercising (And Making It A Habit)."
… There you have a blog post that's specific to a certain group of people (I call this persona-driven content)
That's how specific content looks like for a guest post.
Conclusion
Now you see that the CN Highway technique links these steps together rather than making them stand on their own.
When you are on the journey of growing your blog audience, these stand-alone steps need to be incorporated to see a significant rise in traffic like it did for me.
So growing your audience isn't a big deal.
It's just you trying to make each of the steps bring in traffic without having to combine them into a strategy or technique.
There are a lot of other combinations growing an audience could take.
You might just be the one limiting yourself.
So try something that actually works, instead of expecting results from a single part of a puzzle.
When you do that, you'll automatically become revolutionary.
If you loved the "CN Highway" Technique, share it with your friends and tell me how you feel about it in the comment section.
Author Bio: Iyiola Owabumowa is the founder of The Income Blogger and he helps beginning bloggers become revolutionary. Download his copy of the Insanely Effective "CN Highway" Technique and how he used it to drive 3,000 unique visitors to his blog in a week.