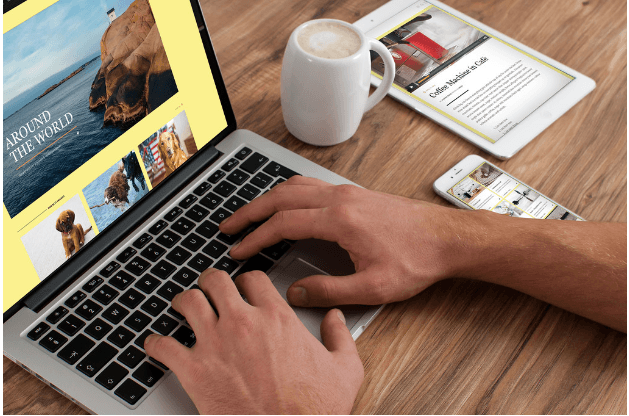 Image source – https://c1.staticflickr.com/8/7304/27784051670_955ff668b8_b.jpg
Are you a hobby blogger or a professional blogger?
Does there have to be a difference?
Hobby bloggers often insist they are not interested in earning money from their blogs.
However, couldn't your blog still look professional even if blogging isn't your source of income?
Of course, it can.
Today's guest author explains how to get your blog to look professional.
For some bloggers, the informal, chatty approach works well. For others, they need a blog that screams professionalism, expertise, and sophistication. If you fall into the latter category, and you feel that your blog simply is not cutting it at present, read on to discover how to make your blog more professional.
3 Ways You Can Look Like a Professional Blogger
Get your website redesigned – There is only one place to begin, and this is with redesigning your website. If your blog is lacking a professional feel, it is likely that a lot of this comes down to the design of your site. After all, if your website looks amateurish, takes forever to load, and is not easy to navigate, it is going to cheapen what you have to offer. You don't need to spend a fortune in order to benefit from a website that looks sleek and sophisticated either, so there is no need to blow your budget on this. But you do need to look for ways to distinguish yourself through the design of your blog.
Include a physical mailing address – Your contact page plays a massive role when it comes to the professionalism of your blog. If you do not give people the option to get in touch with you, you are going to be doing your blog some serious harm. It's important to make yourself contactable, and if you can include a physical address with this, even better. There is no need to include your home address. In fact, a virtual PO box address will work much better. A cheap virtual address for mail will give you a prestigious address for your website while also ensuring your mail gets conveniently sent to you online so you can access it no matter where you are.
Build your brand – Last but not least, you need to focus on building your brand if you are to make your blog appear more professional. Your brand is a lot more than the color scheme you choose, the catchy strapline you have across the top of your website, and the typefaces you have selected. Your brand is about the experience people have with your business, i.e. the experience readers have when they use your blog. If you truly want to make your blog more professional, then you really need to put together a strategy for improving and strengthening your brand. Put yourself in your viewers' shoes – think about what they want and need, and then create your brand based on this while distinguishing yourself from the competition.
If you follow the tips that have been provided, you should have no trouble giving your blog a more professional feel. From adding a physical mailing address to updating your blog's design, a few small changes can certainly make a massive difference.
Readers, please share so other bloggers learn how to look like a professional blogger whether or not blogging is a source of income for them.
This post was contributed.