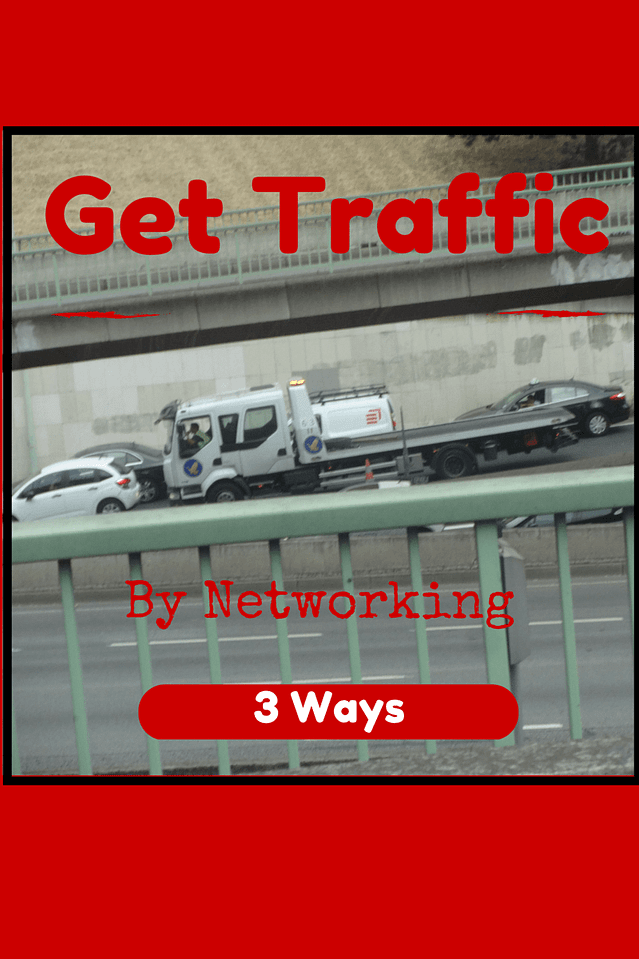 How do you engage blog readers?
It's a question as old as blogging itself.
Is engaging your readers and promoting your blog the same thing?
Yes!
By promoting your blog, you will make readers aware of your writing. By
making readers aware of your writing, you will be attempting to engage them.
Hopefully, that "foot in the door", their awareness of your presence, will lead to them become not only engaged readers but potential followers.
There are many ways to promote your blog in order to engage potential readers. This post will explain how to thoroughly promote your blog through networking.

How to Increase Blog Traffic By Networking
I. Comment on other people's blogs.
There is a sequence to this:
Step 1: Consistently read blogs that you enjoy. Make sure the blogs are in your niche.
Step 2: Make insightful comments on the blogs' posts by responding to the authors.
The usual protocol is as follow: you read a blog, you reply in the comment section.  Hopefully, a reader will see your comment and be so intrigued by it, they will follow you back to your site.  My post How to Increase Traffic By Writing Better Comments explains how you can ensure that the blog's readers will see your comments.
One of those methods entails being the first commenter on the blog.
What if you can't be the first commenter?  There is a simple way to guarantee the readers of the blog see your comment for potential engagement.  Write them directly on the blog.
According to SuccessfulBlogging.com, "Many experts preach the virtues of strategic commenting, [but] almost nobody tells you how to do it."
I will tell you now.  Change your mindset.
Do not comment on the blog's content.  Respond to the writer.  There is a difference.
First of all, if you comment on the content, you are only writing the author.  Most people who comment solely write "good tips".  Don't get me wrong, I appreciate comments.  Most bloggers do.  I certainly love compliments.  But, "good tips" is a comment, not a response.
Do not just write the author of the post.  Write the authors of the comments on the post.  Respond to them.  State their opinion, then tell them if you agree or disagree.  Make dialogue.
You will make that commenter feel heard.  People love to feel understood.  Will it make them feel good enough to follow you back to your blog to see what else you've written?  Possibly.  If you don't write the other commenters, and hope they notice your comment, the odds are much slimmer.
I often have Meet and Greets.  They are great, a real party.  At a real party the guests talk to each other.  However, no one seems to talk to each other on a blog you are all interested in.
I am not saying to leave your link to your site or your post unless it's a party or Meet and Greet.  That would be considered spamming.  But, you can still talk to each other.  Do you agree with the other commenters?  Disagree?  Why?  It's a blog!  Engage!
Step 3: When a reader comes from one of those blogs, reads your post, and comments, go to their blog, read their post, and make an insightful response on their blog.
You might wonder how you will know if a commenter came from that initial blog. There is no need to wonder. Check your stats. "Referrers" will tell you where people are clicking your link.
It is important to understand commenting is a two-way street. Growing readership is about building bonds with people. Reciprocation builds bonds.
2. Attend Linky Parties
Attend big linky parties.
You are trying to maximize your ability to attact new readers, so the more bloggers at the linky party the better.
You might wonder how you will know if it is a "big" linky party. After all, only if you go in last, right before the linky closes, and then click "Take me back to the link up", will you know what number you were and how many others came before you.
Linkies take work. Therefore, the more hosts or hostesses the party has is indicative of how many bloggers they expect.
The Inspire Me Monday Linky Party that I hold on Monday takes eight women to manage.
Look on the linky party post. It will tell you how many sites the party is held on. Again, the more sites, the bigger the party, and the more bloggers to potentially meet you.
Another reason big linky parties are preferable to small linky parties has to do with probability. The more bloggers that are there, the greater the likelihood that there will be people there in your niche that will be interested in your writing to help you grow your audience.
The downside to "big" linky parties is the competition. With so many bloggers, your chances of getting noticed is diminished.
Three factors can increase your chance of getting noticed at a big linky party. Have an eye-catching graphic, have an intriguing headline, and link your post early.
Due to my recent vacation schedule, I was unusually late to the biggest linky party on Earth–the SITS Girls.  Look what a reader commented–
Janice – your thumbnail for this post was one of the first that jumped out at me at the SITS Sharefest this morning. Color…
Even though hundreds of links came before mine, due to the color in the graphic I linked, I received traffic.
Attend small linky parties.
The reason I have this as an additional step merely has to do with time constraints.
All the advantages of linky parties exist whether you attend big or small linky parties. Therefore, if you only have limited time to attend linky parties, use the time to attend the parties where the possibility of meeting new bloggers is greater, the "big" ones.
When you are done linking your post, click "Take me back to the linkup," and repeat "I. Comment on other blogs" instructions Steps 1 through 3.
Read posts that seem interesting by looking at the headline and the graphic and make insightful comments. If people click your links and come from those blogs, go to their blogs, read, and respond to their posts.
3. Promote your new readers.
Okay, so you've followed Steps 1 and 2, and your readership is growing.
Now is the time to solidify those bonds. Through your reciprocating interest, you have turned commenters into readers. Now turn readers into permanent followers. This is how to do it:
When you are done commenting on their post, click "share".
Facebook and Twitter are great places to share links. I use Twitter, but others have graciously shared my links on Facebook as well as Twitter.
When the admin bloggers go on their social media, and see you have shared their links, relationships get solidified.
I do a great deal of networking on Twitter with people I have met on blogs. It feels like running into a friend in a place you don't normally expect to see them.
That it. Chat. When you are on Twitter, comment. Make conversation.
You might ask, "Isn't that what the comments section in the blog post is for?"
My answer is "no". If you only comment on their blog post, you are not forging relationships. Blogging is about community. Make friends.
There is a downside to only retweeting their link. (Again, I only use Twitter for this, so I am only referencing Twitter.)
Although you are promoting them, it can almost look spammy. Why would you retweet their link? Is it because you want them to do the same for you?
By making conversation on Twitter or Facebook, you are making more than conversation, and you are making more than a blog audience. You are making friends.
In closing, these three tip will definitely garner you the attention of potential readers.  You will write them directly on the blog where you found them, on your blog, and on their blog. However, it should go without saying that you still need great content.
Blogging isn't just about you, and it isn't just about your readers. Blogging is about a network of connections, relationships, that form. It is about supporting each other.
According to Ray at BritishMum.com, blogging "is all about the community feeling".
If you are successful at finding an audience, you will be successful at finding long-lasting relationships.
According to Anna at fargaregardsanna.wordpress.com, "My new followers often come from my own activity when visiting other blogs. I might have liked their comments or I have left a comment in a post or two."  Anna's only promotional strategy is networking, and her blog growth is successful.
Show me a successful blogger, and I'll show you a blogger with many friends.  Talk about a win-win situation! Now, go network!
If you feel others can benefit from these networking tips, please share. (I promise I won't think it's spammy.)
Readers, do you have any ideas for networking? I look forward to your views.
Related Posts:
20 Experts Reveal Their Secrets to Blog Promotion
The Ultimate Guide to Blog Promotion
Secrets of Successful Bloggers
How to Simultaneously Blog and Promote Your Post Effectively