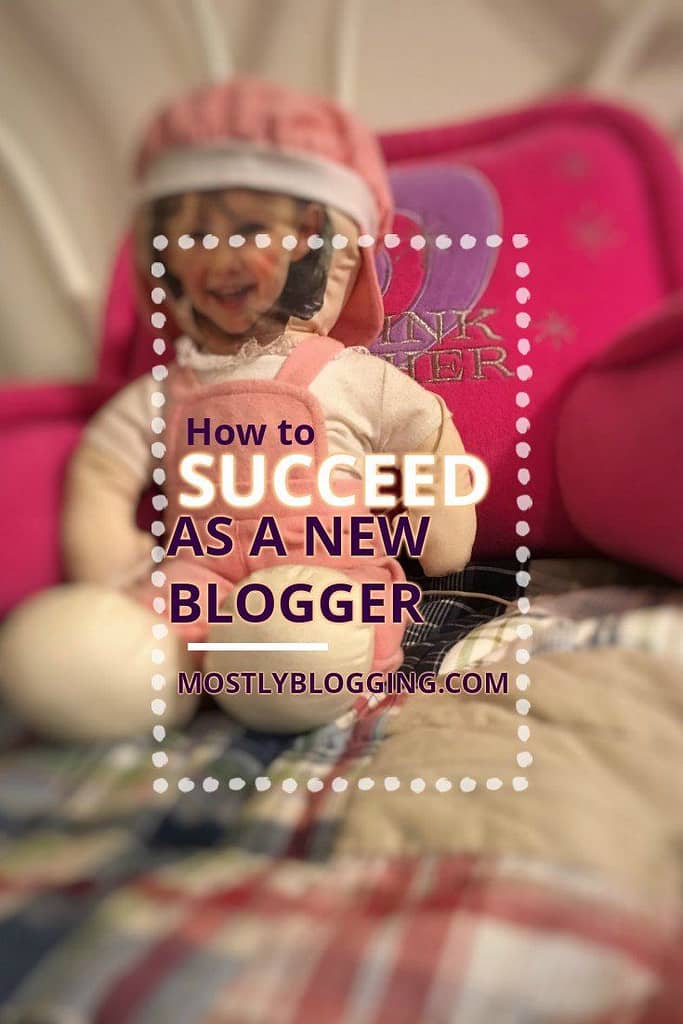 Why would a new blogger abandon their blog?
Statistics say if a new blogger is going to give up, it will be in three to nine months.
Do you know the excuse a new blogger often gives for quitting?
The competition is too fierce.
I once read a new blogger complain that the blogosphere is full of "the haves" and the "have-nots." In other words, bloggers either have traffic or they don't.
According to this one blogger, there is no in between.
Pospi, today's guest author, spent more than a week conducting research into what makes a new blogger successful.
He is here to explain the results of his research: 12 ways a new blogger can succeed in the crowded internet and get noticed.
His tips are valuable for bloggers of all experience levels.
12 Tested Ways To Be Popular As A New Blogger
By Pospi O. Otuson
The blogging world is becoming a very competitive community and if you could be able to stand out of the crowd of bloggers, you must try out ways that could make you much popular as a new blogger. And I've come to realize that being popular paves a smooth road to success.
Well, I may not be mistaken if I say almost every reader of this blog visits and reads it to learn something useful, motivating, and creative so that he/she can become successful, popular, or famous.
And I also believe so many young bloggers have been in search of ways to be popular and influential on the Internet. Personally, I have searched for ways to become a popular blogger on Google search but I saw nothing helpful or even related so I undertook research that took me over a week to compile. The result: this post can be of help in boosting the popularity of young bloggers.
I didn't want to post it on my blog because I needed an online platform that is world-class like this one, where most of the world's internet users and young bloggers can see it and gain from it.
In this post, I will be sharing 12 ways to be popular as a young blogger. If you're a young blogger or writer who desires to be popular and influential both online and offline, then read on.
MAKE FRIENDS WITH OTHER BLOGGERS
Creating a relationship with other bloggers is useful and very important. It's a source of great knowledge talking with experienced people and learning from their failures and mistakes, sharing ideas and opinions. This can make you better and more popular than they are.
By making friends with fellow bloggers, you get more people to know about you and sooner or later almost everybody will and no doubt you'll become popular.
DEVELOP A PASSION FOR WRITING
There is a saying, "Success starts with passion." I never really found it interesting but with time, I did see it working.
Blogging has a lot to do with writing and you really need to develop that passion for writing so as to be successful and popular as a young blogger.
By definition, writers are passionate creatures. So, as writers, we are among the fortunate few who are actually doing what we love. Yes, I know they are difficulties, both financial and personal. But you have the ability to shape words into a tangible expression that can inspire, educate, and entertain. There is joy in writing and to be popular as a young blogger, you need to exercise the passion for writing.
PROMOTE YOURSELF
I sincerely love the word "promotion" and am a dedicated fan of #PromoteYourself on Twitter and Facebook. Promotion is the best way to make yourself a popular blogger. Promotion has become very important to bloggers. As you all know, there are so many blog niches on the Internet so it has become very hard to overcome those blogs. The only way to do it is to write awesome content and promote not only your blog but also yourself.
BE ORIGINAL
This one of the major ways and steps to consider if you really want to be popular as a young blogger. Your originality determines your level of popularity. Learn to create your own contents and ideas.
I used to be a blogger who copies a lot. At times, I copied the site title and adverts. Though I was ignorant, I discovered it could destroy my dreams of being a successful and popular blogger. Creating your own contents grants you the opportunity to gain more knowledge and also expose your readers to fresh topics. So doing, you gradually become popular. Originality matters.
USE SOCIAL MEDIA
Social media has become a platform to explore and become popular as a young blogger. The power of social media platforms like Facebook, Twitter, Linkedin, Instagram etc. has helped a lot of bloggers to be popular and successful. And you know what, social media is the cheapest way to gain popularity and also the easiest ways to share your ideas with thousands of people. It's a successful tool most successful bloggers use to grow their traffic and readership. I'm in all of the above mentioned social media channels and even more, and I must say I'm becoming an influential social media user. The truth is that, if you want to be popular as a young blogger you must use social media and also try to get hundreds and thousands of friends and followers.
[Read: How to Be Seen as a Powerful Blogging Influencer in Any Niche]
SHARE YOUR BLOG POSTS ON SOCIAL MEDIA
Social media is the best place to get readers for your blog posts. If you don't believe in social media for blog traffic, then you really to re-think. Creating an excellent blog post is one thing, getting readers to see the post is another thing. Sharing your blog posts on social media does not only drive readers to your blog it also makes you a popular blogger if you consistently share posts even from other blogs.
GET A GRAVATAR PROFILE
To be a popular blogger online, you must have a gravatar profile and image. The globally recognized avatar is an image that follows you from site to site appearing beside your name when you comment or post on a blog. Create this gravatar profile with your personal email, upload a photo or avatar as it is popularly called, update your bio and be globally recognized.
COMMENT ON OTHER BLOGS
Commenting on other blogs does not only make you popular, it also gets more visitors to your blog. Anytime you comment on someone else blog, Normally the blog authors and readers of that blog always come to check out your own blog. Commenting remains one of the easiest ways to drive traffic. I have a habit of commenting on blogs and I have built a good relationship with other bloggers by adding useful and meaningful comments to their blog posts and my blog has benefited a lot from it, and I see myself becoming more popular every day. To be popular commenting on other blogs, avoid posting comments like "nice info, great post, nice one, love it". Such comments may be positive in nature but add no value to the post. Comment with something longer than maybe 3 sentences and above, something that relates and adds value to the post. To be popular as a young blogger, you must learn to comment on other blogs.
FOLLOW POPULAR BLOGGERS IN YOUR NICHE
To be extremely popular as a young blogger, you should connect and follow the top influencers in your niche, maybe on social media or any other area. That way, you'll get to meet same minded people and it will surely make your popularity known.
DRESS WELL
You may never be popular if you don't develop a habit of dressing well. As you know, people believe so much in "seeing is believing" always make sure that your social profile pictures and gravatar carry an awesome photo of you and maybe have on a nice dress or suit; not in full, just a passport sized photo. You dress code speaks more of you and makes people see you as an achiever and will definitely make you popular and successful as a new blogger.
TEACH OTHERS THE LITTLE YOU KNOW
Try as much as possible to teach others from your experiences. As a young blogger, I have helped a lot of newbie bloggers with ideas they needed so badly. I may not know it all, but I try my best to tell them the little I know. If it's helpful to them, they tell their friends and colleagues about me and that way I become popular.
If you know anything, and of course I know you do, you should be teaching what you know right now. You don't have to become an expert first, do you know that you could learn better while teaching others? Teaching builds your brand. To be popular as a new blogger, you must learn to teach others the little you know and don't be too busy to teach.
WRITE ON OTHER BLOGS
Writing on other blogs as a contributor or via guest posting is one of the best ways to be popular as a young blogger. I believe guest posting is the most important strategy for promoting and growing not only yourself but also your blog. Anytime I visit any blog, my eyes are always in search of the "write for us, guest posting, or contribute page" by being a good guest blogger and adding value to someone else's blog, you're going to build a strong relationship with other bloggers and their readers.
Guest posting is a major tool to gain popularity as a new blogger, cause you advertise your personality and great content to targeted visitors elsewhere.
Now let's come to soccer; the reason why Cristiano Ronaldo seems to be more popular than Messi is that he has played for several football clubs other than Messi. What am trying to say is that you won't be a popular blogger if you only play for just your blog, Learn to play for other blogs.
Writing on other blogs is the easiest way to be popular as a new blogger.
Hey young blogger, am so glad you read this to the end. Now you're set to become one of the most popular bloggers in the world. Don't go without saying thanks (:
Author Bio: Pospi O. Otuson
I'm a young Nigerian entrepreneur who wants to share his passion for entrepreneurship.
Readers, please share so both new and veteran bloggers alike discover Pospi's tips for standing out in the crowded blogosphere and experiencing blogging success.
What did you think of Pospi's post? Which of his tips do you find the most valuable? Pospi and I look forward to your views in the comments section.
Note: Janice will be answering comments as her vacation schedule and internet connectivity allow.
Related Post
How to Have a Popular Blog [and Should You?]