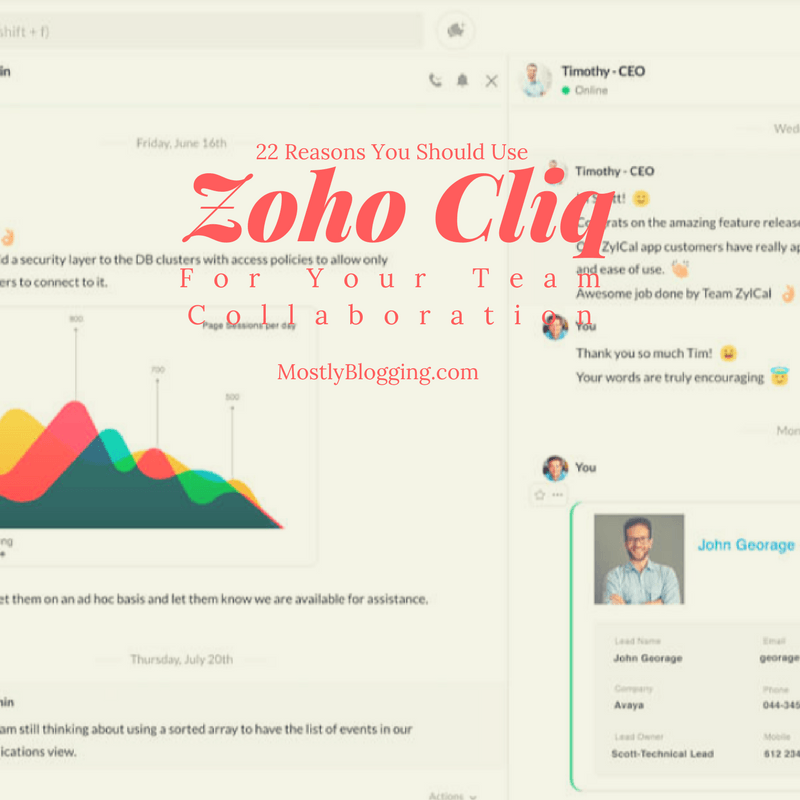 Have you heard Zoho Chat is dead?
Long live Zoho Cliq, its replacement.
Why the cause for celebration?
Zoho Cliq is an improvement of Zoho Chat, the online collaboration tool.
An even better version of an already amazing and affordable collaboration tool? Yes, please.
This review will explain why Zoho Cliq should be your choice for an online collaboration tool and how you can start using it today.
What is Zoho Cliq?
The Zoho company bills Cliq as the 3 C's: You use the tool to communicate, collaborate, and reach consensus.
Why Zoho Cliq Should Be Your #1 Choice for a Collaboration Tool
With Zoho Cliq, you have access to your team members anywhere in the world.
The price is affordable.
You have the option of a free plan.

With Cliq's highly robust and extensive platform, you can create custom commands, bots and message actions to further simplify your workflow.

A free trial is available.
Stay up-to-date as you chat in real-time and avoid waiting for your emails to get answered.
Share files.
Communicate by audio, video, or both.
Privacy is ensured.
Security is also ensured due to SSL certificate.
Thanks to the multi-panel chat, you can see all the people engaged in your communication.
Receive unlimited storage.
You can use Zoho Cliq on a desktop with Mac, Windows, or Linux.
Use the Cliq app on your mobile phone. Cliq works on both Android and iPhone.
This tool integrates with other collaboration tools like Trello.
Use Zoho with unlimited users even on the free plan.
Zoho Cliq Collaboration Tool integrates with email services like MailChimp.
You can share your data in Dropbox or Google Drive on Zoho Cliq.
You can easily import all data from your Slack account to Zoho Cliq.
You can stay on the free plan no matter how big your company gets.
Zoho Cliq is user-friendly.
However, if you need help, support is standing by. Just contact support@zohocliq.com.
Features of the Zoho Cliq Collaboration Tool
Channels: Create channels to have group chats with individual teams.
Commands: Use slash commands to get work done right within your chat window.
Bots: Let Bots automate your routine, mechanical tasks.
User experience is streamlined. Make your audio and video calls seamlessly.
Information sharing. Share any information needed for your team including contacts, locations and birthdays.
Easy recall. Pin previous chats

for easy access

.
Customize your communications. With the native GIPHY support and custom emojis- Zomojis, you can personalize your conversations.
You can prioritize your messages. Star important messages for easy recall.
Are you too polite to interrupt a conversation? Use the "raise the hand" feature to cut in on a group video call.
Productivity is enhanced even when you're driving. Thanks to the app, you can continue your conversations on the road.
Zoho sends out reminders before your meeting. Never miss a scheduled event or meeting 

with bot reminders and notifications.
Reviews
Google Play gave the Zoho Cliq Collaboration Tool app 4.4 out of 5 stars.
App user Mike Acquisto gave Zoho Cliq 5 out of 5 stars and exclaimed, "Our firm moved to Zoho and we are super happy with the Zoho platform. Support is super responsive."
Pricing
The free plan allows up to 100 participants per channel with a file storage capacity up to 100GB and 10 active integrations at any given time. This includes provision for Two-factor Authentication (TFA) and SAML-based single sign-on (SSO). 
How to Get the Zoho Collaboration Tool
Do you have an Android? Download here.
Wrapping Up
Do you want your team to be more productive? You can be with the Zoho Cliq Collaboration Tool.
Using the tool is like one-stop-shopping except it's free or virtually free.
The Zoho Cliq Collaboration Tool affordably meets all your needs.
Sign up today.
Please share so other online teams know the features of the Zoho Cliq Collaboration Tool
This was a sponsored post.