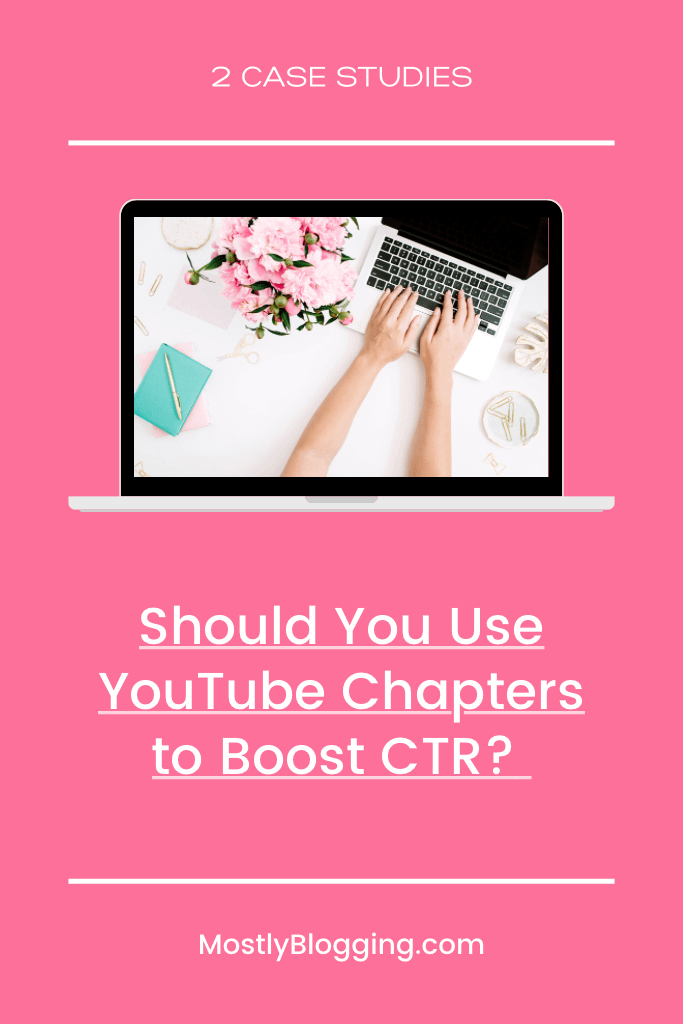 Do you want to know if YouTube chapters work to effectively boost YouTube open rates?
One of the advantages of YouTube is the massive audience of over one billion viewers. YouTube is the second biggest search engine in the world next to Google.
You will be hard-pressed to find a bigger audience than the one you'll find on YouTube.
According to a Mostly Blogging post about the benefits of YouTube timestamps, I decided to conduct research to see if timestamps boost your CTR (Click Through Rates.)
This post shares the original research I compiled while testing the advantages of YouTube chapters which entail using YouTube timestamps.
As you can see, this post takes a case study format.
By reading this post, you will discover what YouTube chapters are, the benefits of YouTube chapters for you and your viewers, and how to create YouTube chapters. You will also discover whether using YouTube chapters in two case studies effectively worked to boost Click-Through Rates in two of my videos.
YouTube has over two billion users. This daunting statistic can work both for you and against you.
First, you are exposed to a massive audience. According to recent data, over one billion hours of YouTube videos are watched each day.
However, accompanying this active user base, there is a hefty amount of competing video creators for YouTube views.
According to the same source, there are 38 million active channels on YouTube.
Wouldn't it be powerful if you could get the edge on your competition and motivate YouTube users to click on your video with a simple, free hack, YouTube chapters?
Let's get started by seeing if using YouTube chapters resulted in an increase in open rates and the resulting views.
What are YouTube Chapters?
YouTube chapters take an entire video and break the video into parts.
The result is the video becomes organized into sections the way chapters organize a book into sections.
Each chapter gets its own clickable link.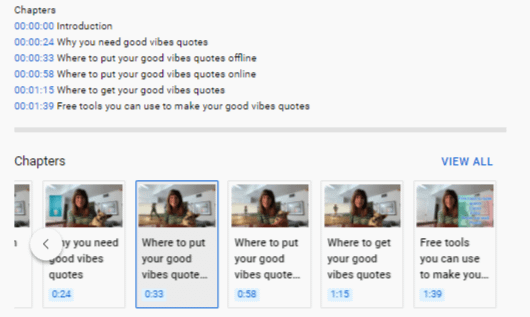 Do you see the blue numbers? Those are the live links to my YouTube chapters.
Do YouTube Chapters Boost Open Rates?
Experiment #1 Using YouTube Chapters
When I posted my first videos about good vibes quotes, the results were lackluster at best.
This video only received 60 views after one year.
This video received only 57 views after five months.
Would publishing a video with YouTube chapters on the same topic result in more views?
I published the third post about good vibe quotes with YouTube chapters.
Although not a YouTube Short since the video is more than one minute long, the new video is still rather short at only 2 minutes and 22 seconds.
In order to determine if adding YouTube chapters increased the open rate, I needed to keep as many variables the same as I could, so I also used the same YouTube cover.
How did the video perform with YouTube Chapters?
May 30, 2022 10:00 am.
Once 24 hours passed since the publication of the video, I realized the video underperformed.
You might ask what I'm basing that on.
YouTube tells you what a typical amount of views are for your channel, so I knew the video underperformed since YouTube told me so.
Were adding YouTube chapters effective?
The video received five views after 24 hours which is low for my videos.
However, if we do some basic multiplication, we see a different picture. The video with 57 views received that number within a five-month period. Rounding down to 50, that equals 10 views a month. If my new video continues to get 5 views in 24 hours, I will have 50 views in 10 days which is much sooner than five months.
However, I had another plan to use YouTube chapters to boost the new video's open rates.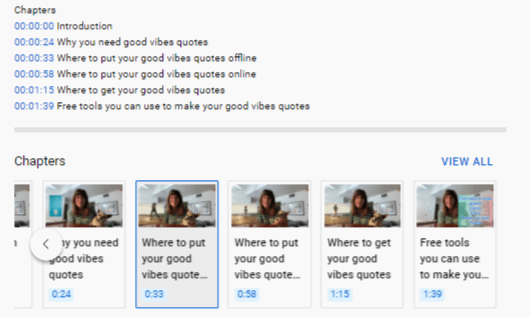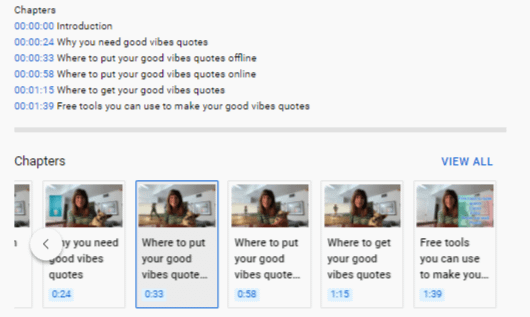 Do you see the blue numbers?
Those are live links to the different YouTube chapters in my video.
My plan: Take the links and promote them individually on social media.
Since the video has four chapters after the introduction, I promoted each link on Twitter by scheduling them in my Buffer queue.
You can step up your game by taking those links and promoting them on additional social media sites. For instance, you can put one of the links in an Instagram story. Instagram stories send my YouTube videos significant traffic.
What went wrong? Why didn't including YouTube chapters result in boosting my video's Click-Through Rate as I predicted?
Truth be told: I ran this case study over Memorial Day Weekend when people in the United States are enjoying swimming pools and barbecues and not watching YouTube videos.
May 31: 11:03 am
How did the video do once I took the links to the individual YouTube chapters and promoted them?
Look: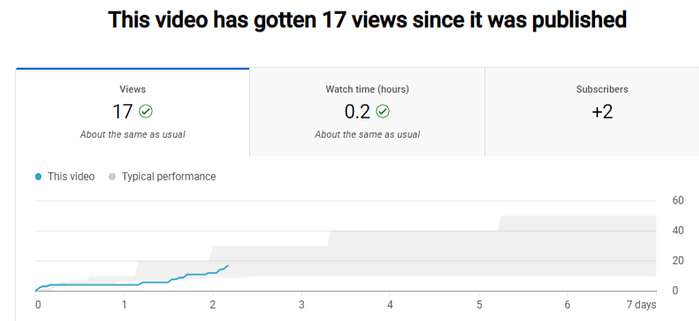 On Monday, May 30, YouTube reported my views were less than "typical."
My video now has 17 views, more than 3 times the 5 I had 25 hours ago.
You can also see the video gained me two new subscribers.
Today, YouTube is reporting my views are typical.
"Ranking by views" is also up from my 8th best out of 10 to my 6th best.
What explains the increase in views?
Look: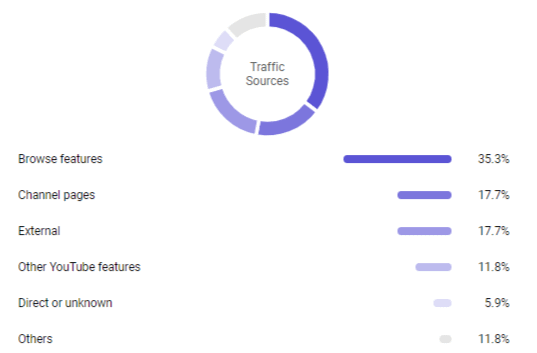 As you can see "Browse Features" make up more than a third of the existing traffic. This includes categories of what people browse through on YouTube such as the home feed and their subscription feed.
Channel pages are important. This means YouTube channels that include other YouTubers, as well as my own, are recommending my video.
June 3 3:00 pm
After flirting with Position 5 momentarily, the video fell to Position 6 for the best performing post of my last 10.
This video is a snoozer of a loser.
Or so I thought…
Look: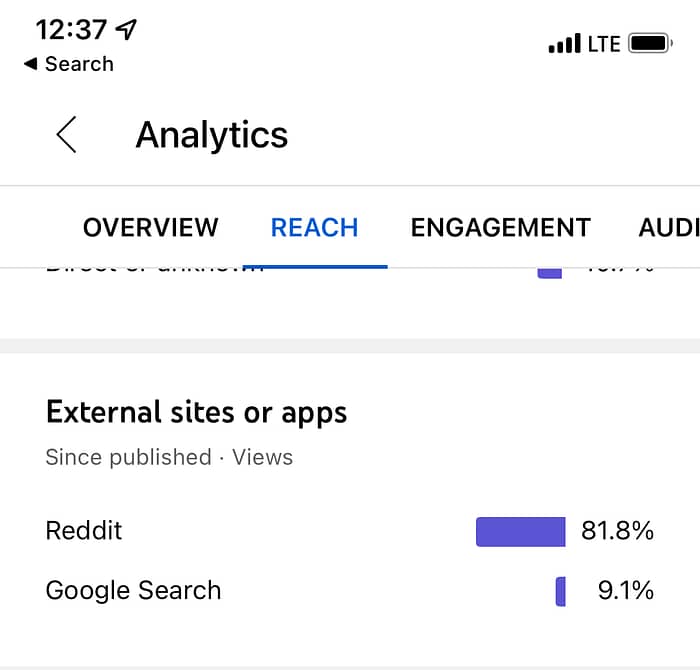 Look at the bottom metric: Google search.
We want Google to index the individual chapters in my video.
Apparently, Google indexed the video since Google Search, at the time of this screen capture, accounted for almost 10% of my video's traffic.
Consider this: The video has six chapters including the introduction. That means, along with the entire video that gets indexed by Google, my video has seven opportunities to get clicked on instead of just one.
Let's try again experimenting with the success of YouTube chapters.
Experiment #2 with YouTube Chapters
As before, I made a video about a previously used topic, the Medium Partner Program, and I added YouTube chapters to my video. However, this time, I made some changes in hopes of boosting the CTR in other ways.
For instance, I published the video on a Friday afternoon instead of a Sunday morning. This way, people have all weekend to watch the video. Also, I used iMovie as my video editor and incorporated B-Roll, secondary video footage. My goal was to incorporate storytelling into my video about the Medium Partner Program.
June 4, 9:44 am
The video produced an encouraging initial opening of the second-best performer of my last 10 videos.
However, the morning after the video's release, the video fell to Position 3, my third best result. What made me even more discouraged was that was exactly the result of the original video on the same topic without any YouTube chapters.
Here is the original video.
June 4, 12:40 pm
Exciting news: The new variation of the Medium Partner Program video has skyrocketed past the original results and is now tied for 1st place for best-performing video 21 hours and 38 minutes since publication.
Look:
June 5 4;00 PM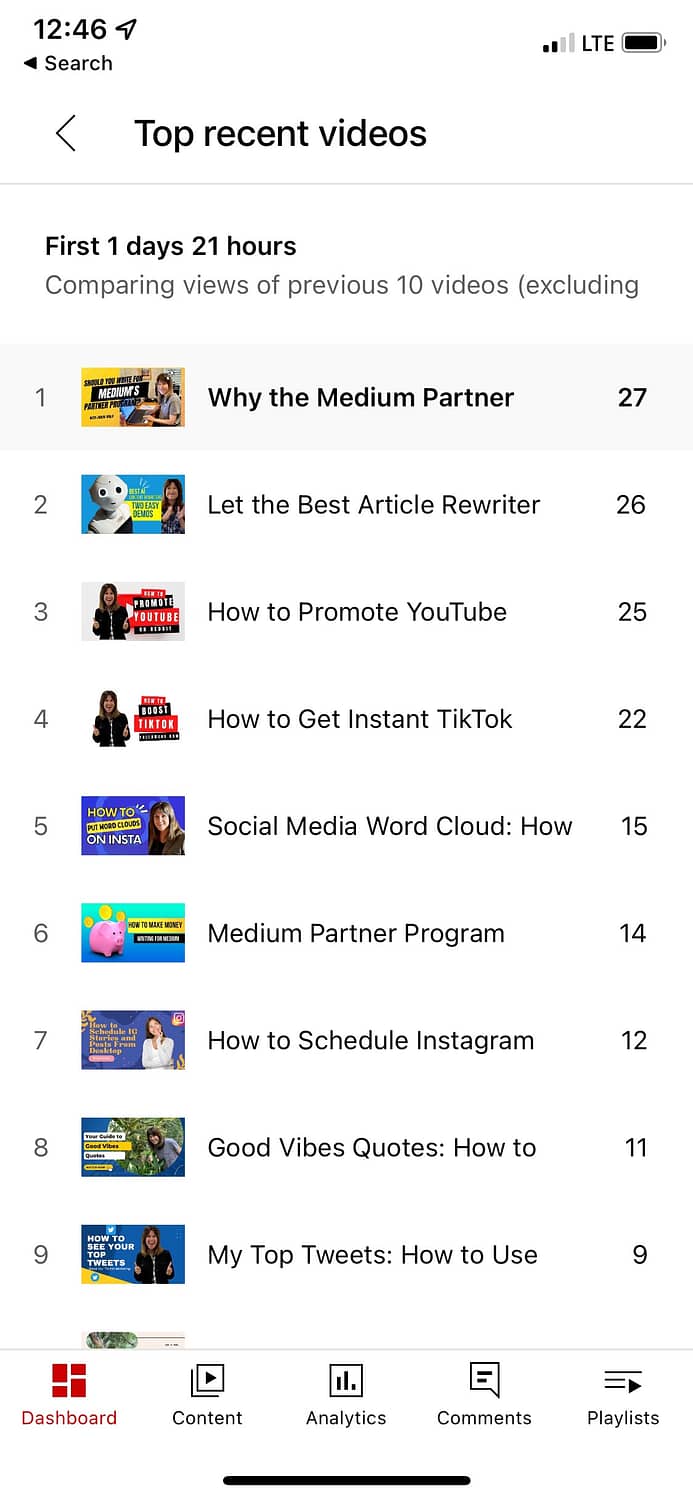 Good news: The video continued in the first place 49 hours after publication.
It gets better: The video ranks in 5th place for the keyword Medium Partner Program Terms at the time of this writing.
I look forward to viewers finding my video in YouTube search when they look for information on that keyword and watching the views grow.
How to Boost Video CTR
Is there anything I can do to turn the disappointing results of the first video around?
Yes!
I replaced the original Good Vibes Quotes video cover with this: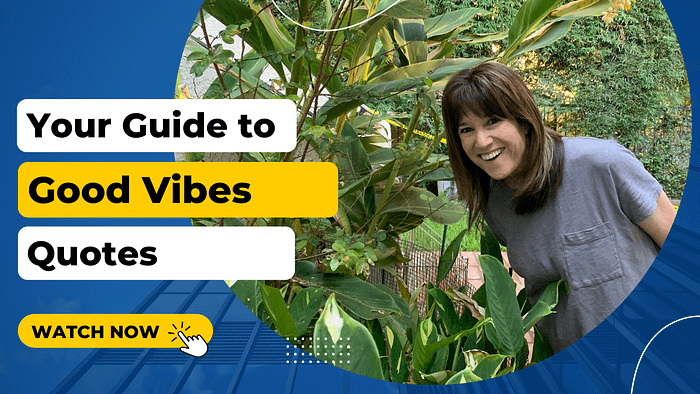 What is the conclusion I drew from these disappointing experiments trying to use YouTube chapters to encourage people to click on my video?
Truth be told: Based on the results of my experiments, YouTube chapters do not result in boosting your video's Click Through Rate.
Will I use them again?
Yes! Absolutely, but why?
Why Do You Need YouTube Chapters?
Reason 1: You viewers will appreciate them.
Case in point: I published a video reviewing AI writing tools. Then, I followed the reviews with my opinion on whether we should use AI writing tools even though they are available to us for free.
Viewers may only want to hear me share my views and not listen to the reviews. Therefore, YouTube chapters are helpful. People may not want to watch the entire video just to find the part they are interested in hearing.
Also, I reviewed several tools in the video. YouTube chapters enable the viewers to only listen to what interests them.
Reason 2: You will understand your metrics better in order to make better videos going forward. Understanding your data allows you to do this.
Look: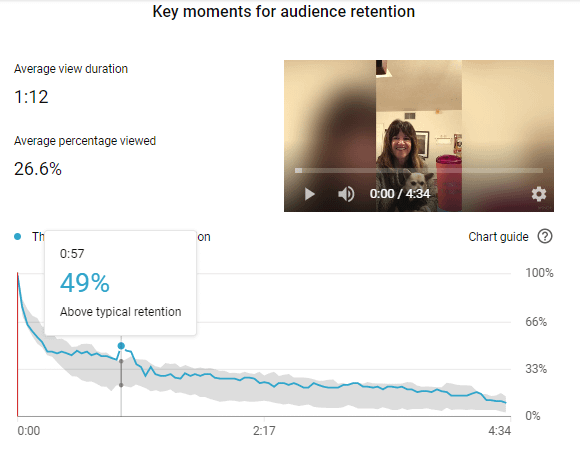 As you see from the graph, I have a spike in my video 57 seconds into the video.
Perhaps you want to make that point in your video the beginning of a YouTube chapter knowing it generates traction with viewers.
Reason 3: YouTube chapters are ranked in Google's Search Engine Results Pages.
Google owns YouTube so this makes sense.
You now have additional chances to be found in both search engines, Google and YouTube.
Reason 4: Since the YouTube chapters outline your video, your viewers will understand the content easier. Timestamps literally organize your content into chapters.
This clarity will boost retention rates (how long viewers watch your video) and increase the likelihood of subscribers.
How to Create YouTube Chapters
YouTube automatically creates timestamps when you post the name of the chapter in the time format like this hh:mm:ss.
Make sure the timestamp follows the six-digit format, uses colons, and is followed by a space before the name of the section.
When you type the names of your sections in this format, your timestamps which indicate the start of new chapters become clickable links.
YouTube Chapters Best Practices
You must make the first YouTube timestamp 00:00:00.
Next, type the YouTube chapters with the accompanying timestamps in the video description.
Make the names of the chapters intriguing to boost the Click Through Rate.
Include keywords in your chapter names to boost SEO.
Each chapter must be at least 10 seconds long.
YouTube Chapters: Frequently Asked Questions
Do YouTube chapters increase views?
After performing two case studies, my conclusion is that including YouTube chapters do not increase open rates.
What are video chapters on YouTube?
YouTube chapters take an entire video and break the video into parts. The result is the video becomes organized into sections the way chapters organize a book into sections. Each chapter gets its own clickable link.
How do I enable chapters on YouTube?
YouTube automatically creates timestamps when you post the name of the chapter in the time format like this hh:mm:ss. Make sure the timestamp follows the six-digit format, uses colons, and is followed by a space before the name of the section. When you type the names of your sections in this format, your timestamps which indicate the start of new chapters, become clickable links. Make sure the first YouTube chapter is the introduction at 00:00:00.
Wrapping Up: A Guide to YouTube Chapters
Readers, please share so that YouTubers know the potential for YouTube chapters in their YouTube success.
Although my case studies did not find they boosted my video's Click-Through Rate, YouTube chapters have other benefits: They organize the information for the viewer and they give you additional chances to have your video found in search engines.
I look forward to your views in the content section. What are your experiences with YouTube chapters? If you have no experience, do you think you will try them?

Janice Wald is the founder of MostlyBlogging.com and co-founder of the Mostly Blogging Academy. She is an ebook author, blogger, blogging coach, blogging judge, freelance writer, and speaker. She won the Best Internet Marketer Award and the Best Blogger Award at the 2021 Infinity Blog Awards. Wald was also nominated as 2019 Best Internet Marketer by the Infinity Blog Awards and in 2017 as the Most Informative Blogger by the London Bloggers Bash. She's been featured on Small Business Trends, the Huffington Post, and Lifehack.