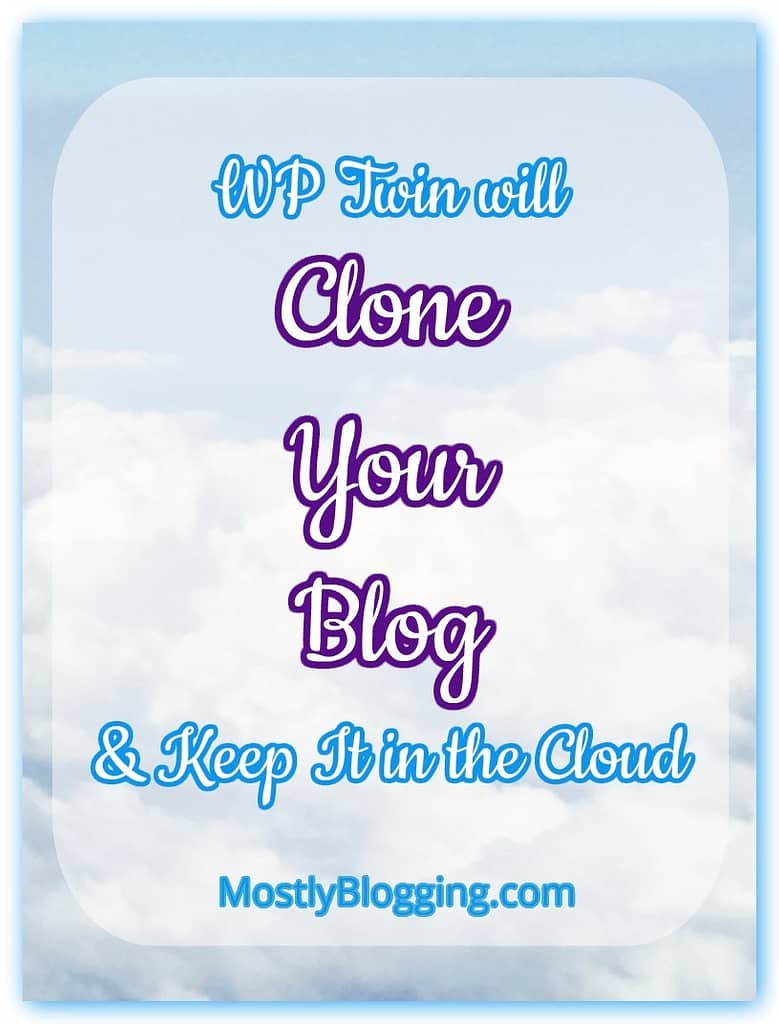 Did you hear that Yahoo was hacked in December?
My own daughter was a victim along with one billion others.
Hackers got personal and financial information to the dismay of Yahoo's users.
Are you aware that can happen to you?
The question is "What to do?"
Fortunately, a tool exists which can alleviate your fears. WP Twin is here.
Do you relate to any of these bloggers?
Blogger A: Locked out of her site just as she was about to publish a linky party she was coordinating. The other hostesses of the party and the guests were depending on her to hit "publish," but she couldn't get into her site. Blogger A was locked out of her site due to a plugin upgrade containing glitches.
Blogger B: Wanted to start a new blog but didn't want to spend the time and trouble of starting a new blog from scratch.
Blogger C: Locked out of her site as the result of malicious hacking.
Blogger D: Wanted to sell a clone of his blog but keep the original.
Maybe you can relate to more than one.  No matter.
It doesn't matter what version of WordPress you are running. WP Twin prevents against all these problems.
What is WP Twin?
WP Twin is a plugin that can clone any WordPress site. Your information stays backed up in the cloud. Currently, two million users have already uploaded the plugin to their site.
How WP Twin Works
The way WP Twin works is actually pretty simple. The plugin backs up your blog's information, clones it, and restores it for you.
You log in to your host
Simply copy-paste WP Twin's code, and you'll be taken to the WP Twin Clone Page.
Click "Click to Clone," and you're ready to deploy your cloned blog.
The Benefits of Using WP Twin
There are many advantages to using WP Twin. The plugin provides many benefits for you:
You get the ability to backup everything in your blog– the posts, pages, comments, permalinks, everything!
You get peace of mind against being locked out of your blog due to hacking or your site crashing.
WP Twin gives you a clone of your blog in case you ever want to sell or start over.
WP Twin is easy since it's user-friendly.
Confidential information stored inside your blog is protected.
You could clone a lucrative membership site rather than starting a new website.
Clone successful sites for different longtail keywords.
WP Twin helps you clone niche sites. Turn them into different niche sites with the settings already in place.
You will save time since WP Twin is fast. With just a few clicks, you get peace of mind and a cloned blog. That's much quicker than having to start your blog over again.
Moving your blog to a new host is easy with WP Twin.
WP Twin can run on a MAC or PC.
Your cloned blog will be automatically backed up with the "autopilot" feature.
You will get help from WP Twin's support staff who generally respond within the hour.
You will be in good company since two million people already use it.
You get the confidence that comes with using a product that has stood the test of time. WP Twin has been around for six years.
A money-back guarantee and a month-long trial period are yours when you sign up.
WP Twin offers an affiliate program if you decide you believe in the product and you'd like to offer it to others.
How Much is WP Twin?
Currently, the tool sells for 28.95 with no monthly fees. Usually, it's $297 per year.
Are You Ready For Some Self Protection?
I actually know someone who was locked out of her blog; she was Blogger A in the above scenarios.
I realize plugins exist to help you back up your blog. However, if you blog is hacked so badly your dashboard is damaged, the plugin is useless.
I was once locked out of my blog, and I can tell you it's scary.
Can you afford to risk being locked out of your blog and losing everything?
Of course not. We all know how important our online home is. However, you might depend on your blog for income which will be gone if you can't get into your blog.
Why risk it? How much would you pay for peace of mind? For a small investment, protection and the peace of mind that comes with it can be yours.
Clone, backup, move, and restore your blog today.  Sign up now.
Readers, please share, so others know the benefit of WP Twin, the blog that gives you a cloned blog and the feeling of security that comes with it.
Note: This was a sponsored post but the opinions herein are my own.
Do you have any experiences with hacking or being locked out of your blog? I look forward to hearing your experiences in the comments section.