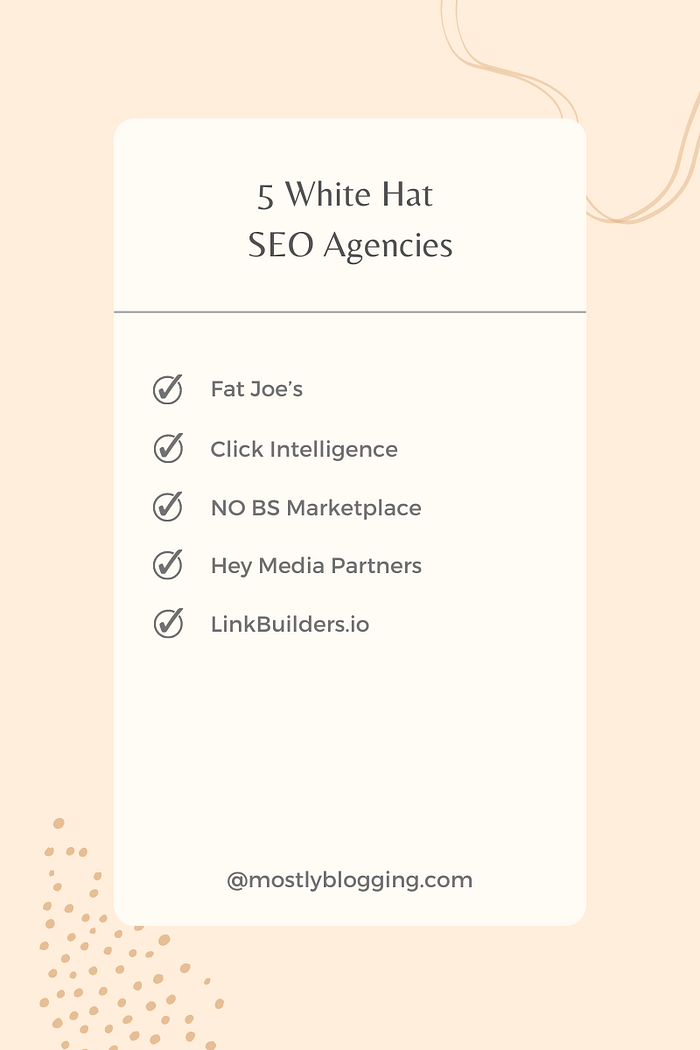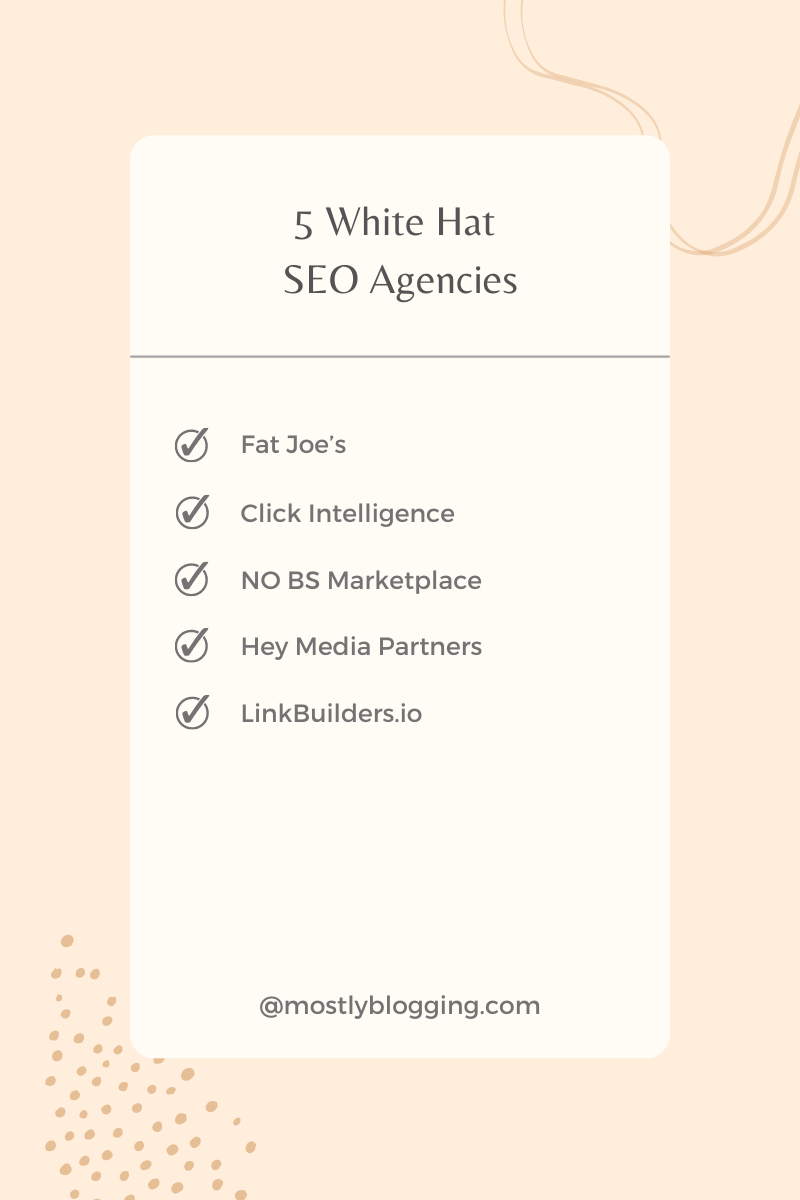 Are you looking to boost your rankings by using a White Hat SEO Service?
This post reviews three White Hat SEO services that help you build links to your website.
Did you hear the Alexa Rank will soon be outdated since Alexa.com is folding?
That news in the B2B (Business to Business) SEO world makes the Ahrefs Domain Rating all the more important. The Domain Rating reflects your link portfolio, how many links you have built to your site.
As the marketing industry grows more competitive, the preoccupation with link building grows greater. Boosting the links to your site grows your Ahrefs rank which reflects your website's authority.
The methods in this post are off-site SEO strategies. Also known as "off-page SEO, this refers to actions taken outside of your own website to improve your rankings within search engine results pages (SERPs).
Do not worry that these are Black Hat SEO techniques. I have personally tried each White Hat SEO service reviewed in the post.
In the event you want to outsource your link-building needs, let's find a White Hat SEO service that is right for you.
If you are familiar with 2022 SEO trends, you know that Google made links a hot commodity.
Before we begin, let's look to see if I have consistently built links to my blog.

Yes! At the time of this writing, I have over 50,000 backlinks to Mostly Blogging.
You see the steady increase in my DR as I implemented these strategies. Some of these links come from organic efforts and others come from paid methods.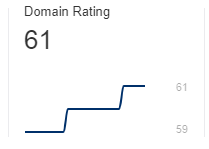 This post shows how you can replicate my paid methods.
By the time, you're done reading, you'll be able to implement these strategies too.
Important note: I have vetted most of these services.
The Importance of Link Marketing
Link building, also known as "link marketing," is the process of getting other websites to link back to your website.
Link marketing has many advantages for your website:
You increase your site's authority
You drive referral traffic
You boost your SERP (Search Engine Results Page) rankings.
Are you worried Google will penalize you for purchasing links?
The Authority Hacker Podcast observed, "No one has been penalized for buying or selling links for five years." However, I understand that doesn't mean they won't be tomorrow.
What is White Hat SEO?
White Hat link building and SEO refers to SEO practices that are approved by Google and maintain the integrity of your website.
White Hat SEO Service Review
I have personally used each White Hat SEO service reviewed in this section, so I can recommend each White Hat SEO company based on personal experience.
1. Fat Joe's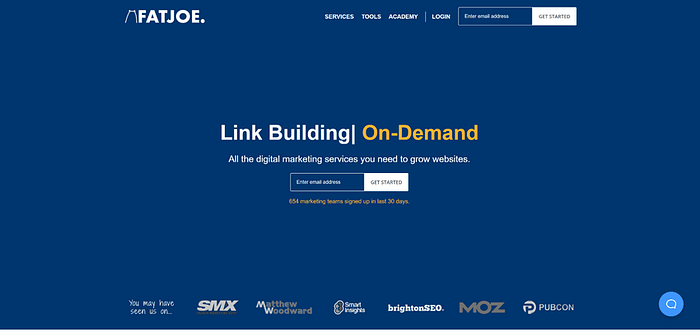 Fat Joe's offers many services
Link building
Copywriting
Design and video
SEO
Marketing
Of the link-building services I've used, I found Fat Joe's the most expensive White Hat SEO service.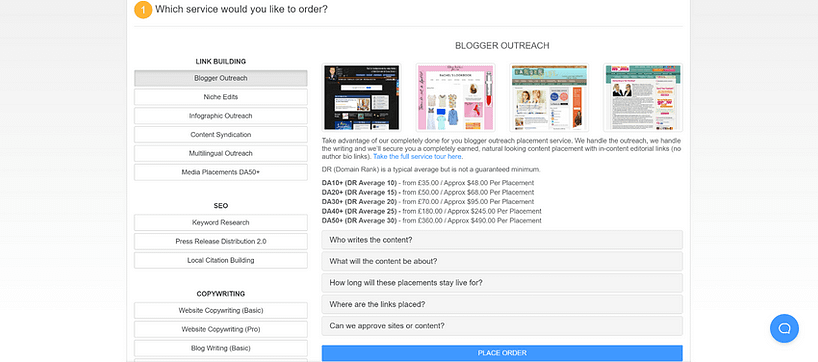 As you can see from the screenshot, Fat Joe's charges by the Domain Authority Rank of the website you want a link from.
The Domain Authority Rank is Moz's rank. The Domain Authority or DA is considered the industry standard for website authority.
More information on Moz's DA can be found in this guide to the MozBar SEO extension which shows the DA of every website for free.
You can sign up for Fat Joe's and order SEO services here: https://fatjoe.com/.
2. Click Intelligence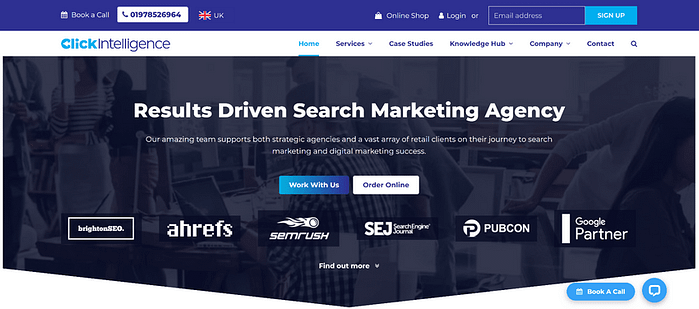 Click Intelligence offers many services:
Content creation
Paid Search
Link building
Local SEO
Managed SEO
Google My Business
Technical SEO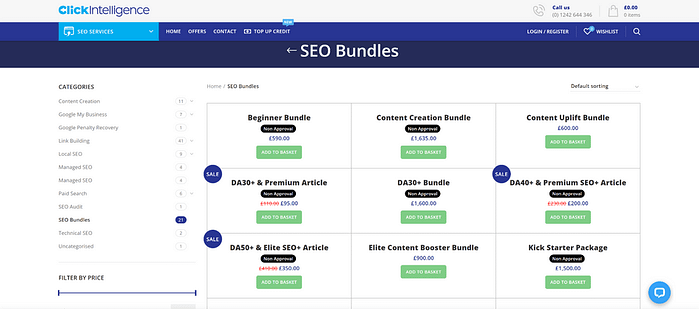 The screenshot shows you Click Intelligence's prices.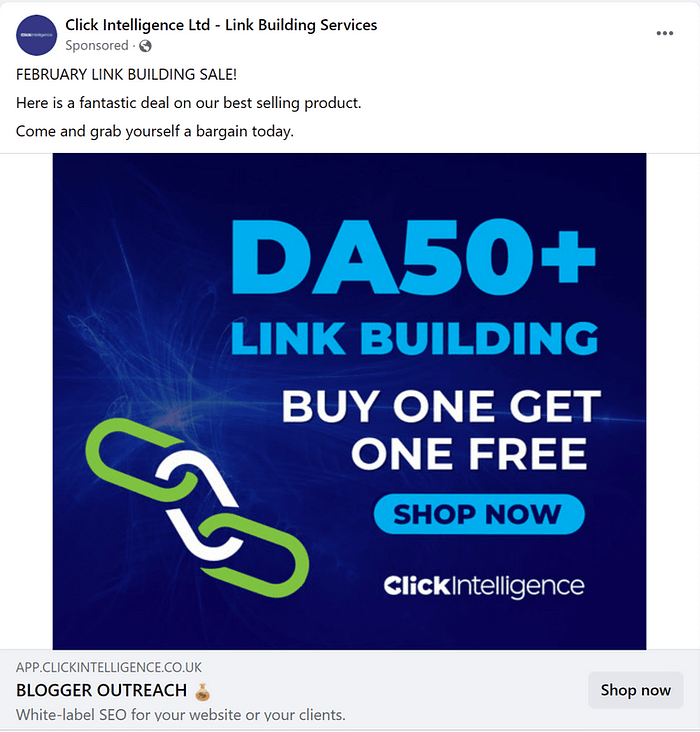 As you see, Click Intelligence has sales.
If you are interested in using the White Hat SEO service, Click Intelligence, sign up here: https://www.clickintelligence.co/.
3. NO BS Marketplace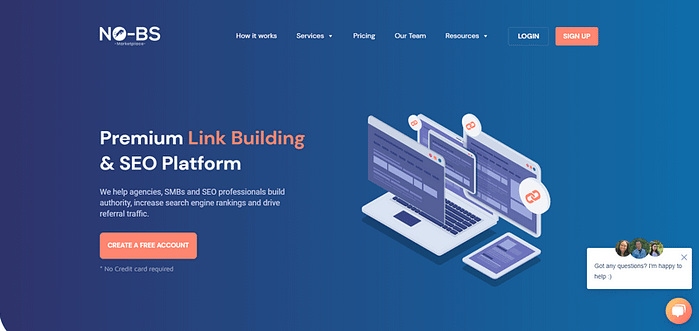 NO BS is my go-to White Hat SEO Service for when I want to purchase links. I find NO BS more affordable than other services.
Human help is available in the live chat each time I've needed support. Then, you get a live transcript of the chat sent to your email.
Pricing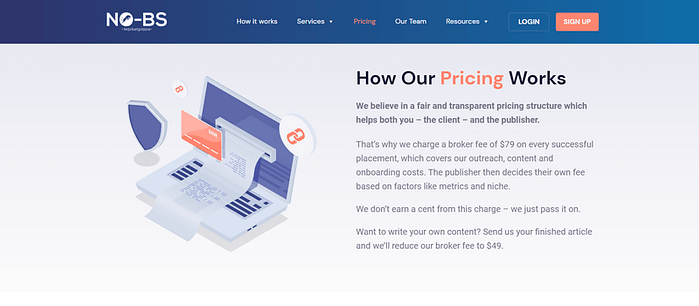 If you are interested in using the NO BS Marketplace White Hat SEO Service, you can sign up here: https://nobsmarketplace.com/.
Bonus White Hat SEO Service
I have not used the White Hat SEO link-building companies in this section.
4. Hey Media Partners https://app.heymediapartners.com
5. LinkBuilder.io: https://linkbuilder.io/clear-pricing/
Pricing at LinkBuilder.io starts at $325 per link.
Testimonials about Using a White Hat SEO Service
In her podcast, "SEO Strategies to Focus On in 2022," Marie Haynes answers the question, "Should you buy links?"
Her answer is 'Yes, if the links are from authority sites." In other words, if you buy high-quality backlinks, Haynes approves.
White Hat SEO Service FAQ
What is White Hat and Black Hat SEO?
White Hat SEO refers to SEO practices that are approved by Google and maintain the integrity of your website. In contrast, people who use Black Hat SEO practices resort to inappropriate means to try to game the system.
Wrapping Up: White Hat SEO Service Reviews
In closing, B2B marketers need better rankings so they pay for links. This guide reviewed White Hat SEO Services you can use if you want to pay for links as well.
Readers, please share so bloggers interested in buying links to boost search engine visibility discover this post explaining how to buy high-quality backlinks at a White Hat SEO service.
I look forward to your views in the comments section. Do you know an additional White Hat SEO service you have used and can personally recommend?

Janice Wald is the founder of MostlyBlogging.com and co-founder of the Mostly Blogging Academy. She is an ebook author, blogger, blogging coach, blogging judge, freelance writer, and speaker. She won the Best Internet Marketer Award and the Best Blogger Award at the 2021 Infinity Blog Awards. Wald was also nominated as 2019 Best Internet Marketer by the Infinity Blog Awards and in 2017 as the Most Informative Blogger by the London Bloggers Bash. She's been featured on Small Business Trends, the Huffington Post, and Lifehack.