Are you looking to save money on website expenses in 2021?
Maybe you're trying to build a new website and want to keep your website expenses low.
On the other hand, perhaps you have been running a website for years and you're looking to cut costs.
These strategies help you save money on website expenses.
How You Can Save Money When Building Your Website
Setting up a webpage can be a challenging yet rewarding venture for anyone. It's exciting, and you're most likely fantasizing about the daily numbers of visitors frequenting your page even before you've built your site.
Keep in mind, though, that what seems to be a straightforward webpage with buttons, words, and graphics may look like an easy project. Also, wait until you hear the exact costs involved in upgrading or creating a new website. Some companies invest close to $50,000 for their webpages.
You're probably wondering where the dollars are spent? Suppose a company prefers a customized site. In that case, they'll be spending on the agency's time, which includes proofreading pages, choosing and buying photos, and finally testing and streamlining the webpage.
Large companies will have no problem allocating a budget for these kinds of projects, but small-scale enterprises will have trouble affording it. So, if your fund can't sustain this type of spending, here's how you can save money on website expenses when building your website.
How to Save Money on Website Expenses
Choose A Pre-made Template
Using pre-made templates is one of the most common ways to economize expenses on your webpage. Opting for themes will reduce the timeframe a web designer or developer requires to produce the tone of your site. This decision, in turn, lessens the cost of the job.
You can search for many patterns and concepts, which are either paid or free. If you browse through multiple platforms, you're sure to discover the right one that'll suit your webpage design.
If you want to have a sense of an estimated price of a webpage, depending on various elements, you can use tools like a website cost calculator.
Determine The Website Style You Prefer
During the initial stage of the project, it's best to strategize and plan your site's layout or design. If you begin working on your webpage without any idea of the purpose of the website and what you want to build, then you'll end up going in circles.
On the one hand, if you already have a concept in mind, it'll allow you to advance faster rather than develop everything throughout the project. So, figure out if you want to build a site for blogs, videos, or a membership website.
Explore Free Online Classes
In case you're not knowledgeable about how to work on content management systems, there are many platforms today that can help you understand and learn it. It doesn't necessarily mean you'll have to study confusing codes. However, if you plan to produce your website while on a budget, you need to understand how webpages operate.
First of all, teaching yourself the skills needed to build a site permits you to handle various concerns that you may encounter on your page. Moreover, with your newly acquired skills, you can capitalize on it, know how much web developers bring in, and the cost to build a website.
Take Advantage of Available Photos or Free Stock Images
When you browse various websites, you'll notice plenty of them are leveraging on stock images. These types of photos present clean and professional pictures. What's more, website owners don't need to take the photos themselves or post photos of themselves.
While there are benefits in utilizing stock images, unfortunately, they cost a certain amount of money, especially when an expert photographer takes them. Of course, there are free stock websites you can go to. However, you'll really need to devote time to searching for suitable photos to use.
Other than free stock photos, another alternative you can choose is to upload your pictures. Doing so will not only increase your webpage's credibility but it'll also lessen your expenses. Additionally, customers will likewise discover the real you and learn that you're not just a stock photo model posing on a canvas.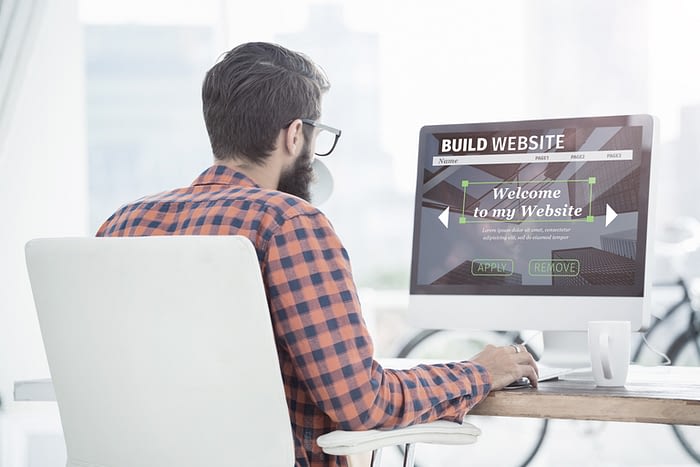 Re-use Existing Materials
Alternately, if you already have a webpage with old and not mobile-friendly content, you can repurpose those and include them in your new site. Reusing and updating old content can help you save time and budget.
Moreover, when you repurpose content into various formats, it can broaden your reach to other individuals or your audience members. Remember that not everyone is the same. Some prefer seeing numbers, others want to watch videos, and some enjoy listening to audios.
Additionally, reusing existing materials likewise enhances your search engine optimization (SEO) ranking. For example, search engines such as Google favor trustworthy sites. When you reuse quality content on your webpage, search engines will readily perceive you as a useful and authoritative source. At the same time, it strengthens your online presence, heightens brand awareness, and offers more backlink potentials.
Limit Site Pages
Each page you create on your site costs a fee. Hence, when strategizing your website's layout, consider minimizing your total pages to the ones that are essential.
For instance, company history can be fascinating to customers. However, including a lengthy description of the advantages of your product and service isn't necessary anymore.
Employ High-Quality Content Writers
A great website requires quality content. Yes, you may only have a limited budget, but if you can't produce blogs, you'll need to employ someone who can do it for you. Exceptional writers are a bit costly, but the material they make will be an asset to your site.
With that said, avoid writers who can't speak appropriate English. Find creative copywriters to write for you. Or, if you can't afford one, produce the content yourself. When visitors view your webpage, they'll be reading or watching content that illustrates you.
Website Expenses FAQ
Where do I deduct website expenses?
I deduct website expenses from my taxes. Website expenses are business expenses. Give proof of your website expenses to your account. He or she will need to know the information when calculating your taxes. Therefore, you should keep a record of your website expenses throughout the year.
Final Thoughts: How to Save Money on Website Expenses
Overall, there are plenty of strategies you can implement to structure your website. Utilizing resources such as inspiring videos or creative content are some of the usual practices people take when starting their webpages.
Indeed, these materials are excellent to see on anyone's website. However, please take note that these tools will incur more fees.
Remember that it's better to focus on what you want and what you want your customers to accomplish on your site. Opting for a straightforward website will allow you to save money on website expenses and attract more visitors.
Takeaways
This guide taught how to save money on website expenses in order to cut your costs.
Readers, please share so bloggers and other webmasters learn to save money on website expenses.
I look forward to your views in the comments section. Do you know any way to save money on website expenses in addition to the seven strategies taught here?
Sang Coronado

Sang Coronado is a full-time blogger who writes about blogging, business and web design on his blog. Sang also works with other websites to submit guest posts.
This post was made possible by the support of our readers.