"What's a vlog?"
Have you ever asked yourself that question or heard others ask?
A vlog is a blog in which the postings are primarily in video form.
Video use is predicted to continue to be a popular way of transmitting information in 2019.
Are you planning on making the leap to vlogging?
Today's guest author suggests 3 valuable tips if you plan on joining one of the increasingly populated groups of vloggers.
3 Practical Tips for Vloggers
How to Kickstart Your Vlog
Edyta Choińska
You may already be a keen blogger, or you may be looking for a way to break into the scene. Either way, vlogging can give you a fun, creative way to get further involved with the blogging world and potentially increase your reach. For those with an established audience, vlogging is one way to switch it up and offer new content; for those still seeking their follower base, it can provide a quick and easy alternative for people to get to know you before they invest in you further.
It may seem like absolutely everybody is jumping on the vlogging bandwagon at the moment, but that doesn't mean it's going to be a walk in the park. It can be difficult for vloggers to stand out from the crowd, especially when there is necessarily some technical know-how involved in the vlogging process. That's why we've put together this accessible guide to get you kickstarted in the vlogosphere.
The Planning Stage
The key to a successful vlog is planning. If you've never made a vlog before, then jumping in feet first without thoroughly researching your equipment like your vlogging camera, identifying your target audience, and finding your unique angle will inevitably end in disaster. As mentioned previously, it can be difficult to stand out from the crowd; identify your USP (unique selling point) and use it! This could be anything from your larger-than-life personality to the unusual subject matter you want to address. Figuring out your angle in this way will also help you to work out who your audience will be. This enables you to create content that appeals to them and gives your vlog direction.
While you shouldn't write yourself a script to read from, it can be a good idea to write a list of prompts that you can put next to the vlogging camera for each vlog. This helps for two reasons: it keeps you on track with your subject matter while filming, and it helps to structure your video. This makes it easier for you afterward in the editing suite and for your audience later on watching the finished piece.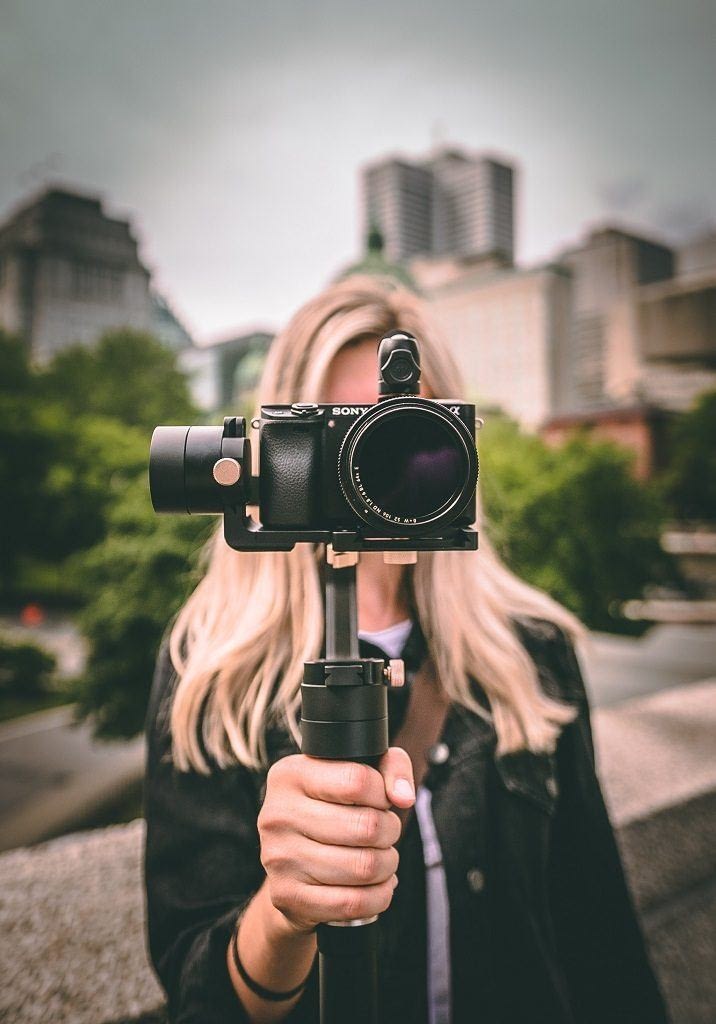 The Right Set Up
Don't worry, you don't need a qualification in operating a vlogging camera to film a decent vlog. Professionals from all walks of life are giving it a go, using the high-quality yet affordable kit that is now available on the market. The past year has seen professional poker player Jeff Gross make a huge success out of his foray into vlogging. His easy, personable demeanor is a perfect fit for the growing platform and has allowed him to connect with his audience in a whole new way. Despite approaching the medium as an amateur, through trial and error he has developed a simple approach to creating the perfect vlog that utilizes equipment and software available to everyone.
If you're not ready to invest in an HD vlogging camera, tripod, lights, and all the rest just yet, you can still make a fairly decent video using a white bedsheet for a backdrop, plenty of natural light and an iPhone. The most important thing is to avoid any basic mistakes (like filming the whole thing in portrait rather than landscape) and ensuring that the finished article is a watchable piece that will appeal to a wider audience.
Subject Matter
Let's double back to the USP mentioned earlier on in this article. This is perhaps the most important part of the vlogging process and one that could dictate whether your new project will sink or swim. While you can employ props, personality, and pizazz in order to make your vlog stand out, it's better to have something concrete to rely on. By this, we mean quality content. Figure out the type of content you want to make – whether it's comedic, MUA (Makeup Artist), daily life or current affairs – and then make sure you're presenting a varied but well-researched approach. Always have a list of ideas to bring into play so that you are never stuck casting around for a subject when it comes to filming.
Bumps in the road like nervousness, being camera shy and low engagement are to be expected to plague vloggers at first. However, as you practice more, research more, and become familiar with the vlogging format you will find yourself growing in confidence. Belief and pride in your output can go a long way towards making vlogging successful, whatever that means to you. Whether you're approaching vlogging as an opportunity to earn an income or simply as a labor of love if you believe in the content you're creating, you will achieve your goal of becoming one of the most successful vloggers.
Host bloggers comments:
Readers, do you transmit your blog post information in video form? If so, do you have any additional tips for vloggers?
Please share so people looking to ride the wave of video popularity learn these tips for vloggers.
This post was made possible by the support of our readers.
Related
Interested in making videos with your smartphone? Try the Instasize app. Instasize makes engaging videos and is quick and easy to use.