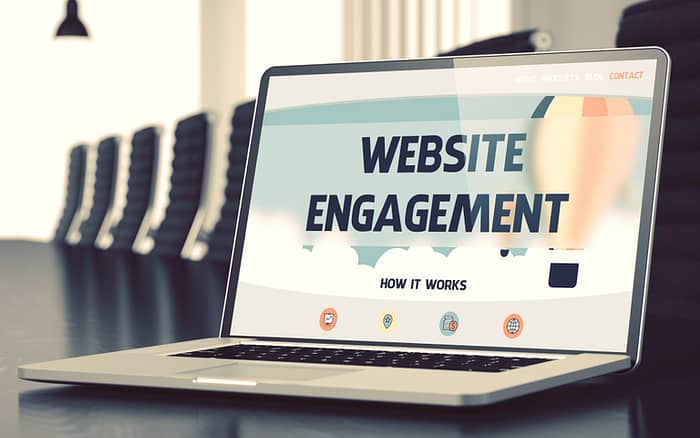 Whether you're running a blog for your professional portfolio, affiliate marketing business, or e-commerce, visitor engagement is an important consideration.
It's crucial to re-engage reluctant blog visitors to encourage them to take actions that are favorable to your business. You want them to stay on your website, signup, comment, share your post, return to your blog, and, eventually, avail of your product or service offerings.
So, how do you entice your blog visitors to stay and engage in your website?
By reading this guide, you will see empirical evidence in the form of screenshots and quotes that show the need for you to increase visitor engagement. You will also discover tools and methods effective in boosting visitor engagement.
Let's dive in and discover strategies to boost visitor engagement.
What is Visitor Engagement?
For the purposes of this guide, visitor engagement is defined as how visitors act on a blog post.
Visitor engagement is a form of relationship marketing. You want the blog reader to feel a connection to the blogger.
As a result of this connection, the visitor will answer the blogger's Call to Action and connect with other blog visitors.
Fail to Boost Visitor Engagement and See What Happens
On Mondays, I throw the Inspire Me Monday Linky Party. Bloggers post links to their blogs as a form of promotion. The other hostesses and I each choose two winners who we consider the most inspirational writers of the week.
One week, I chose the winner of a post about inspirational quotes. I was unprepared for the moving dialogue that ensued on my blog.
Look:

She wondered, "if anybody's really reading my posts?" Gulp!
Her comment touched the nerves of the bloggers who could relate to the deafening sound of silence, also known as "crickets" in the blogging world.
Look again:
"Sometimes I wonder the same thing! Blogging is sometimes thankless, hard, and you always wonder if you're doing it right.

Sometimes I wonder if I'm ever reaching anyone but my DA (Domain Authority Ranking) is currently at 20 and my Google Analytics and affiliate links are getting clicks, so I know I must be reaching someone.

I think these link parties help out too because even if no one reads it today, someone will later and it helps to add our links into different websites too. Keep blogging and don't give up! From…"
Another heart-wrenching response:
"Hey, all,

Yeah, I'm not sure if people read my posts either. And I don't want to check analytics, because I believe they are too low. I don't want to be discouraged ??"
Helpful Ways to Increase Visitor Engagement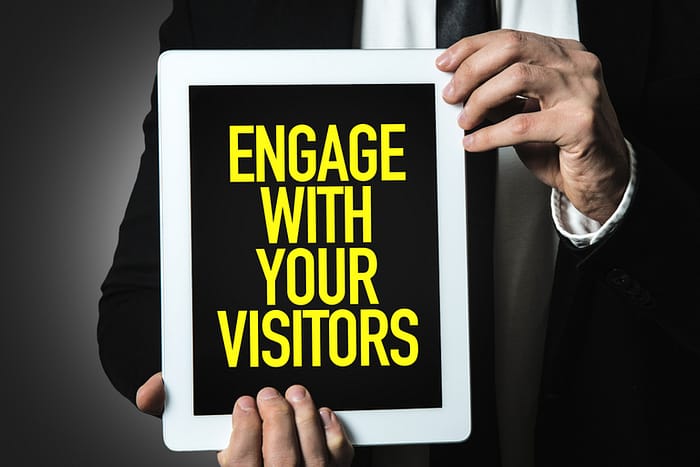 Use A Reliable CRM Software Tool
What is customer relationship management?
CRM is a comprehensive software program that can help boost your engagement. It's a centralized location to store and analyze prospect and customer data as well as track user interactions. It helps businesses grow by managing customer relationships.
If you're a business owner, you can determine the relevant visitor data to help you create the best blog strategies for your website by using the best CRM software program.
So, how can you use CRM to re-engage reluctant blog visitors? Here's how:
Send Personalized Messages: Create and send personalized messages or smart pop-ups to current customers and anonymous visitors using CRM (learn more about smart pop-ups below).
Create a User Persona: CRM tools can help business owners create buyer personas, which also applies to blogging. You can create user personas using your CRM software tool to know the types of blogs your visitors love to read and the pages people likely exit.
Encourage Team Collaboration: Use CRM to promote good team collaboration because everyone can see the data available on the tool and be able to make sounder decisions. In this way, you'll find better strategies on how to improve website engagement.
Improve Website Speed
Website visitors expect your web pages to load fast. Just a one-second delay in page load time can result in lower conversions, fewer page views, and reduced customer satisfaction. The most successful websites are appealing and fast loading.  
In the customer service industry, experts know that one of the key ingredients to building trust for customers to leave reviews and recommend products or services is to improve website speed. Therefore, if you want to re-engage reluctant blog users, you need to improve your website loading speed by:
Using reliable plugins to reduce web page loading time
Avoid complicated and bandwidth-consuming web coding or programming
Avoid using too large images on your web pages
Hire a website developer to help you improve your website
Use Smart Popups to Engage Blog Visitors
As mentioned, you can create and send personalized messages to your blog visitors at the right time using CRM. Make sure that your messages are website visitor grabbers, which take the form of stickies or pop-ups.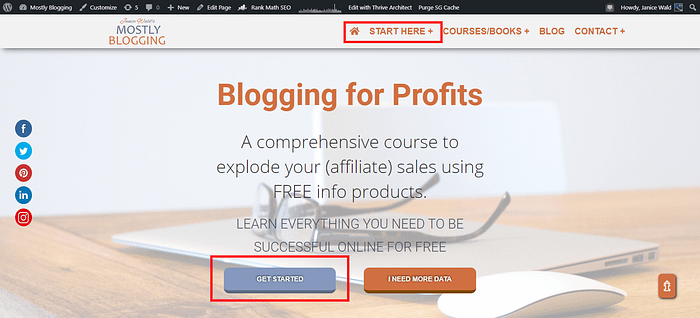 Using web visitor grabbers or smart pop-ups can help you increase conversions. For example, if your blog is too technical, you can offer helpful guidance or provide hints to your visitors, such as 'start here,' 'click on this,' or 'got it.'
If you have an e-commerce business, you can use web grabbers such as reminders and discounts to avoid cart abandonment. Prompt your readers to subscribe to your blog using pop-ups to decrease the likelihood of complete website abandonment and increase your chances of re-engaging with your reluctant visitors sometime in the future.
As a quick summary, smart pop-ups can do the following:
Provide helpful hints
Ask a question (like why the visitor wants to exit the page)
Display a time-sensitive offer
Prompt a visitor to subscribe to a newsletter or blog
Offer helpful guidance
Create Fresh, Interesting, and Engaging Content
The taste of visitors for content may change from time to time. Hence, you should produce fresh, interesting, and engaging content every time.
Here are some helpful tips to accomplish this goal:
Create captivating titles with the help of headline analyzer tools.
Add numbers to your title, such as '5 Ways to Engage Website Visitors.'
Utilize power words to create an impact.
Use descriptive and relevant anchor text.
Add attractive visual content such as high-definition images, infographics, and videos.
Offer Reward or Incentive
One of the best ways to re-engage reluctant blog visitors is to offer incentives such as B2B loyalty programs. As mentioned, you can offer some type of discount to your first-time buyers to prevent them from leaving your website.
Other rewards or incentives to help encourage people to stay longer on your website include the following:
Unlock downloadable learning material or online tools once the visitor completed reading your post.
Offer freebies such as product giveaway or free 'X' number of service hours.
Hold a contest and give a special prize to the best blog commenter.
Make Your Website User-Friendly
Most often than not, web visitors leave web pages because they find them challenging to use. Avoid one of the common website issues that frustrate website visitors, which is having a site that's too complicated to navigate.
If your user interface is cumbersome, it will negatively affect the user experience. Therefore, it's important to keep your website user-friendly or easy to use, especially for the tech-savviness and knowledge level of your target audience.
Look at these tips to make your website user-friendly:
Add a Search Box: In this way, your visitors can easily type in a question or phrase to help them find the answers they're looking for on your website fast and easily.
Include a Sitemap: Your website should have a dedicated sitemap, which is a one-page section in your website that serves as your site directory. It contains all the menu and category options with their links, helping your visitors get to the right page and avoid confusion when they're navigating your website.
Remove Unnecessary Website Elements: If you notice any unnecessary website elements, such as an image, a pop-up, or a paragraph in your content, remove them to make the user experience smoother. You want to ensure that all your web elements are effective, functional, and productive without compromising the user experience.
Visitor Engagement FAQs
Why is visitor engagement important?
An effective blog post ends with a Call to Action which asks the visitor to take an action. The Call to Action could be any action such as commenting, sharing the article, or purchasing. Unless the visitor is engaged, feels a connection to the blogger, getting the visitor to respond to the Call of Action will be difficult if not impossible.
How do you analyze site visitor engagement with Google Analytics reports?
When you go into Google Analytics, off to the left of the screen, you will various reports. click on the one that interests you. For instance, when you click on Conversions, you see Goals, Ecommerce, and Multi-Channel Funnels. If you set these reports up ahead of time, you can see who is purchasing from you.
Conclusion: How to Boost Visitor Engagement
Reluctant blog visitors show less engagement.
Following some of the tips shared in this article can help you accomplish your goals.
It's important to know what concerns them and what makes them happy. You need to obtain the right visitor data and analyze them so you can create better blog strategies. Make your content more engaging and your website fast and user-friendly.
Readers, please share so bloggers discover this guide that shows the need for visitor engagement and how to fix the lack of visitor engagement.
I look forward to your views in the comments section. Can you suggest strategies to boost visitor engagement?
Authors: Janice Wald and Editorial Staff

Janice Wald is the founder of MostlyBlogging.com and co-founder of the Mostly Blogging Academy. She is an ebook author, blogger, blogging coach, blogging judge, freelance writer, and speaker. She won the Best Internet Marketer Award and the Best Blogger Award at the 2021 Infinity Blog Awards. Wald was also nominated as 2019 Best Internet Marketer by the Infinity Blog Awards and in 2017 as the Most Informative Blogger by the London Bloggers Bash. She's been featured on Small Business Trends, the Huffington Post, and Lifehack.
This post was made possible by the support of our readers.