Creating a videoselfie (velfie) should be exciting.
Here is a brief explanation of what a videoselfie is and a few tips on how to take a perfect shot.  
Following the craze of selfies, users are now heavily engaged in the creation of videoselfies.
By reading this guide, you will discover a description of a selfie video, 26 best tips for creating a videoselfie, and how you can collaborate with brands.
Here are 26 hacks to help you achieve best results.
What are Selfie Videos?
These are merely extensions of selfies which are just photos of users.
Nowadays, people want to create and capture more of their experiences. One way to do so is to create a video of an event such as a birthday party, a work outing, a date, among other events.
For that reason, knowing how to create a fun, engaging, appealing, and high-quality videoselfie is warranted. 
The global society is now saturated with technology. Social media usage has sparked and continues to rise as more people sign up on platforms such as TikTok, YouTube, Instagram, Twitter, Snapchat, among others.
If you are posting a video on one of the mentioned platforms, a little knowledge on how to capture one of high quality will help you to attract more followers. 
History of the Selfie
The "selfie" became popular and was included in the dictionary in 2014.
Selfie videos are famous because of their ability to revamp the user's image and can be shared with friends. The quality of selfie videos is crucial in influencing the nature of the reaction of other users.
Lots of students are spending hours trying to create a great picture which makes them forget about their studying and they end up needing to get some online help.
Over the past 10 months, professional filming and photo studios around the world could not remain open due to government restrictions to contain the spread of Covid-19. The closing of these studios left brands and crews with limited options for creating large scale campaigns and content for social media.
However, production didn't remain stagnated for long.
As influencers are used to creating content on their own, with minimal or no extra crew, they turned into a go-to professional. Plus, their videoselfie skills became more relevant than ever.
Tips for Creating a Videoselfie
First, it is important to know what device you intend to use to create the videoselfie. Various options are available such as a laptop, tablet, or your smartphone.
In most cases, creating a videoselfie is convenient when using your smartphone because of mobility and ease of handling due to low weight. Because smartphones and other devices are equipped with video recording software, you should educate yourself about how to use them. 
The videoselfie production tips are summarized below: 
Videoselfie Hack #1 Have a draft of what you want to say.
Hack #2 Shoot the video in portrait mode or you can use a selfie stick if you are using a mobile phone.
Hack #3 Make sure the video is at a slight angle and above your face. Avoid having your face right in front of the camera as this can add weight to your face affecting the resulting image. 
Hack #4 The surrounding should be interesting, fun, but should not distract you. The focal point of a videoselfie should be your desire to make it.
Hack #5 Ensure that you have back-lighting. This increases the quality of the shoot.
Hack #6 Make a sample video. This way you can determine what you would like to change.
Hack #7 It is important to create a fun video. Make facial expressions such as smiling both at the introduction and conclusion of your video.
Hack #8 You can use your hands or any props to enhance your points.
Hack #9 A standard length for a videoselfie is two minutes.
The following are guidelines and tips for you on how to take a good videoselfie by using the basic techniques recommended: 
When using a smartphone or tablet
In most cases, you are likely to take a videoselfie using your tablet or smartphone.
The angle of your camera is critical to getting a quality video. Shoot while the camera is in a horizontal direction to capture the video in widescreen.
Make sure that you hold the device steady to avoid movements that can affect the video's quality.
Based on experience, you should be in close proximity to the phone to avoid the video appearing shaky; your audio will also be better compared to when you are at a distance.
Another option involves recording the audio using an app such as the Voice Memo on the iPhone. 
The following is a detailed summary of how to take a videoselfie using a tablet or smartphone. 
Hack #10 Make sure your thumb (either left or right hand) or index finger (of either the left or right hand) to position perfectly against the volume button when you have extended your arm.
Hack # 11 Remain steady when taking the video.
Hack #12 You can use an assistive technology such as the selfie stick. It allows you to increase the distance between you and the device. However, make sure the stick is not captured in the video. 
Hack #13 You can hold the stick at the bottom to avoid seeing your arm.
Hack #14 You can test different positions to get the best angle. 
Hack #15 Look at the camera hole and not the screen.
Hack #16 Shoot the video where you can see the video without any obstruction. 
Hack #17 Ensure the lighting on your face does not affect the quality of the video. 
Hack #18 If you are shooting the video outside, make sure that you do not shoot when it is windy. In case it is windy, you can wear earphones and cap the microphone to block the wind.
When using a desktop or laptop
Desktops and laptops come with pre-installed cameras in the operating system.
Apple computers such as the MacBook series and the iMac have the Photo Booth while Windows computers have a camera app.
These applications are user-friendly which means that anyone can use them with ease. You can take a couple of takes to allow yourself to get comfortable when using the program. 
More Important Videoselfie Tips 
Hack #19 Dress for the camera. Choose the best clothing for on-camera. It is recommended that you wear solid colors for sweaters, jackets, or shirts. A primary color is better compared to prints or patterns. 
Hack #20 Do not wear jewelry that can make noise and affect the video's audio quality.
Hack #21 Choose a good background. Make sure it is not cluttered. When outside, shoot when facing the sun; and use a room that is well-lit when shooting indoors. 
Brand Collaboration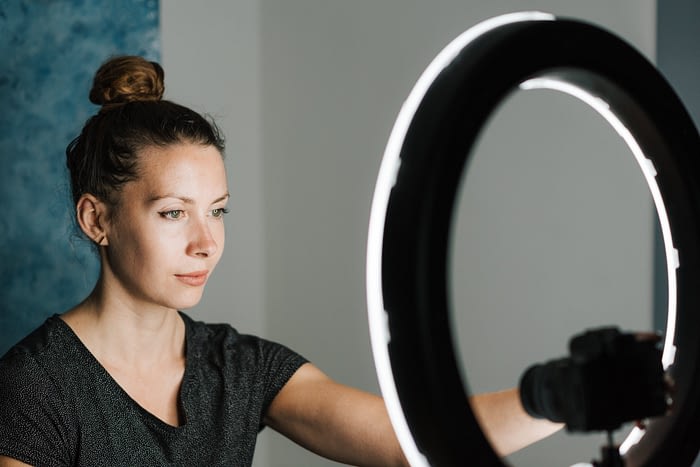 In recent years, content creators have been collaborating with brands and marketing agencies looking to add more authenticity to their campaigns – instead of the glossy productions that usually require a sizeable amount of time and resources. 
"It is always a win-win situation when a brand trusts an influencer to create content on their behalf. It is cost-effective for businesses because influencers often work on their own and multitask as talent, scriptwriter, videomaker, and director.

And for the creator, it is a partnership that combines money and exposure – as companies are likely to tag influencers when posting content across their social platforms." – explains London-based Influencer Marketing Campaign Manager and Digital Consultant Marcio Delgado.
You don't have to be an influencer with lots of followers and video experience to create good quality videoselfies at home and collaborate with brands.
5 More Hacks to Help You Create a Professional Videoselfie
Hack #22: Never zoom in or crop a videoselfie.
Make sure to submit your material in HD quality (1920×1080) which is a resolution with 16:9 aspect ratio. And most importantly: don't zoom in while filming.
Most brands will work with a marketing agency or in-house team to edit your material – or adapt it to fit different specs of social media platforms. A videoselfie shot using any tool to enlarge or add proximity between you and your camera will reduce quality, making it pixelated and grainy.
Hack #23: Do it in one take.
Even if you have to record it 20 times, do it. Only share your best material because, besides being professional, nowadays viewers can easily spot when you edit your videoselfie. It is meant to sound friendly and natural, like a conversation with someone you know. Any attempt to polish your videoselfie too much will affect its authenticity.
Hack #24: Look at the camera, not at your phone screen.
It can be tempting to watch yourself while filming with your phone or a mirrored DSLR camera.
However, your focal point should be the camera on your phone or your DSLR's lenses, never the screen. It can be very distracting when watching a video if the person's eyes are always looking away.
Plus, looking directly into the camera will make your video more engaging because you will be talking directly to those watching you.
Hack #25: Light comes before action.
There is a reason for the popular saying 'Lights, camera, action.' This is a cue to the members of a film crew at the beginning of a take that no scene should be filmed in poor lighting.
Invest in a ring light for night shots. And, if filming during daytime, a nearby window is your best friend. Nothing can beat natural light.
"Lighting can really make or break a videoselfie. You can have the best outfit and a beautiful backdrop to go with it, but if people can't see neither properly, it is pointless.

When I have a Zoom call with a content creator to negotiate a contract, or to discuss a client's briefing that requires them to shoot remotely, I always ask if they live in a south-facing house.

It is a bonus to create videoselfies because, as the sun rises in the east and sets in the west, the south side of any house will see the most hours of sunlight during the day – and that is the lighting you want for your videos.

I also often ask influencers taking videos of themselves for promotional purposes to shoot near their windows.

Even if the day is overcast, it is better than relying solely on artificial lights." – reminds Marcio Delgado, whose work coordinating influencers and producing content includes campaigns shot in the USA, the United Kingdom, Portugal, Brazil, India, and the Philippines.
Hack #26: Audio is as important as image.
A video, be it a videoselfie or an expensive studio production, is comprised of two parts: image and audio.
If the topic you are talking about is very interesting, you may get people to watch your video with good audio and not-so-good visuals. However, if you have beautifully shot footage and low-quality sound, people will give up watching your video well before it ends – regardless of its length or language.
You don't have to spend much to achieve acceptable audio quality. A low-budget lapel microphone compatible with a smartphone can be found online for as little as $25. Within the more professional range, a Rode Smartlav+ Lavalier Microphone for smartphones starts at approximately $85.
Videoselfie: Frequently Asked Questions
What is a video selfie?
These are merely extensions of selfies which are just photos of users. People want to create and capture more of their experiences. One way to do so is to create a video of an event such as a birthday party, a work outing, a date, among other events.
How do you take a selfie video?
Dress appropriately and pay attention to the light. You could also use props and a selfie stick.
How do you hold your phone when taking a selfie video?
Hold your phone a little above your head. Shoot down.
Wrapping Up: How to Create a Videoselfie
Most people take great effort in making a selfie look good. However, the camera quality of mobile phones and other devices such as iPads and tablets has improved considerably. The life of video creators and any person invested in phone photography is now much easier.
Of course, there are some tips not known to the general public and which could help to improve their skills in creating a videoselfie. This guide to videoselfie creation shared those tips.
If you need more intensive help with your video creation, Mostly Blogging Academy has a Video for Newbies course.
Readers, please share so vloggers learn these best practices for creating a videoselfie.
I look forward to your views in the comments section. Do you have any suggestions for the best ways to produce a videoselfie not mentioned in this guide?
Related Reading
13 Inspiring Ideas to Make Videos People Actually Watch
Authors: Pauline Jensen and Marcio Delgado, Journalist and Influencer Marketing Manager