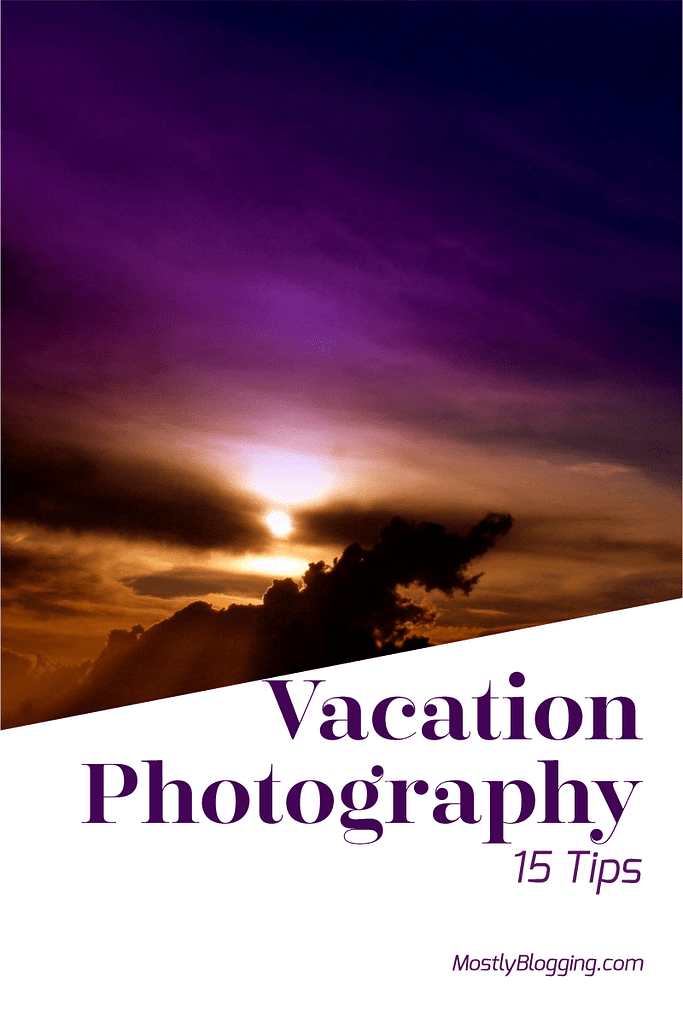 Are you a vacation photographer?
If not, should you consider it?
Becoming a vacation photographer has two perks.
The first is obvious– you capture memories from your trips.
The next advantage enables the blogger in you to plan ahead.
Be a vacation photographer. When you get home, you'll have glorious photos not only to remember your vacation but also to use in your blog post graphics.
These 15 tips will explain how to be a great photographer year round and how to be a great vacation photographer when you travel.
How to Be a Vacation Photographer
and Get the Best Travel Photography Experience
Shirley Valero
Great photographers tell great stories with their camera shots. It goes behind having the latest technology and creating beautiful images. The basic thing about being a vacation photographer is about finding a common ground where you can see yourself in others. The accompany paragraphs will explain how to shoot exciting photos on your vacation.
Go with the flow

If you want to be a good vacation photographer, you have to be open and be ready to go as circumstances dictate. Don't be surprised if your best shot happens as a result of an accident, an occasion that you didn't plan for. When it comes to photography, you are not one hundred percent certain of what you will get with your shots, so it is only natural that you be flexible. Be ready to take advantage of unfavorable conditions because more often than not, situations can be unpredictable and weather conditions can change and reduce the quality of the photos you take.
Don't forget about your safety
There are friendly people in most places in the world which is a sign that your safety is assured in these places. However, it's not like that all over the world. There are few places in the world where you have to be sure that you are safe before taking your travel photography train to such a location. Ensure you take precautions when capturing scenes in an unfamiliar environment. To be safe, ensure that you and your camera are covered by an adequate travel insurance policy; also make sure that you are familiar with the terms so you are aware of what the policy covers and what is not covered.
Try to balance your shots and feelings

This is all about knowing when to put a stop to your snapping. You may miss the fun when you try too hard to capture attractions because there is a thin line between both scenarios. You have to understand when to put your photography equipment down and enjoy the moment. If you are trying to capture as many images as possible, you may miss it all and end up regretting your actions in the end. When you realize you are paying more attention to the number of shots you can get than what is happening around you, then you should know it is time to put down the camera, relax and let the sites soak in.
Don't get carried away
If you don't take proper care, you may lose focus and sway away from the moment. As a vacation photographer, you should not allow your camera to take away your focus from the emotional experience you can take from your location. In cases like this, you should be aware of things that are going around you. If you can beat this, it will help you to reduce the hurdles of your new location into easily accessible sections where you can take exceptional travel shots.
Perspective is essential
When talking about travel photography, a little difference in feet matters a lot. You need to employ perspective in all your shots. Capturing a scene from a default position will yield a shot that is not different from the regular shots that people have seen in times past; however, contextualizing and accentuating your shots will go a long way in giving your shots a more professional look and feel.
Make use of your immediate surroundings
You don't have to travel overseas to get a great shot. Your backyard can be just the perfect location to practice your travel photography. You may not appreciate the beauty of your own environment until you start exploring it with your camera. Just let your camera guide you as you take a walk through your immediate landscape and you will be amazed at the beauty and opportunities that abound in your environment.
Don't worry yourself about taking the perfect shot
Trying too hard to get a perfect shot is a problem most travel photographers often encounter during their tours. When it comes to travel photography, there is nothing like the perfect shot. The time you start worrying about capturing a perfect shot, then your shots will appear more authentic and better to you. The flaws in flare, grain or exposure combine in giving a photo shoot a real and better feeling. It may be difficult for first timers to learn how not to bother too much about getting it perfect; however, it's important you enjoy the vibe as you take your shots.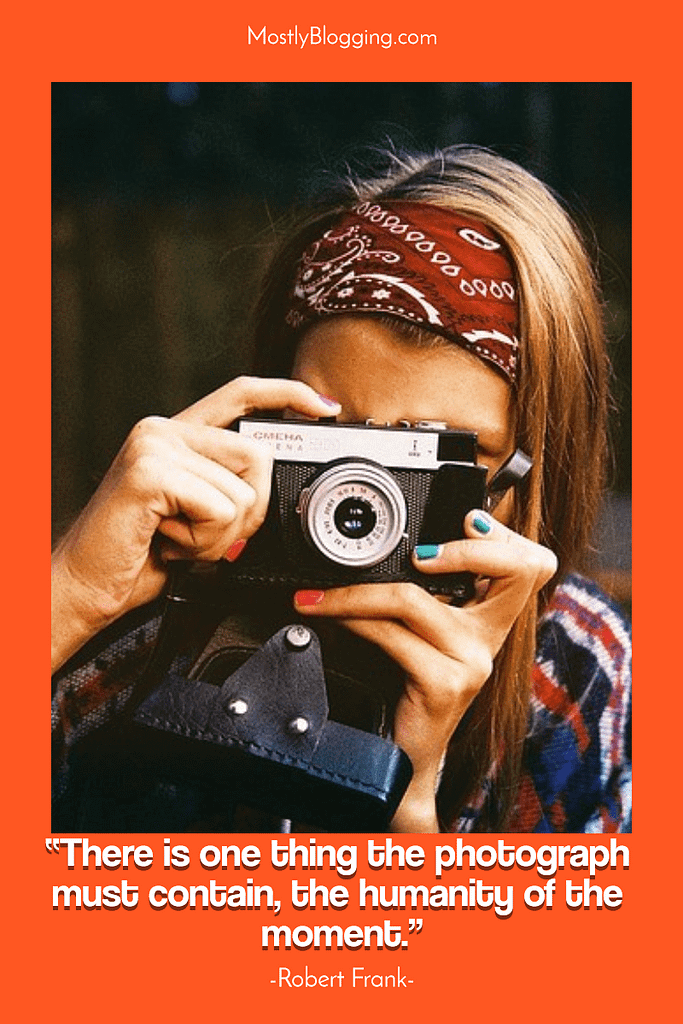 Mingle with the locals
It does not matter the kind of shot that you are looking for, whether you are capturing the best shots of your new environment or just getting to capture the secret spots of the locality, networking with people around you can go a long way in exposing several photographic opportunities. If you find yourself in an area where the language is different from what you can speak, start a conversation in a general language that most people around can understand. Remember it's a strange place, so don't forget to smile as you speak, this will create a welcoming atmosphere.
Be creative
Selecting photo-taking opportunities can be tricky at tourist destinations due to the many beautiful views and sightseeing attractions. In such situations, creativity will be your only guide in selecting the best shots to take. If you are not properly guided, you may end up with many unwanted shots. You can limit yourself to a certain number of shots you will take; this can help you in taking your best shot at these locations. Focus more on things that matter than the number of shots; focus on your technique and composition unleashing your creativity to enhance the originality of all your shots.
Knowing when to use flash photography
Keep your shots as natural as possible. The act of learning to take advantage of the light provided by nature goes a long way in giving your photography a natural feeling. Try not to use flash photography when travel photographing because flash photography reduces nature's attributes of a photo. Try to keep your images natural by choosing the best time to capture attractions.
Limit what you take along
Traveling light is ideal especially when going for a photography tour; however, you have to take along the essential photography equipment that will make your job as easy as possible. Going along with gadgets that are only necessary is an important tip that will be handy if you plan to embark on trekking and maybe hiking. Limit what you include in your bag; don't go with your entire house.
Find out about your surroundings
Before traveling to any location, make sure you carry out a thorough research to find the best time to visit for a travel photography tour. Celebration periods are the best time to visit a place; you will have great photographic chances. Investigate your supposed destination to find out when they will be having any big celebration. Not only should you investigate your location for the right time to have many photographic opportunities, you should also find out the safest time to visit. The more knowledge you have concerning your location, the greater the quality of the shot you can get.
Choose your location
No matter how experienced you may be, without an ideal location, all your efforts will be in vain. The quality of shots you take is as good as your location. When choosing a location to do travel photography, ensure you look for a location with many photographic opportunities. A country like the United States of America has hosts of tourist attractions and photographic opportunities. Such a country like the US offers you a lot of scenes to take as many quality shots as you want. If you decide to tour the country to try out your travel photography skills, you need to plan ahead of time so as to make sure your trip will be a success. Book your flight ahead of time, ensure you don't overpay for your travel ticket, you can get cheap flights to the United States with Skyscanner.
Be real and sensitive
Being real is one of the best ways of making exceptional travel photographs. The truth of the matter is that being authentic is not that difficult; it's a simple technique that any photographer can develop in a short while. You need to understand the trick behind capturing photos of people. You cannot capture a great photo of people from a distance with photography equipment such as a telephoto lens most of the time. You need to be part of the moment, immerse yourself in the happenings of the surrounding, give your subject respect and develop a relationship during your time together. Try to create a welcoming atmosphere with the people around you, discuss with them, you can talk to them concerning what you are doing or find a way to get them involved in a long conversation.
Understand your photography equipment
Don't wait till you travel out to understand how to operate your new camera. Your location should not be the place where you start to learn how to operate your photography equipment; do it at home before you take your equipment along. Know your photography equipment so that you can focus solely on your subject when you get to your location. Besides giving you the time to focus more on your subjects, your confidence level will be high when operating your equipment. Better still, don't take new photography equipment with you when going for a travel photography tour. Make use of latest technology is awesome, but make sure you know how to use the technology before taking it along.
Note: This post was made possible with the support of our readers. Opinions contained herein do not necessarily contain the opinions of Janice Wald or MostlyBlogging.com.
Host Blogger's Comments:
If you are planning to travel this summer, bring your camera along. These 15 tips are important for not only vacation photographers but all great photographers to follow.
Readers, please share so other traveling bloggers know what it takes to be great photographers year-round and great vacation photographers when they travel.
Related
Once you take your travel photos, you'll need a photo editor to turn your photos into blog graphics. I consider my photo-editing tools part of my photography equipment.