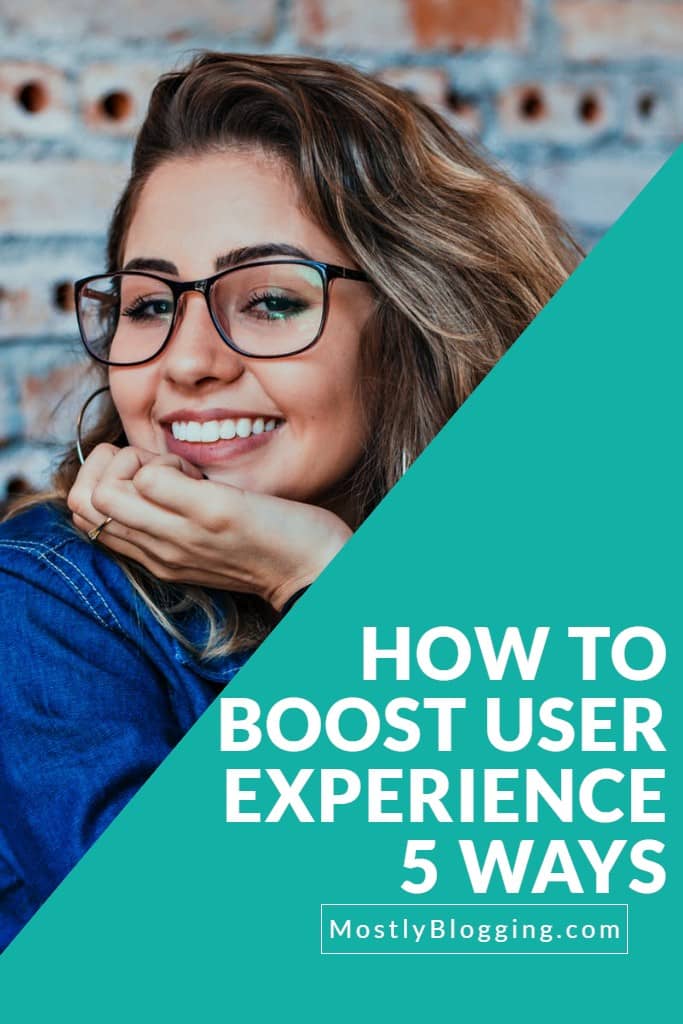 User experience optimization focuses on the overall joy visitors experience when visiting your website.
In order to keep customers on your website, you need to provide them a satisfactory user experience, but what does user experience optimization entail?
By reading this guide to user experience optimization, you discover five ways to keep visitors on your website longer. This results in boosting your SEO as well as sales. In addition, you'll see screenshots with examples.
Every honest business owner wants customers to leave their website deeply satisfied.
After all, we all know that customer satisfaction is the crux of making it big in any industry across the business world. You want customers to be so fulfilled and happy with your services and products that they become repeat buyers.
Moreover, if a customer becomes a repeat buyer, it will help you earn their trust, resulting in more website visits, consequently improving your SEO ranking.
Hiring a web designing agency that is also well-versed in SEO can help you provide your customers with a memorable user experience and become a force to be reckoned with in your field. You can also use helpful user experience principles as part of your SEO strategy.
Keep in mind that whichever agency you hire must have experience in your niche to create an effective strategy. For example, if you're a contractor or own a roofing company, you might want to find SEO services for roofing companies, this way you'll develop a strategy that actually suits your business.
So, without ado, let's explore five UX principles you can apply to your SEO efforts.
5 UX Principles That Apply To SEO
Appropriately Employ the Filter System
First things first, understand what your audience wants and expects from you. Many brands fall victim to the allure of offering their audiences too many choices. However, research dictates that when consumers are given too many choices, they can feel overwhelmed and have difficulty making up their minds.
To beat this paradox of choice, you need to utilize the filter system. Determine the needs of your audience and provide them with a choice selection of highly relevant options. It will help you eliminate irrelevant choices and encourage the audience to focus on your offerings.
Create a gamified filter system that allows your audience to answer a few quick questions on the landing page to access the products that work best for them. Depending on the type of product or service you sell, you could create filters for price range, model, color, service category, etc. This way, you can maintain a standard of targeted accuracy and present yourself as a professional, customer-centric business.
Create a Visual Hierarchy
The content on your page certainly matters, but the order in which the user sees various elements can also make a huge impact. You need to understand and implement visual hierarchy to create compelling and readable SEO content. Entertain your audience's expectations regarding the positions of various elements of your blog posts and website copy.
For instance, most audiences expect to see the business logo at the header of the page and the CTA button at the bottom. If you make sure to find a visual hierarchy that works for the average customer in your industry, you will benefit from a higher CTR (Click Through Rate). The familiarity of the content placement will help build trust, make your content easier to read and notice and encourage the desired visitor action.
The best way to design the layout is to keep the items that you need to attract the most traction at the top. Similarly, if you want your visitor to notice something, make sure to enlarge it on the page. If you want your website visitor to pay attention to a certain line, place it in a visually appealing space and keep that part of the page uncrowded.
Divide into parts with contrasting colors and scale the layout in different ways to make your content more visually appealing.
Editor's Note: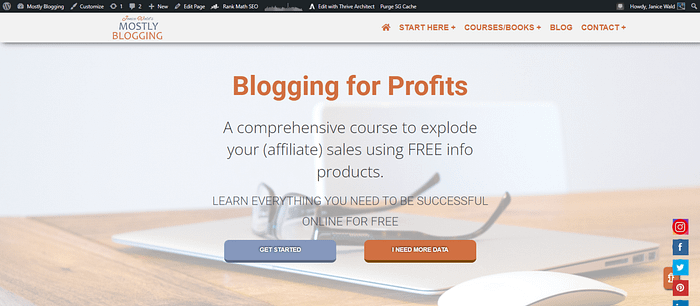 This is a screenshot of my homepage.
Can you tell the homepage follows the strategies provided in this section for user experience optimization?
A visual hierarchy is created. When visitors click the + signs, they see dropdown menus.
The colors are contrasting.
There is an equal amount of orange and blue.
There are Call to Action buttons.
Focus on SEO Optimization
Another essential aspect of ensuring strong user experience optimization is to focus on search engine optimization from the get-go. You can implement appropriate design features and optimize your platform for mobile responsiveness since the inception of your online presence.
By hiring an SEO agency, you can ensure all your bases are covered, and you have a strong SEO foundation that you can build on as your business progresses and you gain more online recognition.
It's best to split your SEO strategies into two distinctive categories – onsite and offsite SEO. The on-site efforts include website design, layout, content, and more. You need to structure your website in a way that it becomes crawler-friendly.
Choosing a web designing agency to plan and implement your web designing goals that align with SEO will help you achieve more success in the long run.
Related Reading: SCO Marketing: 3 Important Ways to Boost Your Rankings in 2022
Provide Your Value Directly
Find ways to provide your audience with your brand's value right out of the gate to make a professional self-assured impression. However, make sure that your content doesn't sound too sales-centric, as that might be a bit off-putting for a prospective customer and will actually work to decrease user experience optimization.
Here are three ways to offer value to your customers in a straightforward manner:
Inform them
Entertain their needs
Teach them something new
Keeping things clear and straightforward ensures that your website has a lower bounce rate. It's because instead of beating about the bush, you are keeping things to the point and offering prospective customers an overview of your business and what you can offer to them. A drop in the bounce rate ensures an increase in the duration of visits on your web pages, which increases your ranking.
Furthermore, focus on making your website navigation intuitive and offering the customers what they want step by step. It will make them visit other pages on your website organically. To ensure that people stay on your website, offer them what they want and allow them to explore further if they want.
Use Effective Meta Descriptions
The meta descriptions of your web pages help users decide whether they should click on your link or not. These descriptions help search engines index your website as well. However, the pertinent issue with meta descriptions is the struggle of creating impactful, SEO-friendly descriptions. The fact that you only have 160 characters to work with further compounds the issue and challenges your creativity.
To create an effective meta description, you need to start by stating the purpose of the website page or blog post.

This is a screenshot of the meta description of my Pinterest downloader tutorial. By reading the meta description, you realize you need a 3rd-party tool. The post provides that tool.
The meta description makes people needing a Pinterest static image download and a Pinterest video downloader more inclined to click my link to get the tool. The tutorial currently generates 6% of my blog traffic.
One important note, though…
Sometimes Google changes your meta description. When that occurs, no matter how much you want to boost user experience optimization with your meta description, there is pretty much nothing you can do.
If you're an authority on the subject at hand, claim your expertise to reassure the reader and make more of an impact on them. Higher authority and reliability will lead to a higher conversion rate and help you build your brand.
Editor's Note:

This is my bio. By reading my bio, do I seem like an authority in the area of SEO?
I'm confident Google will think so due to the blogging and marketing experience the bio states I have. "Authority" is part of Google's EAT criteria for boosting search engine rankings: Expertise, Authority, and Trust.
User Experience Optimization: Frequently Asked Questions
How can user experience be improved?
Make sure your site is easy to navigate, has contrasting colors, and has obvious Call to Action buttons.
How do I optimize the user experience on my website?
Don't clutter your website with too many choices. You will confuse your visitor. Make sure your site is easy to navigate, has contrasting colors, and has easy-to-see Call to Action buttons.
Wrapping Up: How to Boost User Experience Optimization
The bottom line is that you need to understand and use these principles to promote your SEO efforts and make a name for yourself in your industry. They can help you provide your users with a memorable website visit, increasing conversions and more repeat customers.
Readers, please share so webmasters looking to enhance user experience optimization to boost their Google rankings and please their visitors discover this guide.
I look forward to your views in the comments section. Do you have ideas to boost user experience optimization not mentioned in the post?
Authors:
Janice Wald and a Contributing Author

Janice Wald is the founder of MostlyBlogging.com and co-founder of the Mostly Blogging Academy. She is an ebook author, blogger, blogging coach, blogging judge, freelance writer, and speaker. She won the Best Internet Marketer Award and the Best Blogger Award at the 2021 Infinity Blog Awards. Wald was also nominated as 2019 Best Internet Marketer by the Infinity Blog Awards and in 2017 as the Most Informative Blogger by the London Bloggers Bash. She's been featured on Small Business Trends, the Huffington Post, and Lifehack.
This post was made possible by the support of our readers.