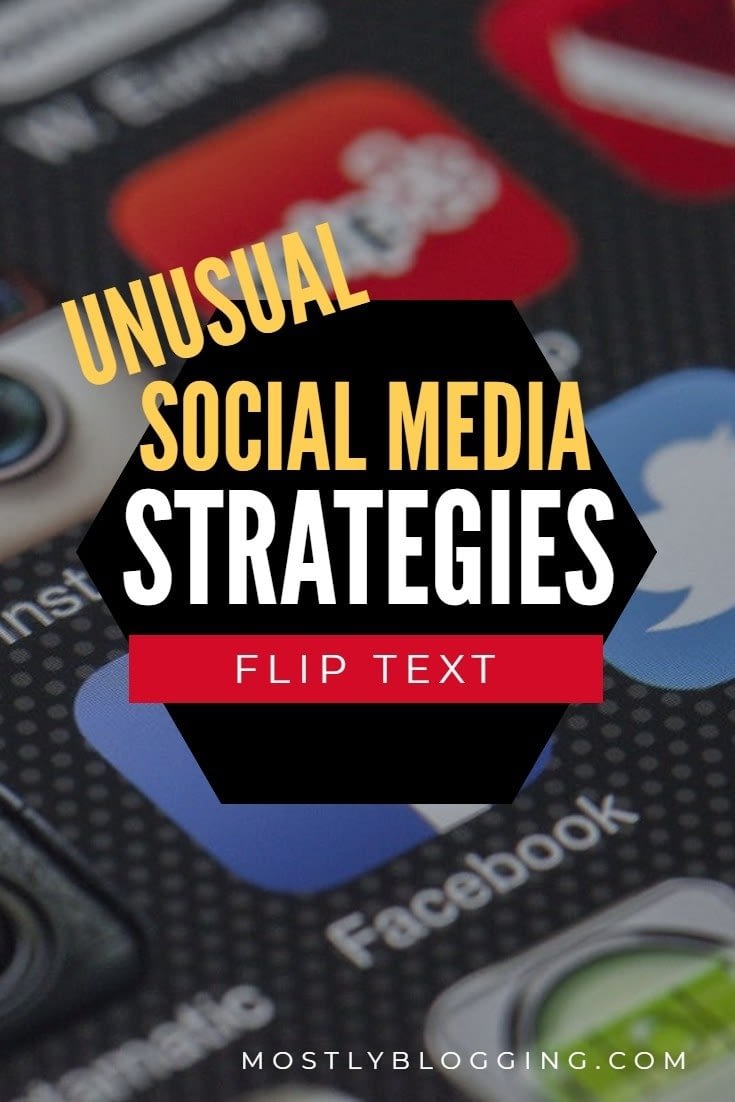 Contributed Post with an Introduction by Janice Wald
Are you searching for a guide to write upside down text?
A famous expression tells you to turn your frown upside down.
Today's guest author tells you how to turn your writing upside down.
You might wonder why you, or anyone, would want to do that or use a reverse text generator.
Social media users resort to unique measures in order to stand out on crowded social media sites. Instagram alone has one billion users.
A weird text generator like the kind you will find here is just what you need to stand out on Instagram and other popular social media sites.
After reading this post, you'll know how to flip text upside down and write backward on Instagram, WhatsApp, and Facebook.
Are you ready to flip upside down text? Then, meet your upside down text generator.
How To Write Upside Down & Backwards On Instagram, WhatsApp & Facebook
This post was contributed.
Nowadays, folks are bored with the pattern of the same old usual writing. And, they are seeking some stunning patterns of fonts when writing messages through which they surprise their friends.
There are different social platforms like Instagram, WhatsApp, and Facebook through which individuals can share their pictures, trending videos and much more. This sharing can either publicly or privately.
In this article, we decided to tell the stunning tweak that helps to unfold the question of how to write upside-down on Instagram. Additionally, you can also type upside down and backward on Whatsapp and Facebook as well.
The Way to Type an Upside-Down Caption in an Instagram Post
Instructions for your backwards text generator:
You have to utilize an upside-down text generator tool and backward text generator tool to get the ease of typing an upside-down caption on Instagram. Apart from it, you can get the feasibility of sending an upside-down text on WhatsApp or even using the flip text on Facebook.
Write Upside-Down on WhatsApp, Facebook, Instagram, And More!
It is very simple: You just have to utilize an Upside Down Text Generator. The tool will work incredibly on iPhone, Android, Windows smartphones as well as on your PC/Mac. However, you can utilize this reliable tool around the globe or even on any of your devices.
Upside Down Text Generator
Well, use this handy tool to get the ease of flip or reverse your writing. You are able to use both flip text 'upside-down' or reverse text 'backward'. Additionally, users can choose the option according to their needs using the Flip Text and Reverse Text checkboxes.
What You Have To Do
First of all, you ought to tap the Copy Flipped Text button.
Once done, then you ought to copy the processed text to your clipboard.
Finally, you have to paste the copied text on Facebook, WhatsApp or any social network you like.
For Using It On Instagram
First of all, you have to open the Instagram app and add any picture or a video.
Then, in the caption box, you have to paste the copied upside-down text.
Once done, then you can get the opportunity of posting the picture or a video with an upside-down caption on Instagram.
And, if you want to post upside-down text in your Instagram bio, then you have to follow the same steps as above.
Upside Down (Flip Text) App
Yes, this is one of the best and fastest apps to type upside down or flip your writing. You just have to install this app on your mobile to get the ease of flip the text you type and make it upside down.
Once you open the app, you will see a text box. You just have to type your favorite text in this box, and then copy this text and to share it with your friends.
(Host Blogger's Comments: TypeStyle App for the iPhone calls itself "The Funky Text Generator.")
You can use the copied message on the following platforms:
WhatsApp
Instagram
Facebook
Twitter
Other Messaging Apps
Other Social Networks
Or at any platforms that support text or even that support Unicode Characters
Additionally, you can type the caption on WhatsApp utilizing this reliable app and send an upside-down message to your friends.
When it comes to pasting the copied text that you made it upside down, you just have to hold the text box, and then you will see a paste will appear.
Well, amaze your friends, family or loved one by sending an upside-down message. However, upside-down or backward writing is just being utilized as fun, not more than fun!
Updates
How to Write Sideways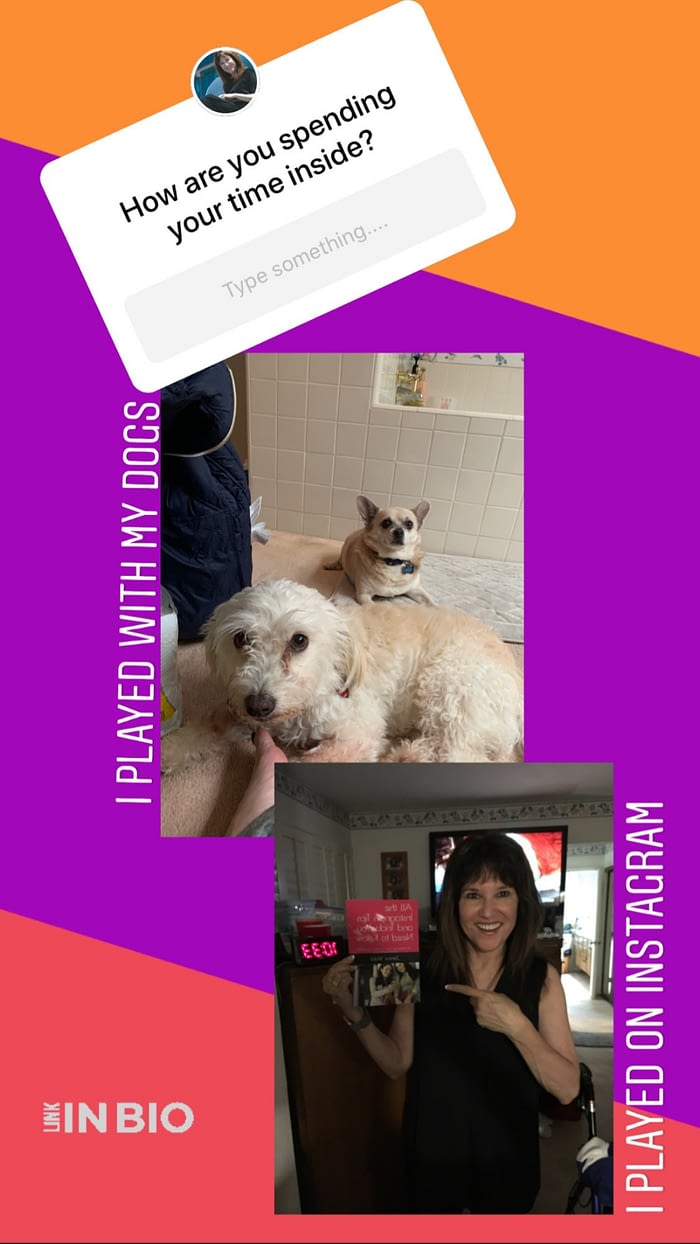 This may not be upside down text, but it's sideways text.
This example comes from an Instagram Story.
Do you notice how the letters run up and down, vertically, instead of the norm, horizontally?
This is easy! Just pinch your fingers to turn the letters vertically.
In the bottom left, you also see vertical writing in the word "link." This is part of Instagram's template and was not manually redirected.
Next, if you're interested in writing upside-down text, you might be interested in writing a custom text on a sticker on your Instagram Story. Here are the instructions: How to make custom Instagram stickers.
Wrapping Up: Upside Down Text
Host blogger's comments:
How to write Instagram bio upside down:
In closing, many people ask how to write upside down in an Instagram bio. Easy! If you want to know how to write upside down in Instagram bio, just follow these instructions.
Note: When I write my Instagram bio, I type it in a different app and then copy to Instagram.
People also wonder how to write Instagram captions upside down. Follow the instructions in Section 3 of this guide which explains how to write upside down.
I hope you enjoyed my guest author's tutorial which explained how to write upside down in Instagram and how to write upside down in WhatsApp.
Takeaways:
Now you know how to make text upside down and how to write upside down on Instagram. You also know how to make an upside-down Instagram caption.
An additional way to write upside down text is by downloading a special keyboard app that will enable you to write upside down text.
The keyboard is available for both the iPhone and Android.
Upside down writing is fun! Plus, people will think you can type upside down!
All the tools mentioned in this post are free. Using the backwards word converter and the other tools in this post is as easy and copy and pasting.
Readers, please share so other Facebook, Instagram, and WhatsApp users discover how they can easily make upside-down text and backward text. As the guest author explained, having upside down and backward text is a unique social media marketing campaign strategy.
I look forward to your views in the comments section:
Do you use these techniques? For example, do you ever flip the text? Do you make upside down text? Do you use a backwards word converter? Do you know how to write upside down in WhatsApp? Have you ever heard of inverted text? Do you think you will make upside down Instagram captions?
If so, what are your readers' reactions? Can you recommend any effective free tools that you use?
Upside Down Text: FAQ
How do I write upside down text?
Get an app that will generate upside down text. They are available for both iPhone and Android. Then, copy your upside down text and paste where desired.
How does upside down text work?
You get a 3rd-party app to generate the upside down text for you. Then, you copy and paste where you want the text to appear upside down.
Guest Author Information:
Other tools by the guest author include:
If you are a student of high school and looking for a weighted GPA calculator, then you can visit calculator-online.net to utilize the fastest and simple weighted GPA calculator.
Related Reading
More Instagram secrets to help you stand out and beat the competition.
If you enjoyed this post about standing out on social media sites by writing upside down text, you might want to stand out on social media sites by using DripArt. Here you will find a PicsArt tutorial to help you make this trendy design to spruce up your social media posts.