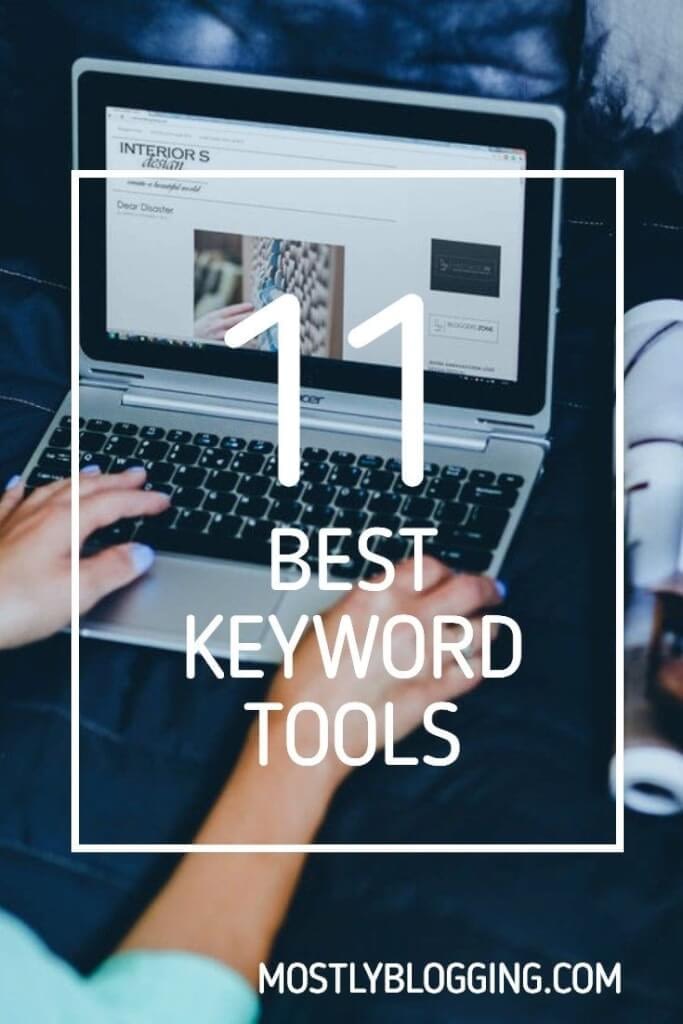 Janice Wald
Are you familiar with Ubersuggest's features and the many Ubersuggest alternatives?
Although Ubersuggest is far more than a keyword research tool, this post will share the Ubersuggest alternatives that function as SEO keyword tools.
Long-tail keywords account for 70% of all searches.
Whatever your niche, these tools will help you.
You might wonder why you need all these tools.
After all, you know what your post is about, so you have your keyword right?
Wrong!
Your keyword might be too difficult to rank for due to a massive amount of articles being written about your topic on the internet.
On the other hand, suppose no one is searching for information about your topic?
Using these keyword tools alleviates both concerns and solves both of these potential problems.
This post will show you the steps I take with each of these keyword tools in order to find keywords for my posts.
We will use this post as an example.
By the time you're done reading this post, you'll know how to use Ubersuggest, learn the new features of Ubersuggest, and discover 11 Ubersuggest alternatives.
This post will also answer the question, "Is Ubersuggest accurate?" which is why you might need to consider Ubersuggest alternatives.
Let's get started.
Ubersuggest
Ubersuggest is blogging guru Neil Patel's tool.
In a February 2020 update, Patel started charging for Ubersuggest. The formerly free tool now costs $10.00 a month to use all the features.
Go to https://neilpatel.com/ubersuggest/.
Type your focus keyword in the search bar.
Scroll down. Click View All Keyword Ideas.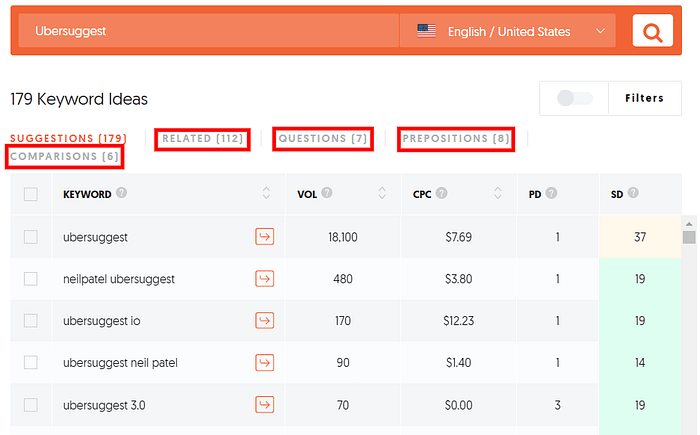 The SD Column stands for Search Difficulty.
By looking at the screenshot, you can see that the difficulty level of the suggested keywords is quite high, so are most of the CPCs (Cost Per Clicks).
However, there is hope Ubersuggest can suggest a keyword I can rank for.
Do you see Ubersuggest is suggesting 179 keyword possibilities for this post?
It's true: Ubersuggest is unique in a way no other keyword tool is unique.
In this latest version of Ubersuggest, the tool recommends related keywords, question keywords (which are grossly underused considering how search engine users word their queries), keywords using prepositions, and keywords that make comparisons.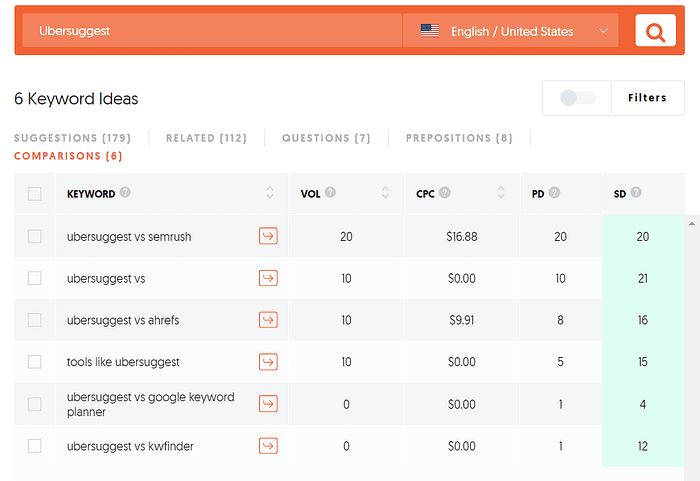 Look what happened when I clicked on Comparisons. I am writing about many of these in this post and could potentially use these "comparison keywords" as focus keywords or tags for this post.
Ubersuggest 7.0
In December of 2019, Neil Patel released a new version of Ubersuggest, Ubersuggest 7.0.
This latest incarnation of Ubersuggest includes these new features:
You can see how many people search for a keyword on a desktop device versus a mobile device.
You can see the ages of the searchers.
See the ages of the searches that clicked on free traffic, and you can see the ages of the searchers that clicked on paid traffic.
According to Neil Patel, when he released Version 7.0, it will now be easier to find profitable keywords.
More backlink data will help you pursue link-building opportunities.
Stats on whether searches produce clicks throughs.
More accurate site metrics.
[Related Reading: Ubersuggest Update: The Best Keyword Research Tool from Neil Patel reviews a previous version of Ubersuggest.]
Ubersuggest Alternatives
Since Ubersuggest recently started charging to use the full features, these Ubersuggest alternatives are sorely needed.
Consider these comments:
"Keywords Everywhere" has become a paid extension. So I am looking for alternatives to it. If you have any suggestions then please let me know." Source: Sachin on These are the 10 Best Free Chrome Extensions
Savin is in luck. This post reviews 11 Keywords Everywhere and Ubersuggest alternatives.
Keywords Everywhere
As Sachin reported, Keywords Everywhere is now a paid tool. The tool changed to paying for credits to search on October 1, 2018.
Go to https://keywordseverywhere.com/.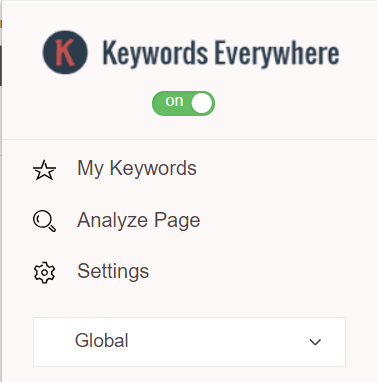 You use Keywords Everywhere with Google Chrome and Firefox since this keyword research tool is a browser extension.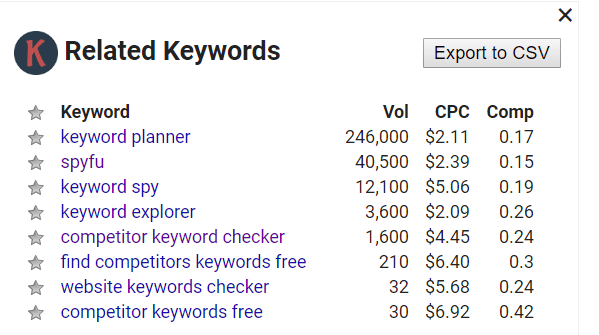 As you can see from the screenshot, Keywords Everywhere shows you the monthly search volume, Cost Per Click and keyword difficulty, online competition for readers.
You want Volume to be high and CPC and Competition to be low.
Pricing:
$1.00 for 10,000 credits. You use the credits to search.
SEMRush
Go to https://www.semrush.com/.
SEMRush has many features, one of them is a keyword research tool.

KD stands for Keyword Difficulty.
Pricing: You get 10 free searches per month.
Did you know you can use SEMRush as a tool to spy on your competitors and as a keyword position checker?
KWFinder
Is Ubersuggest accurate? Do we need Ubersuggest alternatives like KWFinder?
Let's look again at the Ubersuggest "Comparison" keyword suggestions for this post.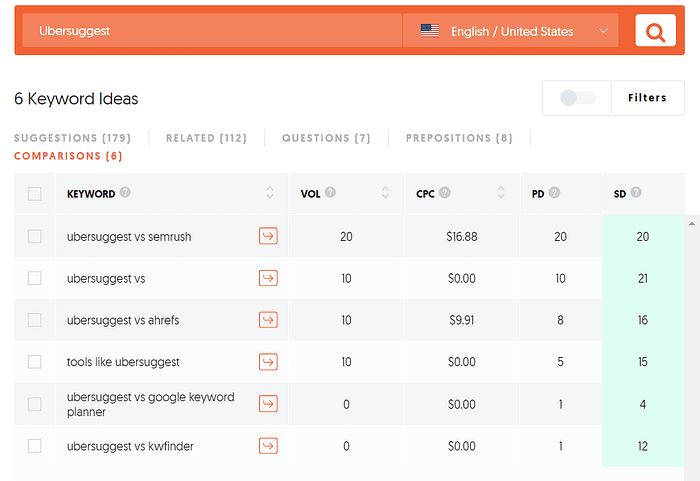 Look at "Ubersuggest vs Google Keyword Planner." The SEO Difficulty is only 4; however, according to Ubersuggest, no one is searching for information about this keyword.
I double-checked by putting the keyword into KWFinder.

KWFinder reports 20 people a month are searching for information on the keyword "Ubersuggest vs Google Keyword Planner." Therefore, I made it a tag for this post.
To recap: I start in Ubersuggest. Any potential keywords I find I put into KWFinder to be sure.
Look at the top of the screenshot. Do you see I have 90 lists in KWFinder?
Excessive, I admit. I love these lists that keep my keywords organized.
I have a list for business tips, another for email tips, you get the idea.
Go to https://app.kwfinder.com/.
Pricing:
KWFinder is free for a limited number of keyword selections.
Paid plans start at $300. per year if you pay annually.
I use the paid version of KWFinder. I don't pay for many tools, but I am quite happy with the premium version of KWFinder.
MozBar
I love the MozBar as my MozBar review explains.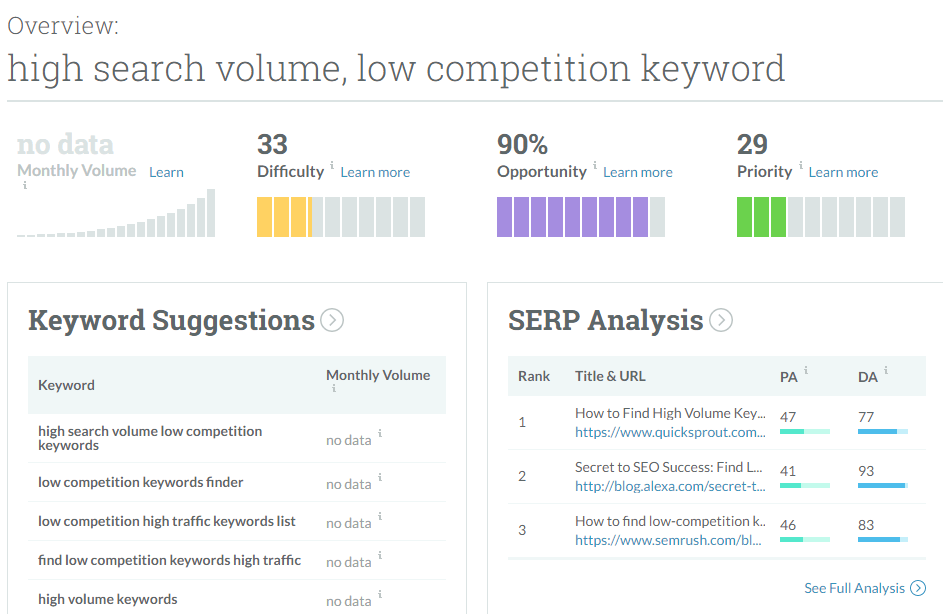 Notice Moz makes keyword suggestions for you and shows you the top-ranking content already in existence about your keyword idea.
Moz and the MozBar are separate entities.
To access Moz, go to https://moz.com/.
To access the MozBar, go to the Chrome Web Store.
Pricing:
When you use Moz, you are allowed 10 free keyword searches per month.
When you use the MozBar, you are allowed unlimited keyword searches per month.
Soovle
Go to https://soovle.com.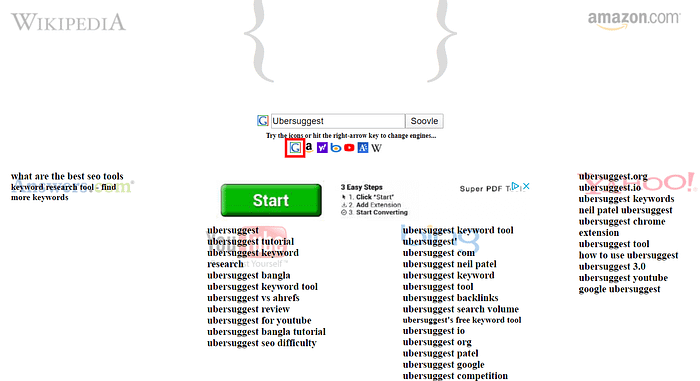 Put your main keyword (also called your "seed keyword") in the center box.
Choose your search engine.
Soovle defaults to Google's search engine, but there are plenty of other search engines you can select.
Look at all the keywords that populate! When I scroll down, I find even more.
Soovle is quick to use. You don't need to sign up or sign in.
Pricing: Soovle is free.
Ahrefs
Ahrefs is considered the premier SEO keyword tool in the industry.
When you rank for new keywords, Ahrefs notifies you and lets you know when your name is mentioned on the internet.
I can't rave enough about Ahrefs.
The keyword tool is accurate and in real-time.

Go to https://ahrefs.com/.
Pricing:
Ahrefs pricing starts at $99.00 a month.
Google Keyword Planner
You can have Google Keyword Planner on your site using a plugin.
On the other hand, you can opt not to slow your site down with yet another plugin and go to the site, https://ads.google.com/home/tools/keyword-planner/.
Click Go to Keyword Planner.
Click Discover New Keywords.
I learned SEO using Google Keyword Planner and frankly found it somewhat confusing.
I quickly defected to tools like Ubersuggest and KWFinder.
However, in its current incarnation, Google Keyword Planner claims it's easier to use.
Let's look.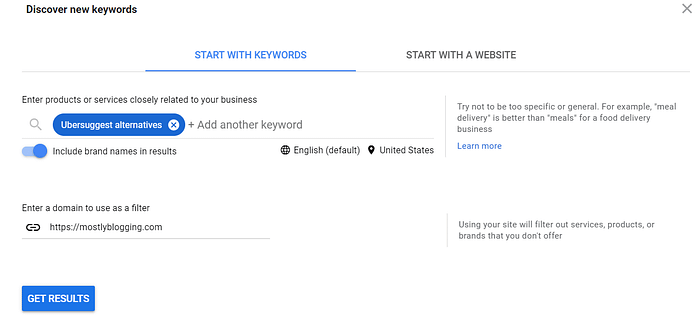 Off to the right, Google Keyword Planner offers you keyword research tips that I find helpful.
The tool is reminding me to make my keywords long tail and not just have a one-word keyword.

Google Keyword Planner gives me data about my keyword and suggests many new keywords I can search to use as additional focus keywords or tags.
Pricing:
Google Keyword Planner is free.
Keyword Tool
Keyword Tool describes itself as an alternative to Google Keyword Planner.

You don't need to make an account.
Keyword Tool is easy to use. Just plug in your focus keyword and see what generates.
Notice how versatile this tool is. You can even use the tool to generate interest on social media sites.

Keyword Tool will generate up to 750 keywords for each search.
Since I am writing this post about Ubersuggest alternatives, that is the keyword I plugged into the search bar.
Did you notice what populated?
Two search terms, no search volume, no online competition difficulty, or any other metrics.
The free version won't give you additional data. You would have to take the keywords and put them into Ubersuggest or any one of these free Ubersuggest alternatives.
Go to https://keywordtool.io/.
Pricing:
The free version gives you keywords but no other data.
Keyword Tool Pro starts at $69. a month.
Jaaxy
You only get 30 free queries with Jaaxy.
I enjoy using Jaaxy but I stay away from the tool as much as I can since I'm always concerned I'll use up my 30 free searches.
You need to make an account to get the 30 free searches.

Put in your keyword where directed.
Do you notice the tool counts down until your 30 searches are gone?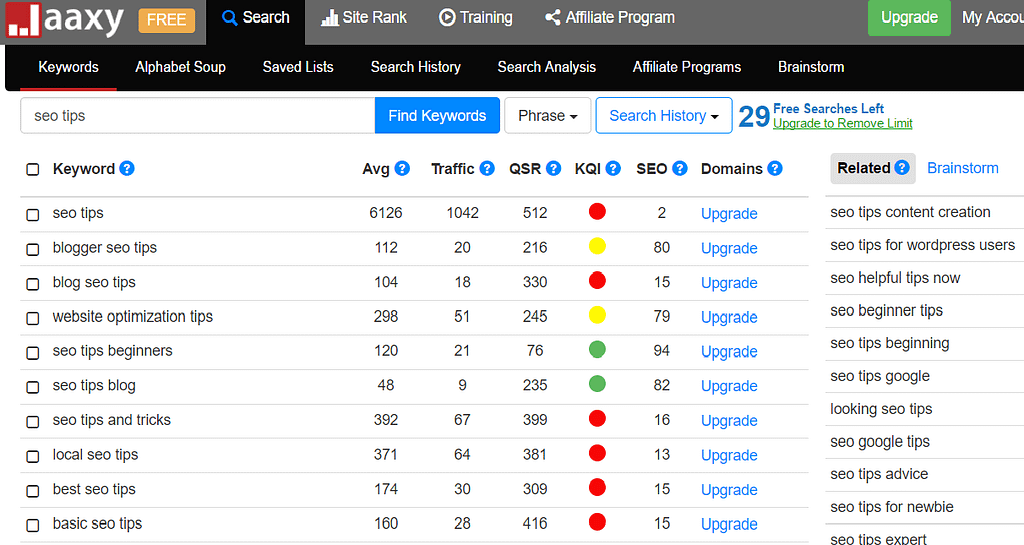 Do you notice, I now have 29 searches left?
A great deal of data populates for my keyword search.
This screenshot shows a search for the topic of SEO tips.
Two lists of keywords populate, one under Keyword and one under Related.
Pricing:
Jaaxy is free for up to 30 searches.
Paid plans start at $49. per month.
SEOQuake
SEOQuake is a Google Chrome browser extension.
Go to the Google Chrome browser settings. Click More Tools/Extensions.
Type SEOQuake into the search bar.

For my post about Google Chrome Extensions, I used SEOQuake to find keyword data.
Look at the screenshot to see all the metrics that populated!
The search volume is extremely high. 74,000 people search for information about Google Chrome Extensions monthly.
Did I use the keyword?
No!
The Cost Per Click is too high. I like the CPC to be under .20.
Pricing:
SEOQuake is free.
Rank Math
Known as an SEO tool, Rank Math isn't commonly known as a keyword tool.
However, Rank Math shows you keywords and suggests them for your post.
Look: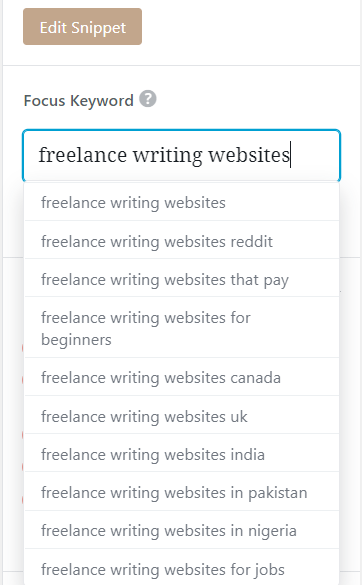 I'm preparing a post on Freelance Writing Websites, so "freelance writing websites" is my keyword.
After telling Rank Math this is my focus keyword, the tool suggests many other keywords for me to use as additional focus keywords or tags for the post.
I can then take these keywords and put them into Ubersuggest or any of these Ubersuggest alternatives to find the search volume and online competition for readers. I use both to decide my focus keywords and tags.
Wrapping Up: Ubersuggest and Ubersuggest Alternatives
In closing, do you need an SEO traffic generator?
That's the function of Ubersuggest and these Ubersuggest alternatives, use them and they will generate traffic to your blog posts.
I'm confident there are more than 10 Ubersuggest alternatives, but these are the Ubersuggest alternatives I recommend.
Readers, please share so bloggers and marketers discover the new features of Ubersuggest and these Ubersuggest alternatives.
I look forward to your views in the comment section.
What is your favorite keyword tool? Are there any Ubersuggest alternatives you can recommend?
Related Reading
This post reviewed keyword research tools for SEO. Social media research tools can be found here.
Janice Wald is the founder of MostlyBlogging.com. She is an ebook author, blogger, blogging coach, blogging judge, freelance writer, and speaker. She was nominated as the 2019 Best Internet Marketer by the Infinity Blog Awards and in 2017 as the Most Informative Blogger by the London Bloggers Bash. She's been featured on Small Business Trends, the Huffington Post, and Lifehack.