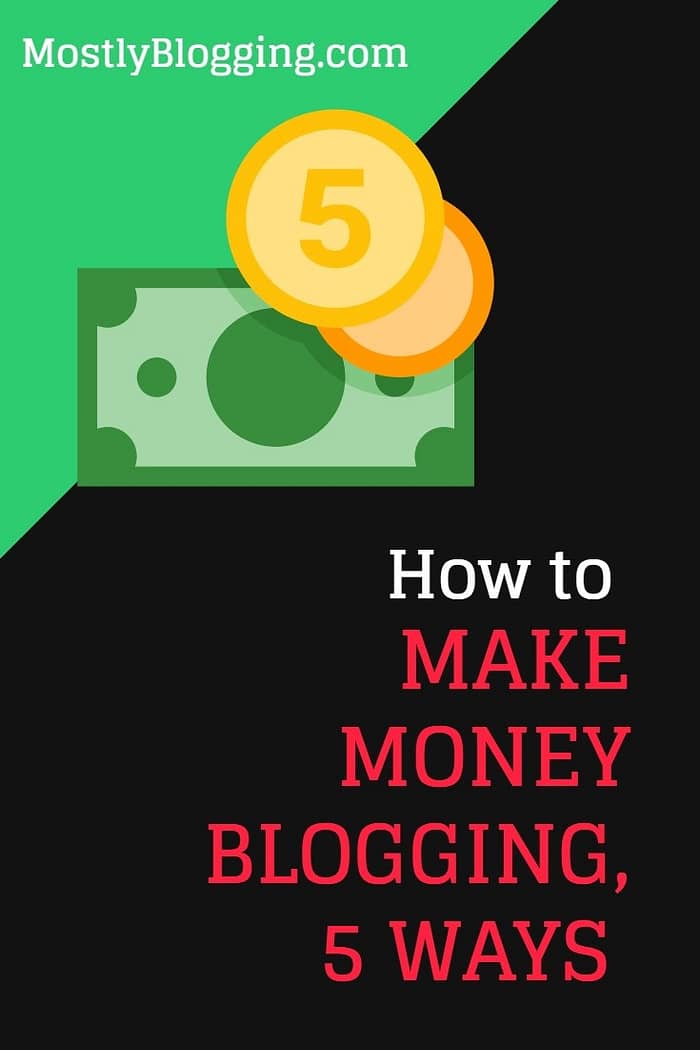 Do you know the types of blogs that make money?
If you are considering starting a blog, you need to pick a profitable niche. There are seven types of blogs that make money.
Do you want to know what they are?
By the time you're done reading this post, you'll know the types of blogs that make money so you can pick a money-making content niche.
You'll also learn five blog ideas that make money and discover how bloggers receive their money. Finally, you'll know how to make a powerful lead magnet that will have visitors wanting more.
Let's dive in and learn about the types of blogs that make money.
How to Start a Blog That Makes Money
Want to start a blog that makes money?
Blogging is actually one of the most effective ways of making money online – and something that literally anyone can try.
That being is, that doesn't mean it's easy either: you need a great monetization strategy, amazing content (consistently!), and a good grasp on SEO techniques, both on-page and off-page.
In this short guide, you'll learn everything you need to know about starting a blog, making money blogging, and building a successful online business: from picking the right niche to finding the right monetization strategy for your needs.
Pick the right blog niche
In order to build a successful blog, one of the most important steps you need to take is to pick a good niche.
And this is particularly important if you want to make money online; that's because picking the right niche means that you'll have access to a big potential audience and that you'll have multiple blog monetization options.
For example, here are some of the most popular blog niches right now. These are the seven types of blogs that make money:
Fashion
Food
Beauty
Finance
Health
Fitness
Marketing
Make sure you pick a niche that not only has a large potential audience (you can find out how big the potential audience is by researching relevant niche keywords to see how many monthly searches they get), but also one that has multiple monetization options; for example:
Affiliate marketing – what kinds of products could you promote on your blog?
Online courses – can you create any online courses that your audience would want to buy?
Services – consulting, SEO services, web design, and web development, and other related services
We'll go into more detail though about your monetization options a little later on.
Related reading: How to Use the MozBar for Free To Boost Your SEO Now, 3 Ways
How to start a blog: a quick overview
Starting a blog is quite easy – and in fact, only takes minutes of your time. Here's what the process looks like (once you've picked your niche):
Get hosting from a reliable hosting provider – some even have 1-click WordPress install included
Get a free (or premium) theme to easily design your blog using ready-made templates (which you can then customize as much or as little as you want)
Get any relevant plugins to help you manage your blog and improve your results
And finally, start creating content!
Making money blogging: know your monetization options
As I mentioned earlier, there are numerous ways to make money blogging, depending on your niche, your skills, and your knowledge.
However, these are the most effective ways of making money online with a blog:
Affiliate marketing: This is where you promote different products and services within your content and you make money based on the traffic and/or sales you generate towards that product. Using a special, trackable link, they'll be able to track any sales you generate and you'll then a percentage of each sale. That being said, each affiliate program is different and has its own specifications. For reference, here's a recent blog income report from Ryrob.com, showcasing the amounts he made from affiliate sales:
Online courses: another popular monetization option for bloggers is to create and sell online courses and webinars. From teaching people how to start a blog to highly niche-specific topics, there are multiple options to go for; once again, keyword research comes in very handy as it can show you exactly what types of topics your target audience is most interested in
Create and sell e-books: if you love writing, e-books can be a great way to make some truly passive income. It's not a huge source of income (except for some very successful bloggers), but it's still worth it if you've got a great idea for a topic that's in high demand
Consulting: another way that bloggers can leverage their platform is to offer consulting services (as well as coaching and mentoring). These can prove to be quite lucrative if you're targeting the right niche – for example, SEO consulting services can get you as much as a few thousand dollars per client, per month
Create a product: another option is to create a product, digital or physical. For example, you can create merchandise to sell on your blog or create a digital product such as a social media calendar to sell to bloggers or businesses
How to create amazing content for your blog
If you want to make money blogging, then you need to be very strategic about your content because not just any content will get you the results you want.
The most important aspect is SEO. In other words, you need to target the right keywords in order to reach your target audience and generate good traffic from search engines.
Use a keyword tool like Ubersuggest to perform keyword research and find relevant keywords that generate enough monthly searches (preferably, over 50,000 per month).
Here are some other important tips to keep in mind when creating your content:
Focus on long-form content: in other words, write longer content! Studies show that not only do longer posts have better search rankings (and therefore, more traffic), but they also generate considerably more backlinks
Optimize your blog posts for SEO: every time you post a new blog, make sure you've set a good focus keyword, that you've added alt tags to your images and that you're using your keyword throughout the content
Make your content more readable: include plenty of subheadings, screenshots, and other images, use short paragraphs and generally, make it as easy as possible to read and skim through your blog posts
Make your content evergreen: focus on creating content that will stay relevant for long periods of time, with few updates needed. This will help you in a number of ways: your content has better chances of ranking high up in search results, you won't need to create as much content, and to be completely honest – you don't need a lot of content all the time. Instead, you need quality content that gets results
How to create a great lead magnet
One of the first things you should do when you start a blog is to create a lead magnet so that you can start generating email subscribers as soon as possible.
This is incredibly important because it will help you build up your audience, generate more return visitors and even help you sell more, whatever monetization tactic you choose.
For example, if you're promoting affiliate products, you can increase your reach and conversions by promoting them to your email list.
Likewise with online courses, webinars and any other services or products you create.
Here's what to do to create a great lead magnet:
Make sure it's highly targeted: Is the content relevant to your target audience?
Offer a lot of value to your audience: Why should people sign up for your list? What is in it for them? For example, you could offer a course, an extensive how-to guide, a useful listicle, and any other content that provides plenty of value. Many people offer downloadable ebooks. Make sure the ebook layout design is eye-catching and you're sure to generate interest.
Once you've created your lead magnet, promote it throughout your blog, including your homepage, within your blog posts and using sliders, hello bars and other types of opt-in forms in order to increase your conversion rates.
Conclusion: Types of Blogs That Make Money
Making money blogging doesn't have to be a dream – just open up your laptop and take the plunge.
Here are the most important bits to keep in mind:
Research your niche thoroughly and make sure you pick a niche that has a lot of potential and a big audience
Plan your monetization strategy
Create content strategically
Create a powerful lead magnet to grow your email list
And from there, it's all about keeping up the good work!
Author: Lilach Bullock
Bio: Highly regarded on the world speaker circuit, Lilach has graced Forbes and Number 10 Downing Street. She's a hugely connected and highly influential entrepreneur, as well as the founder of LilachBullock.com. She is listed in Forbes as one of the top 20 women social media power influencers, named one of 10 top digital marketers by Brand24, and was crowned the Social Influencer of Europe by Oracle. She is listed as the number one Influencer in the UK by Career Experts and is a recipient for a Global Women Champions Award for her outstanding contribution and leadership in business. Sign up for her free 7-day email course here to learn how to earn up to$10,000 in 90 days just from blogging.
Host blogger's comments:
Many bloggers hope they can find blog ideas that make money. Now that you've read this guide, you know it is definitely possible to make money blogging.
Takeaways:
Lilach answered the question, "How do bloggers receive their money?"
Here are the five ways to make money blogging:
Bloggers receive their money through affiliate marketing, online courses, creating and selling ebooks, consulting, and creating and selling products.
If you want to boost your chances of making money blogging and you haven't started your blog yet, you should pick a profitable blog niche.
According to Lilach, the types of blogs that make money are fashion, food, beauty, finance, health, fitness, and marketing.
Note: We all want to create the types of blogs that make money. However, you need to pick a niche you are passionate about. If you don't pick a content niche that interests you, your blog posts will be boring for your readers.
This post also explained how to create great content for your blog and ideas to make a powerful lead magnet.
Readers, please share so bloggers hoping to start a profitable blog learn the types of blogs that make money.
I look forward to your views in the comments section. Do you know other types of blogs that make money?