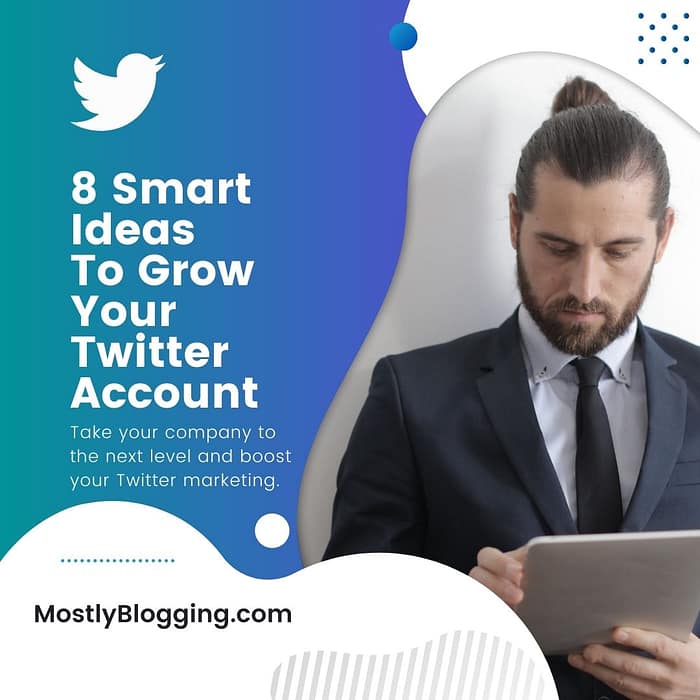 Are you looking for Twitter growth hacks?
There are many advantages of using Twitter to grow your brand.
For instance, Twitter is one of the most popular social platforms in the world.
According to the Statista report, in January 2021, there were 340 million users on the social network. Besides, 61% of them are millennials as per the Digital Reader report. It means its popularity and relevance will increase year to year.
For marketers and social media managers, this trend turns into a challenge — how to gain new Twitter followers.
Seemingly harmless solutions such as buying subscribers can cause problems in the future. This is why you need to grow your following organically.
However, there are ways to buy Twitter followers safely. To do so, you have to use services of trusted marketing companies that have a good reputation and have been presented on the market for many years.
By reading this post, you will discover free methods of growing your Twitter followers as well as how to make money on Twitter.
You will also see screenshots showing examples of these Twitter growth hacks you can follow today.
This guide will cover the following Twitter growth hacks:
interesting content
social activity
and a profile filled with information that followers need.
powerful Twitter tools
effective Twitter growth strategies
Let's take a look at some proven Twitter growth hacks.
How to Get New Twitter Followers
Update info in your profile
To capture people's attention, you need to optimize your Twitter page. Firstly, add a bright profile picture.
Using a logo as a pic is a common practice for brands. Experts, entrepreneurs, and coaches usually choose businesslike photos for their pages.
Editor's Note: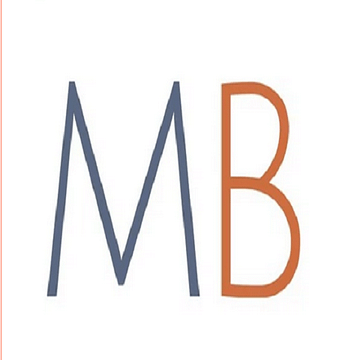 This is my logo for my brand, Mostly Blogging.
Have I ever used it before as my profile picture?
Yes. The logo is a square, a perfect size for Instagram.
Then, upload a header that matches the photo in style and color. You can add a logo and a brand tagline to the picture.
You have 160 characters to describe yourself or your brand in a bio. Do not hesitate to add links to your website, blog, or internet shop, hashtags, and call to action. Also, you can add your location if your target audience lives in a particular city or region.
Editor's Note:

I use this header across social channels. For instance, I use this social media header on both Twitter and my LinkedIn homepage.
Create a selling tweet
Twitter enables you to pin tweets at the beginning of the feed. You can write a selling tweet and pin it. Pinned tweets help you to grab more attention to your seasonal campaigns, giveaways, or sales.
Also, you can tell visitors of your page about special offers, place a link to your event page, or a recent article about your product.
Editor's Note: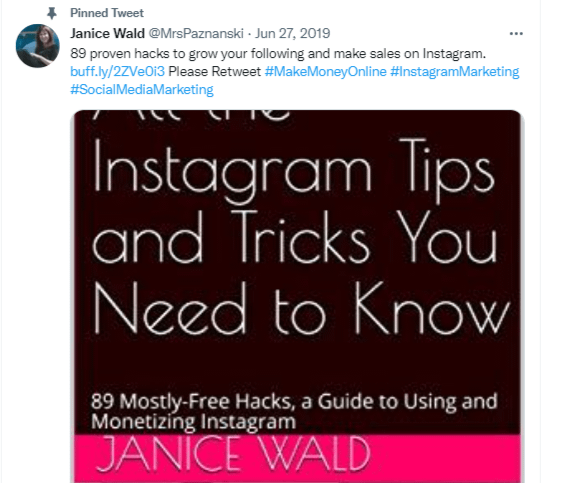 I also have a pinned tweet. My pinned tweet sells my book. The live link in my tweet takes people to Amazon where my book is sold.
Use other accounts mentions
Users on Twitter crave attention. You can use their desire to be seen to get new followers. Tag other pages. For example, the tweet below has links to accounts of top Twitter analysis tools.
You can mention influencers, industry experts, your customers, or even competitors in your feed. They will receive notifications and definitely visit your page to know who you are.
More information and instructions for tagging can be found here: tagging on social media.
Be active on Twitter
Being active on social media means replying to all comments, liking, asking questions, retweeting posts, and so on. Do not hesitate to dive into hot discussions, tag other users, and comment on things you care about.
Twitter appreciates active users by putting tweets with their activities like comments in the Feed of their followers. Your page will have a broader reach with no advertising costs!
Create enticing content
As you know, content is king. Your profile won't perform well without a coherent content strategy. Your Twitter page needs to bring value to your followers. Try to mix up selling posts with entertaining and educational ones. Experiment with polls and audio (a Twitter Spaces feature is already available for most users).
Also, you can use live-tweeting. It works well during offline brand or industry events. Share pieces of content with your followers throughout the day. For example, this tweet below contains a photo from a Social Media Marketing World 2020 conference.
Promote your Twitter page
Having accounts on different social platforms is standard practice for brands. If you have already succeeded on Facebook or Instagram, invite your subscribers to follow your brand on Twitter as well.
Additionally, place a link (or a QR code with a link) to your Twitter page on your website, an email signature, and print marketing materials like brochures, business cards, and leaflets.
Invite people to follow you on Twitter speaking at industry conferences. In the end, you can place a dynamic QR code or a Twitter handle on the packaging of your products in an offline store!
Use Free Twitter Tools
When considering effective Twitter growth hacks, don't forget about using free tools that exist to help you grow your followers.
There are many free tools to help you grow on Twitter. For instance, my current favorite is Twiends. Here is a Twiends review which offers instructions and more information.
Use Proven Methods
Follow the Twitter marketing strategies I use to find my most liked tweets. Then, repeat those tweets. You can retweet older, successful tweets. Also, you can tweak the wording of previous tweets that generated more traction in order to grow your account or make sales.
Twitter Growth Hacks: FAQ
How can I grow my Twitter account for free?
Many Twitter growth hacks are at your disposal. Network, don't just promote. Have an intriguing bio and profile picture. Use free tools like Twiends.
Final Thoughts on Twitter Growth Hacks
Growing your Twitter profile is not such a complicated task as you may think.
There are three main Twitter growth hacks: interesting content, social activity, and a profile well-packed with information that followers need. So, go ahead!
Readers, please share these Twitter growth hacks.
I look forward to your views in the comments section. Do you know additional Twitter growth hacks you can recommend?
This post was contributed and made possible by the support of our readers.