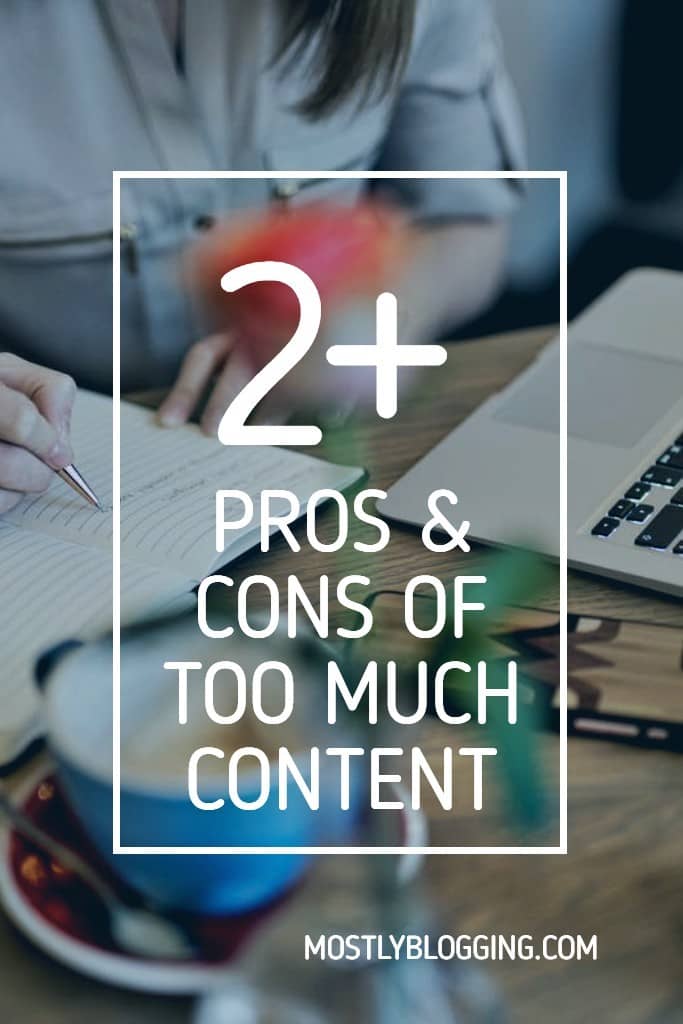 Is it possible to have too much content?
The pros and cons of having too much content is an age-old debate in SEO.
Here are some of the philosophies regarding having too much content:
Pros: The more content you have, the better the chance you can rank on Google's Search Engine Results Pages (SERPs) and generate web traffic.
Cons: Producing too much content often results in publishing subpar articles which are short, low quality, and uses filler to reach a 500-word minimum.
By reading this guide, you explore whether having too much content is a bad SEO practice along with other SEO best and worst practices.
This article examines these bad SEO practices considered Black Hat SEO:
Random guest posting
Keyword stuffing
Article spinning
Content farming
Let's start learning good and bad SEO practices in 2021 along with the dangers of having too much content.
Say No To Bad SEO: The Dos And Don'ts Of Using SEO In Your Business
SEO (search engine optimization) has been around for decades. It was first referenced sometime in the '90s and hasn't lost popularity since. It's gone through the various trends and phases of the internet and adapted to help businesses thrive.
As the internet has changed, so have the ways of using SEO effectively. It's no longer enough to use the name of your business repeatedly, or "stuff" an article full of relevant keywords. In fact, both of those tactics will get you marked as spam.
So, what should you be doing, and why is SEO so important for your business? Let's dive in and discuss the dos and don'ts of business SEO.
Do You Need It: Who Benefits From SEO?
From custom shops to law firms, SEO can help every business find success. The tactics that will work best for you will depend on what your business is, what results you're hoping to find, and how much time you have to devote to digital marketing.
For example, if you're a small business, you might find that it's best for your budget if you take the time to learn the basics for yourself.
If you work at a law firm, on the other hand, you probably don't have the time to devote to experimenting to find out what works. Luckily, you don't have to.
You can save time and get the same results right now by hiring the right law firm SEO company. They'll create a plan to set you apart from the crowd of other lawyers, whether your specialty is injury, worker's comp, or medical malpractice.
A team of SEO professionals will learn about your goals, study your competitors, and come up with a strategy that works perfectly for you.
Whatever your business is, you can benefit from taking the time to create a unique SEO strategy. With that in mind, let's jump into the tactics that do and don't work.
The Dos: SEO Tactics You Should Be Using
The in-demand SEO practices change every year, so you have to stay on top of your game if you want to stay on top of the search results page.
Here are the top tips for 2021:
Vary Your Lengths
If you try to do a thousand words every time you write a new blog post, you're bound to end up with too much fluff. That will bore your reader and lead them to disengage.
Alternatively, you don't want your content to be too short. If you're doing an advice piece and there's only one tip, your readers will feel like they wasted their time.
Ideally, your content length should vary from post to post. If your last post was 600 words, aim for a thousand this time and vice versa.
Include Long-Tail Keywords
Long-tail keywords are phrases people are likely to use when they're at a point of purchase, or when they're using voice search. By including long-tail keywords in your content, it's easier to rank closer to the top of the search page.
That's because there are far fewer people searching for "a personal injury attorney from Nashville, Tennessee" than there are people searching for an "attorney." By including long-tail keywords, you're ensuring that you show up when the customer decides to search for exactly what they're looking for.
Ubersuggest.com is a popular keyword research tool you can use to find keywords. Here you will find Ubersuggest alternatives.
Create Good Backlinks
Backlinks are links from one website to another website. When you're reading an article and you see a "learn more here" style link, that's a backlink.
Backlinks are one of the top three ranking factors Google uses to decide who ranks highest on their search pages. Essentially, the more backlinks you have out there, the more traffic you get, and the higher Google places you in search results even placing you in Feature Snippets, also known as Position 0.
Sometimes, you gain backlink results organically. This usually happens when someone cites content of yours in an article they're writing. You can help this occur more often by creating original, insightful, and accurate content that people want to read.
If you don't have time to wait for that, you can hire an SEO company to create these results for you. They'll write articles that are relevant to what you do so the link looks naturally placed. Then, you just have to sit back and watch the traffic come rolling in.
Now that you know what you should do, let's move on to what you shouldn't.
The Don'ts: Outdated Tactics That Should Be Left Behind
Using outdated SEO tactics make you look behind the times, at best, and gets you flagged as spam by search engines, at worst. Those are both outcomes you want to avoid.
Here are the SEO tactics that are better left in the past:
Indiscriminate guest blogging. Guest blog topics should be relevant to what it is that you do or post about. No one comes to a construction blog to find a knitting pattern.
Keyword stuffing. When search engines could only understand simple searches, having the same phrase in your content repeatedly worked well. Now that they're more advanced, they know what you're up to and can penalize you for it.
Article Spinning. This is the process of using article spinning software to rewrite an article using the same words and points, just in a different order. This leads to a lower-quality article that won't encourage anyone to click over to your site.
Content Farming. This is the practice of hiring multiple freelancers to write content using your link as many times as possible. Google has found a way to effectively combat this by prioritizing high-quality content in its results.
Content marketers hoping to rank on Google resort to measures like article spinning and farming out to content mills in hopes of increasing content on their site and their chance to rank on Google. Today, these desperate SEO practices are considered Black Hat SEO.
The days of writing for robots are dead. However, are the days of robots writing dead?
It's true: Bloggers believing too much content can only be an asset, outsource to robots.
The best article spinning software is actually Artificial Intelligence.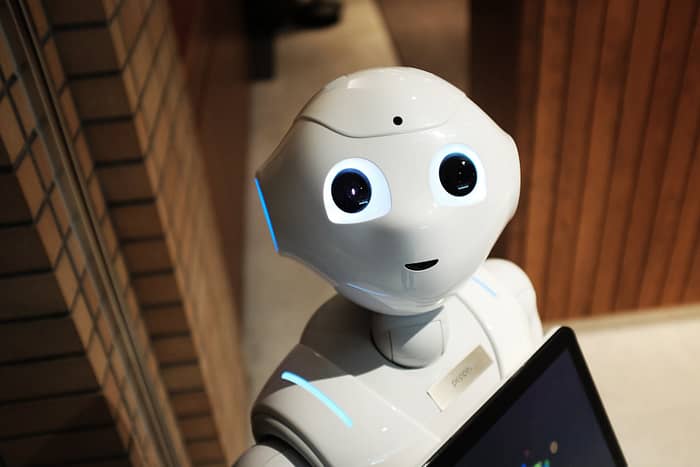 Meet Articoolo, the writing robot.
Articoolo will write and optimize your posts for you so they rank on Google. This writing robot produces 500 word blog posts and you only pay if you like the article. More information about Articoolo can be found in this Articoolo review.
Your goal should be to create content that a human wants to read and interact with. Focus on creating thoughtful and helpful pieces that are highly referenceable, and watch as your site traffic begins to grow.
When it comes to bad SEO, just say no. Now that you know the dos and don'ts, you're ready to effectively start using SEO to grow your business.
Too Much Content: Poll
I asked Instagrammers and Redditors whether they thought having too much content is possible.
Look: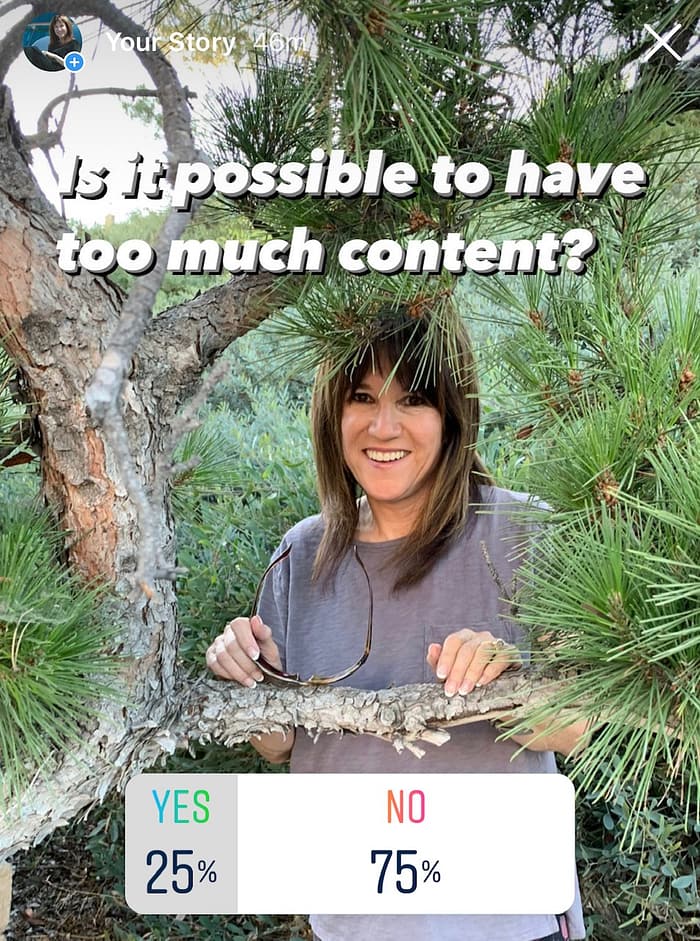 By looking at the screenshot, you can see the data.
Only 1 out of every 4 Instagrammers who participated in the poll indicated they think having too much content can be bad. An overwhelming 75% of the respondents feel you can never have too much content.
The Redditors that responded expressed their views about whether it was possible to have too much content in one blog post. As one Redditor explained, "I don't want to bore my readers."
Too Much Content: FAQ
How do I deal with too much content?
Publishing too much content can be a problem for a blogger. Before publication, bloggers need to research their posts. After publication, bloggers need to promote the content and respond to comments. The best thing to do is pace yourself. Set a schedule so your needed blogging tasks get accomplished.
Wrapping Up: The Dangers of Too Much Content
In closing, this article shared SEO best and worst practices for 2021 including the dangers of having too much content.
Readers, please share so content marketers learn the effects of having too much content.
Now it's your turn to weigh in. I look forward to your views in the comments section. Is it possible to have too much content?
Authors: Wahab Ullah Amjad and Janice Wald

Janice Wald is the founder of MostlyBlogging.com and co-founder of the Mostly Blogging Academy. She is an ebook author, blogger, blogging coach, blogging judge, freelance writer, and speaker. She won the Best Internet Marketer Award and the Best Blogger Award at the 2021 Infinity Blog Awards. Wald was also nominated as 2019 Best Internet Marketer by the Infinity Blog Awards and in 2017 as the Most Informative Blogger by the London Bloggers Bash. She's been featured on Small Business Trends, the Huffington Post, and Lifehack.
This post was made possible by the support of our readers.