Are you ready to learn how to make a This is Business Meme?
This post is for bloggers, entrepreneurs, and social media users who want to make people who view their content smile by posting memes.
Let people know that they matter and that they can achieve their business goals in a humorous way.
Why a This is Business Meme?
Memes are powerful.
Memes are appealing.
Memes tend to get shared which further increases your branding.
Memes give people permission to laugh at themselves.
A This is Business Meme appeals to entrepreneurs and their prospective clients for all these reasons.
Do you know the significance of the phrase "This is Business?"
In other words, your attempt to gain income is not personal. However, when if the person on the receiving end does take it personally? Wouldn't you diffuse the tension and lighten the mood with a This is Business Meme?
As longtime readers know, Mostly Blogging has a business thread, so why not have a This is Business Meme?
In fact, we bring you an entire This is Business Meme post complete with free meme-generating tools.
Business posts tend to have serious tones. After all, business strategies can result in money, and who isn't serious about making money?
Why don't you take a break from serious monetization strategies and take a journey through our This is Business Meme article?
Did you know memes have power?
Memes can lead to self-awareness since entrepreneurs relate to the This is Business meme.
Advantages of self-awareness for entrepreneurs:
People in leadership roles in their companies should be likeable to foster respect.
Being compassionate is a sign of emotional intelligence which is crucial for leadership.
That is what a This is Business Meme allows you to do– laugh at yourself. The popularity of humor can't be denied.
Humor is a form of entertainment.
Why are TikTok videos and Instagram Reels so popular? They offer viewers a momentary escape. There are many trending songs on Instagram and on TikTok on which you can create reels. 
That is what a Best I Can Do Meme accomplishes: Memes offer momentary entertainment.
Memes are quick to view and easy to share.
By making a This is Business Meme
you connect with readers
engage social media followers
boost social shares
brand your business
build community
By reading this guide, you receive recommendations of free tools you can use to make your own This is Business Meme.
Read this post to discover the sources of business memes and digital marketing memes.
These meme design tools are free:
Pinterest
Instagram
Unsplash
Canva
Adobe Express
Kapwing
Reddit
Imgflip.com Meme Generator
PosterMyWall
Memes Monkey
Use these tools when you need memes for your website and social media. Bookmark this guide as a resource for when you need a social media post generator.
Let's find out which free tools exist to help you make a This is Business meme.
UPDATED CONTENT: February 2023
Who will benefit from reading this post? Press Play to find out if you are an entrepreneur who would benefit from making a This is Business meme.
The video mentions who needs to make a This is Business meme. Let's explore how.
What is a Meme?
A meme is a humorous image, video, or piece of text that is shared on the internet.
Displaying humor on your website and social media accounts adds a new dimension to your personality. People respond to warmth.
"In 2020, Memes and Gifs took over people's Instagrams since they made them giggle" (Source). In fact, there are 196 million posts tagged #memes at Instagram.
Also, a change of format on your blog is refreshing. You don't always have to be serious and professional.
If the content calls for humor, use your judgement in selecting business memes that won't offend your audience.
Consumers of content respond to "real" people. You don't have to be "on" all the time and display an air of perfection you might genuinely not be feeling.
I asked my Instagram followers if they like memes.
Look at this data.
100% of the respondents polled indicated they like memes. This statistic shows you should be using these This is Business Meme Generator methods.
For those of you who prefer to watch than read the information, here you will find information about digital marketing memes.
Memes are wildly popular..
In fact, MediaShower.com declared this the Meme of the Week: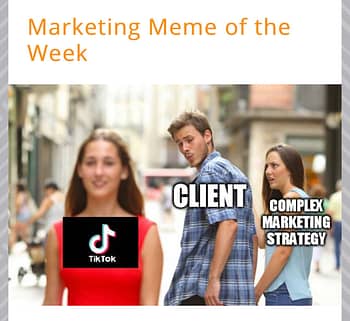 What is a This is Business Meme?
Do you know how the expression "This is Business" originated?
The expression originally comes from a Nigerian movie.
Today, the This is Business meme is popular. Look at this data: A Google search for "popularity of This is Business Meme" yielded 188 million results.
For the purposes of this article, a This is Business meme refers to any business-related meme.
How to Find a This is Business Meme
You can find a This is Business Meme to engage your customers and future customers anywhere. Below you will find ten free meme-generating tools along with examples of This is Business Memes.
Pinterest
The Growbearz Instagram account shared this example of a This is Business meme on Pinterest.
Instagram
The #ThisisBusiness hashtag has over 5,000 posts on Instagram.
To find a This is Business meme, type #ThisisBusinessMeme into the Instagram search bar.
Unsplash
Image Source: Photo by Ehud Neuhaus on Unsplash
Canva
Entrepreneurs: Send this memorable meme as a way of letting your clients know they are on track to meet their goals.
Although This is Business has a serious tone, there is no reason you can't use a This is Business Meme to creatively let your clients know you are doing the job they paid you to do– help them meet their quotas.
In contrast to the This is Business meme above that tells clients when they are on track to meet their financial goals, this example of a This is Business meme shares the exciting news that your clients are on track to exceed the professional expectations you gave them.
This example of a This is Business Meme can be used to generate new business.
Adobe Express (Formerly Adobe Spark)
Go to https://express.adobe.com/sp/.
Adobe Express makes font recommendations for you.
You can add fonts, stickers, and more elements. Adobe also offers templates so you can create your own This is Business Meme template from scratch.
Like many of these meme generator tools, Adobe has an app.
Kapwing
Go to kapwing.com and click Create New Project.
A menu opens that allows you to use Kapwing for video editing with music.
Reddit
Although Reddit is not a meme generator tool, you can certainly find this is business memes on this popular social media site.
Search Reddit subreddits for the This is Business Meme community.
ImgFlip Meme Generator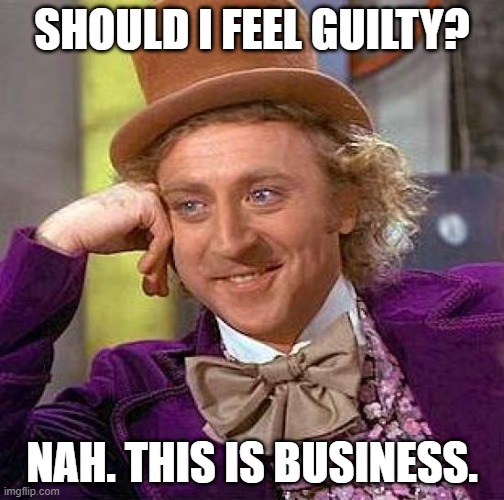 Go to https://imgflip.com/memegenerator
You can use the meme generator to create a meme, a GIF, or a chart.
Create an account and login to save your meme.
Regardless of whether you make an account, you can share your meme. You can also choose to copy the html code to paste your This is Business meme in your WordPress posts.
PosterMyWall
Like other graphic design tools, PosterMyWall has ways for you to edit your business meme.
These are the editing tools PosterMyWall offers.
Go to https://www.postermywall.com/.
Here is a PosterMyWall tutorial.
Memes Monkey
Memes Monkey is a discovery engine for memes.
Type in the meme you desire in the search bar. Different websites where you can find the memes populate.
I typed "This is Business" in the search bar. As you can see, the This is Business meme in the image can be found at QuickMeme.com.
Go to https://www.memesmonkey.com/.
How to Promote Your Business with a Business Meme
Here are the ways to use your business meme to boost your customer base:
Share your business meme on social media sites. For instance, you can share your business meme on Instagram. By growing an Instagram meme page, you engage Instagram users who might need your services and remember your memes come purchase time.
Embed your business memes in your web content. Display them in your sidebar to develop a relaxed persona.
There are advantages of using Twitter to share your business memes. For instance, Twitter and LinkedIn are known as professional networking sites, so putting business memes on these sites makes sense.
Be sure to ask Twitter influencers to retweet your meme so your exposure grows. Here you find instructions for tagging on Twitter and other social media sites.
Wrapping Up: This is Business Meme
By reading this guide, you received 10 free meme website reviews and methods to help you generate memes. You also received recommendations of free tools you can use.
Readers, please share so bloggers, social media users, and entrepreneurs discover these meme generator reviews.
I look forward to your views in the comments section. Do you know more sites where entrepreneurs can design a This is Business meme?
Janice Wald is the founder of MostlyBlogging.com and co-founder of the Mostly Blogging Academy. She is an ebook author, blogger, blogging coach, blogging judge, freelance writer, and speaker. She won the Best Internet Marketer Award and the Best Blogger Award at the 2021 Infinity Blog Awards. Wald was also nominated as 2019 Best Internet Marketer by the Infinity Blog Awards and in 2017 as the Most Informative Blogger by the London Bloggers Bash. She's been featured on Small Business Trends, the Huffington Post, and Lifehack.