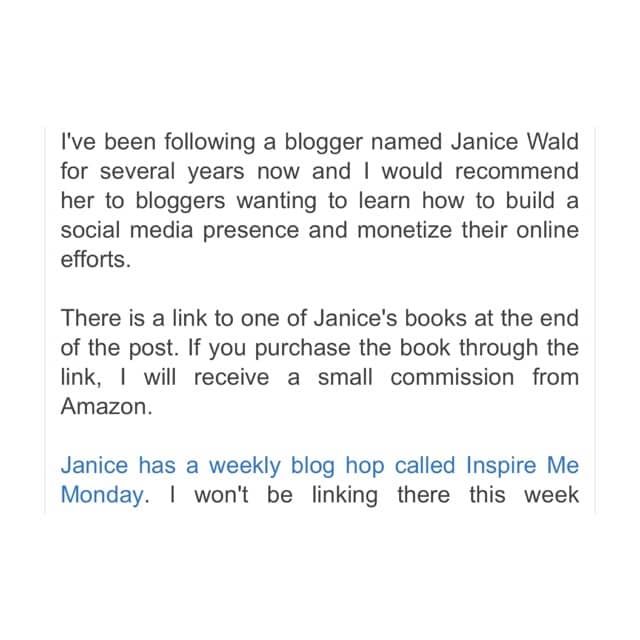 This is what readers had to say about my posts.
Hey! This is great, and I really find your blog very helpful. Thanks for all of your blogging tips. They really do help!  Clarissa Wilson, http://cwilson26.blogspot.com
–Janice Wald is becoming one of my "go-to bloggers" as a source of helpful information!
–This is just some kind of brilliant! I never would have thought to search for other bloggers this way. I'm so gonna do this! Thanks for the tip!
–This was the most helpful post I have seen on how to promote yourself…
—I'm new to blogging and your tips and tricks have been what has kept me going.
—I really find your blog very helpful. I have even started using Hootsuite! Thanks for all of your blogging tips. They really do help! 
—I love all your blog articles, It's especially helpful for people starting out, like me! It's nice to have a blog to follow that's so informative.
—Janice your links have been extremely helpful thank you
–As a newbie blogger, I find your advice extremely helpful. 🙂
—Janice ALWAYS has the BEST tips/suggestions about blogging and she explains things in a way that make sense to me!
— I am seriously loving your blog.
— I love the tips, there isn't anyone that couldn't use these…
— I find your post amazingly helpful! Thank you for sharing!
–I love your style of writing; it's brilliant and is always a pleasure to read. Keep up the good work 🙂
–Oh I love this! Such truth and what a great reminder that every couple must read.
–I always enjoys your posts.
—Thanks for inspiring me 
–… a brilliant piece as always 🙂
–Great tips!
—Thank you for sharing these. They are great tips!
—BTW, you're my favorite blogger.
–What a great list with even better tips to avoid holiday burnout this year.
—This was a great post! Thanks for sharing these ideas.
–The advice thing is great. But please don't stop covering current events.You are so great at it. The entertainment blogs were hard due to not having viewed everything, but the items you actually had information on that I was familiar with were great.
—All of your suggestions are great ones. 
—You nailed it.
—Great advice. Really like how your words keep me reading the next entry. Well done!
—Awesome tips that every relationship should follow…
—I… like the civilized and balanced tone of your blog and the comments. That's hard to find on the web!
–…as an old person not used to social media, first time I've responded to a post and it's because I liked the tone of your discussion.
–You are a genius. Not only do these strategies work, but you make them so plain and easy to follow. Great writing. I think that's the fastest I've read anything in my life. You made me want to keep reading. Rare; trust me.