Telesales.
Pick a plot, and hire the clergy.
When marketers follow popular 2020 trends, they should stay far away from telesales.
Today's guest author tells you why.
After reading this post, you'll be begging for alternatives to cold calling.
5 Reasons Cold Calling Marketing Is Dead #RIP
Contributed Post
Marketing is a diverse sector. From face-to-face interactions such as shaking hands and handing over business cards to virtual connections via LinkedIn, there are tons of ways to raise awareness of your brand. 
For decades, the mantle of the most effective tactic went to cold calling (also known as "telesales"), the selling of goods or services over the phone. The new technology allowed companies, legit and otherwise, to catch decision-makers at home. And, if the sales rep was charming enough, they could secure a lead out of nowhere. Ever since the revolution in the 1970s, cold calling became a firm favorite of advertisers everywhere.
Today, the numbers are declining rapidly. Considering you need to make at least six calls on average for a return on your investment, it's not hard to see what's happening – cold calling has lost its crown. After all, callers only average twenty per day, which isn't enough when you factor in how many are needed for a single person.
So, why is cold calling no longer as effective as it was in the 70s, 80s, and 90s? What has happened to make this traditional staple of marketing strategies potentially obsolete? Continue reading to find out more, and to learn more about the modern and retro advertising techniques that are successful.
5 Reasons You Should Avoid Telesales
Call Screening
Before cell phones were popular, the best way to communicate was via a beeper. Failing that, people conversed on the phone that was connected to a landline. As a result, there was no way to tell who was on the other end until you picked up and answered the call. This was advantageous for cold callers as they played on the fact that the call could be urgent.
Potential customers didn't want to take the risk, so the success of cold calling was very high. Businesses were guaranteed to get responses, and once they had homeowners on the line, they could talk the talk. Today, it's a lot easier to screen calls thanks to mobile phone technology. Now, the number appears on your handset before you pick up, meaning you can reject it if you're unfamiliar with the contact.
Marketers have tried to bypass this by blocking their identifications completely, yet this makes targets even more likely to avoid a cold call. The rise of smartphones has made cold calling technology obsolete, which is why this HBR review post says it's ineffective 90% of the time.
With a rate as high as this, there's no reason for you to continue with cold calls. Why would you invest resources in a marketing ploy that isn't useful?
Customer Irritation
Aside from the ability to screen calls, consumers' changing attitudes have forced cold calls onto the back foot. Nowadays, a sales representative who has acquired your details without your consent is likely to be challenged. The caller spends most of their time validating the approach rather than talking about potential sales and conversions.
Not only is it a massive waste of time and resources, but the fact that customers are entitled means businesses can't dictate the pace any longer. If advertising tactics are annoying, they must change to adapt to the preferences of the market. In the 21st-century, that means dropping an email into a virtual mailbox or connecting on social media.
However, calling as a whole isn't ineffective. Businesses that can eliminate the annoying aspect of their marketing will get more responses. From a traditional standpoint, this involves combining classic measures with modern ones, which the Drop Cowboy Ringless Voicemail solution does perfectly.
Ringless voicemails limit the need to call as the tech inserts a voicemail directly into a mailbox. There's no fuss or hassle, and no reason to interrupt or disturb targeted demographics. Plus, voicemails are still viewed as important, which means you can improve your response rate by as little as 5% and as much as 20%.
Inefficiency
The customer comes first, which is why it's essential to focus on how it impacts their lives. Of course, on the flip side, you must gauge how marketing methods affect the company, too. The ones that are ineffective and costly need casting aside for more useful and affordable alternatives.
For the most part, companies aren't convinced that cold calling is efficient anymore. A stat from SlideShare reveals why – one meeting requires over six hours of prospecting. On average, that means it takes more than a single working week to secure ten meetings. And that doesn't guarantee that you'll generate leads or make a conversion. 
The Trade Show Network goes further and says that businesses need to make more than 6,000 calls to make four sales.
In comparison, writing blogs or sharing them with your audience are two fast ways to secure a healthy ROI. With the right niche and a solid base of contacts, you can raise awareness of your brand and boost its standing in the industry. Guest posts, for example, will prove that you're an expert with tons of relevant knowledge.
Employee Morale
Another element of cold calling is the impact it has on employees. Salespeople are driven to generate leads and secure sales because it's in their nature to be competitive. Most businesses believe that these traits make them the ideal candidates for calling prospective customers and clients, but the reverse is true.
While sales reps are happy to take the bull by the horns, they also require a challenge. Previously, turning a no into a yes was a tough ask, but it was doable. Therefore, there was enough light at the end of the tunnel for them to maintain high levels of motivation. The changing tide means the majority of salesmen and women are bored at work.
People won't answer their phones, so it's not as if they can get them on the line. Secondly, when they do happen to pick up, they are dismissive and not willing to listen. The result – employees see their workload as inevitably failing before it has started.
This means morale in the workplace for sales teams that use cold calling as a marketing tactic isn't high. Groups that opt for email blasts and social media influencers, however, are likely to see a return on their investment. That makes them productive because they have the drive to succeed.
Reduced Trust
With a reduced number of people to choose from, businesses decided to use robocalling to reduce costs and limit their exposure. They are so popular that Inc believes robots placed 50% of all cold calls in 2019. Unfortunately, this leaves the sector open to hackers.
Illegitimate "companies" and individuals now use cold calls as a way to phish (fraudulent behavior online) for information. Even if the phishing expedition is obvious, it has a catastrophic effect for marketers – recipients of cold calls no longer trust the person at the end of the line. Therefore, people aren't going to make a conversion until they are sure that you are genuine and trustworthy.
Yes, there are ways to do it, yet most of them don't happen over the phone. Instead, you need a digital presence with an introduction to your business and your team, as well as reviews from third-parties.
Unless you can bridge the gap, the call won't go anywhere. Emails, texts, and voicemails, on the other hand, aren't viewed with the same suspicion. Therefore, your reputation doesn't have to be as solid.
Conclusion: The Death of Telesales
Cold calling isn't dead. There are still marketers that use it this day. But, the fact that less annoying and time-consuming methods are readily available means their popularity has dropped dramatically.
After all, wouldn't you find organic search results and social media posts less intrusive? Definitely, that is an advantage social media marketing has over cold-call marketing.
Host blogger's comments:
Takeaways:
This post offered 5 reasons cold calling marketing is dead and offered alternatives to cold calling such as search engine marketing, social media marketing, and blogging.
I polled Instagrammers and asked their opinion about whether cold call marketing is dead.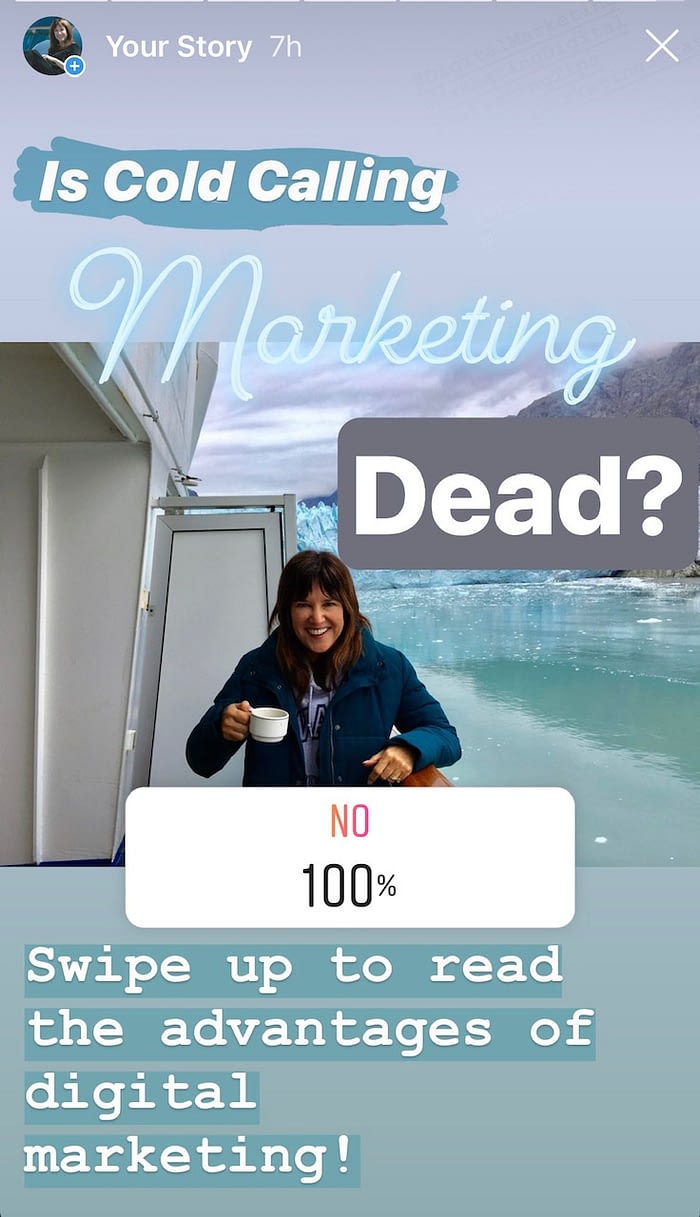 As you can see, none of the Instagrammers who responded agreed with the author.
Mark Twain famously reported, "The reports of my death are greatly exaggerated." Are reports of the death of telesales equally premature?
I look forward to your views in the comments. Do you agree with the author or the Instagrammers? Is telesales dead?
Readers, please share so marketers learn why they should stay far away from telesales and consider alternatives to cold calling like SEM and social media marketing instead.
This post was made possible by the support of our readers.