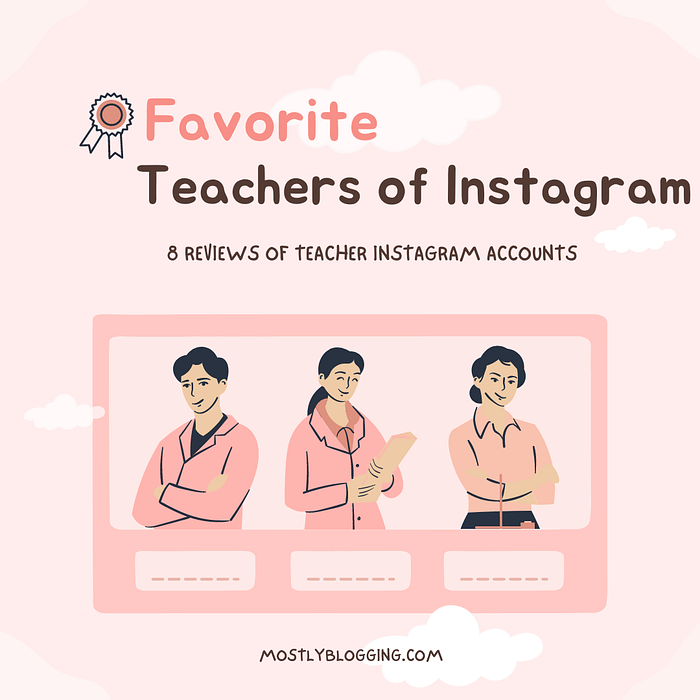 Are you looking for teacher Instagram accounts to follow?
Running a classroom is not as easy as one may think, and teachers could use all the help they can get.
There are many advantages of Instagram.
For instance, Instagram can be an effective and engaging platform when used correctly, especially for educational purposes. Some inspiration and motivation from an educator can go a long way.
In a day and age of mindless scrolling on Instagram, Twitter, and other social media platforms, you may be looking for some wholesome content to follow.
Here are some of the best new education Instagram bloggers.
Enjoy these reviews of teacher Instagram accounts.
Best Teacher Instagram Accounts
@classroompinspirations
It is extremely easy to find anything and everything on the internet, no matter your needs. Students can find graduate school essay writing service that writes college papers from scratch, while teachers can find teaching resources and tools to help them create schedules and grade papers.
One such resource is a visually stunning Instagram feed with helpful captions and tips on making a classroom look beautiful – Classroom Pinspirations. The blog is precisely what it sounds like, an online gallery curated full of Pinterest-y images of classrooms, schools, and corridors.
These images are curated by two educators with teaching experience in the industry, so they know what children like and what teachers need. Going through their Instagram page feels like a trip down memory lane, with colorful boards, charts, push pins, drawings, and much more. They also might use a social media caption generator for making content easier and more accurate. Classroom Pinspirations also has a list of product recommendations for arts and crafts and other stationery items.
@madlylearning
Patty, who is the owner/CEO of Madly Learning, is committed to helping teachers in California find the best resources for students from grades 3 to 6. These creative resources are meant to educate students innovatively and engagingly, deviating from traditional education methods.
This Ontario-based teacher's Instagram profile offers a look into the life of a junior teacher and her experiences. She often interviews her fellow educators, who can provide essential tips and tricks to being a successful teacher.
@2peasandadog
Kristy, the smart and sensitive teacher who runs the Instagram blog 2 Peas And A Dog shares vital learning resources, educational tips, and other ideas that help make a classroom better. She focuses on secondary ELA subjects that other fellow educators face to help them tackle these challenges easily.
Apart from these basic resources, Kristy also provides links to a variety of online libraries, podcasts, and other reading and learning material that could be of help to secondary and primary students in school.
Let's explore more teacher Instagram accounts.
@nittygrittyscience
Whether you are a teacher or a student, Nitty Gritty Science has something for you. From decor tips to merchandise, this Instagram blog has everything for everyone. If you want to buy a research paper online from expert writers or look for science education tips, these are the things you can do on Instagram and other social media platforms.
Dr Erica Colon, educator of science, speaker, and author of scientific guides for children, runs Nitty Gritty Science. This Instagram account offers an inside look into interactive science journals put together by students and teachers, engaging bulletin boards, STEM projects, and more that offer a great source of inspiration.
@mathgiraffe
Before you boo us for including this page, take a look at their colorful and vibrant Instagram profile. Math Giraffe aims to make math precisely the opposite of what people feel when they hear the word "math". They have successfully revamped math by making it fun, memorable, and extremely enjoyable.
The educators that run the page intend to make math exciting, creative, and innovative. As part of their content marketing, they also offer a free educator toolkit consisting of creative resources for teachers visiting the page for the first time.
As the name suggests, Social Studies Success contains important ways to involve young students in social studies education without making them feel bored. The history teacher running the page believes that meaningful social education can change the world. She intends to make social studies exciting and fun while maintaining the truth and relevancy to current scenarios.
To make social studies education more accessible and relatable to young students, the educator inculcates real-world scenarios and current affairs education within the traditional syllabus.
@worldlangcafe
Running an interactive and engaging language-learning Instagram page, the language expert at World Lang Cafe aims to make life easier for teachers of French and Spanish. The profile consists of fascinating and vibrant lesson plans, classroom game ideas, quizzes, and more to make language learning a more pleasurable and fun activity.
If you are a foreign language teacher who has run out of ideas to keep your students interested in learning a new language, World Lang Cafe is your Instagram destination.
Are you ready for the last review of one of the best teacher Instagram account?
@love.tanesha
Tanesha B. Forman is a middle school principal who is passionate about standing up for social and racial justice issues. She has contributed to essential conversations in America surrounding equal resources and opportunities for students from different socio-economic backgrounds. She was also one of the important members of the #cancelstatetesting2021 movement.
Her experience in the teaching industry and as a principal has given her the ability to impart vital knowledge to help other teachers and educators work with their students. Her job is not only limited to the academic world but also to social justice movements happening around the country. 
Wrapping Up: Best Teacher Instagram Accounts
Are teachers on Instagram?
Yes! There are many teacher Instagram accounts. Teachers use their Instagram accounts to share best practices such as ideas for bulletin boards and projects.
How can teachers use Instagram?
I use Instagram to admire funny memes that I can relate to. Other teachers get project ideas and inspiration for bulletin board ideas on Instagram. The sky is the limit for the amount of creativity and inspiration you can find in teacher Instagram accounts.
Conclusion: Reviews of the Best Teacher Instagram Accounts
With all these options, one can get various information and access to resources from Instagram. Over the last few years, this social media app has become a necessary platform to amplify important topics and start difficult conversations surrounding various people and events. All you need is to know what your interests are and who the best Instagram bloggers in the discipline are. Hope this guide helps!
Author's Bio – Barbara Fielder
Barbara Fielder is a writer and online educator. She spends her time running an online blog where she offers important tips to teachers in humanities. She is passionate about education, reading, creative writing, and gardening.
Readers, please share so teachers discover these reviews of the best teacher Instagram accounts.
I look forward to your views in the comments section. Can you recommend more teacher Instagram accounts?
This post was made possible by the support of our readers.