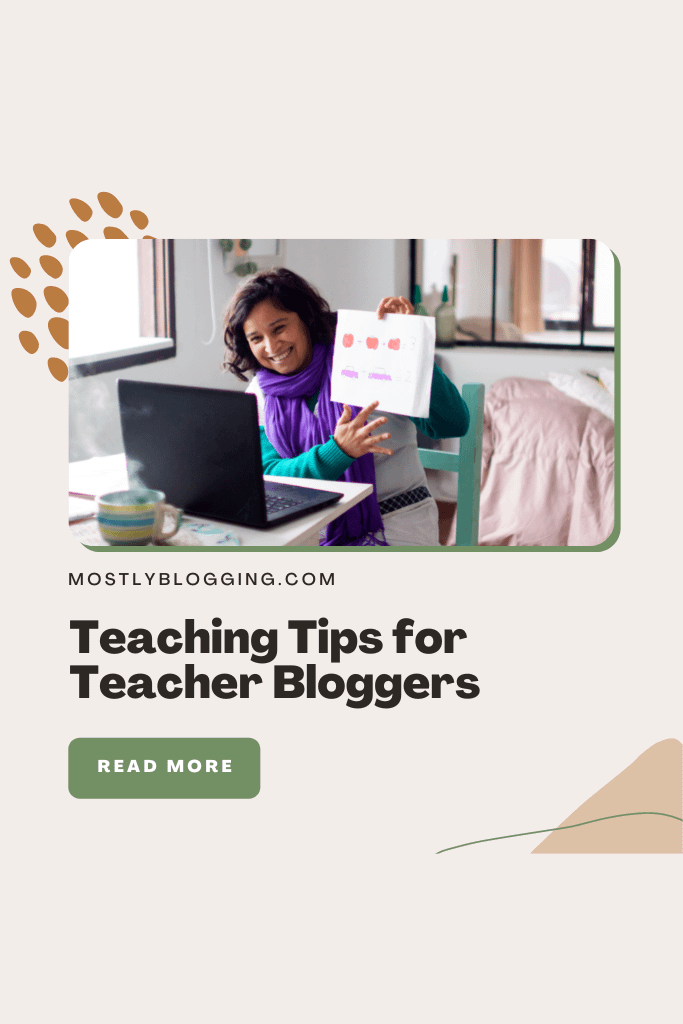 Do you know what teacher blogs are? Would you consider publishing a teacher blog?
As soon as you study how to be a successful blogger, you hear you need a content niche.
"Hey folks, this is make-or-break," you learn.
You must have a blogging niche or watch your blog die on the vine along with the other 600 million blogs that try to succeed in 2022 (Source).
What if, and perish the thought, you don't want a niche?
This blog proposes that bloggers who don't want a niche start teacher blogs.
Couldn't you just have a lifestyle blog and not have a niche or call that your niche?
No!
A successful blogger brands his or her blog. In other words, you need to become an expert in something.
"Lifestyle blogs" have an association that the blog will be a hodgepodge of unrelated ideas.
It gets worse. Many readers assume lifestyle blogs exist so the blogger can rant.
The truth: Unless you are an entertainment blogger, readers look for solutions to problems when they go to your blog.
Is this an unsolvable dilemma? A Catch-22? A challenge you can't win?
No!
This article proposes that lifestyle bloggers start teacher blogs.
By reading this post, you will see examples of teacher blogs. Also, you will explore three advantages of teacher blogs and discover tips for publishing articles in the education niche.
Let's get started and explore teacher blogs.
Advantages of Teacher Blogs
Advantage of Teacher Blogs #1: You are not constrained by a narrow blogging niche.
A micro-blogging niche caters to a specific segment. However, you don't have the limitations a micro blogger has since you are blogging on a greater number of topics.
Lifestyle blogs teach about a wide variety of topics. The range is so wide critics assume the blogger has no niche.
Teacher blogs teach about a wide variety of topics.
By calling yourself a teacher blogger instead of a lifestyle blogger, you stand a chance to brand your blog as an expert in a niche instead of being judged as "random."
Advantage of Teacher Blogs #2: Offer yourself as a resource.
Why not?
As a blogger, you teach your readers. Why not teach other teachers and teacher bloggers?
It gets better: You can even make money selling your resources.
I took my blog posts and compiled them by category into ebooks. I published them on Amazon and offer them for sale on my site. My "Books" page is a static page that sits at the top of my blog for visitors to see when they arrive.
Static pages get indexed by Google easier than blog posts. Therefore, you boost your chance of making money blogging when you sell resources from your teacher blogs.
Teacher Blogs Advantage #3: The world will always need teachers
According to World.edu, education blogging is an indispensable niche.
"At the center of [the internet] are bloggers who understand that everyone is looking for new information relating to among other things, breaking news, healthcare, home remedies, fitness tips, education, and technology."
Examples of Teacher Blogs
Topics
Before you start publishing on your teacher blogs, you need to choose topics.
The World.edu blog went on to offer examples of topics you could write about as an academic blogger:
Blogging about lesson plans is a lucrative area provided you do it right. In no time, you will be commanding a massive following from teachers who want to perfect their approach to teaching.
Adult training, i.e., relation tips, sex life, reproductive health, etc.
A popular but often tricky niche that requires extensive know-how, and sometimes certification of excellence on a subject(s) you teach online.
Technology and education, or pedagogy.
Education gadgets and curriculum.
College life and tips for students. For instance, you can write about ads targeting college students.
Computer programs/packages.
Graphic design/video editing tips.
Trends in education. The future of education will make the best majors for undecided students.
Teaching students to write plagiarism-free essays.
Let's do a deep dive into a specific example: Adult training
You want to teach the steps to get your driver's license in your blog post.
Can you do it? Can it even be done without a video or actual driving lessons?
Let's look at an example from an article that teaches new drivers.
The format of the blog post follows the standard blog post outline: introduction, body, and conclusion. However, if you need more information on the basic blog post structure you will find it here: How to write your first blog post.
The introduction
"Waiting for your driving license to come through is sort of like waiting for Friday, or for the day of a holiday or festive occasion to arrive. You are filled with anticipation at the prospect, cannot contain your excitement, and also cannot do anything to make time move any faster, resulting in you being in a constant state of frustration and excitement simultaneously.
For some, there might also be a little bit of anxiety around whether they passed the test. As a result, you might be stewing in that strange mix of frustration and excitement."
Note: The blogger immediately hooks the reader by sounding relatable. Since the blogger clearly understands that "pit in the stomach" feeling of wondering if you passed your test, the reader wants to continue reading the blog post.
The body
Now that the blogger has compelled the new driver to continue reading, he or she gets to the solution:
"Well, fortunately, you can reduce your frustration levels and manage your excitement by checking your DL status."
Content marketers often link to their product or service at this point in the article and offer it as a more intensive way of helping the reader.
As you see, the body contains the solutions to the reader's problem.
What should the reader do?
Check the website.
How should the reader do it?
"The process to check your driving license application status:
Step 1 – Grab your token number and keep it handy and also get hold of the date that you did your driving test.
Step 2 – Visit the Sarathi website. You can click here to access the website directly: https://sarathi.parivahan.gov.in/sarathiservice/stateSelection.do
Step 3 – Now select Application Status from among the various options provided to access your DL application status.
Step 4 – A form will open up. Fill up your token number or application number, your date of birth, and all the other details requested. Don't forget the captcha code.
Step 5 – View and note your driving license application status.
In case you are still struggling to find your application status, the Sarathi website has a chatbot that can assist you. You can find VANI, as it is called, located at the very bottom of the tab. You will need to scroll to the bottom of the page and will see an emoji-looking icon with a speech bubble asking you if you need help.
What to do while you wait for your driving license to come through?
Yes, we understand that it's frustrating to not get the chance to drive your car while you wait for your license. However, as the saying goes "A watched pot never boils" and constantly checking your driving license application is going to make the whole process seem like it's taking even longer."
Note: The blogger anticipates readers' questions. This is important in order to score search engine traffic. By anticipating users' queries, you can answer those queries in your blog post.
Conclusion
Checking your driving license status online is a quick and easy process.
Note: The teacher blogger sums up the information by reminding the reader, the new driver, why he or she should follow these tips.
More Examples of Teacher Blogs
As you saw in the above example, publishing teacher blogs without the help of a recorded video, a virtual meeting, or a live meeting is possible.
However, adding video content would not only help your reader understand your information better but adding a video would boost your chances of having your blog post rank on Google. This is due to the fact that Google likes a variety of media.
One of the topics listed above often covered in teacher blogs is essay writing.
Although I don't consider myself an admin of one of the teacher blogs, note how in this video I teach people how to improve their writing with the best article rewriter tools:
In this tutorial, I review HyperWriteAI, an AI article rewriter tool.
Although demonstrations aren't necessary to run teacher blogs, they definitely add to your post. Some readers learn by absorbing text and visual learners understand better by viewing media such as videos.
Wrapping Up: Teacher Blogs
In this guide, you discovered why an education niche is better than a lifestyle niche, topic ideas for teacher bloggers, and tips for writing the three parts of your blog post.
Readers, please share so lifestyle bloggers discover this post so that they know their options when it comes to publishing as teacher bloggers.
I look forward to your views in the comments section. Do you agree you need a blogging niche? Would teacher blogs have a better probability of success than lifestyle blogs?
Authors: Janice Wald and a Contributing Author

Janice Wald is the founder of MostlyBlogging.com and co-founder of the Mostly Blogging Academy. She is an ebook author, blogger, blogging coach, blogging judge, freelance writer, and speaker. She won the Best Internet Marketer Award and the Best Blogger Award at the 2021 Infinity Blog Awards. Wald was also nominated as 2019 Best Internet Marketer by the Infinity Blog Awards and in 2017 as the Most Informative Blogger by the London Bloggers Bash. She's been featured on Small Business Trends, the Huffington Post, and Lifehack.
This post was made possible by the support of our readers.