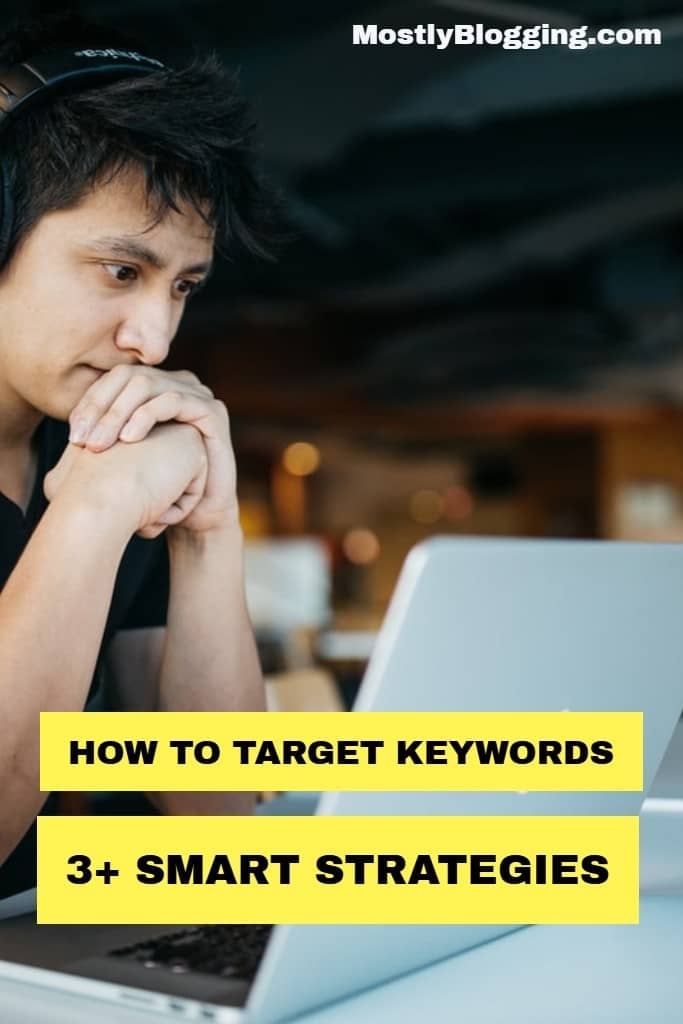 Hi there!
Are you a blogger who wants to target keywords so you can rank in Google and make money?
Yes?
Let me ask something else, can you afford a keyword tool?
No?
I guessed your answer. After all, that's why you're reading my guide on doing keyword research to target keywords for free.
So let's get started right away learning how to target keywords.
Is it Really Possible to Do Keyword Research Without Premium Tools?
You bet it is. You don't need expensive tools to target keywords.
Of course, It's not as streamlined as popping a keyword in a proper tool and getting search and competition data, but it can be done.
Below you'll learn how to target keywords in my step-by-step tutorial, but first…
What are The Types of Keywords That Exist? And Which Type Should You Be Targeting?
Though there are almost two dozens types of keywords, I want to dial in on search intent, i.e., the reason someone is sitting behind their desk and typing into Google search.
Three main types of search intents are:
Informational;
Commercial;
Navigational.
#1- Informational
Informational keywords are those where users wish to learn something.
They usually start with question words:
what,
how,
where,
which
does.
The content that best responds to this is one that gives a complete answer to a question asked.
Notice I didn't say you need thorough content? That is because for some queries brevity is key to appear highly on Google.
For example, if someone asks, "Hey Google, what is the time in Los Angeles right now?" they don't need a blog post that explains the origins of clocks and timekeeping.
Instead, they need to know what time it is.
On the other hand, if someone types "email marketing" into Google, I can predict they want to have a beginner guide to explain the ins and outs of this marketing strategy.
How can I predict? It's common sense. But also that is what I looked for just yesterday and found this beginner's guide to email marketing by Moosend.
I learned a lot there and will soon implement what I learned on my blog.
#2- Commercial Keywords
Commercial/transactional keywords are those where users are looking to buy. So they've decided to purchase and now only need to learn what is the best product that can solve their problem for good.
Trigger words that tell you there's high buyer intent are:
Coupon
Buy
Discount
Shipping
Deal
Sale
Cheap
A good example is my cheapest eSim plan post. This keyword is searched by folks who're eager to buy a new iPhone in 2021.
I know my guide can help them and can help me make a commission or two:)
Note: if you check out my article above, you'll see that it's a hybrid of informational and commercial content.
Yes, I try to sell, but I also give a ton of information and have a plethora of valuable information in there.
If you want to see an example of a purely commercial post then check out this best paid online survey sites roundup post, where all there is sales-driven content about different survey sites.
Finally, sometimes, the search intent is murky at best. For example, what do people who search for "cloud call center software" want?
Who knows?
They might want to purchase, but they also might want to learn what it is.
The page I linked to from the above caters to both types of potential visitors.
And finally and I promise this is the last one:) sometimes you have to respond to a relative generic query with something unique to your brand and that's your offer to the searchers.
For example, there's a group of people who targe the query "video speed controller" every month.
Clipchamp targets people who search for it with their Video Speed Controller free tool page.
Think about it, most of these people have never heard about Clipchamp and are clueless about that free tool.
Finally, there are navigational keywords.
I won't talk about them here because they only really exist for big brands that can take full advantage of them.
If you're a small site, no one is going to be looking for you specifically. And if you're an SEO, you should never target keywords that are navigational keywords as they're usually a pure waste of time.
Examples of keywords you shouldn't bother with are:
Nike running shoes;
Facebook;
Google;
Pinterest;
Etc.
Note: In rare cases, navigation keywords can work. For example, this post targets "start a blog in Nigeria". It's a navigational keyword in the sense that it is country-specific, but it works because it targets the country and not a single brand. All bloggers in Nigeria can compete for this lucrative term.
Now, let's get into the keyword research proper.
How to Target Keywords
Learn how to uncover valuable keywords without premium keyword tools.
#1- Install the MozBar Chrome Extension
MozBar is an awesome Chrome extension that can show you key link metrics of any competitor whom you wish to overtake in the SERPS.
What's more, this awesome tool also shows you the competitiveness of the entire SERPs.
For example, I can see that the keyword "Windows web hosting free trial" is not that competitive.
I see it because MozBar showed me. And another clue is that my friend Nikola is on position #14 for the phrase Windows web hosting free trial with his 5-day old article.
Take a look:
So the fact that such a young article ranks so highly coupled with MozBar showing weak metrics for competitors makes it an ideal keyword to target.
#2- Find Competition That's Around Your Level
To do this step properly, you need to be entrenched in your niche. You first need to know who they are so you can beat them.
Agree?
The easiest way to find out is to join a couple of Facebook groups and see the regular posters there.
For example, when I visit Santanu Debnath's Facebook group, Bloggers' Team, I see it's bustling with activity. I can monitor who the bloggers are there and record their sites and put them to the test with MozBar.
But for now, let's keep it simple and see what Santanu's been up to.
A quick search for his name in Google reveals that he owns 2 blogs, BloggingJoy.com and WPCrows.
BloggingJoy is a bit too strong to attack directly, but WPCrows has an underdeveloped link profile.
Let's see the keywords he's targeting.
Immediately from his blog's sidebar, I can see a good candidate. It's this Best Black Friday hosting page:
Note: He keeps it in his sidebar because it's a very important page to him. And the reason it's important is that it makes him money.
You don't need to be Sherlock Holmes to figure it out:)
I know this keyword is hot and because it's very hard to build links to such clear money pages, I'm willing to bet the page has only a few links pointing to it.
And sure enough, MozBar shows me the page has only 6 links pointing to it, and it's possible some of them are nofollow.
We found our winning keyword and now it's time to target keywords by doing manual keyword research, no paid tools needed.
#3- Semantic SEO Keyword Research
Don't be confused, Semantic SEO is nothing more than using Google's search SERP features to extract valuable keywords.
We'll do it with the phrase we found earlier "Black Friday web hosting deals."
a) Use Google AutoSuggest
Google Autosuggest is this nifty feature where Google suggests what you should search for next.
They built it to make it more addictive to users, but we marketers can use it to glean valuable data on how normal users browse Google.
In other words, phrases that Google shows you are the ones that get typed the most and perfect candidates to be included in your blog post.
So scoop up those, as many as you can, but only if they make sense for your post.
b) Use the Related Searches Section to Your Advantage
At the bottom of every query you typed into Google there are related searches to that one.
That section is a gold mine to further extract what people are really looking for.
Take what you can and move onto…
c) Use the PAA Boxes
PAA boxes are a relatively new Google feature that shows you questions people ask.
As such it's perfect for keyword research because you need to remember that behind every query there's a question, and it's even easier for you when the question is actually phrased as such:)
Note: Not all keywords have these.
Our target keyword didn't.
But here's a screenshot just to see what they look like.
d)- Use Google Images
Did you know that Google Images are a whole separate search engine from Google.com?
Yes, it's true.
And Google Images can give you some nifty keyword ideas that you'd be hard-pressed to find in the normal Google search.
To use it, simply type your search query in Google as you normally would.
And then go to the images tab.
Once there, peruse the header bar filled with related searches. These are powered by the knowledge graph and are excellent keywords to naturally include within your content.
e)– Use Answer the Public
ATP is this wonderful freemium tool that can unearth questions people ask about your industry.
I say it's freemium because the paid version shows you search volumes. But we aren't interested in that because the purpose of this guide is to show you how to do keyword research for free.
Besides, there's an easy and free way to get accurate search volumes, and I cover it below.
So, go to ATP and enter your target keyword.
Now, scroll to the bottom where you will see all questions, prepositions, and comparisons listed out in alphabetical order.
Jot down what you can and don't worry about the missing search volume. Questions ATP shows you are perfect for an FAQ section of the blog post, and you don't need search volumes for those.
It's enough to know they exist and users ask them.
#4- Write
And that's it. The keyword research portion of article creation is done.
Yes, really.
Keyword research without a single paid tool is possible and doable.
Now you have a smattering of keywords you need to include in your posts.
Aim to include them in your subheadlines and also sprinkle them naturally in your post.
Pro tip: When writing content, just write, don't try to optimize for SEO while writing and even while doing the first round of edits as it'll just slow you down to a crawl.
Instead, write first, edit second, and SEO your article on the third pass.
That's how the pros do it.
Bonus- How to Find Keyword Search Volume for Free?
Keyword demand and search volume are valuable data that is usually reserved for premium tools.
However, you can find them for free if you know where to look?
Where?
Use a free tool called LSI Graph.
They used to not show search volumes as well but now they do, and they're accurate too because I have SEMrush and the data from SEMrush is similar to the one in LSI Graph.
Keyword Research for Free FAQ- All Your Questions Answered?
#1- Can I Use My Competitor's Articles for Keyword Research?
Yes, you can.
And you should.
How about an example from a musical instrument niche?
Take a look at the image below.
What do you think this page on guitar forbidden riffs is optimized for?
Yes, it's "forbidden riffs on a guitar".
How can you tell?
First, the keyword is in the headline.
Second, it's in the URL.
Third, it's in the SEO title.
That is all the proof you need. And get this, because the article is clearly optimized around this keyword, it tells you it's the work of a capable SEO, and SEO's thrive on keyword research.
In other words, this search phrase has volume and is easy pickings because the site targeting it is new and pretty weak from the authority standpoint.
Again thank you MozBar!
#2- Can You Use Social Media for Keyword Research?
Social media, especially Twitter and LinkedIn are excellent free keyword research tools.
Here's how to use them.
Twitter
Twitter, similar to Reddit, is at the forefront of the things to come.
It shows you what hot right now, and as such, it shows you amazing keyword opportunities for which there's literally no content on the web.
The best way to see popular new keywords is to see what's trending right now.
If you see something from your niche, it might be your chance to get in on it while there's zero competition.
LinkedIn
LinkedIn is a different beast from Twitter. While Twitter is fluid, LinkedIn is static in the sense that some topics are perennially popular.
How to find popular topics?
By knowing the evergreen LinkedIn hashtags.
And how to find those?
Don't waste your time, instead check out this curated list of popular LinkedIn hashtags here.
Conclusion: How to Target Keywords
You came to this post wondering whether keyword research without paid tools is a viable option.
You were highly doubtful, but now you know that yes it's possible and yes, it's easy to target keywords.
As long as you know where to look you have all the data available for free on Google and by using Google to find it on other websites:)
Let me know what you think about these strategies to target keywords without the cost of expensive tools in the comment section below.
Readers, please share so other search engine marketers discover these free methods to target keywords.