Do you have any summer blog plans?
"Summer blog plans? Is that a thing?" you may wonder.
Absolutely.
New bloggers often blog during the school year when their children are in school.
They believe in error that just as their children take time off of school, they should take time away from their blogs.
This false belief is reinforced by the slump in summer blog traffic.
According to the Cynpo blog, "The summer slump costs you blog traffic. Bloggers often notice a decline in summer."
"If the readers are away and the children are home, why should I be blogging?" you might ask.
Here is the deal…
June, July, and August are the perfect time for summer blog improvements.
That way, when your traffic returns, your blog comments arrive, and the children are back in school, your summer blog tuneup is finished.
By reading this post, you will discover how to become a better blogger and how to improve your blog during the summer.
Bring on the summer blog tips.
Do You Experience a Summer Blog Fizzle?
Many people look forward to the three months of June, July, and August every year. Not just because of the sunny, warm weather but also because of the good vibes that it brings and the number of activities one can engage in during this season.
These can include summer blog activities you can do to improve your blog and your blogging skills.
For students, summer is a time to be free from any schoolwork. For the working-class people, those who get work leave or breaks, it is a time to be free from anything work-related.
For bloggers, summer should be a time to hone their blogging skills and improve their blog.
Are you feeling down, at a loss or unsure of things to do, or feeling like you are wasting your time away during this period?
In other words, do you feel summer is an unproductive time for you?
Let's discover summer blogging tips that allow you to turn the summer season into a productive time.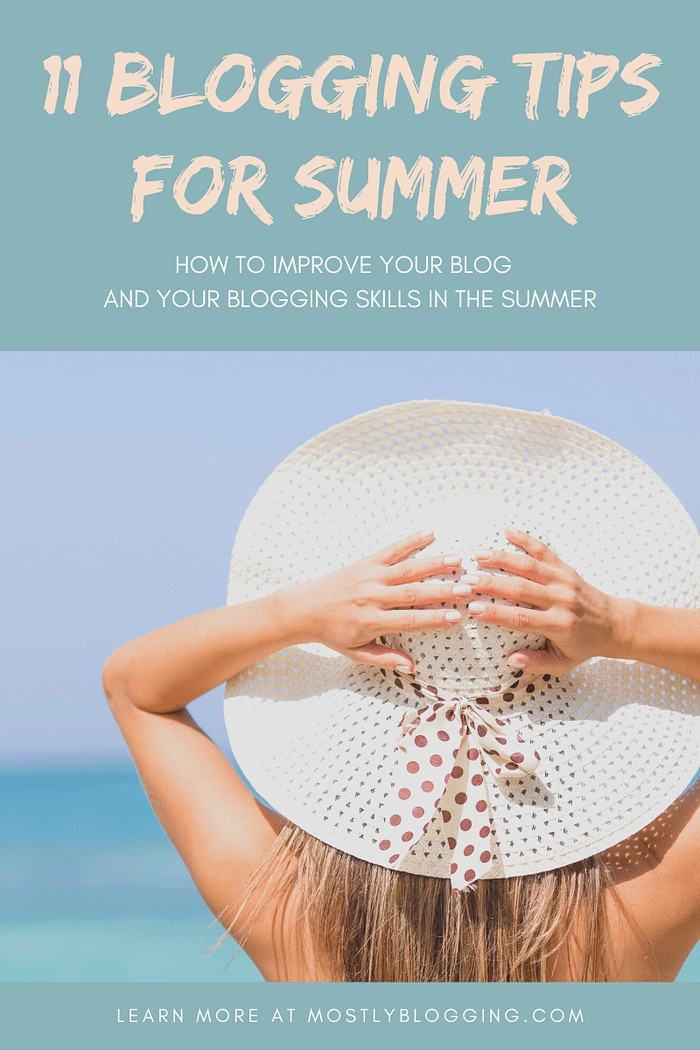 Summer Blog Ideas for All Bloggers
Summer means different things to everyone and bloggers choose to spend it in different ways. Some may decide to spend it alone to improve their writing craft.
These summer blog ideas improve both you and your blog.
Make a Bucket List
The best way to start anything is by making a list of things you want to do during this season. This will help you in making plans going forward. Use this article as your list of summer blog activities.
Update Old Blog Posts
You can use this period to do things you have always wanted to do or have not yet gotten around to doing.
Do you have a to-do list you just never seem to find the time to tackle?
For instance, updating old posts that experience traffic drops is a great way to spend your summer blog time.
This important blogging task is one I struggle to find time to do during the school year.
Work Out
You might wonder why this is a summer blog task.
When traffic is highest, bloggers spend a great time indoors sitting at their computers. If you have some free time on your palms, you can invest in your physical wellbeing.
You can go jogging, visit the gym (even if it is not consistent), and involve yourself in sports activities such as football, basketball, table tennis, etc. If you are an indoor kind of person, you can do home workouts. There are many videos and workout apps.
Educate Yourself
Read a book: If you plan on traveling, bring a book that gives you more information about topics in your blog niche. Take notes so that when you return you can explore the topics using a keyword research tool.
You can even review the book. Many of your readers would be interested to know about books you recommend in your niche.
For instance, since marketing is my niche, I bring a network marketing book when I travel.
You don't have to be bit by the travel bug in order to read a book. You can read a book anywhere such as under a tree in a park.
Watch YouTube videos: If you are spending more time at home this summer watching school-age children or for any reason, watch YouTube videos about blog topics in your niche.
YouTube has a "Watch Later" feature that allows you to save videos that interest you to watch later while the children are asleep or for any time that is more convenient.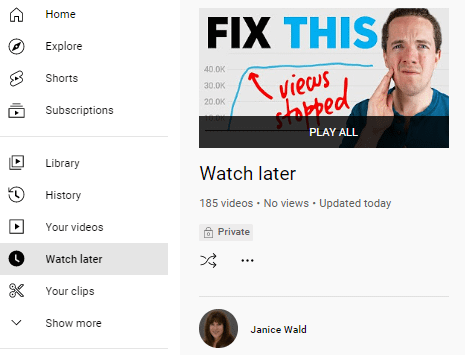 As you see, I have 185 videos in my Watch Later queue.
Learn New Blogging Skills
Write in new blog formats.
Learn how to use a new graphic design tool.
Teach yourself new video editing software.
Find better ways to engage your audience
Writing: A new blog post format may include an expert interview. This could entail interviewing one expert. On the other hand, you can publish an expert round-up post in which you interview many experts.
Graphic design: A new graphic design tool may include learning how to use PosterMyWall. Here you will find a PosterMyWall review and a tutorial.
Are you hooked on Canva? If so, consider honing your graphic design skills with Canva. Here you will find ideas for sprucing up your Canva graphics: How to use frames in Canva.
Video editing: You know video is a must for bloggers who want to boost their SEO and for marketers who want to boost sales. The advantages of video marketing go on.
If you are not familiar with video editing software or you are not happy with the video editing software you are currently using, your summer blog plans should include exploring new video editing software.
Here is information about the Splice app and a tutorial. Here you will find Splice alternatives.
Engagement: Are you looking for new ways to engage your audience?
Marketers are preparing their Halloween campaigns now. Why not grab your target audience's attention on social media by generating cursed text with a free cursed keyboard?
You can also use a crazy text generator on your website.
Sign up for classes or events
You can sign up for classes of different activities either online or in person.
For instance, I've taken photography classes several times during the summer in order to improve my blog photography. Here are photography blog ideas I picked up in those classes you can try.
Publish a Book
Wouldn't it be great if your summer blog plans included adding an income stream and further monetizing your blog?
Have you always planned to publish a book but never seemed to find the time?
You don't have to write a book in order to publish one. Many bloggers take their existing blog posts and combine them into various ebooks depending on the blog topic.
Here you will find information on the Amazon Kindle Format.
Summer Blog Ideas for Blog Niches
Food Bloggers
Are you a food blogger? Sign up for cooking classes in order to learn new cooking techniques. Share them on your blog.
Dine at restaurants you want to review.
Sometimes, you may have activities on your list that requires a car. Do not feel the need to cancel this activity because you do not have a car. You can rent an SUV from any SUV rental company at your location. Check mid-size SUV car rental.
Entertainment Bloggers
Watch movies: If you are a movie blogger, you need movies to review. Why not add discovering new movies to review on your blog part of your summer blog list?
Entertainment bloggers can use this period to watch movies and TV shows. Make sure you take notes so you can review the movies and TV shows on your blog.
Make music playlists: The pleasure that music gives to people is not overrated. Many people use music to escape from their world or for any other self-serving purpose. During this period, one can broaden their music horizon and explore new artists and their songs.
Find new music to review, create and name playlists, learn song lyrics, and dance to the rhythm of the music. You can go as far as blasting music loudly on a loudspeaker (if your neighbors would not mind). Spotify is a very good app that you can use for this purpose. Also, listening to music will help to uplift your mood anytime in order for you to write productively.
Travel Bloggers
Go places: Travel bloggers may choose to travel in order to review tourist destinations they write about.
Fashion Bloggers
Go to the malls: You can window shop, check out or try on new clothes, jewelry, and shoes and buy them if possible. Explore your fashion style. Then, review those styles on your blog.
Are you interested in more of the technical side of fashion blogging? Here is information that will allow you to brush up on your fashion design skills.
Summer Blog: FAQ
What should I blog about in the summer?
Food bloggers can visit restaurants and review them. Entertainment bloggers can attend Concerts in the Park and review them as well on their blogs. Fashion bloggers can publish articles about summer fashions they recommend. Travel bloggers can blog about summer getaway destinations.
Wrapping Up: Summer Blog Ideas
Finding the motivation to do things during the summer can be hard sometimes and that is okay. Use this guide as a list of summer blog ideas to make yourself a better blogger by the time fall rolls around.
By reading this post, you received seven summer blog ideas for all bloggers and four summer blog ideas for bloggers in specific blogging niches. Now you can make summertime a productive time.
Readers, please share these summer blog ideas so new bloggers discover how they can use the slow blogging season to improve themselves and their blogs.
I look forward to your views in the comments section. Do you have more summer blog ideas not mentioned in this article?
Authors: Janice Wald and a Contributing Author

Janice Wald is the founder of MostlyBlogging.com and co-founder of the Mostly Blogging Academy. She is an ebook author, blogger, blogging coach, blogging judge, freelance writer, and speaker. She won the Best Internet Marketer Award and the Best Blogger Award at the 2021 Infinity Blog Awards. Wald was also nominated as 2019 Best Internet Marketer by the Infinity Blog Awards and in 2017 as the Most Informative Blogger by the London Bloggers Bash. She's been featured on Small Business Trends, the Huffington Post, and Lifehack.
This post was made possible by the support of our readers.