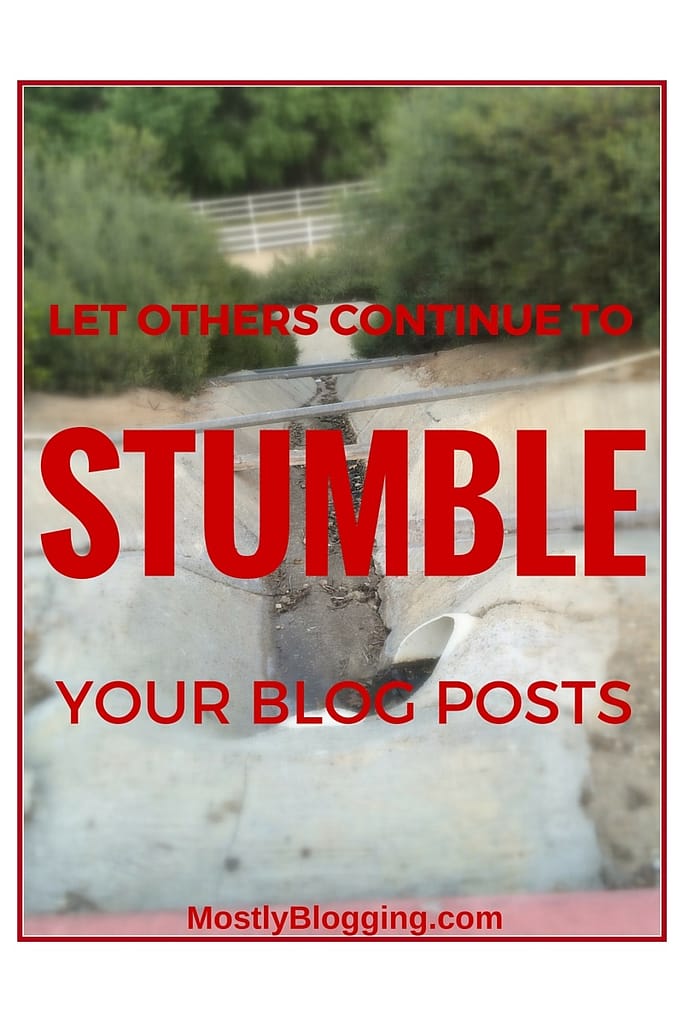 Have you been able to generate StumbleUpon traffic?
StumbleUpon.com has been around since 2001*.
After so many years, you might wonder if it's a viable source of blog traffic.
The answer: absolutely!
Consider this an update to my post How to Quickly Boost Blog Traffic from StumbleUpon, 7 Ways.
I have exciting information to report.
Blogger Gary Jefferies receives three hundred page views from StumbleUpon per day when he follows the methods described in this post!
I interviewed Gary about his methods. This post will tell you the strategy he revealed.
After reading this post, you'll be able to replicate his methods so you can get 300 page views a day from Stumble Upon as well.
How to Generate Triple-Digit StumbleUpon Traffic
As you can see from this screenshot that Gary provided, he received 427 page views from StumbleUpon in one day.
Gary's methods:

1. Once you are on the page you want to share, go to the SHARE button to the right of the thumbs up at the top of the screen.
It will drop down giving several choices, the bottom one of which is to share to StumbleUpon users.

2. Click on that and it will open two windows; on the left will be a list of your followers and on the right will be where you can comment if you don't want the default text.
Just click on the tick boxes next to the people you want to send it to (one or several or all of them). Once one is ticked, the green SEND icon will light up.
When you are ready, hit that, and it will send to the ticked followers who will see it in their notifications (top right drop down menu where your avatar lives).
3. From the list of your OWN likes, go to your profile, and you should get all the pages you have liked or added and BELOW each there are three icons: SHARE, ADD TO LIST, and DELETE.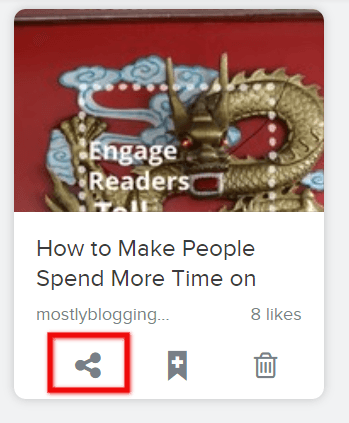 The left one is Share and hitting that will take you to the same page options listed above. It's quicker this way if you want to do your stuff (the best way is to put your own pages into a list of their own and go from there); otherwise, you have to hunt through all your liked pages.
Do Not find people to share your posts with this way:
According to Gary:
Finding people is now a nightmare.
One un-useful method is to go to your profile page and click on either FOLLOWING or FOLLOWERS at the top, and the bit at the top where it says ADD PAGE will change to ADD STUMBLERS; unfortunately, that just throws up a recommended list of people designated as TOP STUMBLERS.
The only other method I've found is to go into your SETTINGS and click on CONNECTIONS; that lets you connect to Twitter, Facebook, and Google and runs off to see who is on StumbleUpon to connect with.
I've not found a way yet to directly search for a specific person on the dashboard. I found you (Janice, the admin blogger) by Googling and sticking StumbleUpon with the search text. If there is a way, it's not intuitive as yet!
Caveat: There is there is a limit to followers per day and a cap of 600 people you can follow in total unless that has been updated*.
Use Facebook Groups
The only method I'm doing regarding StumbleUpon traffic is from the Facebook group [Big Up Your Blog]. I stumble frequently from there and from blogs I visit.
Like you said in one of your posts about StumbleUpon, the co-ordinated approach with reciprocation does bring your posts up the stumble rankings so more people see it.
I'm not getting 300 per day unless I spend a lot of time networking at present. The spikes definitely occur during the social media events in the group so it does back up what you said about collaboration.
Engage, engage, engage
Gary continued:
That was one day. It coincides with me spending a week on StumbleUpon stumbling posts and adding content. I've not spent that amount of time on it since.
I guess that shows StumbleUpon is responsive to engagement there. I'm not 100% sure, but I think content exposure is linked to interaction. I can't think of any other reason that spike would occur.
Granted, the Big Up Your Blog group was throwing things at it, but back then StumbleUpon was not as big in the group as it is now. The only proof of point would be to replicate the time factor again. I fully intended to do that, but views weren't converting to blog interaction. I can't discount new follows as potentially from there though.
My StumbleUpon Traffic
Do I still get StumbleUpon traffic? Of course!

These are my stats from Google Analytics for the week of August 13. Look at my 3rd and 5th best traffic referrers. In one week, combined, StumbleUpon consisted of almost 12% of my blog traffic.
StumbleUpon Groups
It's been two years since I started our StumbleUpon group at Mostly Blogging with Michael Rios.
I'm happy to report the group is still growing strong.
We have a StumbleUpon group that's one of the subcommunities of Mostly Blogging.
In his interview, Gary indicated he has a group who stumbles his links, and in return, he stumbles their links. We have a StumbleUpon group here.
We stumble each other's links which I add to a group directory of links.
The reason we have the group and stumble each other's links instead of our own relates to how to use StumbleUpon to increase your blog traffic.
The powers that be over at StumbleUpon prefer you curate other people's content instead of your own content. Your reward for sharing is increased blog traffic to your own site.
This is why having a StumbleUpon button is so important. It gives people a chance to stumble your links and gives you the potential for massive blog traffic. Here are instructions for installing a StumbleUpon sharing button on your site.
There are several ways to increase your potential for massive blog traffic from StumbleUpon:
Stumble people's links you find in my StumbleUpon group.
Stumble people's links from their blog posts with their StumbleUpon sharing buttons.
Stumble people's links you find in Facebook groups. StumbleUpon sharing groups exist on Facebook.
Stumble links at StumbleUpon.com.
Note: Gary reported to me he clicks the Stumble button a few times after stumbling people's links. StumbleUpon likes active users.
Other Testimonials About the Power of StumbleUpon
On the day you stumbled my link, I got lots of traffic from it. ~ from Effi Lind
These steps are actually working very well, and I have an enormous amount of traffic from StumbleUpon. As a newbie to blogging, I'm so struggling to get initiative traffic from search results and keyword rankings. But this is a very good alternative way. It is actually working and I have made my first income from the blog. Please, guys, don't miss steps to unlimited traffic from StumbleUpon and earn money from your blog. Just try these steps to be happy with blogging. ~ from Arun Kumar
Conclusion
Readers, please share so other bloggers learn Gary's tips for generating StumbleUpon traffic and reap the benefits of blog traffic like so many of us do.
What are your experiences? I look forward to your views in the comments section. Do you have any tips you can recommend for generating StumbleUpon traffic?
Read
9 Proven Ways to Skyrocket Your Traffic offers a case study of a blogger who receives 40,000 page views from StumbleUpon each year.
Sources
History of StumbleUpon*
StumbleUpon.com**