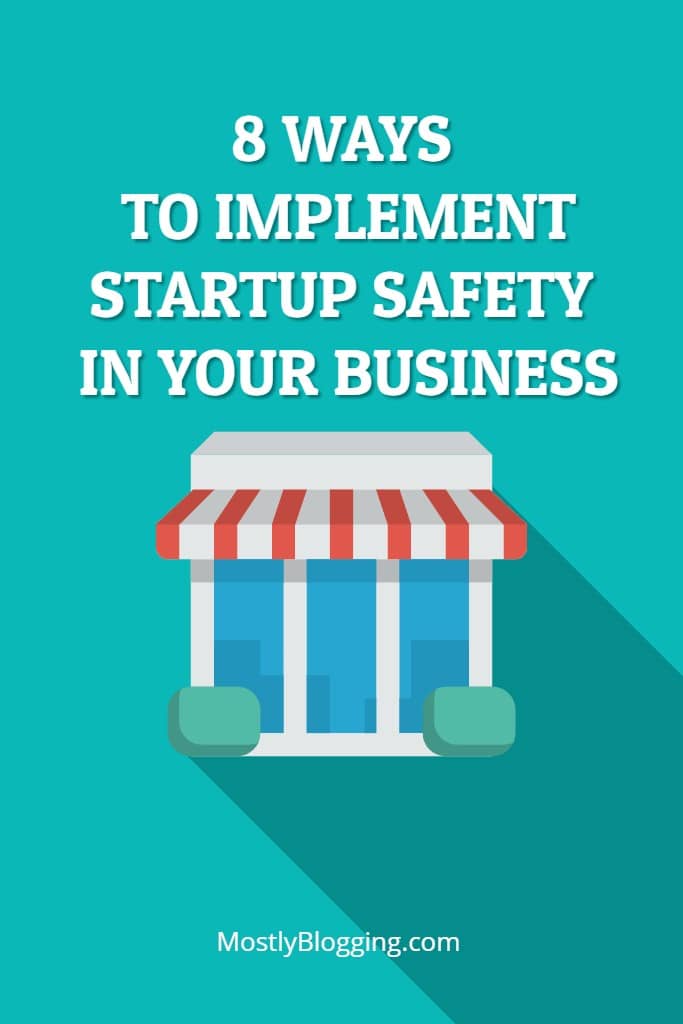 Are you interested in information about startup safety?
When you're handling a fledgling startup, you need to make sure all your hard work isn't wasted by a wholly avoidable incident or two.
Be it a car accident in your fleet, or a fire at your shop, one incident can end up costing you a great deal of money, and unfortunately, even the loss of lives.
Taking safety and security seriously can help you prevent such scenarios and allow your business to flourish.
Here are eight ways of upholding high safety standards at your startup.
Though these safety measures might cost you money in the beginning, they more than makeup for the costs with the safety and assurance they provide.
Let's explore important information about startup safety.
Startup Safety Measures You Can't Afford to Ignore
Get Dashcams for Your Fleet
What is a Dashcam?
The dashcam is a tiny but powerful camera that is mounted onto the dashboard (or windscreen) of your vehicle such that it faces the road.
The dashcam starts recording the minute you turn on the engine of your vehicle. Some dashcams can also keep recording when your vehicle is parked and record footage from inside the cab.
Since they record the entire journey, dashcams such as the surfsight camera are extremely useful in making sure the drivers in your fleet do not go over speed limits or commit other traffic offenses that endanger their lives or the lives of others.
The dashcam footage gets saved in the cloud, so you can access it anytime and from anywhere. The camera can also be extremely useful for countering insurance fraud, or for pursuing a case when it's your vehicle that's been hit.
Let's learn more about startup safety.
Install a Security Alarm and Camera
A security alarm can not only deter possible theft and other crimes, but it can also help in alerting the police if there's a crime in progress. In-store robberies are not uncommon in the retail sector, and in fact, have been on the rise in the last decade.
Additionally, a security camera, much like a dashcam, can help record these events. The recording can not only help in identifying and capturing the perpetrators but can also help when you're pursuing your insurance claim.
Keep Epi-pens and First-Aid Kits Accessible
It isn't enough to simply stock epi-pens and a first-aid kit, although it's a great first step. Make sure your employees and you know where the pen and the kit are kept at all times.
It also makes sense to get training for you and your staff on how to use the kit and other emergency measures such as cardiopulmonary resuscitation (CPR). If someone on the staff has allergies, make sure all employees follow a proper code of conduct, so they don't endanger the employee with allergies.
Ensure Your Equipment is Well-Maintained
If you have the equipment, tools, or machinery on your premises, make sure all equipment is regularly checked and maintained to the highest standards of safety. Make sure all employees using the equipment are well-trained in using it.
If the equipment needs a safety upgrade, make sure it isn't used until the upgrade is in place. If the equipment needs specific temperatures or other conditions, make sure all proper standards are followed.
Protect High-Value Materials
If you store expensive equipment or goods in your office, make sure the goods are well-secured. Invest in good-quality safes and cabinets. Bolting machinery to the wall or the floor is a cheap way of securing it.
You can also invest in sturdy locks and bolts to keep everything secure. In a similar vein, make sure your main doors and gates have a good-quality security system.
Ensure Good Working Conditions
Make sure your employees have easy access to welfare facilities such as toilets, drinking water, and a place to have their meals in peace. Ensure the workplace also has good ventilation and a reasonable temperature.
Working in a cramped, unventilated, or congested office can not only spread germs easily; it can also negatively affect the mental health and overall health of employees.
Make Sure Fire Alarms Are Up to Date
Make sure your fire alarms are in good working condition. It also makes sense to keep a fire extinguishing kit on site, more than one for a larger working space. Practice fire safety drills with your employees and chalk out fire exits in the office.
Keep Your Insurance Up to date
Your business or liability insurance is one of the best ways of protecting your business. So, make sure you keep it up to date. Having an insurance policy can save you from having to spend potentially thousands or millions in case a claim is filed against you. Having business insurance also provides you with the peace of mind and confidence necessary to grow your business.
Wrapping Up: Startup Safety
When you take safety measures seriously from the get-go, you can find yourself working much more efficiently and productively, thanks to the peace of mind and protection these measures offer. Take a look at the guide above and figure out a good safety plan for your business.
Readers, please share so business owners discover this guide to implementing startup safety in their companies.
I look forward to your views in the comments section. Do you have more ideas on how to implement startup safety in the workplace?
This post was contributed and made possible by the support of our readers.