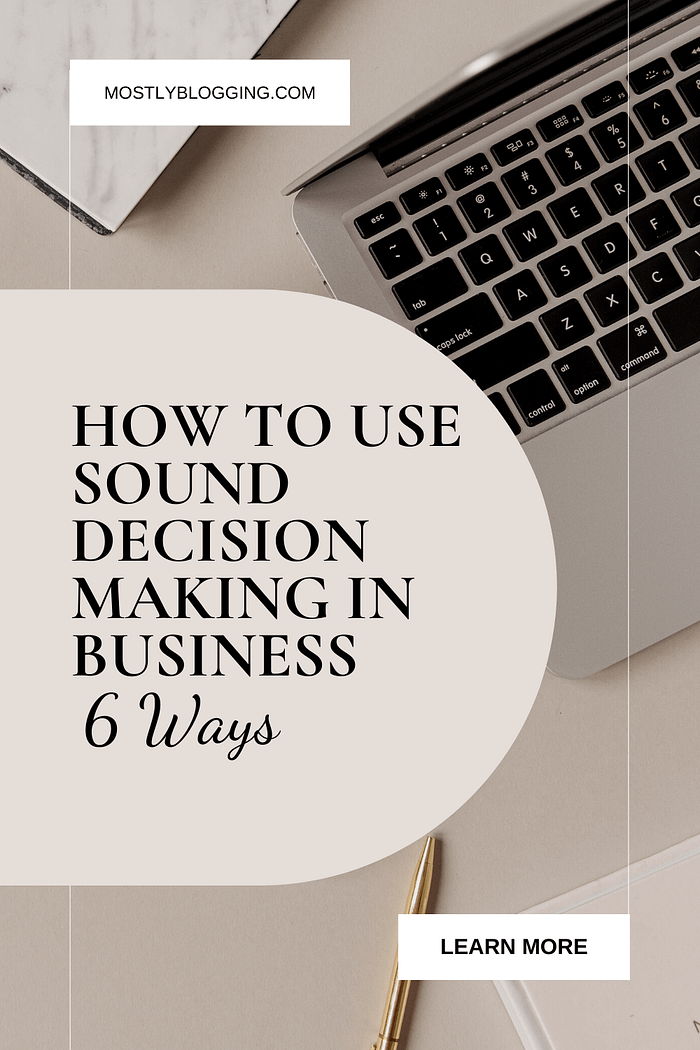 Are you looking for strategies for sound decision making in business?
When you're running a business, the buck stops with you. Every decision you make, therefore, needs to be considered and thought through so that it stands the best chance of being advantageous for your company.
In this article, we're going to look at the ways in which you can make better business decisions on a more consistent basis, which should leave you with the tools you need to improve your choices in the future.
By reading this post, you will discover you are capable of sound decision making in business.
Read on to learn these essential skills for sound decision making in business, and how best to deploy them when faced with decisions in the future.
Are you ready to embrace sound decision making in your professional life?
How to Practice Sound Decision Making in Business
Time to Think
Often, it's a snap decision that turns out to be the most dangerous for your firm. You might have felt that you can trust your gut and that quick decisions in business mean that you're saving time and cutting corners. However, the truth is that a quick decision simply doesn't benefit from the calm calculation that takes place when you step back and reflect on what you'd be agreeing to. While you can use an LLC service for consulting, there are some decisions you'll be making on your own.
As such, this tip is all about taking a moment to think through every decision you're presented with when it comes to your business. This is especially the case if you're feeling rushed by a client or a partner, who's asking for a response directly on the phone.
Always be comfortable saying that you'd like a few minutes to think it over. You can always call them back once you've made your decision.
Knowledge is Power
There are some decisions that require more than a moment's reflection. These involve the larger business decisions that could dictate your success or failures for months to come.
It's these decisions that should be well researched, rather than merely contemplated. A little knowledge can be a powerful thing – and that's especially the case in business, where research into your market, your competitors, and your own sales figures, could prove decisive in the big decisions.
If you don't have the time to do this research yourself, ask a trusted member of staff to compile a short report on some variables that you think are important for your decision. For example, if you're trying to decide if this is the right time to expand your business to a new state, do consider asking a member of staff to draw up a list of expected expenses and costs, forecast profits, and the competitors who you might encounter in that new state.
Let's learn more strategies for sound decision making in business.
Know the Law
Some business decisions are codified in law. These are contracts – the documents that you sign in order to guarantee to a customer, a client, or a partner that you'll provide a certain service for them (or vice versa). Perhaps unsurprisingly, it's often smaller businesses that find themselves tripped up by contract law, which is written in a difficult way for the layman to understand and should always be looked over by a lawyer or attorney that you trust.
Learn about contract law too, so that you're aware of the different areas of the law that it falls under, and the ways in which you can avoid unpleasant situations after signing a contract. Making a decision that ends up with a signed contract should always mean you're consulting with a lawyer, as there may be aspects of your decision that, now it's in writing, you're unsure you want to commit to.
Consultation
They say that two minds are better than one. Whether or not you believe this to be the case, you should try as hard as you can to engage colleagues and other contacts in your sound decision making. This is most true for those decisions where you would like to consult specialists in the field, such as experts that you know would have a wise opinion on the matter or colleagues who work in an adjacent department.
As a business leader, you'll often relish the sensation of going it alone and making the big decisions based on your own thought, research and reflection. But when you have such a great team around you, with such wonderful experiences, it might well be worth opening up some decisions to them. You'll benefit from advice from across your company – and that advice will all be loyal to your company vision and the ambition you have for your firm.
Inspiration
Many business leaders draw inspiration from the business literature and the most famous business deals, leaders, and decisions in history. You're likely no different, and your bookshelf may well be populated with a number of books written by the world's most popular businesspeople. Many of these books will contain advice on how to make decisions, and when you must make critical decisions for your business.
It's well worth drawing on this experience and expertise if you face a large decision for your business. While not all advice given by the business gurus will fit with your current business and your circumstances, their general approach to difficulties and decisions will help you to understand what you might be able to do in any given situation.
As an extension of this tip, do consider getting in touch with popular business advice figures on your LinkedIn if you continue to struggle with a big decision for your business.
Related: How to Use LinkedIn
Making No Decision
You might find this a strange final tip to leave you with, but sometimes it's truly better to make no decision at all rather than to rush into a decision you might come to regret. You can leave something in your in-tray for months if you need to, especially if it's a thorny issue that you don't think you can address adequately just yet.
Indecision is, of course, sometimes costly. If there's an opportunity that there's only a finite amount of time to seize, you should make a decision about it rapidly. But for those decisions that you can take your time over, which aren't pressing or business-critical, you should feel comfortable kicking it down the road a little before addressing it head-on.
Wrapping Up: How to Engage in Sound Decision Making in Business
Now you know how to practice sound decision making in business. Make better decisions for your business by following the advice contained in this article, which is aimed at ambitious entrepreneurs who want to remain on the right side of history.
Author: Editorial Staff
This post was made possible by the support of our readers.