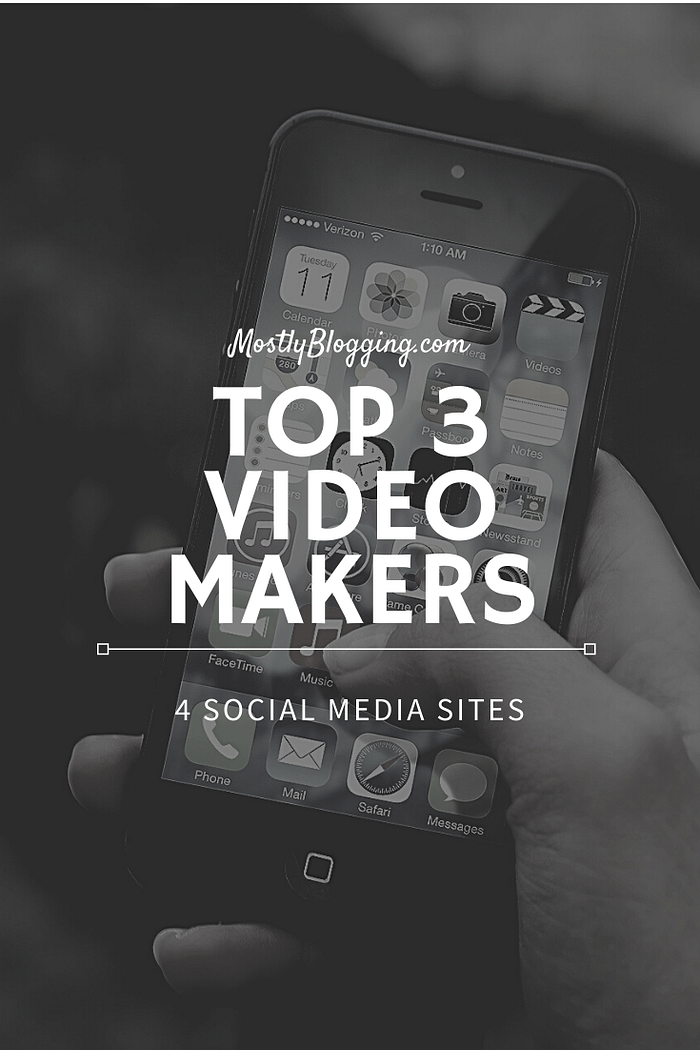 Social media video production is a must due to the increase in consumer consumption of videos.
Did you hear video marketing is on the rise?
There are many advantages to putting videos on social media for small businesses and blogs.
First, video marketing is one of the top trends of 2020.
Before the Coronavirus pandemic broke out, video use was blowing up. Since the Coronavirus shelter-in-place, video watching is even more popular.
It's estimated that 80% of people watched a video while quarantining and by 2022, 82% of information will be transmitted through video.
Social media marketers know the advantages of video:
People can watch while sheltering in place.
Consumers grow to trust the marketers since they can see them in the video.
Consumers can watch product demonstrations before purchasing.
Potential customers see and listen to customer testimonials.
Video making is cost-effective. Many free tools and apps work just fine to make a video.
Video is easily transferred across social media channels.
That is the subject of this post: How to use social media video production across social media channels.
By the time you're done reading, you'll have strategies for social media video production on 4 social media sites: YouTube, Facebook, Twitter, and Instagram.
In addition, this post offers 3 free social media video production tools.
You will also know how to use social media video production to boost your website traffic.
Let's dive in.
How to Use Videos Effectively to Boost Your Website Traffic

When it comes to digital content, to date, videos are considered the most powerful tool that one can use regardless of the marketer's targeted group or agenda. This applies to website traffic boosting too.

In fact, videos can do wonders if you learn how to use them effectively and companies like Galaxy Marketing can help you do that.
How to Use Social Media Video Production to Boost Website Traffic
Here are a number of ways you can use a video to boost the traffic to your website:
Have a strong strategy
Just because video increases website traffic doesn't mean filling your website with videos is going to work.
Randomly uploading a video out of the blue will not do; the video has to have a purpose and should be part of a strategy to be the most effective.
The whole website should look like a nice story where there will be variation, connection, perfect balance, and a nice blending of all kinds of content for the viewers to experience a smooth journey and increase the possibility of business for you.
Design a catchy video
Do you know how to embed HTML code on your blog?
There are various ways to put a video in your blog post or on one of your blog's pages. If you don't know how to add a video, see these instructions for embedding HTML code.
The quality that makes video content so effective is it makes your viewers spend a longer time on your website. This, in turn, improves your bounce rate which improves your SEO.
Are you aware you can even design a video introduction?
But, if the video is not attractive enough, then it loses its effectiveness. Therefore, you must be aware of the factors that make a video more likely to succeed.
Here are the factors that enhance social media video production:
Make the video short and crisp
These days people are too restless to watch something for a long period of time. So keep in mind the length should not be too long to discourage the viewer from watching in the first place.
YouTube actually offers a filter so people can choose to watch a short video if they prefer.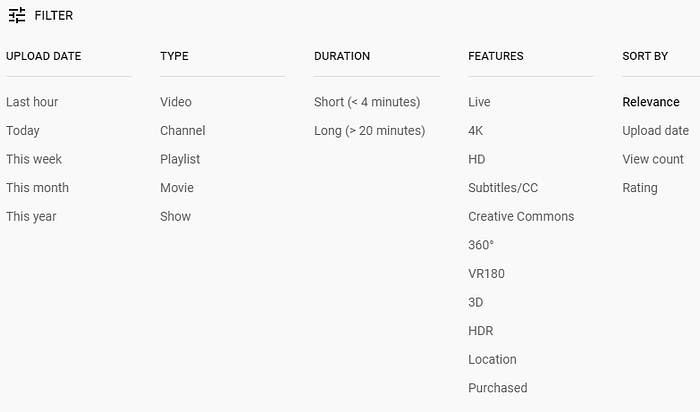 Look under "Duration." You see people can choose whether they want to watch a long video or a short video.
The information should be furnished in such a way that the video doesn't cause boredom to your viewers, yet all facts are told precisely.

As you can see, social media video production takes prior planning.
Incorporate new ideas
People don't buy old or overused ideas. Or I'd rather say, they are always drawn to new ones, if not for anything but curiosity at least. So try to come up with something new in the story or in the mode of presentation to grab the attention of your potential viewers.
More Social Media Video Production Factors
The Video's Introduction:
Make it interesting enough so your viewers get hooked within the first 10 seconds and long to watch further.
Have an Intriguing Thumbnail
The truth: People do judge a book by its cover; so, the effectiveness of the thumbnail often plays a great role.
Create the thumbnail eye-catching enough, so when shared on social media it can grab attention and make people watch and eventually land onto your website.
Don't Forget about SEO
Did you know YouTube videos appear in search engines?
Decide the title of the video in a way that it holds a high possibility to appear on the top of the search engine. It's a vital tool to get yourself noticed and being watched by a good number of people.

Have A Video on Your Homepage

As stated earlier, a video makes people stay on your website for a longer period of time.
In fact, with a homepage video you can expect almost 88% of them to do that, out of which 64% are more are likely to buy your product.
Host blogger's comments: I don't have a video on my homepage, but I do have a video on my About Me page.
Would you like to see it?
Make Use of Social Media Video Production to Drive Website Traffic
Since the sole purpose is to drive traffic to your website, using social media platforms can be much more fruitful since they have a vast user base. The idea is that people who will come across your videos there, if impressed, may try to know you more and end up landing on your website.

Moreover, they can also share your content, making even more people watch and share. That's why we recommend you present the video using such a strategy that not only tickles them to go to the website but also encourages them to share the video with friends.

But while doing it, remember, not all videos are effective for all social sites.
Here are a number of popular social media platforms you can try:
YouTube
If it's a video, you must consider sharing it on YouTube, regardless of the size of your content. It's a huge site that is insanely popular with about three billion viewers a day, which is incredible enough to serve your purpose.
Here is how to draw the crowd from YouTube to your website:

Call to Action

Always include a call to action at the end of the video for your viewers to reach out to your website for more useful content like the content they've just seen. Remember, the way needs to be short and easy to understand in order to send them to your website.

You can also make use of your video description box where you get to provide a short description of your video. It's another very effective way to provide your website link for more content. Don't forget to place it on the top.

Thumbnail

You need to be especially careful of the thumbnail while sharing your post on YouTube. Therefore, pick something catchy and convincing.

Keywords
On YouTube, people usually search for videos using keywords. So having those largely used keywords in your video titles, file names, description box, etc. helps increase traffic to a great deal. "Review," "How to," and "Tutorial" are some of the most common keywords usually considered pretty effective in such cases.

Pre-Roll Videos
Those short video commercials that come right before the main video are called "pre-roll." They are comparatively new inventions and are highly effective if they have the capacity to hook the audiences within a few seconds.
If you'd like to see examples of YouTube videos with the ad in the middle, called "midroll," click here: midroll advertising.
Facebook
Besides being the largest social network with three billion users, Facebook lets you connect with the audiences more personally enabling you to create a strong long-lasting bond with them which is definitely one of the advantages of using Facebook.
If you have a promotion running, use Facebook to ensure the best result. But better not use videos longer than 3 minutes.
Twitter
Just like Facebook Live, Twitter has an option called Periscope, which is great to use for marketing purposes if you are aiming at B2B industries. However, if the B2C market is your target, then Facebook is the thing for you.
Instagram
With one billion users, Instagram is a popular mobile platform and is thought to be best for sharing pre-hype videos. Videos that are as short as 1 minute or less can be posted on Instagram. However, the shorter the video, the more effective it would possibly be.
Host blogger's comments:
Social Media Video Production Tools
There are many free tools to help you make your videos.
Not only are the tools free, but also they will enable you to seamlessly change the dimensions for different social media channels.
For example, if you want to put a video in an Instagram post, it needs to be square. If you want to put a video in an Instagram Story, it needs to be vertical.
I recommend the following tools. These social media video production tools all offer royalty-free music.
They all have apps and are easy to use, quick to use, and free:
Lumen5
You do nothing. Lumen5 draws from your RSS feed each time you publish. By changing the format, you can change the dimensions for different social media sites.
Lumen5 offers you a choice of colors. Therefore, you can pick colors that go with your blog's theme.
Lumen5 is a popular choice for social media video production. Here you will find a Lumen5 tutorial.
Spark Video
Adobe Spark makes Spark Video. Lumen5 is my first choice for social media video production since the service does the heavy lifting for me.
When I'm in the mood to make my own video, Spark Video is my first choice for social media video production.
Using the Spark Video app is as easy as moving slides around.
You can choose photos and video from your phone to incorporate in a video. In addition, Spark Video offers you stock photos.
Instasize Video
I also recommend Instasize Video as a social media video production tool.
The app is easy to use and has cool fonts.
The people at Instasize are friendly and respond quickly. Also, there are online tutorials if you need help.
Here you will find Spark Video and Instasize Video tutorials.
If you'd like to see the videos I've made with Lumen5, Spark Video, and Instasize, here is a link to my YouTube channel. You'll find them there.
Wrapping Up: Social Media Video Production Strategies
Having a precise social media video production strategy will address most of the criteria of this guide.
So, make sure to decide that first and then plan the rest of your steps accordingly.
Readers, please share so social media marketers discover these tools and methods for social media video production.
I look forward to your views in the comment section. Do you have any suggestions for methods or tools that will help with social media video production?
Authors: Janice Wald and Stepheny