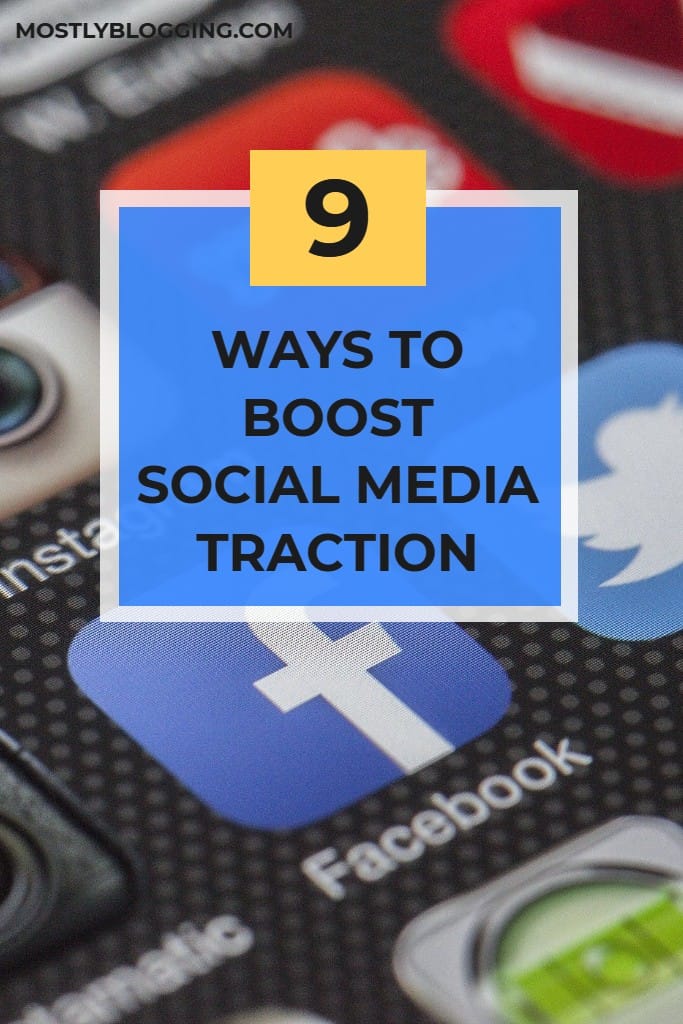 Are you wondering why your efforts to gain social media traction are not paying off?
Do you spend hours writing content and engaging with your fans but with little or no success? If so, it might be time to rev up your online presence and seek new ways to gain exposure for your business.
While it's easy to develop social media marketing ideas, you must focus on those that align with your brand and business goals. However, thinking outside the box is just as important.
By reading this post, you find out about brands that are successfully generating social media traction and receive an action plan so you can also generate more interest on social media. In addition, this guide shares the connection between social media and SEO.
Here are examples of companies that gained social media traction:
Starbucks
Gymshark
Dove
Nike
Zappos
BarkBox
Lego
Rebook
Glossier
Let's explore what these companies are doing right. How are they successfully generating social media traction?
What is Social Media Traction?
When content, marketing, SEO, and social media are used together, social media traction is generated.
This post shares how you can use a combination of the four elements of social media traction in order to boost interest in your brand.
Let's take Instagram, for example. There are advantages to using Instagram to generate interest in your business.
For instance, Starbucks generated social media traction by leveraging Instagram to promote the Unicorn Frappuccino, a limited-edition drink that changes its color and flavor. The campaign was launched in 2017 and generated over 150,500 posts on Instagram alone. Despite mixed reviews, the online buzz has continued.
However, there's no need to launch a new product or service to boost social media traction. Instead, the key is to do things better or differently and let your creative juices flow. With that being said, here are some possible reasons your strategy to gain social media traction isn't working and how to get it "unstuck."
Why Your Strategy to Gain Social Media Traction Isn't Working
1. Engage with Your Fans
Social media can be a powerful tool for companies of all sizes, from startups to well-established organizations. Think of it as a way to build and promote your brand, drive customer loyalty, and enter new markets. For example, successful companies like Gymshark, Dove, Nike, Zappos, BarkBox, Lego, and Rebook use social media to engage with their fans and stay ahead of the competition. 
Some brands were born on social media. For example, Glossier, "the world's first socially-driven brand," credits its success to Instagram. Its founder, Emily Weiss, credits Instagram for its success. However, she didn't rely on celebrity influencers to drive sales and revenue. Instead, Weiss believes every customer is an influencer.
2. Target the Right Audience
Unfortunately, few companies and brands master the social media game. Some entrepreneurs spend thousands of dollars on sponsored content and online ads with little or no results. Common mistakes, such as targeting the wrong audience, ignoring the data, and trying to be everything to everyone, can be a recipe for failure.
Inc. points out that many business owners fail to understand the difference between social media marketing and advertising. As a result, they try to sell their products or services every time they share content online. Simply put, their posts are overly promotional instead of delivering value to the target audience.
3. Remember to Optimize
Another common mistake is to ignore the technical details, such as search engine optimization (SEO). For example, if you're trying to promote a restaurant or café, you need to ensure it shows up in online searches. Perhaps you have already optimized its website or blog by using relevant keywords, image ALT tags, meta tags, and so on. You can use Ubersuggest to discover keywords.
That's great, but you need to do the same when posting on social media.
4. Narrow Your Social Media Efforts
Last but not least, stop trying to appeal to everyone. Instead, define your buyer persona so you can write helpful posts that address customers' needs. Focus on one to three social networks where your prospects hang out and then strive to build brand consistency.
Eager to learn more about how to generate social media traction? Take these steps to rev up your social media strategy and get results!
5. Leverage SEO to Build a Stronger Social Media Presence
Social media marketing and SEO go hand in hand. SEO can make it easier to reach your target audience and gain visibility online when used properly. Plus, it may increase website traffic, leading to more sales. Properly optimized social media content might rank higher in your followers' feeds or go viral.
The thing is, social media profiles will often show up in search results—especially when it comes to brands, celebrities, and companies with a strong online presence. For example, if you type "Amazon" or "Netflix" into your browser's search engine, you'll find the company's website and Facebook profile on the first page of search results.
On top of that, social media links can drive traffic to your website or blog. So, if your Facebook or Instagram posts are optimized for search bots and include relevant links, consumers will find your website online more easily.
To reap these benefits, review your social profiles to ensure they align with your branding and marketing goals. Double-check your logos, taglines, pictures, and other visual elements and include relevant calls-to-action as needed, suggests Sprout Social.
Next, try these strategies to optimize your social media content for the search engines:
Use high search volume low competition keywords in your social media profiles and posts.
Include hashtags in your posts to reach more people.
Create a social media calendar and stick to it.
Aim for a mix of original and curated content.
Add relevant keywords to image titles, descriptions, and ALT tags.
Monitor the number of shares, likes, comments, followers, and conversions.
Include links to your website pages.
Share on-site content on social media and encourage your fans to share it further.
6. Keep Your Brand Message Consistent
Most importantly, keep your brand messaging consistent across all platforms.
Try to find your brand voice and then stick to it whenever you share content online.
7. Integrate Interactive Content into Your Social Media Strategy
Ideally, your social media pages should include a mix of content, from images and videos to podcasts, quotes, and live streams. Just keep in mind there's no one-size-fits-all approach. Instead, you need to consider your business goals, industry, target audience, and the platform used.
One way to engage your fans is to share interactive content on social media. This strategy would allow you to gain valuable insights and get constructive feedback while providing your audience with a more personalized, engaging experience.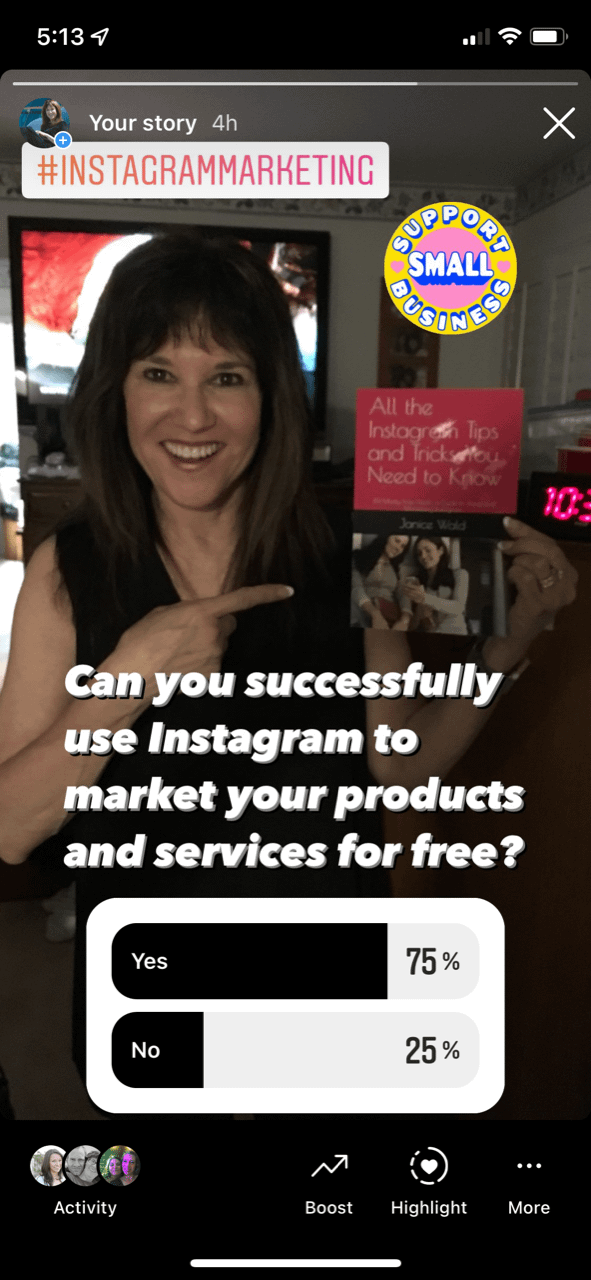 Instagram polls, for example, can uncover information about your target clients and their experience with your brand. You could ask what products they like most, how they feel about your latest projects, what type of content draws their attention, and so on. Think of it as an opportunity to gauge customer satisfaction and prove to your fans that you value their opinion.
Editor's Note:
Since I offer marketing tips, polling my Instagram followers about their attitude towards the effectiveness of social media marketing makes sense for my brand.
Quizzes, live Q&A sessions, online games, webinars, interactive lookbooks, and image sliders are all great choices. You could even create online calculators or other tools and integrate them into your social media posts. This content can lead to repeat visits and interactions, resulting in higher engagement and increased brand awareness.
8. Use Abstract Thinking to Generate Insights
The average consumer spends two hours and 25 minutes on social media per day, according to Sortlist. That's about 17 hours per week or roughly 37 days per year.
As you would expect, social media users see hundreds of ads, photos, articles, memes, and other types of content every single day. So the only way to make your profile stand out is to think outside the box and come up with something different.
While it's easy to find social media marketing ideas, only a few are worth your time. So, what does it take to generate new insights and get a different perspective on the topics you plan to cover?
For starters, consider using abstract thinking to spark your creativity. This concept describes our ability to understand and work with complex concepts, such as metaphors, analogies, and symbols. Simply put, it requires analyzing the underlying cognitive frameworks that influence our reality.
Abstract reasoning allows you to see things from a new perspective, leading to better problem solving and decision making. Depending on the context, it can also drive innovation and creativity.
For example, you could use metaphors when writing about a current event on social media. Or you can try to solve a problem by putting it in a different context instead of focusing on the details, explains Harvard Business Review. This approach would allow you to find new angles for your social media posts and give readers a fresh take on the topic.
9. Tailor Your Posts for Each Channel
As discussed earlier, it's best to focus on the platforms that deliver the best outcomes for your business. For example, if you target gym enthusiasts, it makes sense to use Instagram, Facebook, or TikTok rather than LinkedIn. But you also need to tailor your posts for each channel.
Related Reading: How to grow your TikTok account.
Some users visit YouTube to get tips on fixing things, such as a broken door handle. Roughly 56% expect to learn something new. Others use YouTube to develop their skills, relax, and de-stress.
Related Reading: Pros and cons of YouTube.
On the other hand, Facebook appeals to consumers who wish to engage with brands, receive discounts, or keep in touch with their families and friends, reports Social Media Examiner. Therefore, it's used largely for entertainment purposes.
Treating all social platforms the same way can make it difficult to get your message across. At the very least, try to optimize your copy and graphics for the channel you're targeting. Then, use social media management tools like Buffer, Hootsuite, and SocialPilot to create a schedule and share content across different platforms.
Some apps and online tools can also make it easier to brainstorm social media marketing ideas for your brand. A good example is Scoop.it, which enables users to find and distribute curated content on their websites, blogs, and social networks.
Related Reading: Here you will find more information about the Scoop.it blog.
Social Media Traction: FAQ
When marketing, content, SEO, and social media come together, social media traction is created.
Wrapping Up: Social Media Traction
In closing, just remember to keep your target customers in mind. Prioritize quality over quantity, optimize your content for each platform, and craft a brand voice to which your audience can relate!
By reading this post, you discovered what 9 brands are doing to boost their social media traction. You also received an action plan to increase your own business's social media traction.
Readers, please share so social media marketers find this post and discover these strategies to boost social media engagement.
I look forward to your ideas in the comment section. What does your brand do to boost social media traction?
Related Reading
6 Important Advantages of a Social Media Marketing Agency
This post was contributed and made possible by the support of our readers.