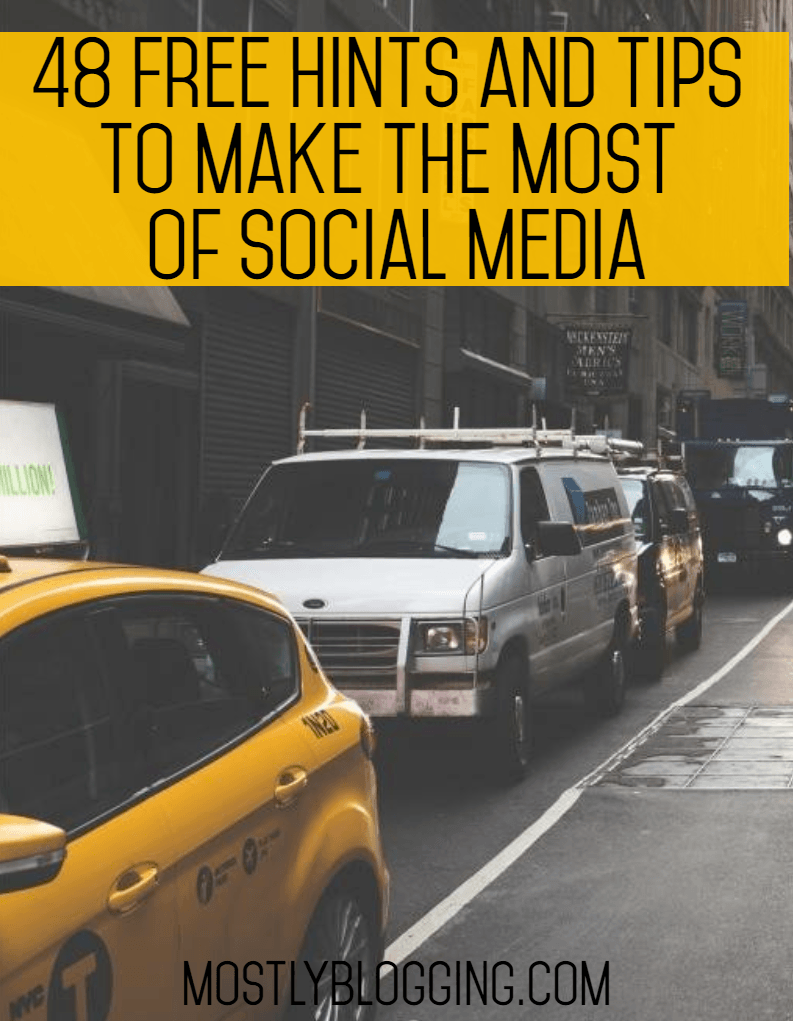 Welcome to Day 10 of my 12 Days of Christmas series!
Every day between now and January 5, the end of the 12 days of Christmas, I'll be featuring a different category of free blogging tools.
Each day a bite-sized blog post of blogging tools grouped by function for your convenience.
The social media tips and tricks in this post offer websites, tools, and methods for using social media to run a successful blog.
Stepping up your promotion will not only ensure that your content enjoys the maximum exposure possible, but also that you get a higher ROI for your time spent creating content.
Bring on Day 10 of the 12 Days of Christmas: 48 Social Media Tips and Tricks.
48 Social Media Tips and Tricks
Ahalogy is a free Pinterest group board scheduler.
BizSugar allows self-promotion of your blog posts. The site offers many categories that may match your content. BizSugar has a high Domain Authority ranking. Linking to sites with a high Domain Authority ranking helps your SEO. If you're not familiar with BizSugar, read the 7 ways BizSugar will help your blogging.
Buffer is a social media scheduler. I use Buffer to schedule my Twitter tweets and my Instagram posts. In a recent interview, experts chose Buffer as their favorite social media tool. If you're not familiar with the advantages of using Buffer, read the 17 Reasons Buffer Will Blow Your Mind.
Click to Tweet Include a  Click to Tweet in your blog post and a welcome Email.
CommentLuv There is a free version of CommentLuv although the site is currently not being maintained. [Read: How to Use CommentLuv to Easily Get Blog Traffic.]
Commun.it I use this website to unfollow Twitter users who have unfollowed me. This site allows you to unfollow 50 people a day. Commun.it will also email you analytics.
Crowdfire I also use the Crowdfire app to unfollow Twitter users who have unfollowed me. Blogger Ashutosh Singh recommends Crowdfire.
DrumUp You can use DrumUp to promote your articles. Since Buffer only allows me 10 prescheduled tweets, I use DrumUp's scheduler to schedule additional tweets to my Twitter feed. Also, DrumUp can draw directly from your RSS feed saving you loads of time promoting your articles.
Facebook  There were times I doubted whether my friends and family following me on Facebook would be interested in my blog content. As it turns out, they are very interested and I receive blog traffic when I post on Facebook.
Facebook groups Despite the bad publicity Facebook has taken in the press lately, there is one bottom line: I could not have grown my blog to the extent I have without being able to promote in Facebook groups. These 18 Facebook groups allow daily self-promotion of your articles.
Facebook page enables you to promote without looking spammy to your Facebook followers.
Flipboard Although mass traffic from Flipboard is sporadic, I have received triple-digit traffic from Flipboard. [Read: How to See a 10X Growth in Your Blog Traffic from Flipboard.]
Followers app Previously, I used the Followers app to unfollow Instagram users that unfollow me.
Forums These blogger forums allow "link dropping" even if it's only on occasion.
GrowthHub, formerly known as Inbound.org, is a forum that allows you to leave your links to your posts.
HashtagforLikes You'll find many hashtag groupings here already assembled for you. Instagram allows up to 30 hashtags per post.
Hashtagify When I go to the site, I immediately know the popularity of the applicable hashtag and see a Word Cloud full of relevant hashtags.
Hashtags will enable people interested in your content to find you. Hashtags are helpful on Twitter, LinkedIn, and Instagram to draw attention to your blog. Here is a list of 245 popular all-purpose hashtags.
Hootsuite will schedule your social media posts for you. In a survey of 50 bloggers and marketers, Hootsuite was among the most popular tools mentioned.
IFTTT (IF This, Then That) will allow you to link your blog posts to your social media sites. Let IFTTT post your content for you! If you're not familiar with how to make connections using IFTTT, read this IFTTT tutorial.
Instagram Once you get 10,000 followers, you're allowed a live link with your Instagram Story.
LinkedIn You can post original articles and network. [Read these tips for writing a strong LinkedIn post.]
LinkedIn groups Millions of people are in these groups! You'll find groups for many niches: Technology, education, social media, marketing, and mobile, just to name a few.
LinkTr.ee Since Instagram only allows me one link in my bio, I use LinkTree to link my popular blog URLs together. More bang for your buck? Definitely! (Just an expression; these tools are all free.)
Missinglettr Let Ben and his crew over at Missinglettr write your social media posts for you. They even supply the relevant, popular hashtags! Missinglettr provides a free service for your choice of social media site. I highly recommend Missinglettr for help with blog management. 
Mix Mix is a new content curation site that replaced StumbleUpon. Blogger Hugh Roberts reports seeing Mix traffic in his stats. Use Mix to promote your content. Read this guide to using Mix.
Pinned Tweet If you go to my Twitter profile, you will see a pinned tweet. It's extremely easy to pin a tweet. Go to your Twitter profile and click the three dots under your tweet about your best article. Click "Pin to your profile page."
PinPinterest Ryan Biddulph recommends PinPinterest.com. I have not personally used it. According to Ryan, "Here, I'd like to add the best tool for Pinterest ever made. I'm using it myself for more than 7 months now, and I've gained unparalleled results both in the form of followers and revenue. It lets me schedule as many Pins as I want, and it also intelligently pins only images related to my business. It learns this every time as I keep using it. PinPinterest is free to use, based on the cloud, has a mobile ready website, works on Intelligent algorithms and sets up quick."
Pinterest Read how to use Pinterest for blog traffic and income.
Pinterest Group Boards According to Daniela Uslan, Pinterest Group Boards are the most successful form of advertising for her along with Facebook sharing threads. (Note: If you are subscribed to Mostly Blogging and would like an invitation to pin to our group board, please ask for an invitation in the comments section.)
Preview app I use the Preview app to ensure my Instagram posts look great next to each other. I try for a light, dark, light alternating pattern. Many Instagrammers opt for this "checkerboard" look. Then, Premier helps me find popular Instagram hashtags relevant to my content. Then, I use Premier to schedule my Instagram posts. Premier notifies me when it's time to post. Although it won't post for me, I still love and highly recommend the app.
Quora allows you to link drop if your article helps answer the question.
Reddit allows you to leave your link in certain subreddits.
Regrammer The Regrammer app allows you to repost other people's Instagram content.
Scoop.It is a content curation site which allows you to scoop your own articles as well as other people's articles. My articles were "scooped," and I really did receive sizable traffic. [Read this guide to using Scoop.It.]
Social Share Buttons Make sure they are enabled so people can share your articles.
TagBlender TagBlender offers you many categories of hashtags.
Top Hashtags has the same function as TagBlender but without the blender theme.
Triberr Do not blog in isolation. Let your tribes at Triberr help you extend your Twitter reach. [Read How You Can Boost Your Blog Traffic Using Triberr.]
Tweepi Since Twitter doesn't show me everyone who follows me, I use Tweepi to find out.
Twitter allows pinned tweets so you can feature your email list optin or the link to your ebook or most popular post. When you promote on Twitter, use hashtags so people interested in your content can find your links.
Twitter Cards allow you to make your graphics bigger so your content gets noticed on Twitter. [Read this guide to using Twitter cards.]
Twitter Lists Twitter lists are a great way to organize your Twitter connections. [Read How to Make Amazing Twitter Cards so You Can Get More Blog Traffic.]
Twitter chats help you reach a new audience using a special hashtag. Look here for the Twitter Chat schedule.
Viral Content Bee enables you to promote your writing on a variety of social media sites.
Viralwoot is a free Pinterest scheduler. Read this guide to using Viralwoot.
Wakelet I've just started using the content curation site Wakelet, but blogger Dexter Roona is a fan.
WhentoPost This app tells me when to post to my Instagram feed.
Readers, please share so other bloggers discover these 48 social media tips and tricks.
Did I miss any? Are there any social media tips and tricks you can recommend in the comments?
Source
These tools originally appeared on 137 Best Free Blogging Tools: How to Boost Blog Management Now.