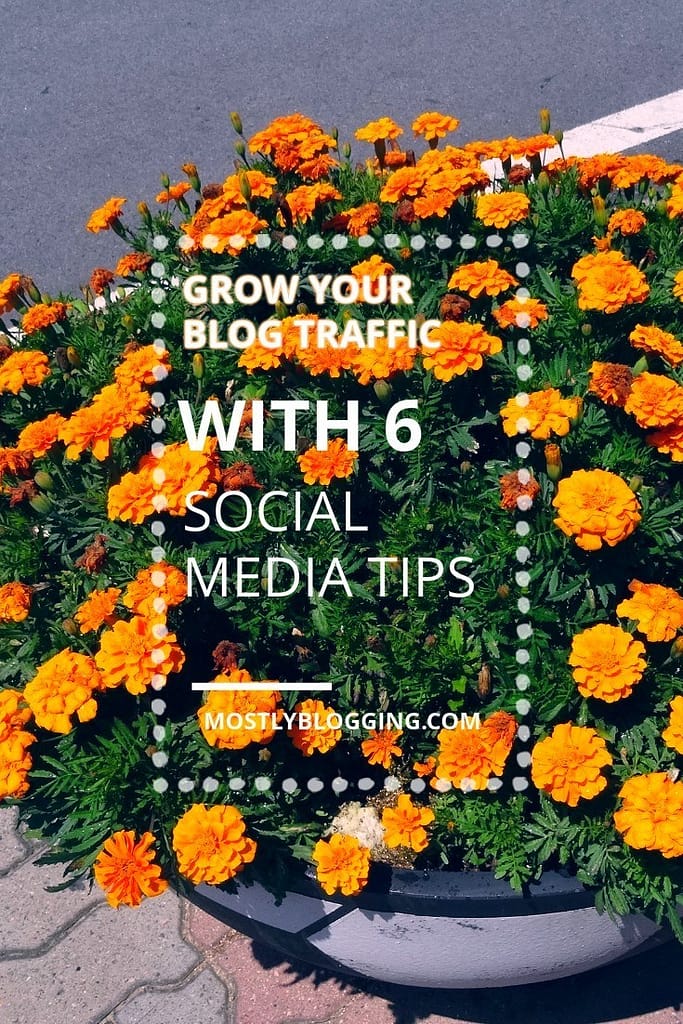 How often do you see people checking their phones?
According to a recent study, people look at their smartphones 85 times a day.
Since people often check their social media on their phones, today's guest author Mike Pederson explains how you can capitalize on that behavior. He offers six social media tactics to grow your blog readership.
6 Ways Social Media Tactics Can Help You Grow Your Audience
By Mike Pederson
In this generation, you know for a fact that people spend most of their time browsing and checking on different social media channels, thus; taking advantage of people's interest in social media as you start your blog or business is a must.
Grow Your Audience with These Social Media Tactics
Create an interesting social profile and About Page.

One of the first things you need to consider as you work on growing your target audience, whatever social media you want to use or pursue, is creating a strong social profile and pages.
For instance, if you create a Facebook profile, you need to ensure that you use a profile photo that can easily be identified as your company or business logo.
Your profile on any of your social media account should come out strong in order to generate interest, and following that, good traffic.
[Related Posts: 
How to Increase Traffic with a Blog Brand
How to Create the Best Website Name in the World]
Share quality and good content
What is the best way to increase the viewer's interest in your content? Share quality content. Letting your audience see interesting content on your social networking sites, may it be Facebook, Twitter and the like, is necessary. Upload interesting videos, good materials to read, presentations, and other things that can make your account highly interesting for people to read and share with their friends.
[Related Posts:
How to Avoid Making These 5 Content Creation Mistakes
How to Create Blog Content Your Readers Will Love– Guaranteed!]
Use friend-finding features available on different social networking sites

Give your target market ease in finding your account by letting your name highly available on search tabs on different social networking sites. Facebook, LinkedIn, Twitter has different ways to keep you and other users ease of locating different personalities and businesses, make use of those search engine and make sure that it will work towards your advantage.
[
Related Post:
How to Quickly and Easily Get Hundreds of Twitter Followers Part I]
Add links on your website

Here is how to make people aware that you have social networking account, add icons to your website's header sidebar and footer. Make sure that people are aware of other available sites you have by adding official buttons of different social websites on your particular social networking account. On your Facebook account, make use of the button generator and brand assets, to have your other social networking accounts be connected to that, thus giving your visitors the chance of checking out your other social networking account.
[
Related Post:
4 Ridiculously Easy Ways to Enjoy Effortless Blog Traffic ]
Add social network links to your email signatures
You surely have customers or blogging connections that you use email as your medium to communicate. Therefore, including the social network icon on your email address is surely a good idea. It can even be a standard text link. Include the link or icon to your email signature, for them to know that you have a social account available for them to view. The button or link should direct them to your site automatically.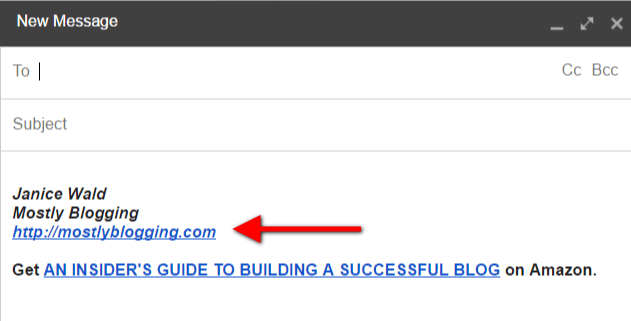 [
Host blogger's comments:
The screenshot shows my email signature. As you can see, I have links to both my blog and my book on Amazon.]
Make use of your social networking account to promote your other accounts
Make use of your already existing and famous accounts to introduce your other social network accounts. Let your current participants know that you have other accounts available for them to check out, tell it directly by posting the news on your account, thus going through their news feeds.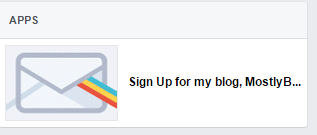 [
Host Blogger's Comments:
The screenshot shows the link on
my Facebook page
that directs people to my blog. The screenshot below shows two links on
my Twitter profile
. They both take people to my blog.]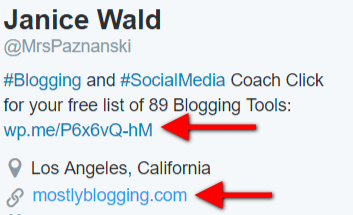 Conclusion
Making use of social media sites towards your advantage is a must. Follow these social media tactics to ensure that all will go your way.
Author Bio: Mike Pedersen is the founder of The Dental Boost. A boutique, hands-on digital marketing agency helping dentists grow their new patient numbers and revenues using a customized dental marketing system.
Readers, please share Mike's post. His unique tips make sense.
Which did you think was Mike's best tip? Are there any you think you might try? Are there any you already try? How effective are you finding the strategies? I look forward to your views in the comment section.
Related Posts:
8 Social Media Hacks That Every Blogger Needs To Know
How You Can Smarten Up Your Social Media Strategy