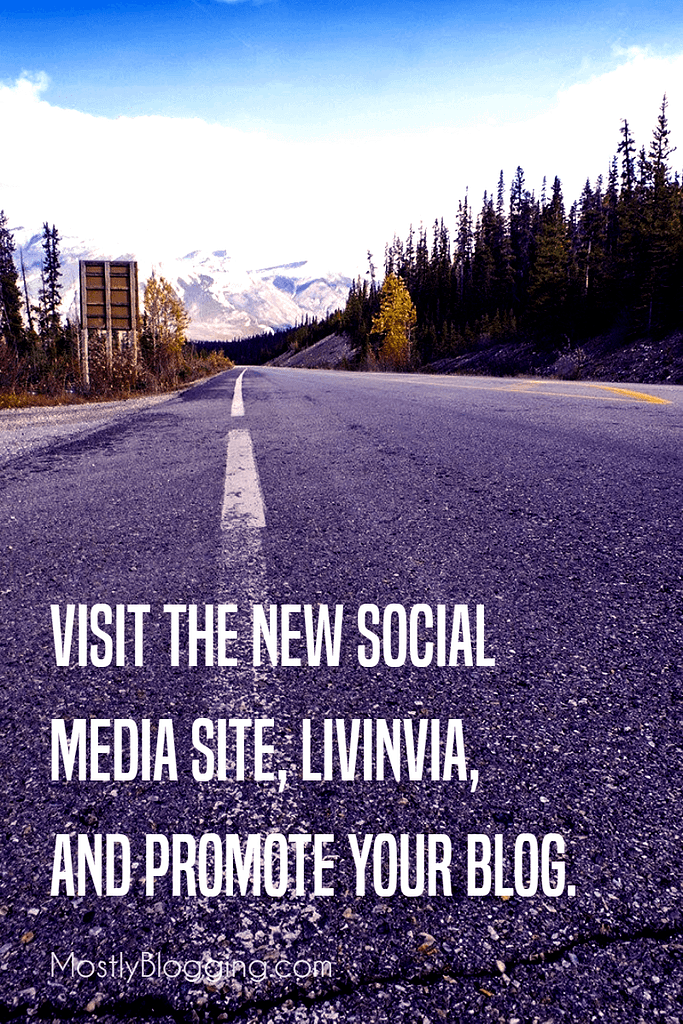 An expression states, "Necessity is the mother of invention."
Social media sites like StumbleUpon folded and now Google+ is shutting down. Other sites like Facebook have privacy violations.
A recent article in Medium stated when discussing the chaos brought on by Google+'s impending closure, "We want something that will last for a while, that won't be shut down by some exec."
Clearly, more social media similar to Facebook is needed.
Recently, MeWe started, and now the social media site Livinvia appears on the scene.
Today's post was written by a member of "Team Livinvia" to let you know about this new social media site.
This post was contributed.
Is it easy for readers to find your blog content?
Do you want to boost your blog content to get more readers?
As you know, readers are very important for your blog. When you blog to promote your business or industry, it's important to make sure your content gets seen. So, there are so many ways to get visitors on your blog. Some ways are mentioned below.
Search Engines. (Major source to get views on a blog)
Social Media. (Important Source to get views on a blog)
Advertisement.
Guest Posting.
Invite others to guest post on your blog.
Email marketing.
And so much more.
But In this article, I'll share 1 new way you can attract readers to your blog content. I'm going to introduce another social sharing platform that will help you to increase readers on your blog.
Worth Reading: How to Effectively Drive Pinterest Traffic & Why You Need To
Livinvia
Livinvia is a social sharing platform for only bloggers where anyone can share their articles. When the moderator approves the article, then it will be published on Livinvia.com. That will help you to increase traffic on your website.
So, If you are a new blogger and want to increase traffic on your website, then Livinvia is the best place for you where you can get tons of traffic by just sharing your article.
Once somebody liked your article, then they also have an opportunity to subscribe to your blog. If they subscribe to your blog, then your every new publishing on Livinvia will be delivered to the subscriber's email. In this way, its help bloggers to get more views on their submissions.
Type of articles that are accepted by Livinvia moderators:
There are so many categories available on Livinvia. Some are mentioned below:
Lifestyle:
Food and Drinks.
Style and Fashion.
Tips and Trick.
Shopping.
Gift and Craft.
Smart Living.
Home and Garden.
Family and Relationship.
Travel.
Health and Fitness
Family Health.
Diet.
Hair and Beauty.
Fitness.
Mind and Body.
Arts and Culture
Music.
Movies.
Photography.
Arts and Culture.
Books.
Poetry.
Paranormal.
People.
TV Show.
Web News
Buzz.
LOL.
Epic.
Fail.
Tops.
WTF.
Economy and news
News.
Science and Tech.
Economy and Marketing.
Finance.
Video Games.
Society.
Sports.
Smartphones and Apps.
Business
Blogging.
Entrepreneurship.
Digital marketing.
How to Join Livinvia?
UPDATE: THE WEBSITE LINK IS NOT WORKING, December 2019
It is very easy to join Livinvia.com
Click here to sign up on Livinvia.com. After the click, you have to put your information and then click on Go.
After confirmation, your account on Livinvia.com will be created.
Afterward, you can easily promote your ideas to the world by sharing your articles on Livinvia.com.
How to submit your articles?
Go to Livinvia and signup, once you signup, just click on the "share new post" button.
Paste the link of your blog post in the box.
You can also edit the preview to make it more attractive. Once you complete editing, just click on the share button to publish your content.
Now the post will need to be approved by the Livinvia moderators. Once your post is approved, you will receive an email about your post status.
Wrapping Up: Livinvia, Social Media Similar to Facebook
Livinvia is a new social sharing site for bloggers. If you want to get your blog posts to reach more readers and views, why not try it today?
Host Blogger's Comments:
I reacted on LinkedIn to Facebook's and Google+'s data breaches and StumbleUpon's closure.
At the end of the article, I suggested bloggers keep using social media to promote their content.
However, if you're frustrated by social media sites closing and Facebook's data breaches, apparently, we need social media similar to Facebook.
As a blogger, I find Facebook groups appealing. By posting my link and a short blurb about my content once, I can reach thousands of people who might be in a Facebook group.
If Livinvia were similar to Facebook, it would have groups. There do seem to be groups associated with Livinvia, Blog Attitude, and Blogging Eggs.
Livinvia is a relatively new site. It appeared on the scene in early 2017. More groups may pop up over time.
The Blog Attitude group reported in August of 2018, "The Google ranking of Livinvia.com has seen strong growth in recent days. It's also good news for you because if you publish your posts on our platform your links will have more visibility by Google."
I realize the post states you need your articles approved, but many Facebook groups have moderators that approve the articles as well.
I found a YouTube video that shows how to use Livinvia to promote your articles. Unfortunately, since it's not in English, I couldn't understand the audio. However, promoting using Livinvia looks extremely easy which you'll see by watching the video if you have any trouble.
Readers, do you know any social media sites similar to Facebook you can recommend?
Please share so other bloggers looking for social media similar to Facebook discover Livinvia.