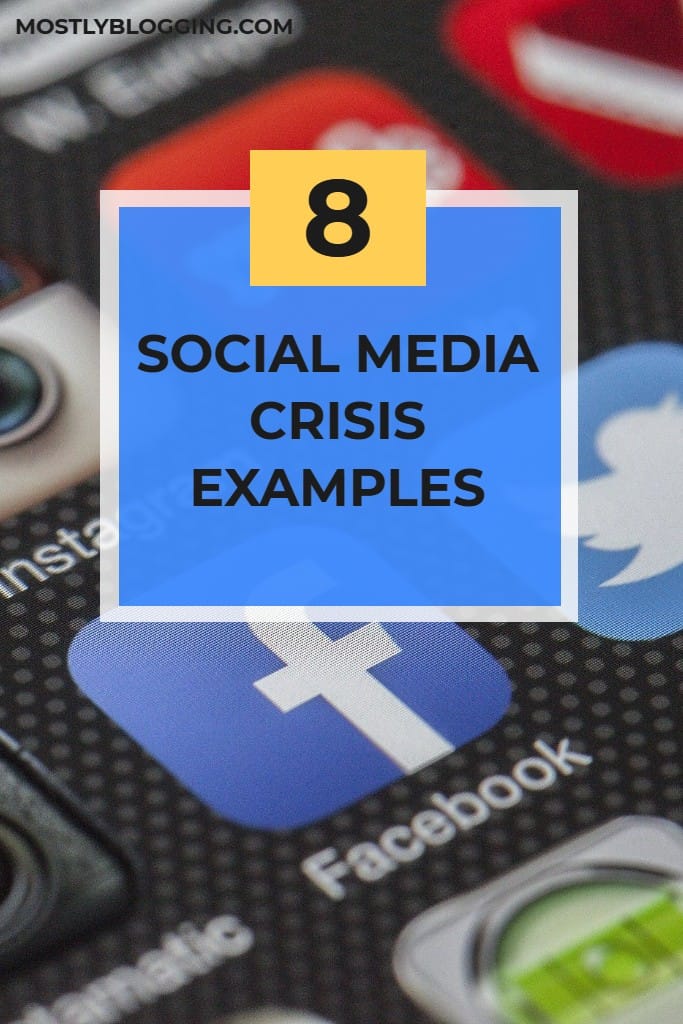 You may be unaware of these social media crisis examples.
This guide shares eight social media crisis examples that occurred on Instagram, Facebook, MeWe, and TikTok.
By reading this guide, you get knowledge of real-life social media crisis examples. This post also shares how to reduce these crises on social media.
Let's get started examining real-life social media crisis examples and how to make things better on social media.
Social Media Crisis Examples
Social Media Crisis Examples #1 Instagram: Social Media and Dating
Social Media and Dating
Are you aware there is a connection between social media and dating?
Are you looking to date in 2021 and beyond?
This past summer, Bachelor in Paradise, the TV show, aired the plight of 33-year-old Natasha.
Natasha did not have a plight because she was single.
Natasha did not have a plight because she was dating on national television.
Natasha did not have a plight because she was broken up with on national television previously.
Natasha evoked our sympathy because the man she was romantically interested in and believed reciprocated her feelings misused her.
A cast member named Brenden was romancing Natasha on the beach during the series. The two expressed feelings for each other and repeatedly gave each other roses solidifying their relationship.
Unbeknownst to Natasha, Brenden was in love– with another woman named Pieper and was waiting for Pieper to arrive on the beach.
The only way Brenden could be secure that he'd still be on the beach when Pieper arrived was to lie about his interest in Natasha, so she would keep him there.
The plot worked. As soon as Pieper arrived on the beach, Brenden ignored and even insulted Natasha who was understandably heartbroken and blindsided.
You might ask why Brenden and Pieper concocted the scheme.
This relates to social media crisis examples that occur on Instagram.
There are many advantages of Instagram, but trying to deceive the world so you can become an Instagram star isn't one of them.
Hey, it's almost 2022, and the number of Instagram followers one has converts to income. Brenden and Pieper came up with this Instagram followers cheat.
Did it work? No!
Fans dumped Brenden and Pieper by unfollowing their accounts. Instead, Natasha's Instagram accounts grew by leaps and bounds.
Brenden and Pieper were humiliated. Brenden apologized on podcasts, but his reputation was ruined on Instagram and elsewhere.
Related: Here you can read how athletes had their reputations ruined on social media.
What does this have to do with you?
Be wary of your new boyfriend's motives.
Often on dating reality TV shows people ask if the cast members are there for the right reasons. You should ask if your new romantic partner is there for the right reasons.
What might be the wrong reasons?
Are they looking for arm candy?
Are they looking for a nurturing woman to mother their children?
Are they trying to do what is still expected of them by society and by their family?
How can you make sure your new love is in a relationship with you for the right reasons?
Ask to meet their friends. Are the friends transparent about your new boyfriend or tight-lipped?
Follow them on social media and check out their history. For instance, are you like their previous romantic partners? They may be looking for a change, but you should look for red flags. What if they have no social media presence at all? Run! They might be hiding something.
Ask to meet their family members. Discuss your new romantic partner's "readiness" for a serious commitment.
Social Media Crisis Examples #2: Facebook Security Problems
I received an email containing these comments from a reader:
"Hi,

I DO NOT consent to 'cookies', tracking, or data harvesting. I do not
wish to be contacted by public nuisances trying to sell.

I am not a business, so have no interest in advertising or marketing.

I use a desktop computer, and do not have a mobile phone, nor do I use video messaging.

All I want is to be able to exchange thoughts and ideas with reasonably intelligent people.

I was on Facebook, but they want to use 'cookies, and I am not happy with their security, so I quit.

I run a small farm, as a hobby, but Facebook has banned the exchange of "all animal products", as a consequence we can't even give sh*t away to gardeners.

What do you recommend?

Regards"
Since this post shares the solutions as well as the descriptions of these social media crisis examples, I will share my response:
"I hear your frustrations with Facebook, and you want to know your options.

Let me lay them out for you:

You want to exchange thoughts and ideas with reasonably intelligent people.


Are you on LinkedIn? I've never heard a complaint about LinkedIn. It's used for business networking, but the articles are informative.

The notification section is so filled, I don't have time to go through all my notifications.


I recommend LinkedIn after reading what you're looking for.


Your options:

Twitter has advantages such as business networking but the content is short which doesn't lead to lengthy discussions.

Pinterest: Many people don't even know it has a comment section!

MeWe: People complain it's full of political content and not enough censorship.

Reddit: I love discussions on Reddit! You would definitely have an exchange of like-minded thinkers. There are so many Reddit subreddits, it would be "one-stop." However, Reddit is my second choice for you since people on Reddit can be well, snarky.


Therefore, my first choice for you is LinkedIn. My second choice for you is Reddit."

Janice
Related: Here you will find more information about Reddit Blogsnark
Social Media Crisis Examples #3: Facebook and Toxicity
Facebook has many advantages, but the negativity found on the site is definitely a disadvantage.
The 2020 U.S. Presidential Election increased already strained tensions between Liberals and Conservatives.
As a result of the negative comments flung back and forth by both sides, Facebook's bots throw commenters in Facebook Jail which temporarily blocks Facebook users from accessing their account. Since no one knows how to get out of Facebook Jail, frustrated Facebook users become further agitated.
These social media crisis examples are evident in the Mostly Blogging post How to Get Out of Facebook Jail which currently displays 162 comments from unhappy Facebook users. They all share their social media crisis examples reporting different reasons for landing in Facebook Jail.
People even write to share their social media crisis examples regarding Facebook Jail on Facebook.
Look at an excerpt from this comment I received in my DM:
"Why can't you get a human to talk to and I can prove my case?

Still a week and then the bullies will be after me again and FB could remove me altogether. There should be a way to fight this but clearly not.

There must be something you can do when you are a victim of bullying though???? This is my 5th FB jail and soon I could be removed off FB if they keep targeting me.

I have evidence of bullying and no one will listen…..it's shocking

FB sides with the bullies."
Social Media Crisis Examples #4: Facebook Harms Self-Esteem
Lush Cosmetics pulled its social media presence as a result of whistleblower Francis Haugen reporting that Facebook hurts the self-esteem of young women.
Social Media Crisis Examples #5: MeWe and Negativity
Read excerpts of some of the social media crisis examples I received on my MeWe review:
"After using MeWe, I deleted it. It was full of comments that spread hate."

"Obviously, my name is not private on the site. What gives? What concerned me the most are the 'featured pages'. If MeWe doesn't accept advertising what are these featured pages doing on my MeWe when I open it? Sean Hannity? He is a Right Wing…"

"WELL I thought MeWe would be a great social media but I was wrong. It helped my husband hook up with all these different women(he is a truck driver) and have affairs on me. We are no longer together. Thanks a lot MeWe for that premium plan which allowed him to video chat and voice call behind my back."
Social Media Crisis Examples #6: Instagram and Facebook
Did you see the Social Dilemma, the Netflix Documentary?
The documentary follows a young girl and a young man in order to show the harmful effects of social media on their individual psyches.
The young girl reads positive comments her classmates made about her on social media, and her self-worth is enhanced.
Immediately after, she reads negative comments about her physical appearance made by her schoolmates. Crushed, she bursts into tears.
Is it interesting that met with the two types of observations, the girl embraces the negativity and completely forgets the positive comments and how good they made her feel?
An expression states, "What have you done for me lately?" Do you think the girl would have been happy if she'd read the positive comments after the negative ones?
I don't. I maintain she'd still be crushed by the negativity oblivious to the positivity that co-existed on the social media site.
Why are our egos so fragile? If the girl were a mature woman would she still have been crushed? I believe so.
Would it be preferable to have no social media at all? I think not.
Instead, there are alternatives. Let's go back to the girl in the documentary.
She was confronted with positivity and negativity and embraced the negativity.
What if the positivity was reinforced and reinforced again?
I maintain the devastating effects of the negativity would be diluted by the positivity being reinforced.
Instagram has banned "likes" in many countries worldwide due to the fragility of our egos. Instagram users embrace the fact that their posts are devoid of likes or enough likes, so Instagram has reduced the importance of likes.
Social Media Crisis Examples #7: Facebook Keeps Stopping
On November 3, 2021, Facebook experienced another outage that went on for six hours. During that time, the ecommerce world which relies on Facebook and WhatsApp for communications was crippled.
The world saw just how important Facebook is.
Social Media Crisis Examples #8: TikTok Bathroom Destruction
There are various challenges on TikTok. One of these challenges encourages young people to vandalize their school bathrooms. These challenges reached a peak of popularity in September 2021.
This TikTok post paradies the situation.
Did you notice the overturned garbage can in the bathroom?
How Can We Help Social Media Users?
I understand it is not your responsibility to help people with wounded egos on social media.
However, there are billions of people on social media. If you are going to use social media anyway, why not follow these tips to ease the harm of the toxicity found on social media sites?
Tip 1: Let people know they matter.
What better place to let people know, "You matter?" than on social media? Using social media is free and easy.
In fact, there are many free tools to send good vibes to your social media followers. Canva, PixTeller, Fotor, and PosterMy Wall are four of them.
Tip 2: Make people smile.
Free meme-making tools are easy to use. Also, memes have the potential to go viral. Imagine making millions of people happy by posting one meme. Here you will find instructions and free tools to help you generate memes: Best I can do memes.
Tip 3: Tag people
If you feel your social media content will make someone feel special, tag them. Even if the content isn't about them but is a topic you know they'd find interesting, tag them.
When I tag on Twitter, I post my content and add "features" and I add the tag. Also, I might post my tweet and add "FYI" if they are not featured but might be interested. They might be pleased you thought of them.
You will find instructions for tagging and more information about tagging here: how to tag on social media.
Tip 4: Huddol to the rescue!
The Huddol.com social media site offers relief from the toxicity of other sites. In fact, Huddol's mission is to ease people's emotional angst.
Let's examine more social media crisis examples.
Tip 5: Find a Facebook alternative
After the 2020 U.S. Presidential Election, there was so much toxicity on Facebook, many conservative groups were shut down. Those former Facebook users flocked to the MeWe social media site.
MeWe advertises its site as a Facebook alternative or Facebook clone. MeWe has many of the characteristics Facebook has: groups, networking, and the same content uploads.
However, when Facebook experienced a shutdown on November 3, there was not a suitable Facebook alternative to help the communications and ecommerce sectors.
The world still needs a Facebook alternative.
Social Media Crisis Examples: Frequently Asked Questions
When people cause drama or negative situations on social media that worsen before they get better.
Negativity, toxicity, and drama all characterize social media crises. These situations worsen before they get better. The situations climax in crisis situations.
Wrapping Up: Social Media Crisis Examples
As a result of reading this guide, you discovered eight social media crisis examples that occurred on four social media sites.
In closing, we are living in 2021, the Digital Age. We have social media. Dating is not as easy as it was before the start of social media.
Today, people like Brenden and Pieper are deceptive so they can gain social media followers and become well-paid influencers.
However, today social media can be helpful too. You can use social media to check out your new boyfriend's past.
No one says you need to be a stalker, but before you invest your emotions and your time, use social media as well as this guide to be cautious.
Knowledge brings wisdom. The tips in this guide gave you knowledge. Now follow them and use social media wisely.
Readers, please share so social media users discover these social media crisis examples and how to improve the atmosphere on social media sites.

Janice Wald is the founder of MostlyBlogging.com and co-founder of the Mostly Blogging Academy. She is an ebook author, blogger, blogging coach, blogging judge, freelance writer, and speaker. She won the Best Internet Marketer Award and the Best Blogger Award at the 2021 Infinity Blog Awards. Wald was also nominated as 2019 Best Internet Marketer by the Infinity Blog Awards and in 2017 as the Most Informative Blogger by the London Bloggers Bash. She's been featured on Small Business Trends, the Huffington Post, and Lifehack.