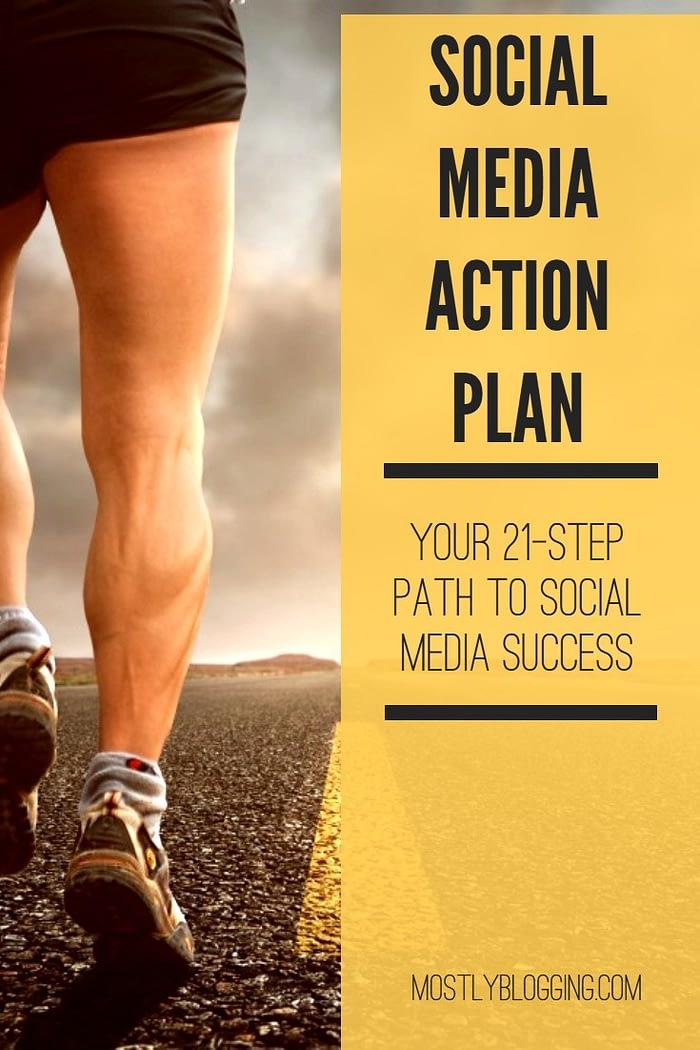 Janice Wald
If you are here, you must be looking for a social media action plan.
You need one.
On the other hand, you might be wondering why you need a social media action plan.
Billions of people use social media. That's hefty competition.
By the time you're done reading this post, you'll have a road map of effective hacks to step up your game at Facebook, LinkedIn, Twitter, Instagram, and other social media sites.
These 21 tips will lead to an increase in social media followers. This boost results in more website traffic, credibility, and income for you.
Let's take a deep dive.
First, this post will share strategies for specific social media sites.
Then this post will veer off into a social media action plan for all social media sites.
Facebook
Jerry Potter hosted a webinar for Wishpond. He shared powerful little-known strategies to include in your social media action plan.
Here they are:
Hack 1: Boost Visibility
In the webinar, he explained how to get your content seen at social media sites like Facebook.
He explained how to work the system. Manipulate? No. He calls it "romancing the system."
The way to get people to see your content is to make Facebook think your content is valuable. Jerry calls this "the Birthday Trick."
Here's how it works:

Each day, Facebook tells you which of your friends are having birthdays.
Individually, wish each of them "Happy Birthday." Add a comment that will inspire dialogue.
For example, you could write, "Happy birthday. What are your plans? What are you doing to celebrate?" and so forth.
This back and forth dialogue tells Facebook that people find your content valuable and you'll get more visibility.
Hack 2: Post optimal content
Jerry advises posting three types of content you want to get visibility.
Ask yourself these three questions before posting your content:
Is this content helpful?
Will this content appeal to my target audience?
Does the content make my target audience feel something?
Hack 3: Add an image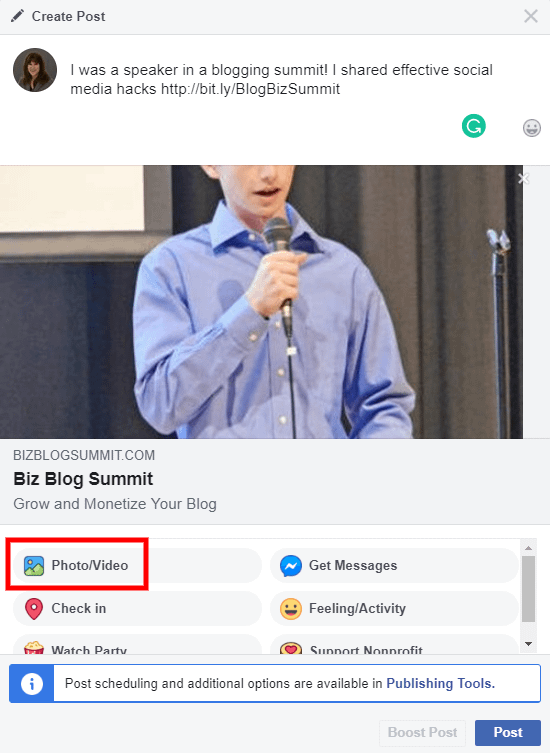 When I advertised my presentation on my Facebook page, I didn't want this picture of the moderator with his head cut off to show.
Now look: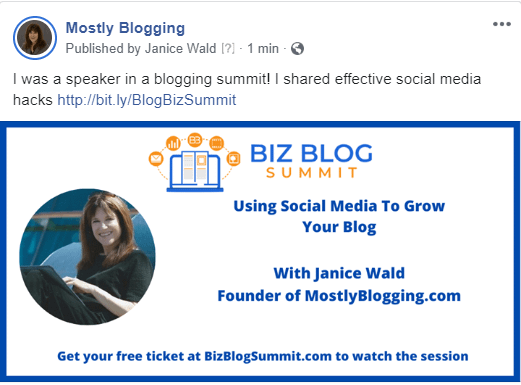 This looks much better.
Jerry explains even an ugly image is better than no image. Jerry points out that even ugly images are eye-catching.
On Facebook, when you post content, click Add a photo. Manually add the image you want to show with your content. Adding the image manually will make it larger than the other images Facebook users see.
Hack 4: Pay to play
Jerry advises spending money on Facebook ads.
He discussed a restaurant owner who spent $40 to advertise a special price on a certain day. He made over $4,000 in profits as a result.
Frankly, on any social media site where you pay to promote your content, you'll be rewarded with greater visibility.
Businesses are in business to make money. If you are successful, you are more likely to return to sponsor more content.
LinkedIn
Source for LinkedIn hacks Social Media Lab podcast.
Hack 5: Boost user experience
Start your content with a question.
You need a hook. Hooks engage people.
[If you are not familiar with how to use LinkedIn to post content and need a tutorial, you will find instructions on how to use the LinkedIn homepage here.]
Hack 6: Edit your content
Insert the link to your content after you publish your promotional content on LinkedIn.
I have heard from several sources that LinkedIn gives more visibility to posts without links.
Therefore, the speaker advises immediately after publishing, you should edit your post and then put the link in.
This entails you adding the image manually.
Social Media Action Plan: Best Practices
Hack 7: Avoid including only group photos
Posting only group photos makes it difficult for your potential social media followers to pick you out of a crowd and identify you.
Present yourself as an individual. Then you will stand out. Do not use your group photos as your profile picture.
When you choose your profile picture, make sure your eyes aren't covered by sunglasses.
People trust people whose eyes they can see.
Hack 8: Never add cropped photos
Don't use a group shot and crop out the other members of the group. People can tell.
Such photos decrease people's trust in you. Even if it's a flattering image of you, don't use it if others are cropped out.
If the only photos you have of yourself are group photos, take a selfie or ask someone to take your picture.
Hack 9: Use the right lighting
Poor lighting in both your videos and still images can be a turn-off. Don't mar otherwise great video or blog post with a poorly lit image.
You want the image to attract social media users since it's the first thing they see. First impressions die hard. Keep user experience in the forefront of your mind.
My experience reveals the need to be aware of proper lighting.
I was selected to be a speaker at the Biz Blog Summit.
Thrilling! I could share information about one of my passions, social media, and extend my brand.
Look: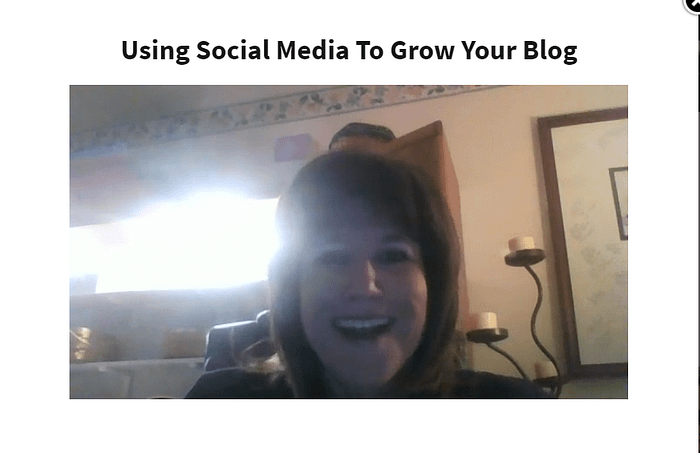 Nightmare shot!
I was looking at the host and had no idea that the lighting behind me marred my video presentation.
The secret of a perfect selfie for your profile is the lighting. You have to learn the basics of how to take photos in great lighting or have someone take the photo for you.
I know an Instagram influencer who has a whole gallery of photos shot in perfect lighting displayed on her website. If someone wants a photo of her to accompany an interview, all they need do is go to her photo gallery and use the photo which she allows.
[Related Reading: How to Become an Instagram Influencer]
Try to use natural lighting. As seen in my nightmare shot, the light should be behind the photographer not behind you.
Hack 10: Compose an interesting bio
Have a look at our effective suggestions on how to boost your profile.
First, on Instagram, use a bio with emojis. Potential followers only check you out for a few seconds. Make it clear who you are.
Your bio is the place to showcase why people should follow your account.
If you checked out a social media account that revealed personality traits, hobbies, pets, and favorite music or movies, would you follow the account? I wouldn't.
Do not write your entire life story, just a few details are enough for the bio.
The Instagram bio just gives a few short characters to reveal why people should follow you. Make them count.
Hack 11: Be honest while chatting with new people
Chatting, opening lines of communication on social media sites, boosts UX (User Experience.) People see you as a real person and not just a brand.
Chatting boosts authenticity, and in turn, your trustworthiness, your credibility, increases too. This, of course, leads to making money online.
Always be honest even with complete strangers. Try not to speak about topics you have no knowledge about. Trying to make yourself sound like an expert in a niche where you don't specialize or have expertise will cost you credibility.
Hack 12: Ask your best friend to look over your bio
Will they know what your account is about?
Let's look at an example on Instagram:
@teachertired is one of my favorite Instagram accounts.
This is Teacher Tired's bio:
Teacher Tired
🍎The true confessions of a tired teacher.
💯You think you know, but you have NO idea!
This bio tells me several things about the account:
If I follow, I will get humorous, surprising insights about the teaching profession.
Note the emoji: The apple is perfect since there is a cliche about an apple for a teacher.
Look at my Instagram bio: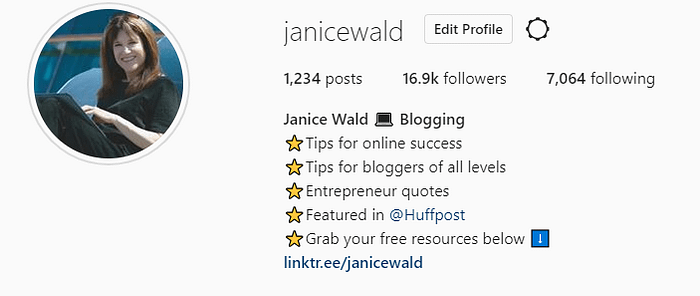 By following my account, people will get tips for online success, blogging tips, and entrepreneur quotes. Immediately, this is clear from looking at my bio.
It does not mean you need a set of eyes to look over your whole profile. You just need a 3rd-party's opinion on your bio. Such a quick view can definitely help.
Hack 13: Have a posting calendar
Where will you post? How often will you post at those sites?
There is an expression about throwing things against a wall and seeing what sticks.
You don't want to post randomly and without forethought when it comes to social media posting. The purpose of your social media action plan is to post consistently.
This will avoid follower confusion if you post at random times and days. Your social media action plan will also help you avoid follower boredom by not posting the same content all the time.
Part of my social media action plan includes using Post Planner for this reason. For $3.00 a month, the site provides me with engaging graphics and quotes. These keep your social media accounts novel instead of becoming boring and stale.
[Read this information about using Post Planner.]
Be consistent or risk confusing your readers. Worse, if you post too often at certain sites, you will look spammy. If you don't post often enough at sites like Twitter, you'll be overlooked.
I recommend using optimization tools. I recommend the When to Post app which tells me when my Instagram followers are active.
I use Buffer to post on both Twitter and Instagram which also post for me at optimal times.
Don't forget to post on holidays like Halloween and Black Friday. Include these in your editorial calendar so you remember.
Hack 14: Get a buddy
Social media algorithms show your content when it believes it's valuable. It believes it's valuable when people comment and share.
I have buddies at Instagram You could have a GrowthHackers buddy who upvotes for you. I have "follow buddies" at Twitter as well. Engagement groups like Follow Loops exist to help you with this.
Hack 15: Post videos
Videos keep people on social media sites longer. Therefore, social media sites give priority visibility to people who post videos.
Free video making tools exist to help you.
Spark video has templates to help you plan your video. Lumen5 draws from your RSS feed. You do nothing but embed the video in your post or put on social media sites. [You will find a Lumen5 tutorial here.]
Hack 16: Be different
With all the competition on social media sites, being different makes your content stand out.
What does that mean for you and your brand?
The Social Media Lab podcast did a study that revealed the effectiveness of Photo Carousels in boosting engagement. Not many social media marketers use Photo Carousels yet.
Experiment! Try a new social media feature and check the metrics to see if engagement is up.
Of the most recent Instagram Stories I posted in my niche, this received a sizeable reach (the number who saw my content that day).
Let's analyze why more people saw it than my other Stories starting from the top:
The hashtag #podcastersofInstagram has 453,687 posts. This number is large enough for me to get seen but not so large that my story will get lost in the "noise."
The font is large and highlighted.
Polls are engaging.
My Call to Action is large, flashing, and highlighted.
My photo of headphones is engaging since music is so popular.
Using the Any Sticker app, I made a Sticker with the music icon and my blog's name on it. Here you will find instructions for how to make custom Instagram stickers.
Hack 17: Check your analytics
I knew my Instagram Story in the above example did better than others. I knew this by checking my Instagram Story metrics.
People ask where to find insightful social media metrics.
Social media sites show you your account metrics. On Instagram, you need to have a business account to see them.
Although various sites have valuable metrics, I like making a bit.ly account and seeing my metrics there. Bit.ly is a link shortener.
If you make a different bit.ly link for Facebook, Twitter, Instagram, you will know who is clicking from which social media sites and you can measure your ROI (return on your time invested).
Look:

This screenshot shows my data from February 21 to March 21.
These are my metrics for my blog sign-up form. I wanted to track my social media efforts to get people to sign up for my blog.
As you can see, when you use your bit.ly link, you get these nice-looking metrics.
More importantly, you can see that 7 people clicked my link on Instagram, more than Facebook, or other social media sites.
Based on these metrics, should I continue to promote my blog's email list on Instagram? Yes!
Frankly, I don't promote my blog's sign up form on Instagram that often, so to see I got 7 clicks in a month encourages me to continue.
Meet your goals
Why do you need goals?
Once again, you don't want to throw your efforts at that proverbial wall to see what sticks.
In the above instance, I wrote I was pleased 7 people clicked my blog's sign up form link on Instagram.
What was my goal? Did I have a goal? No!
I wrote I was encouraged to try again. Why are 7 clicks enough?
In February, I received 7 clicks on Instagram. Why not try for 10 in March?
There is an acronym to help you create and meet your goals: SMART Marketing.
The SMART marketing strategy explains goals have to be specific, measurable, attainable, realistic, and timely.
Let's examine my goals:
Specific: Yes, 10 clicks in a month is a specific goal.
Measurable: Yes. Using my bit.ly link metrics, I can measure to see if my goal of 10 clicks in a monthly was met.
Attainable: Yes, this goal is possible to attain. If I use hashtags, I can generate targeted social leads. Targeted social media marketing will generate my target population: bloggers, marketers, and social media users looking for my tips.
Realistic: Yes. If I focus and remember to promote my blog's email list on Instagram, 10 clicks in a month is a realistic goal.
Timely: NO! People are too busy currently trying to buy provisions for their shelter in place during the Coronavirus to be concerned with signing up for my blogging tips.
Do you see why a social media action plan is so helpful? The plan enables you to do more than set goals. Follow the plan and you set achievable goals.
Improve on your weaknesses
No social media action plan would be complete without mentioning the importance of checking your analytics.
Many bloggers groan when they read this believing that metrics are boring. Blogging and social media should be fun!
Wouldn't it be fun to know your engagement score? Come on. No one will know how you scored but you.
Do you rock at engagement or is it a weakness that can be improved?
Are you curious? Then, use the Instagram engagement calculator.
Play to your strengths
Google Analytics
Use Google Analytics to make sure you know what's working and keep doing what is working for you.
At Google Analytics, go to Acquisition/Social/Overview and scroll down.

For the week of March 13, Facebook, Quora, and Twitter were my Top 3 social referral sites.
I will keep promoting there.
To boost your social traffic (traffic going to your blog from social media sites,) you should also check Google Analytics to see what efforts are paying off for you and continue those strategies.
Check individual social media analytics
Twitter and Instagram, for example, have helpful metrics. Note: These metrics only come with a free business account on Instagram.
Hack 18: Use time-saving tools
Use tools to save time with promotions. Hootsuite, Buffer, and Post Planner are social media schedulers.
IFTTT (If This, Then That) will post on social media for you. Missingletter will write your content for you.
Don't manually do tasks if free tools exist to help you.
[Related Reading: Mostly Blogging has published tutorials about both IFTTT and also the Missingletter service.
Hack 19: Keep the number of people you follow and are following in check
People like to follow winners. You'll look like a winner if you follow fewer people than are following you.
Although Instagram stopped the use of 3rd-party apps, you can still use these unfollow apps to see the people who unfollowed you so you can manually unfollow them.
Hack 20: Avoid Networking with fake people
Follow these tips and sure you are not networking with fake people. Otherwise, you will get really disappointed with wasted time.
People often wonder how they know who is fake.
First, if someone doesn't post often, it's possible they are a bot.
Second, although this post contains information about fake blog commenters, you might be able to apply the tips to identifying fake social media followers.
Quora
Many people strive to get into Quora Daily Digest.
Quora sends your content to thousands of people when you make Quora's Daily Digest.
No need to strive for this or celebrate if you make it.
I've made it plenty of times with no effect on my traffic or signups whatsoever.
I know other people who haven't had any results one way or the other from making the Quora Daily Digest.
[More information about
Quora
can be found here.]
LinkedIn
If your goal is to wind up in LinkedIn Trending Stories, forget about it.
According to the Social Media Lab podcast, there is no positive effect from winding up with this label on your content.
Wrapping Up: Social Media Action Plan
In closing, this post explained how to make a social media action plan to help you stand out and succeed on crowded social media sites.
This success will lead to an increase in your social media followers, website traffic, and branding.
This post shared many effective Instagram hacks along with other powerful strategies for succeeding on additional social media sites.
In addition, this post offered time-saving tips such as tools that can help you.
Takeaways:
This information will surely help you feel more confident in using social media to extend your followers, traffic, and brand.
This post gave you a map for navigating through social media's crowded waters.
Use this 21-part action plan and boost your social success.
Readers, please share so other social media users discover this social media action plan for boosting followers, traffic, and income.
What did you feel was the best tip? I look forward to your views in the comments section.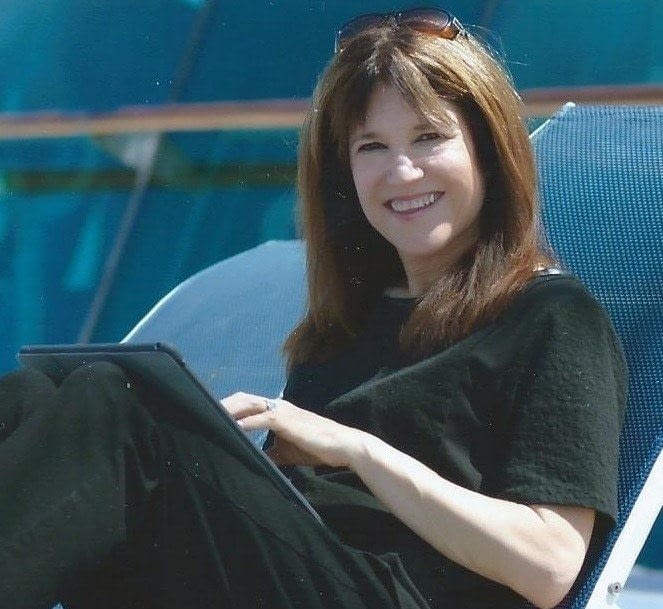 Janice Wald is the founder of MostlyBlogging.com. She is an ebook author, blogger, blogging coach, blogging judge, freelance writer, and speaker. She was nominated as the 2019 Best Internet Marketer by the Infinity Blog Awards and in 2017 as the Most Informative Blogger by the London Bloggers Bash. She's been featured on Small Business Trends, the Huffington Post, and Lifehack.