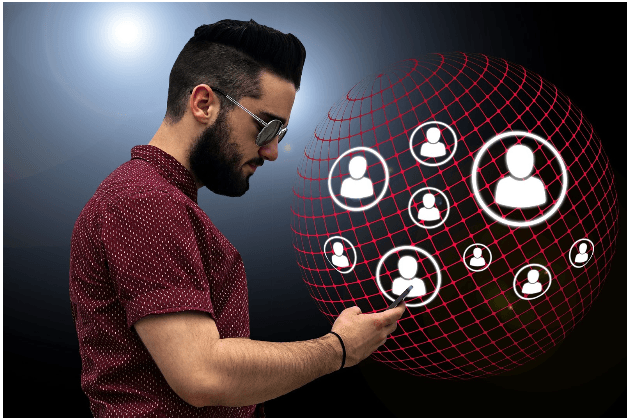 Social intelligence.
Do you know what the term references?
Social intelligence is the ability to understand yourself and others.
Guest author Kristen Smith makes the case that in order to be a better marketer, you need to have a vast knowledge of your target audience. In order to make her case, she cites a theory by a renowned psychologist and a science journalist.
By the time you're done reading this post, you'll know how to use social intelligence to build better brand awareness and how to be a better social media marketer.
Social Intelligence Leads to a Better Social Marketing Strategy
Kristen Smith
Did you know all human beings are designed to socialize?
In the olden days, it was through face to face interactions and in this modern age, it is over the internet using the various social media platforms.
However, according to studies, it is seen that even in this modern digital age more than 42% of people still prefer interaction in-person. This obviously trumps many different forms of technological connections such as:
Texting
Social media and
Email.
No matter how digitalized people have become and become used to, the inherent desire to interact with each other still remains and will always remain.
In this modern world of interactive business, a major role is played by 'social intelligence.' This helps in engaging and interacting more effectively and efficiently.
About social intelligence
Social intelligence is typically a term that was first coined by Edward Thorndike, a psychologist, in 1920. It was his opinion that when a person improves his or her social intelligence, it will benefit them in many different ways.
Surprisingly, it also helps in developing and creating a better social marketing strategy. Expert social media marketers and agencies such as Blastup makes the best use of social intelligence and puts it into the marketing strategies that help them to produce the best outcome from the social media marketing strategies just as desired.
Initially, Edward defined social intelligence as "the ability of a person to converse, understand and manage other people." It involves everything about engaging in more adaptive social interactions.
However, over time, Edward's definition was slightly tweaked and in 1987 social psychologists John Kihlstrom and Nancy Cantor came up with a revised definition. It referred to social intelligence as "the fund of knowledge of any individual about the social world."
No matter whichever definition you prefer, social intelligence typically boils down to knowing a person by another person. It involves the self and others. It also includes:
Being able to relate with each other
Being able to build relationships with people and
Being able to navigate different social situations.
A science of human relationship
It is actually a science of human relationship which is rightfully explained by science journalist Daniel Golemanin his book, "Social Intelligence: The New Science of Human Relationships." A lot of examples are available in his book that explains how the human brain is designed to create and optimize relationships.
It is said in the book that human brains contain a lot of spindle cells as compared to any other species. This is actually a neuron that helps in socializing.
The book also says that there are lots of mirror neurons in the human brain that are triggered when a person observes another person performing a specific action.
The mirror neurons help people to understand the actions performed by others and even compels them to imitate those specific actions subconsciously.
The bottom line regarding social intelligence is that human beings being inherently social creatures need to master social intelligence to help them act or interact in fact more fluidly and confidently. This will eventually help them to build meaningful relationships with other people.
Social Intelligence Improves Social Media Marketing
The specific decisions influence
Social intelligence can influence a few specific decisions with its key components. These decisions include:
Understanding others
Relating with others in action or opinions and
Applying these facts and information into social media marketing.
Social Intelligence Improves Brand Awareness
Social intelligence is especially helpful for businesses when they need to create better brand awareness. It helps them to understand a lot of things such as:
Their own vision
Their mission
Their customers
Their competitors
Their core benefits
The market they operate in and
Their differentiators internally.
What knowledge do you need?
All these facts and knowledge result in a better marketing output as it gives the businesses to be in touch with their customer base constantly and that too on a more granular level. They can come to know about the different aspects of their customers that influence their buying decision such as:
Their individual personalities
Hobbies
Interests
Buying preferences
Likes and dislikes and so on.
Social Intelligence Improves Your Marketing Effectiveness
Additionally, social intelligence can make the business owners aware of the friction points if any in their social marketing strategy that may disrupt the customer's buying journey. Accordingly, the business owner can make the necessary adjustments to the different elements and modules of their marketing strategies that involve:
The sales model
The branding and its strategies
The advertising methods and contents as well as
Their entire marketing approach.
All these can be done according to the needs and preferences of the customers that eventually help them to deliver them the solutions and services just as they want. This, ideally, is the primary objective of all business marketers that social media platforms as their resource and launching platform.
Ensure brand success
Social intelligence ensures brand success on social media. it is for this simple reason that it is found that:
More than 90% of social media users successfully and effectively communicate with businesses of their preference through this useful medium and
63% of people expect the brands to offer them customer service through the different available social media platforms.
It is extremely critical to be socially adept especially when it comes to business marketing. This will help in getting engaged with the customers more easily using social media channels.
The experts say that this is because the business owners will be better enabled to anticipate the needs of their customers and address their concerns by providing exceptional and on-time customer service through these social channels.
Apart from providing outstanding customer service social intelligence of the business owners will also help them in a great deal to generate successfully and interact more effectively with their leads.
It will help them to capitalize on their sales opportunities just at the right time as it will help them to detect changes in the lead status of the prospects immediately.
More specifically, social intelligence will help the businesses to use web data integration solution that will help them to streamline the entire process of social media marketing and always stay current on the lead status of each prospect with competitive analysis.
Author Bio –
Kristen Smith has been working on the importance of social media in marketing with thousands of real Instagram followers for her postings. You can visit Blastup for more information.
Readers, please share so marketers discover the benefits of social intelligence.