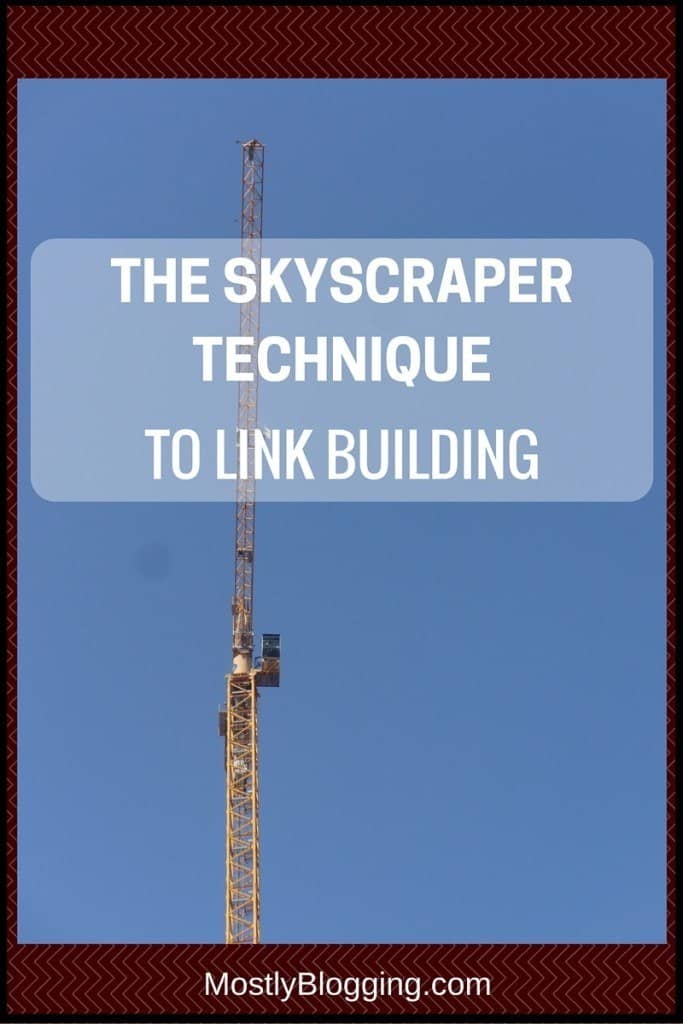 Are you a walking dictionary?
You shouldn't have to be a walking dictionary to be able to blog successfully.
However, in order to succeed at SEO, it would be helpful to know and act on your knowledge of blogging terms.
Are you aware two of the terms are white hat and black hat SEO?
Have you ever heard of dofollow and nofollow links?
Are you familiar with the Skyscraper Technique?
Fortunately, my guest author, SEO expert Robin Khokar, is here to help me explain those terms, so you can increase your page ranking.
Brian Dean came up with the Skyscraper Technique in blogging. It involves link building in order to increase your SEO.
When I first heard about it, I was excited. I could build links to the metaphorical sky if it would improve my search engine ranking, and I could explain to my readers how to use the Skyscraper Technique to improve their search engine results.
Look at an excerpt from an Email that greeted me at the beginning of this year:
I hope you had a great holiday season! My name is Charles Bodner and I am reaching out to you on behalf of AWeber. We would like to thank you for mentioning AWeber in your article titled "How to Easily Install a Click to Tweet in a Welcome Email".
We are reaching out today to ask for your help. In order to help your readers access our resources, we ask if you can link back to AWeber in your article… We would greatly appreciate it. It will really help us out.
Kind Regards,
Charles Bodner
My reaction to this was surprise. Aweber, the most famous Email service on the planet, wanted a link from me?
Clearly, it is important to have links into your site.
Blogger Harleena Singh admits, "We cannot ignore the reality that links are so important and valuable in today's blogosphere."
Sounds doable? Guess again. Google is way ahead of us. They actually have "no follow links" just so people can't improve their SEO by getting links into their site.
The KimSixFix blog likens "nofollow links" to "sucking out the Google juice." She explains the reason Google started "nofollow" links. Apparently, spam was filtering into search engine results.
Now, Google ranks your site based on the quality of the links and not just the number.
How are you going to be able to implement the Skyscraper technique to improve your search engine ranking (or, to use the new term– improve your page authority) if Google sucks the juice out of links into your site?
Robin, take it away.
Nofollow vs. Dofollow Links
When it comes to search engine optimization, there are many terms which must be used like dofollow, nofollow, noindex, doindex, meta tags, meta robots and many others. These terms really play an important role for better results in the SERPS [Search Engine Results Pages].
In this post, with the best of my efforts, I will explain the dofollow and nofollow links. It has been four years that I am in the field of SEO, but each day, I learn new things and try to share with everyone. The nofollow and dofollow links are really an essential part of SEO (link building), and it's really important to learn about these terms to up-rank in the SERPs.
An anchor tag is used as an HTML which makes links. But the attribute values instruct the search engines bots which link to follow and not to follow and also decides which link is dofollow and nofollow.
Difference between the Nofollow and Dofollow links
The nofollow link is not indexed by search engines and passes no link juice. But nofollow links are the best source of referral traffic. The nofollow are used to control over spam, and it also saves you from Google penalties. It is recommended by many SEO experts to use a combination of dofollow and nofollow links together to get best results.
Here is the example of Nofollow Link:
<a href="http://www.google.com/" rel="nofollow">Google</a>
Dofollow links are followed by all the search engines providing the webmasters quality links and also passing the link juice. The dofollow link is followed by both bots and humans. They are responsible for the reputation of a website and ranking the websites in the SERPs. You can say that more the dofollow links point to your site, the more chances are there for your site to rank on the first pages of Google.
Also, see the example of a dofollow link:
<a href="http://www.google.com/">Google</a>
Almost all the CMS Content Management System) by default have dofollow links enabled or are coded like that only. If you are using any CMS like WordPess, Magento, Blogger, Pligg or any other, then there are some settings which can be done to make the links nofollow.
Do nofollow links still have value?
Google said that they still count on nofollow links as a distribution to the page rank of your page. When we do link building, if Google finds all the links pointing to our sites are dofollow. then Google might think that you are spamming. But if we use both nofollow and dofollow links, then there are very fewer chances of getting a penalty and being accused of spamming.
However, nofollow links have helped me to get much more traffic than expected. Although they are not counted by Google, they are extremely helpful.
Types of Nofollow Links
   

Robots Meta Tag

: <meta name="robots" content="nofollow" />
The robots meta tag allows the search engines to not to follow the links on the full page. In short, all the links become nofollow.
   

Link Attribute

: <a href="http://www.google.com" rel="nofollow">
This tag is used for some particular links. Sometimes we don't want to give a dofollow link to either  a site or blog, for some reason. Then, we use this link attribute "rel="nofollow"".
If you still have any question about nofollow or dofollow links, please let us know by leaving comments.
Admin Blogger's Commentary:
While it is true that you need links from sites to boost your SEO, they should be from relevant, quality sites. Alexa.com is useful for knowing if a URL is a quality site. The lower the Alexa score, the better.
How to Get Quality Do Follow Links Into Your Site
Enstine Muki explains one easy way to get do follow links from sites is by commenting on their blogs. However, he proposes two conditions must be in place: the blog must have CommentLuv Premium on it and be in your niche. Busy bloggers might express concern that they just don't have time to do one more thing like link build, but successful bloggers network by commenting on other blogs routinely.
Neil Patel suggests actually selling your graphics in exchange for, not money, but links into your site when people give you credit for your photos.
Using Email outreach, ask people to link to you. Aweber asked me, and I agreed.
Guest post for a blog in your niche. Ask for a dofollow link back to your blog in your bio.
Ask if you can supply an infographic that would supplement a blogger's post. If they are in your niche, and they have an article your infographic would be a nice companion to, they might say yes.
Add a browser extension that shows you whose links are nofollow and dofollow.
Guest author Robin Khokar recommends getting a link from Inbound.
Create great content! Bloggers exclaim, "Content is king!" for a reason. Create great content, and then people will want to link to you.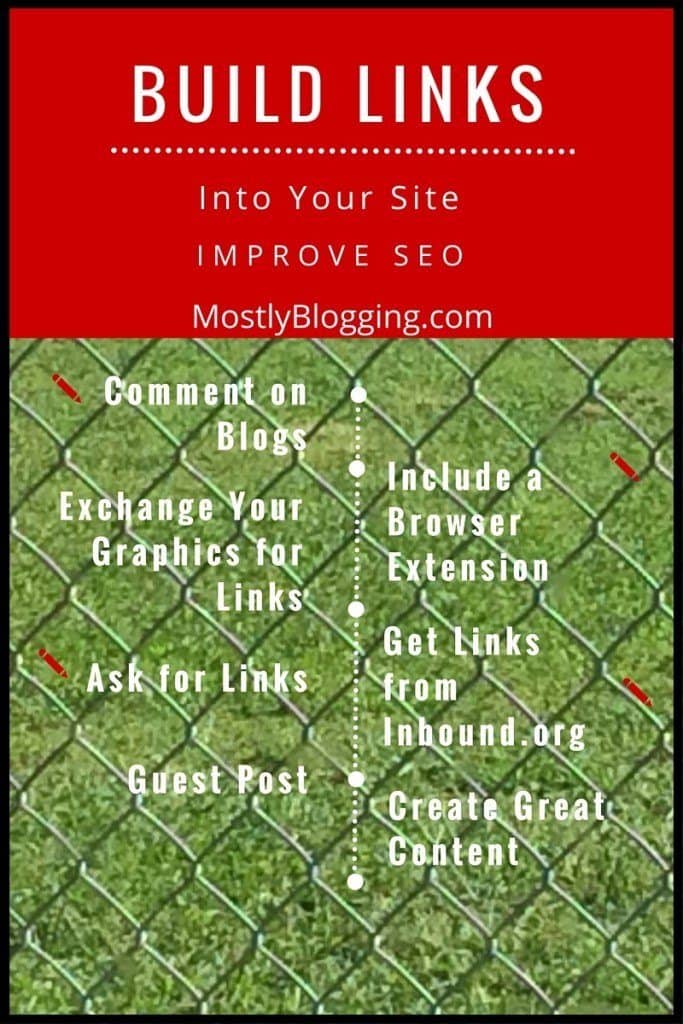 Conclusion
When bloggers link to your site, they are doing you an enormous favor. They are increasing your exposure to new readers. If they write a nice blurb about your post, they are giving you exposure as well. Now you know they are also helping you build links into your site which will boost your SEO.
I always thank bloggers who link to me for thinking of me while composing their posts, and I recommend you do too. Perhaps they will repeat the gesture.
Readers, please share, so other bloggers and site creators know how to boost their SEO by building links into their sites.
Had you ever heard of the Skyscraper technique? Were you familiar with dofollow and nofollow links before reading this post? Do you think you will try link building? I look forward to your views.
After commenting, go show our guest Robin Khokar some blog love and visit his site.
Related Posts and Pages:
#1 Secret Tip that Will Make You See More Search Engine Traffic
How to Get the Kind of Blog Traffic You Want with Reddit (Only the first link from Reddit is a no follow link.)
17 Reasons High Page Views Should Make you Panic (See Update)
How to Increase Blog Traffic Like an SEO Expert
Link Exchange (You will find bloggers within your niche in this group. If you have subscribed to this blog and would like to join the Link Exchange, please leave a comment in the comments section.)What
What is Backlinking, and How to Do It