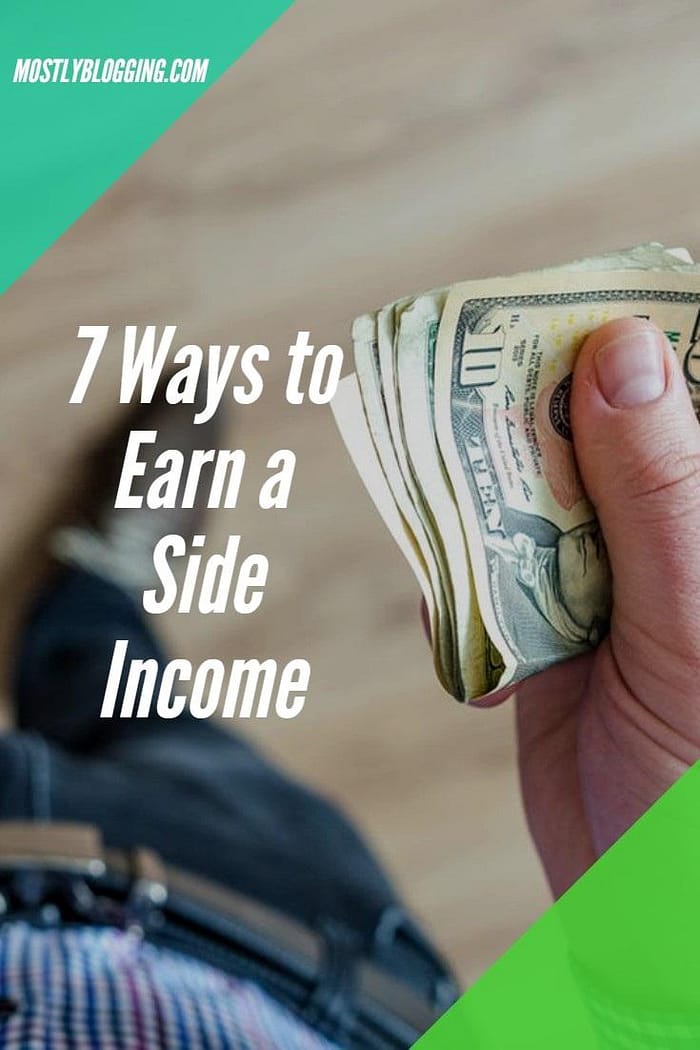 Are you looking for side income ideas?
With the holidays upon us, I'm sure many people are.
Today's guest author Codrin Arsene describes 7 side income ideas you can use to generate a side income.
Furthermore, he goes as far as to predict you could ultimately use them to earn a full-time income and live without a job from 9 to 5.
Side Income Ideas: 7+ Super Easy Ways To Make Money Online
There are so many ways to make money online. Many people dream about doing it for many reasons, such as to have more control of their time or to become the next big entrepreneur.
But what these people don't realize is that it's not as farfetched as it seems – and it's not too complicated either.
While at first, you may be using this list to generate a side income, you may not be making the big bucks straight away, it may not be too long until you can support yourself full-time. As long as you're willing to put the work in and be patient during the slow times, there's no reason why this cannot happen.
If you're looking to get the ball rolling as soon as possible, here are 7 super easy ways to make money online.
Let's start learning about side income ideas. Be sure to stick around for the Bonus Tip.
1. Google Adsense
Google ads are everywhere. They are very easy to set up on a website but can make you lots of money when you start generating traffic.
All you need to do is create a website (if you haven't got one already) and sign up for a Google Adsense account. It's a free service and once you've created your account, you get a unique code to post on your website. Google then takes care of the rest. They will track your website's traffic and how much you'll earn.
If you have a website, there's no reason why you shouldn't have Adsense. Since there's no maintenance required, you can focus on growing your brand.
[
Related Reading: How to Make Money with Adsense
]
2. Affiliate Marketing
Affiliate marketing is another easy way to make money online. This involves partnering with an established brand within your own website content. Lucian Marinescu, a partner at Online Casino Gems, describes how this process works:
"First of all, you must sign up to become an affiliate. One approved, usually, you get given a unique affiliate code that links to that brand's product or service. Then, any time someone buys that product through your link, you get paid."
Now, it's important that you become an affiliate of a brand that is related to your blog, otherwise, the products you're linking too will look unnatural. For example, if you were partnered with a casino affiliate business, your content should be casino or gambling related.
[
Related Reading: WebTalk Review: How to Make Money with This Pay Per Lead Site
]
3. Online Courses
This next easy way to make money online focuses on using your existing skills and teaching them to others. The eLearning market is forecasted to grow to $320 billion by 2025. This next easy way to make money online focuses on using your existing skills and teaching them to others.  People sign up for tons of online courses, whether it's how to design a website, cooking to get in shape or even how to make more fulfilling relationships.
Whatever skills you have, people will pay you to help them. You can use platforms like Teachable to upload your materials and manage your payments. Udemy is another popular platform for online courses and gets lots of traffic so you have a good chance of getting your course noticed.
Set up previews, in other words, show what they can expect from your course. If people like what they read, they'll buy, and that means more money for you.
[Host blogger's comments: My business partner and I host Mostly Blogging Academy on this site. We use the Woo Commerce platform. Here is more information about how you can create an online course using WooCommerce.]
4. Consulting
Consulting falls under the same umbrella as online courses, but if you're an expert in a certain field or niche, this can be a very lucrative way to make money online. Big companies are willing to pay consultants big bucks to help take them to the next level. Services can range from getting more clients from Facebook ads to showing small businesses how to find their next location.
If this sounds like something you can do, head over to Clarity.fm. Here, you can set up a free consulting profile where people can find you and hire you for your services.
5. Freelance Writing
If you enjoy writing or you have a lot of creative talent, you can get paid to write and prepare online content. You can start this alongside your full-time job to bring in some extra cash. Over time, you can increase your rates and eventually quit your job to write for a living. Platforms like Freelancer and Upwork are great places to start your journey.
The key to being a successful freelance writer is knowing what you're good at writing, finding businesses that will hire you and always delivering high-quality content. If you can keep those hiring you happy, you'll continually be provided with more than enough work.
After all, if the content you prepare is great, it's going to help them attain clients for themselves, not only increasing the size of their wallets but yours also.
[Related Reading: How to Make Money with Fiverr and Fiverr Alternatives]
6. Sponsored Posts
For those of you with a large following on social media, businesses will pay you to access them via sponsored posts or ads. Essentially, it's asking you to promote their product or service. So, if your website gets lots of regular engagement, be prepared to cash in.
Bloggers and social media influencers with large dedicated followings can charge thousands of dollars per sponsored post, and businesses will pay as they understand how valuable this can be for their business.
You can get sponsorships even if you don't have a website too. Your Instagram account is valuable to sponsors and will pay you for a post or tag. They may also send you some free stuff in exchange for a post.
7. Lead Generation
The final easy way to make money online is through lead generation. All you need to do is set up a website, generate traffic to it, and collect leads that businesses will pay for. There are many different industries that generate millions of leads so you must decide where to begin.
The best practice is to start with a niche you know a lot about, or learn about one that you know has a lot of potential.
From here, lead buyers want the personal information of those interested in the products or services on your website. In exchange for this information, they will pay you, resulting in a win-win for both everyone; you get paid, the client gets the leads and the customers get the product or service they wanted in the first place.
8. Bonus Tip: Rent Your Equipment
Earning money by renting your gear is super easy. We usually have some gear or equipment in our house that we barely use.
Like one wheel, snowboard, camera body or lens, cycle, drones, snowboard, skateboard, etc. We can rent them when we do not need them.
Sites like FriendwithA give us this great opportunity. We can also borrow gear rather than buying them and can save money. Maybe we need a specific camera lens for a day or two. So instead of buying it, we can just borrow it for one or two days. This will cost a few bucks.
Wrapping Up: Side Income Ideas
Readers, please share these side income ideas so people who want to make money blogging discover these tips.
I look forward to your views in the comments section. Have you tried any of these side income ideas? Are they lucrative?
Author: Codrin Arsene
This post was made possible by the support of our readers.
Related Reading
You can also make money by monetizing your landing pages.