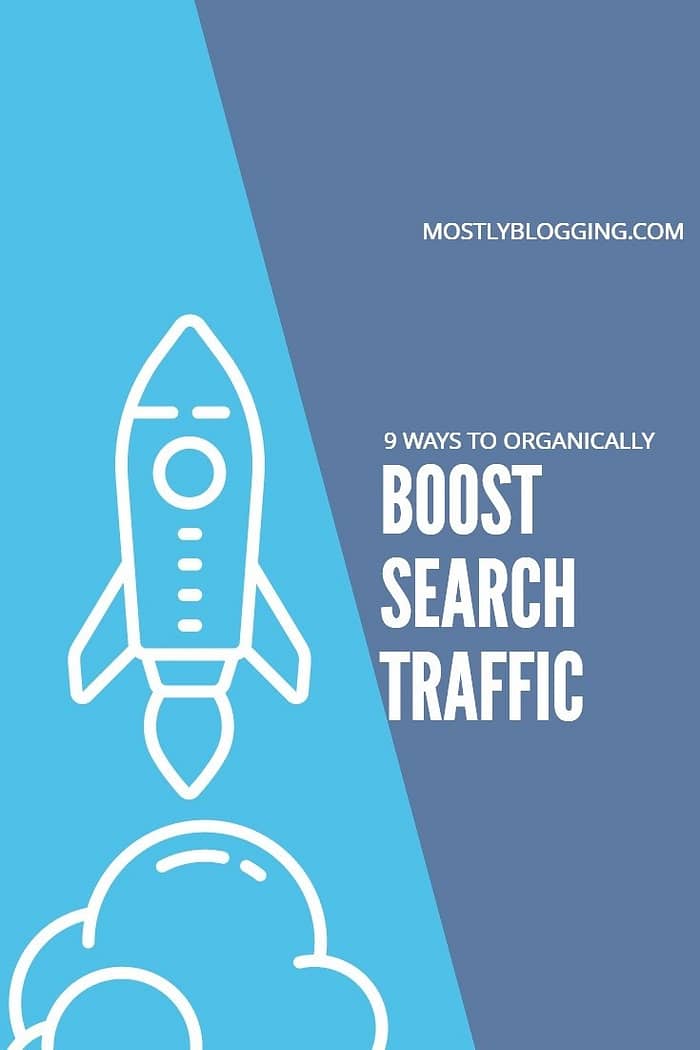 Do you need an SEO traffic generator?
You do if you are struggling to boost your search engine traffic.
Guest author Enstine Muki offers 9 organic strategies you can use to easily boost your search engine traffic in 2020.
Following his actionable methods is crucial since readership on the internet gets more competitive as time goes on.
SEO Traffic Generator: More Search Engine Traffic to Your Website
The term SEO traffic generator is fast becoming more and more popular. This is because SEO traffic is irreplaceable. There are other sources of traffic however but search engines have proven to be the most reliable source of traffic that converts.

In the early days of the web, SEO traffic was just a few clicks away. With a bit of article marketing effort, Google was going to send massive traffic your way. These were the days of keyword stuffing, backlink manipulations, article spinning, etc.

But a lot has moved. SEO has become so tough. Google and other search engines have grown so intelligent that tricking them is like crossing the ocean on foot.

Google updates are kicking defaulters off their SERPS (Search Engine Results Pages), keeping them snatching their teeth. Marketers are obliged to abide by the rules of the search engine game. Doing what Google loves is giving your website a chance to rank and pull traffic.

What is an SEO traffic generator?

If you have signed up for any platform aimed at generating SEO traffic, my candid advice is to quit immediately.
That's because no software can cause Google to send traffic your way.
Search engines know what to look for and they know what their users want. They are able to connect search intent to the most relevant content that will satisfy the searcher.

If you are considering Google as an SEO traffic generator, you must be able to make it work for you by following SEO best practices and taking them to their depth.
Let's have a quick look at some of these simple steps of SEO traffic generation.
SEO Traffic Generator: How to Organically Boost Page Views
Keyword research

Keyword research is the beginning of creating content that drives natural traffic. I have however come across marketers who believe in creating great content without prior keyword research. I do agree with them but the truth is there's no search action without the keyword.

If you composed a piece of content that drives traffic from Google, it must be ranking for a specific keyword. Doing some keyword research and optimizing the article will surely boost it for more exposure.

There are two main points when it comes to keyword research:
The keyword popularity, focusing on search volume.
The keyword competition, focusing on how hard it is to rank for it.
These two points put together will help you with whether or not to focus on a certain keyword. Getting the keyword is one thing. Creating content that ranks for it is another thing.
[Related: Keyword insanity stops with the recently launched Mostly Blogging Academy Keyword Research Insanity course. For more information, click here. Note: Spaces are limited.]

This brings us to the next point.
Keyword optimization is dead

Keyword optimization is the act of strategically placing your keywords in an article, trying to let Google believe your article is best and should be ranked on top of the SERPs for the searcher using the keyword.

Generally, you would have to place the keyword in your article title, permalink, introduction, headings, body text, image alt tag, and content conclusion.

This worked in the early days of web search and was easy to manipulate. But as search intelligence grows, we've come to understand that keyword occurrence in an article doesn't mean the article has the best information.

Google uses keywords to contextualize your content. But how much you cover the topic tells Google where to drop your article in the SERPs. This is referred to as Semantic SEO where the topic has become the new keyword.

Semantic optimization is the act of creating content to answer the question of the searcher. It tries to understand the intent of a keyword and provides the best, most relevant and in-depth information that does not allow the searcher to go elsewhere for more.

Long-form content isn't always in-depth. Avoid using irrelevant words just to fill the gaps. The best approach to creating a semantic piece of content is to try as much as possible to answer all possible questions related to that keyword's topic.

Here is an example…

If someone is searching for the "best hotels in texas", there are many questions that pop up to the mind:
What does he mean by best?
Is it in terms of customer service?
Is it in terms of security?
What about room facilities?
Is he referring to price?
Is it accessibility?
Is it the food quality or variation?
Etc.
Now, if you go on creating content with the keyword sprinkled in it without elaborating on some of these areas, Google may think you are joking.

A writer who goes on to add some materials about Texas Government, Touristic sites, etc. on a list of Top Interesting Hotels in Texas may win the first position in the Search Engine Results Pages.

Here is another crazy example:

Did you notice that none of these first three entries on page #1 of Google was optimized for the keyword "how to do seo"? How come they are ranking high for it? The answer is topical optimization.

Backlinks

This is perhaps the biggest off-page ranking factor. Off-page because it all happens off your blog. Once other webmasters link to your website from theirs, Google will begin seeing your site as important and improving its ranking.

There are generally two types of backlinks and all are required for your rank improvement:
Dofollow backlinks
Nofollow backlinks
Dofollow backlinks are default links telling search spiders to transfer link juice to your website. This is widely believed to be the better phase of SEO backlinks.

A dofollow link looks like this:

<a href="https://somelinkhere.com/link.html">link anchor here</a>

Nofollow backlinks are believed to have little or no ranking impact. As a matter of fact, adding the nofollow tag to a link stops search engine spiders for transferring link juice to the linked page.

However, as of 1st of March 2020, according to a Google update in September 2019, the nofollow attribute will become an indexing and ranking hint. That means each time used, Google may choose to ignore it and crawl the link.

A nofollow link looks like this:

<a href="https://somelinkhere.com/link.html" rel="nofollow">link anchor here</a>

Technical SEO

Technical SEO is simply the technical aspects of your website that do not stop search spiders from crawling, indexing and ranking your pages.

These areas are your site's load speed (affected by graphics and images, database calls, external javascript and CSS file calls, server optimization, etc.), URL structure, navigation and site structure, mobile-friendliness, etc.

The truth is SEO is becoming more and more complex. That's why many marketers prefer outsourcing to SEO companies. That notwithstanding, you can always follow the best practices and see results.

Other sources of traffic

Now, you cannot rely on an organic SEO traffic generator for all of your traffic. Many website owners, however, make these priorities given the sales and profit they generate. Let me quickly touch on some other sources of traffic you may want to work on.

Email signatures

This is one of the most underlooked sources of website traffic. However, for years, I have seen clicks to my website coming from html enabled signatures within my personal and business emails.

In those early days of email, the problem often was how to create email signatures with links. Today this is easy with messaging applications (web or standalone) giving users a quick facility to add a rich signature to all outgoing messages:

For my Gmail address (Gmail is a very popular free/enterprise email service), I use a free email signature app that works great for me.

Your email signature may contain your name, job title, telephone numbers, social media links and of course your website/blog link. Note however that an overstuffed signature may end up not serving its purpose.
[
Host blogger's comment:
I am a fan of
NewOldStamp's email signature
which costs a small fee.]
Email list

A well-built email list is an exciting source of traffic. Each time I send a new post email alert to my list, there is often a spike in traffic. Email Marketing is a full topic I won't cover in this post.
Here are some 4 reasons building an email list is more important than ever before:

Social media

There is no way to dismiss the fact that Social Media is a huge source of web traffic in 2020 and beyond. But you must do it the right way. That's why I recommend these 4 Social Media Marketing Tips to Drive More Traffic in 2020.

Other little-known ways to drive traffic

There are still countless ways to drive traffic to your blog. While relying on an organic SEO traffic generator, you should not neglect some of these hidden methods.

Business cards, for example, maybe considered old school but they are still effective. Giving out 1000 copies means a potential of having 1000 people check your website anytime.

Have your website printed on calendars, brothers, billboards, T-shirts, etc.
[
Host blogger's comments:
The
Designhill Graphic Design
Company will print your website on merchandise for you.]
Wrapping Up: SEO Traffic Generator
Host blogger's comments:
Online content creators are often so desperate to boost their SEO they rely on paid forms of traffic generation.
This results in a loss of money and often a descent into Black Hat SEO.
In this post, Enstine successfully makes the point that none of this is necessary.
You can use the 9 strategies he offered. His actionable list of methods provides you with the perfect SEO traffic generator.
Readers, please share so other search engine marketers discover these actionable hacks and can use them as their own SEO traffic generator checklist.
I look forward to your views in the comment section: Do you have any suggestions? Are there any other actionable tips that should be added to an effective organic SEO traffic generator?
Author Bio: Enstine Muki is a Full Time Blogger/Certified Cryptocurrency Expert who specializes in SEO Marketing, Content Marketing, Blogging Tips, and WordPress Tips