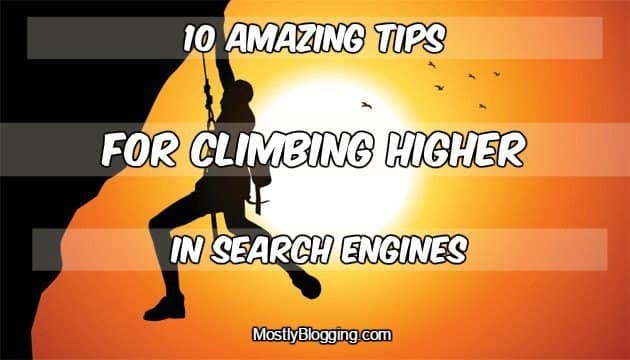 10 Amazing Tips to Improve the SEO of Your Site
by Hemant Kumar
So you have a blog, that's amazing :D.
Of course, you must be trying your best to rank your blog on the top of search engines like Google etc.
And you know that to rank you blog on search engines you have to improve the SEO of your blog. That's why you are here ☺
So today in this post, I'm here to tell you some useful SEO strategies on how to increase Google ranking for free, so just keep calm and read this post till the very end and I'm sure it will not let you down.
So let's directly come to the point:
Just follow the tips below to get better Google search results quickly:
Don't write any content if you don't have much time because if you are writing just a short content like about 400-500 words then don't even write because you have to write deep content. Long-form content ranks higher on search engines more than posts with short content.
You can do a quick search now, just go to Google and search anything. You can see that the top ranking contents have more than 1000-2000 words (I'm not talking about 100% of top ranking posts but most of them).
The main motto is to keep that visitor on your site as long as you can, the visitor should not leave your site instantly. So to make this sure you have to write interesting posts and attention grabbing images also.  
But this doesn't mean that you just have to write content about 2500-3000 words and that's all, you will have to write a useful content which can help people. If you write boring content, then no one will read it.
Write to help the kid out there who is searching for his problems and if you are able to help him through your content then you are writing a good article. Just keep writing and you will get your results soon. ☺
[Read: 15 Guaranteed Ways to Make Your Bounce Rate Look Amazing]
Publish content uniformly
It's good to publish content on your website but try to publish your content uniformly.
If you are posting any post non-uniformly, then it will not help that much to improve Google search results for your site. Avoid these weak SEO techniques. So fix some days in a week on which you can publish your content. For example, I publish content on every Tuesday and Friday. This will help your site a lot to rank on the top of search engines.
Do proper Keyword Research
Make sure to do keyword research like a professional. You should use online long-tail keyword tools like Google keyword planner tool to find long-tail keywords.
Try to get some long tail keywords, again use some long tail keyword proving tools like Longtailpro etc.
Now once you have a list of proper keywords, use them in your content as much as you can. But don't overload your content with keywords because it can harm your site.  
You should write SEO-friendly content with these keywords.

Use keywords in your permalink

Use keywords in subheadings like h2,h3 tags.

Use keywords in the meta description.

Use keywords in image alt tag and name also.
Try to Bold, Italic, or Underline your keywords.  
That's all. If you follow the above SEO techniques, then your post is fully SEO-optimized:-D.
[Read: 4 Ways You Can Improve Your Keywords & See a Big Surge of Traffic]
Don't make backlinks for your website if they are not quality backlinks. Quality backlinks are one of the awesome SEO techniques that will boost the SEO of your site.
Don't forget that bad links will harm your site and will drop the ranking of your site.
For God's sake, don't even try to use any tool to create backlinks because all these backlink generator tools will boost spam score of your site instead of SEO.
Try to get backlinks on keywords, these are more powerful than any simply written link like http://www…..
Optimize the loading speed of your site
Ranking of your site directly depends on the loading speed of your site. If your site is taking too much time in loading, then it will drop down your SEO. No one has that much time and patience because they have lots of more options on the internet other than your site.
There are so many ways to improve your page loading speed instantly like by disabling the cache of your site and by optimizing the images of your site.  You can search on Google and learn a lot on this.
We all know how many images are necessary for our post. A post without images really sounds boring. We should add quality images in our post but don't use big size images.
Compress your images before uploading it. There are lots of image compression tools available on the internet. You can use them like Compression.io ☺
And the most important is that make sure to use ALT tags with the name of your image your keyword.
Use keywords in the name and alt tags of your images. This will help your image to rank high on Google.
Please try your best to make your content interesting, not boring.
Break your content into paragraphs. Use proper heading tags while making new subheadings. For example, write a few headings with h2 tags and a few with h3 tags.
Make sure to use keywords in your subheadings.  Try to use long tail keywords in your h2 and h3 subheadings.
Check the readability of your content with free readability checker tools like the readability test tool.
If your content readability is higher, then it will rank higher and the reader will read it fully, but if your content is having lots of grammatical errors then no one will read it and leave your site instantly.
So make sure to write your post easy to read and don't ignore the readability score of your post.
Internal linking is also important like external linking is, but many bloggers ignore internal linking. They don't know the power of internal linking. Add links to your previous posts in your new post with keywords. This will connect your website pages more dynamically and will help your site to rank better on search engines.  
As must have heard about mobile friendly or responsive:
Make sure to make your website mobile friendly.
But if you are not a good enough coder to code a site, then you should choose a free responsive template and use that instead of a nonresponsive template. This will really help your blog to increase your SEO ranking for free.
That's all for today ☺
Now you have successfully learned how to increase your Google ranking for free and how to improve the SEO of your website, but if you are still having any doubts with SEO techniques, then please feel free to comment below. It will be my honor to help you out. ☺
Thank you ☺
Author Bio– This post was written by Hemant Kumar, Founder of LetsTrick. If you are a blogger and want to earn money online, then you should check out his blog. I'm sure he will not let you down. You should read his guide to creating quality backlinks.
Photo Credit: http://abhinavpmp.com/tag/motivation/
Readers, please share so other bloggers and website creators know how to improve their site's visibility.
What was your opinion of Hemant's SEO techniques? Are you already following some of these tips? Do you feel they are improving your search engine traffic? Is there any part of his SEO techniques you plan on implementing? I look forward to your views in the comments section.