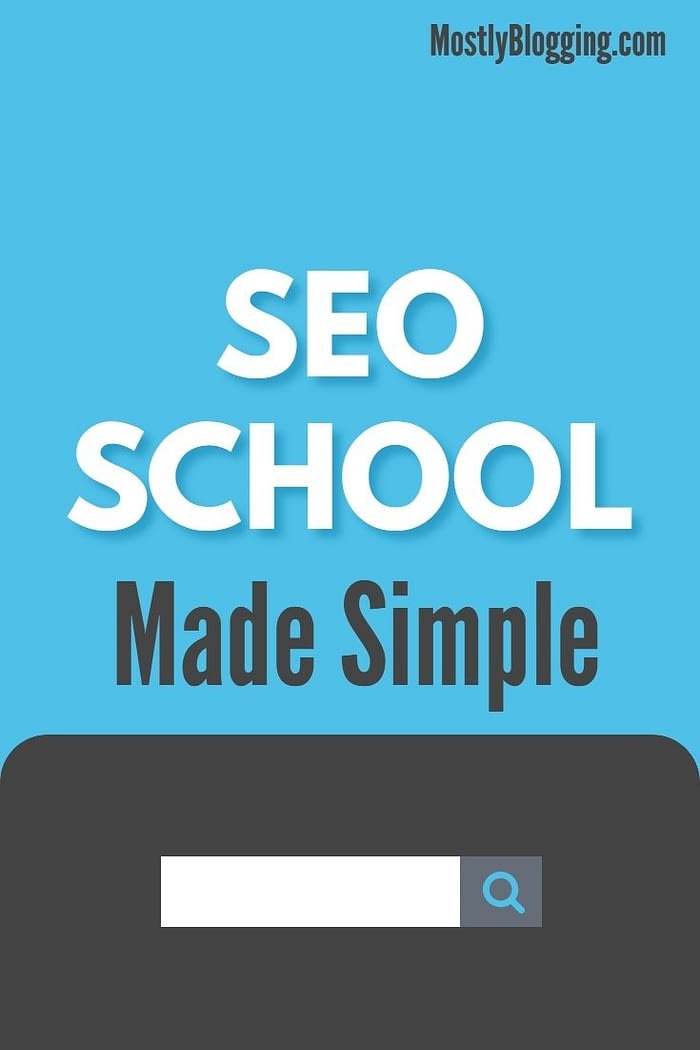 Welcome to SEO school.
Are you struggling to boost your SEO?
If your stats are stuck experiencing a plateau, this post is for you.
If your stats dropped, this post is also for you.
You need SEO school.
My SEO increased so much in 2018, I was asked to speak about my SEO methods.
Then, my SEO fell.
Can you relate?
This post will explain how I boosted my SEO.
Today, my search engine traffic is higher than it was in 2018 when I was asked to speak about my methods.
This post will share empirical evidence that these strategies will effectively boost your SEO.
By following the methods shared in this post, you can boost your SEO and get more traffic from search engines too.
Let's begin.
Consider this comment from DazzleWhileFrazzled:
"As a newbie blogger experiencing the first summer traffic slowdown, it's been hard not to take this personally and feel utterly discouraged."
Lessons from SEO School
When my SEO fell at the beginning of 2019, I spent the month of February going into action:
Lesson 1: Link Building
I use SpyFu.com to tell me which posts need boosting.

I linked to my posts Spyfu said fell off Page 1 of Google.
I updated those posts with additional content and improved the formatting.
I put in new graphics.
I retagged the posts removing vague tags and replacing them with high-search, low-competition relevant tags.
I went to Google Search Console to see if I had a Google penalty.
I went back to using my old SEO keyword tool, KWFinder.
I made sure my site was fast by checking the speed at GTMetrix. The plan for speeding up my site included building a faster-loading theme.

These disappointing stats are from Ubersuggest.com in January of 2019. As you see, my SEO grew increasingly worse.
After following the tips in this post, look what I saw in April of 2019: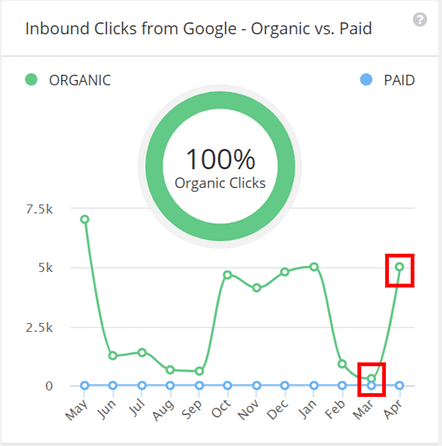 After flatlining in March, seeing my organic traffic go back up in April felt great to see.
And again in July!
Lesson 2: Content Reoptimization
When it comes to your content, update, update, update if you want to see your SEO rise.
Content optimization is the process of making sure content is written so that it can reach the largest possible target audience.
"Reoptimize content" means to make your content better.
There are many ways to reoptimize your content.
This post will share three methods.
How to update already published content:
Method 1: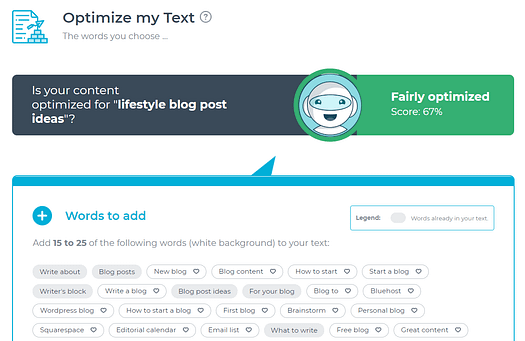 Use TextOptimizer.
TextOptimizer is a helpful tool.
This site will tell you how optimized your post is and suggest new content you can add to your post.
Talk about a time-saving tip! TextOptimizer will tell you what content to add to your article to help it rank better on search engines if it didn't rank well after publication.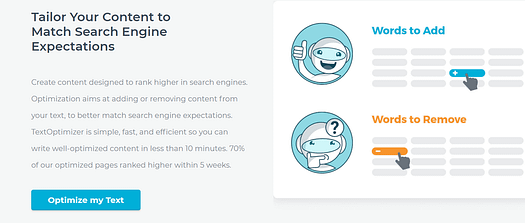 Don't be concerned that you might have already included that content. TextOptimizer color codes the content so you know what you've already added and what you still need to add.
I've used TextOptimizer. Did it boost my search engine rankings? Yes!
At the time of this writing, the amazing TextOptimizer is a free tool.
Use Google Search Engine Console:
Go to https://search.google.com/search-console.
Click on Search Results.
Click on Pages.
Click on Impressions.
Click on your post with a 1% click-through rate (CTR) or less.
Click Queries.
Add the keywords you see on the list to your post. You can add the keywords to your text, your meta description, your title, tag, or the tags.
Related Reading: How to Get to the Top of Google with a Free Spy Tool, 9 Ways
Method 3:
Use SERPRobot.
SERPRobot tells you what position in Google's Search Engine Results Pages (SERPs) your posts are for various keywords.
In late April of 2019, I saw my post about Instagram Quote Makers was in position 12 at the top of Page 2.
With 1300 page views per month riding on it, I updated the post and inserted information about a new Instagram Quote Maker I'd discovered since publication. I put the word "update" all in capitals with the date so Google would know it was fresh material.
I hoped my post would move up to Page 1. It only needed a little nudge to be there.
After reoptimizing the content, I asked John, my Reddit buddy, to put the post on Reddit. He did.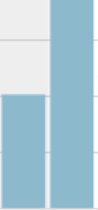 Soon after, Google Analytics showed my SEO was improving.
Related: Here you will find a SERPRobot tutorial.
Lesson 3: Fix Technical Problems
Check to see if you have technical problems.
Lesson 1: Ask your host for help.
My host: The robots.txt is now created, and the website works smoothly without any difficulties.
Janice Wald: Am I understanding you correctly: This could help my SEO and improve my Google rankings and there's no charge for this?

My host: Absolutely!
I'm not sure what "robots.txt" means, but the point is that my host created it and my SEO has gone up since.
Lesson 2: As more tech-savvy people for help.
For example, in December of 2019, my business partner, Peter Nyiri, discovered my traffic from my previous blog, Reflections, wasn't redirecting.
I missed out on traffic and apparently links. The day I put the redirect back in place, I gained 2,000 backlinks from 150 sites!
Link building is ​difficult and ​can be very expensive. Yet it is the most effective strategy to increase organic traffic. Find out how ​to ​do Shotgun link building at a low cost. Click here.
Lesson 3: Speed up your website.
Peter Nyiri sped up my website. He removed unneeded plugins.
He also talked to my host about speeding up the site on their end.
January 21, 2020:
Look: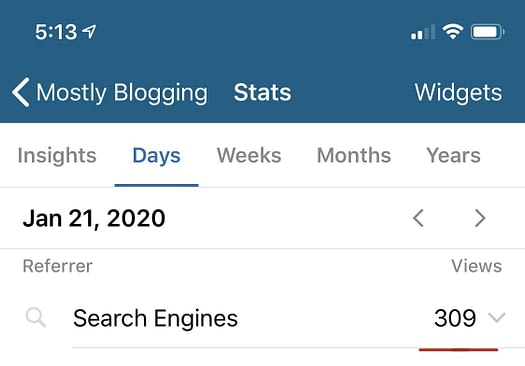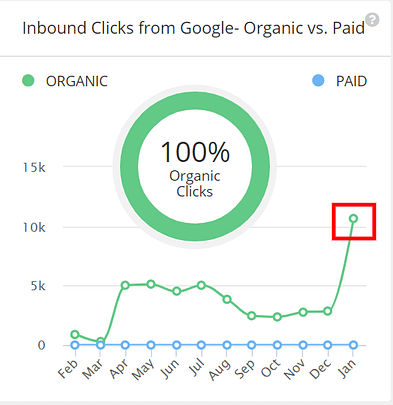 When you compare this with the March 2019 stats, you see my search traffic has doubled from over 5,000 monthly organic clicks to over 10,000 monthly organic clicks.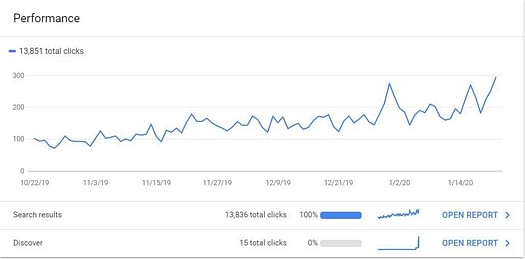 On November 3, search traffic received a low of only 78 clicks. You see two spikes in January. The second, on January 21, shows 298 clicks. This shows my search engine traffic just about quadrupled!
Lesson 4: Fix Broken Links
Peter Nyiri was my protegee. Since he first started blogging, he used his knowledge to get his guest post about ranking on the first page of Google on Google's first page where it stayed for years.
Attend SEO School at the Mostly Blogging Academy and he will teach you as well: Get the trust of Google and get started with traffic generation using long-tail keywords. Click here.
Today, Peter and I are business partners in Mostly Blogging Academy
Peter's explanation for my rise in search engine traffic:
"16 January there was a major Google update. The extra resources probably helped. But my feeling is that reconnecting your old domain also probably helped.
There were tons of broken internal links on the site.
Also remember we fixed stuff from GTMetrix, fonts that were not loading, we added more content to the front page.
Also, don't forget we switched SEO plugins."
Attend Mostly Blogging's SEO School: Do all your keyword research for the next two years and find the best keywords with the correct keyword strategy using ​the best keyword tool. Click here.
More SEO School Lessons
Lesson 4: Add Video
Google likes posts with a variety of media. Video and text make the perfect combination.
This is why embedding video improves SEO:
Watching video keeps visitors longer on your blog.
When people spend longer on your blog, your bounce rate improves, and your SEO goes up.
My Instasize Video review contains 4 videos.

As you can see from the screenshot, my Instasize video post ranks in Position 1 on Google's Page 1. According to KWFinder, almost 1000 people search for the term Instasize video monthly.
My post 3 Free Online Video Maker Tools: How to Easily Enter the Video Age contains 5 videos and continues to pick up search engine traffic for me even though it was written in 2017.
Attend Mostly Blogging's SEO School: Video content is picking up. However, if you have never created video content, it is difficult to get started. The same goes for webinars. Learn how to create simple videos using free tools. Click here.
Wrapping Up: SEO School
This post gave you actionable steps to take in the event your search traffic falls.
Use this post as a checklist to boost your SEO in 2020.
Even if your stats are not flatlining or falling, these strategies are effective for boosting your SEO regardless of how high your stats are.
In closing, if you feel you can benefit from more instruction, Mostly Blogging Academy offers affordable SEO packages with 7 affordable classes. Get all 7 and receive a discount. You receive a free opt-in course valued at $47 with any purchase. Click here.
Readers, please share so bloggers like Dazzle While Frazzled learn what steps to take if their search traffic falls.
I look forward to your views in the comments section. Can you relate to bloggers like Dazzle and myself?
Do you have additional strategies that belong in an SEO School? What suggestions can you add for people to try if their search engine traffic falls?