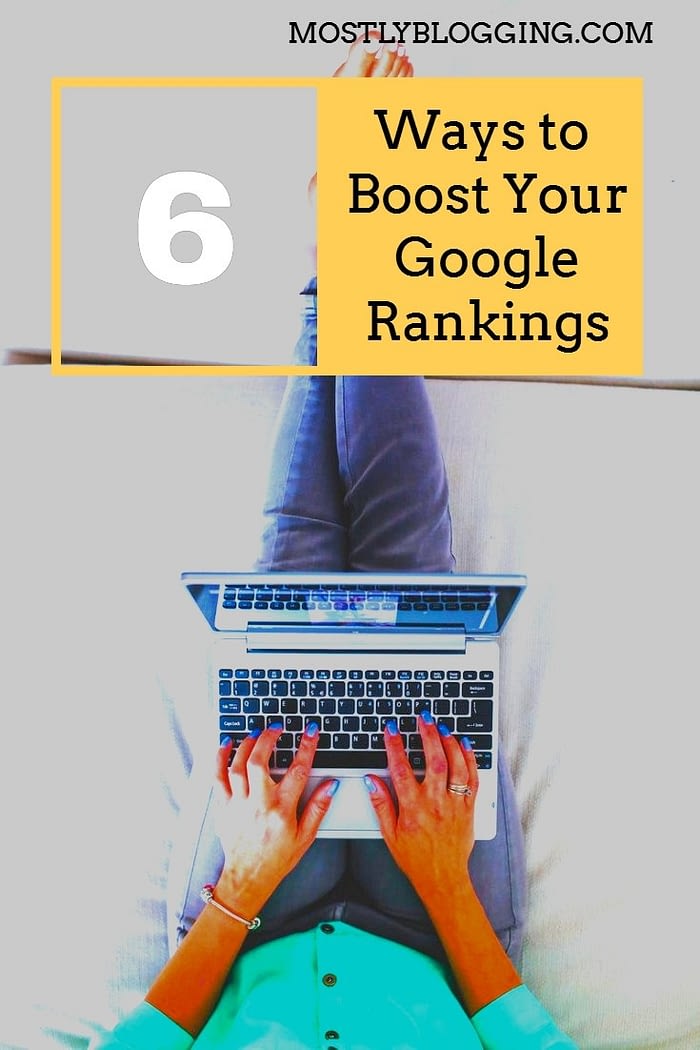 SEO internet marketing can be frustrating.
However, a simple blogging hack turns challenging into simple.
This guide explains how to increase your success at SEO internet marketing by changing your website content.
Updating content is highly beneficial for SEO. All the best SEO blogs recommend it.
And you should do it regularly if you want to skyrocket your reach in Google.
The problem?
It's hard.
Updating content is synonymous with "rewriting content" and next to building links, doing social media, and writing new articles, there just aren't enough hours in the day.
You agree?
Well, the good news is that this post is going to show you how to update your articles the quick and dirty way.
So you make minimal changes but get the maximum SEO boost that comes from having refreshed your site.
Let's go make SEO internet marketing easier!
What is SEO Internet Marketing?
Nikola Roza
As an internet marketing strategy, SEO is extremely effective. Why the proper techniques, you can find your website content ranks on Google for years. 
SEO internet marketing involves understanding user intent and optimizing your website content with keywords that address the user's intentions.
This action plan brings you those SEO internet marketing techniques. 
3 Reasons Why it's Crucial to Update Your Content
You probably know this stuff, but it bears repeating as it's important.
First, Google loves fresh content. It's because content standards rise and keep rising in all industries. Article about X that's coming out today is likely to be much better than one that came out 5 years ago, just from following today's content best practices.
So, advantage your competitors over you.
Second, some queries demand that content be ultra-fresh. For example, my guide on best Black Friday web hosting deals 2020 must be from 2020 and a 2019 version won't cut it at all.
Third, web users prefer to read fresh content because they're biased against older articles which they consider stale.
Often a mistake on their part, but what can you do?
Adapt!
8 Ways to Change Your Content Minimally So You Get a Maximum Content Boost
Before we begin, realize that these are minimal changes. So you'll need to do several of them at once to see good results.
Google's very smart and you can't fool it by fixing a few typos.
#1- Update Your Meta Title and Headline
Meta title, or SEO title, is the most important single element on the page you're trying to rank. As such, changing it signals to Google that a page changed in a significant way.
Even if the article didn't change at all (besides the title) Google will reevaluate it and give it a higher freshness score.
So, change your SEO titles, but do it the smart way. Don't remove the target keywords you probably have. Instead, switch up the words around the keyword. That way you won't lose the rankings you already have.
You can use keyword planner to identify relevant keywords and their chances of ranking on Google's Page 1 for free.
Pro tip: For a stronger effect, do the same with your Headline (H1).
And if you by any case don't have a keyword in H1 tag, now's your chance to include it.
#2- Update Meta Description
Very easy to do. If you don't have a meta description add it now, keyword included.
If you do have it, change it up a bit.
Host blogger's comments: SERPRobot is a free tool that tells you if your keywords ranked on Google. If they did, add those keywords when you rewrite your blog content. Here is a SERPRobot tutorial.
#3- Add a Hero Image
What's a hero image?
It's a huge banner that sits at the top of your blog post and visually tells what the post is about.
For example, here's what it looks like in my blog post about doing affiliate marketing, and driving traffic from Quora.
I made that picture in Canva, and it took me roughly 5 minutes.
And look, it ranks number #1 in Google Image search.
Pro tip
Don't forget to optimize your hero image with basic image SEO.
Things like:
Image filename
Alt attribute
Image caption
This is what makes ranking in Google image search possible.
And it even helps a bit with the general SEO of the page.
#4- Supercharge Your Image SEO
Speaking of images, you do know you can take it further than just adding alt attributes, right?
I suggest you add image captions to some of your images. Make sure your captions are interesting to read and also include your target keyword.
Another small SEO element most bloggers miss is image title attribute.
What is it?
It's a tiny text snippet that pops-up as you hover over the image.
Pro tip: Explain what the image is about and use your keyword once. Because the keyword in the image title attribute is a very small relevance signal.
But it's also new content that helps freshen up your page.
#5- Fix Typos
This is basic advice, but useful. When you see a typo- fix it.
Your content will be better for the users, and since typos will typically be distributed evenly across the page, Google will see you're making changes to the whole page, not just one part of it.
(Note: Read this proofreading guide to learn how to proofread your blog post before you publish it.)
#6- Add New Links
You can add internal and external backlinks to your content.
Internal links send PageRank from that page to the target page. They also send anchor text value, AKA relevance.
Pro tip: Use Link Whisper to make your job much easier. Don't waste time with manual internal linking because on a large blog it's like a bottomless pit.
You could spend days on it and not get it done.
You'd lose your mind first!
What about adding external links?
As for external links, add a few if it'll make your article better.
But don't go overboard as having too many outbound links reduces the PageRank score of your page, and it'll be harder to rank in Google.
And Affiliate Links?
If you have affiliate links on the page, I suggest you leave them be. Affiliate management can be a pain, especially if you remove a converting link and then experience a drop in sales and conversions. Now you have to place it back, but where was it before…
It's best not to remove affiliate links, and you might consider adding a few more.
#7- Add an FAQ section
This is advice that Janice already follows, being an excellent webmaster that she is (note: it's real trouble finding a legit mentor online, now that everyone and their mother are doing SEO. Janice IS the person for the job. Have you checked out her academy?).
For example on her post here about the best lifestyle blog post ideas she added an FAQ section at the end of the guide.
This helped boost her page freshness score. It also helped her rank better and brought even more value to the users.
It's a win-win-win scenario!
P.S.
This is also a simple hack for fixing thin content issues. If you have a page with 300-500 words of content, it's worth it to slap a small Q&A section at the end.
Doing so will immediately transport it from Google Panda's thin content penalty.
#8- Add Some Fancy Code
This is not about changing the text but modifying the underlying code of the page.
For example, here's how bullet points look on my blog:
They're normal bullet points from an unordered list, but I made them fancy (with a plugin called Wp Shortcode Pro) so they look more attractive.
And I remember clearly that once I added them, the page experienced a jolt of freshness from the new code Google just loves to devour.
Remember, Google eats your page's HTML and not the page as humans see it.
Are you ready for more SEO Internet Marketing Hacks?
4 Bonus Tips and Ninja Hacks
#1- Fix the "Published" date
Besides changing the content itself, you should also update the published date to match the day of changes.
Why?
Because of how your site is built and structured.
If you have a blog, then I bet newer article stack on top of old ones? It's probably 10 blog posts per page, right?
So when you publish 100 new articles, then your crucial money article is on the eleventh page of your blog. In other words, it's invisible to Google.
Changing the date pushes it to the homepage where most of your site's authority resides.
For example, look at how many links Janice has hitting her homepage. Her PA is 45 (checked with Mozbar), which is strong!
#2- Use Social Signals
Using social media tools is a must when it comes to driving new eyeballs to your content.
But did you know it's possible to get bulk social shares for cheap?
And that freshly changed page + new social signals are a golden mix and true boon to your overall social media strategy?
It is an instant authority in Google's eyes because those shares come from real accounts.
Like I said, social signals are really cheap and I recommend SEO Butler.
#3- Use Missinglettr
Missinglettr is an A.I. driven social media tool that automatically creates and schedules social promotion campaigns for you.
It's a great tool to keep old posts in the loop and relevant to Google.
I want to talk about it here and my words are just a tease.
Read Janice's awesome Missinglettr review to learn more.
#4- Add Your Page to the Menu
Nothing signifies importance better to Google than a strong influx of fresh PageRank. And it's hard to beat the menu because every link there is overflowing with link authority.
So, if it's really important to you that your page ranks, consider placing it in the top navigation. It will gain a significant boost just from that 1m change.
For example, I know for a fact that Lisa Sicard experienced a nice jolt of new rankings after she placed her AgoraPulse review in the menu.
Conclusion: SEO Internet Marketing
Look, a true update is always going to bring you the best results. Because by updating content you're making it better and you're also including new keywords which means more chances at getting Google's organic traffic.
But it's not always feasible to do a full update, and these tips that I showed you are your second best bet. It's you taking your old, but still good content and giving it a makeover.
That will boost it enough to see awesome results, and also, your higher rankings will last long enough till you get around to do a proper content update.
It's worth it!
Author bio
Nikola Roza blogs about affiliate marketing and SEO and how to combine the two to become successful online. If you want to become a full-time affiliate marketer, make sure you pay his site a visit. Or don't and regret it later:)
P.S. He also freelances on the side. Check out his pricing here!
Host blogger's comments:
Readers, please share so bloggers discover Nikola's SEO internet marketing action plan.
I look forward to your opinions in the comment section. Do you have any suggestions for an action plan on SEO internet marketing?