Are you here for SEO content writing tips?
Here are the SEO content writing tips you'll find in this post:
Optimize your content with long-tail keywords.
Optimize your content for Google's E-A-T criteria.
Optimize your content so user intent is satisfied.
Trying to rank on Google is difficult. The competition gets stiffer with each passing day.
Also, Google has frequent updates.
How can webmasters keep up?
With the SEO content writing tips you'll find in this guide, you can gain an edge on your competition, rank better, boost your traffic, and make readers happier.
Let's get started. Bring on the SEO content writing tips.
What Is SEO Blog Writing and How to Use It to Increase Website Traffic
Search Engine Optimization (SEO) is all about understanding search engines (like Google) and crafting online content that boosts your search rankings and increases the quality and quantity of website traffic that you get to your site.
Blog writing is all about creating engaging content to share your expertise, opinions, and thoughts on specific topics.
Search engines are built to give fast, relevant answers to the queries of billions of people around the world, and in many cases, blog writers have this exact information to share. The trouble is, there are potentially thousands of webmasters around the world all competing to be the top search result for all sorts of different phrases.
What Are SEO Content Writing Tips?
SEO content writing involves the plan, the creation, and the optimization of content with the purpose of getting the content to rank in Google's Search Engine Results Pages.
Related Reading: You can use SERPRobot, a free Search Engine Rank Checker, after you apply these SEO content writing tips to see where your posts rank.
One of the SEO content writing tips includes content creation. That's where SEO blog writing comes in.
What is SEO Blog Writing?
SEO blog writing is the process of writing online blog posts to rank on the first page of Google (or other search engines) for specific phrases (or keywords) that people search for.
There are many factors to consider when writing an SEO blog post from targeting keywords that people actually search for to promoting your pieces online to earn backlinks and authority.
There are hundreds of SEO ranking factors that go far beyond SEO blog writing like security, page speed, and mobile-friendliness but there are some things that all blog writers, and website managers that are thinking about starting a blog, can and should do to improve their overall SEO and increase website traffic.
Increase Website Traffic With An SEO Blog
Let's assume that you already have a website. Maybe you run a global travel blog, an affiliate marketing website in the Australian sports betting industry, or perhaps you own this website dedicated to improving blog traffic and monetizing your online blog.
Before we get into some practical ways to increase website traffic through SEO blog writing, let's get to know Google a little bit better.
When Google quality testers evaluate websites to improve their search results they use the acronym E-A-T.
E-A-T stands for Expertise, Authoritativeness, and Trust and there are countless ways that website owners can boost their E-A-T and thus increase their search rankings and website traffic – some of these are related to SEO blog writing.
Target long-tail keywords to improve your expertise
So, you have your website and you have a niche. On your homepage and main subpages, you should already be targeting branded keywords or primary keywords related to your site.
If you run a travel blog, these keywords might be "travel blog" or the name of your blog. If you are the Australian sports betting affiliate site manager then these may be "betting sites" or "bonus betting sites". And if you own Mostly Blogging then you are probably just going for "Mostly Blogging".
But what about all of the other topics related to your site, but not covered by your main pages?
That's where SEO blog writing comes in. With SEO blog writing, you can target specific, and less competitive, long-tail keywords.
Just consider this blog post. The search term "SEO blog writing" has 10 searches every month in the US while the term "increase website traffic" has over 900.
Notice how we use these terms again and again throughout the article, URL, and headings on this page (without being spammy).
Here we have picked one easy, and one harder keyword to target that is related to the content on Mostly Blogging – blog writing and SEO.
In this way, we are increasing our overall expertise for the topics of blog writing and SEO, while also trying to win some smaller and less competitive keywords related to these more general topics.
There are plenty of other ways to increase your expertise through SEO blog writing. For example, internally linking to relevant articles within your own site tells search engines that those articles are also good answers for topics related to the link's anchor text.
Now that you know a little bit more about expertise, let's move on to authority.
You can think about authority by drawing a parallel to the medical field. You are more likely to go to a doctor that your friends and family recommend, right?
Search engines determine a website's authority in a similar way. When one website links to another website, they are essentially telling the search engine that the externally linked website is an authority on the topic that is linked.
What this means is that you will want to try and obtain as many backlinks from quality websites (preferably in your niche) as you can.
Google may punish you for obtaining spammy links but if you create great content, that ranks well for specific keywords, you will likely obtain natural links from websites that trust your own.
Bolster your trust with good user values
The final part of Google's E-A-T acronym is trust.
Just like in the offline world, trust can be created in many different ways but online trust is primarily determined by user metrics like click-through rate (CTA), bounce rate, time on page, page views, and more.
Click-through rate is the percentage of users who see your website on the search engine results page (SERP) and then click on your site and visit it. Bounce rate is the percentage of users that click on your result but then leave without interacting with your site. Time on page and the number of page views are pretty self-explanatory.
In general, the websites with the best user metrics compared to their competitors are the ones that satisfy user intent the most and they will rank better for relevant keywords. That's why it is important to focus on creating detailed, user-friendly content that relates to the searches and keywords that you are trying to win.
Look at the comment I received on my post explaining how to get out of Facebook Jail: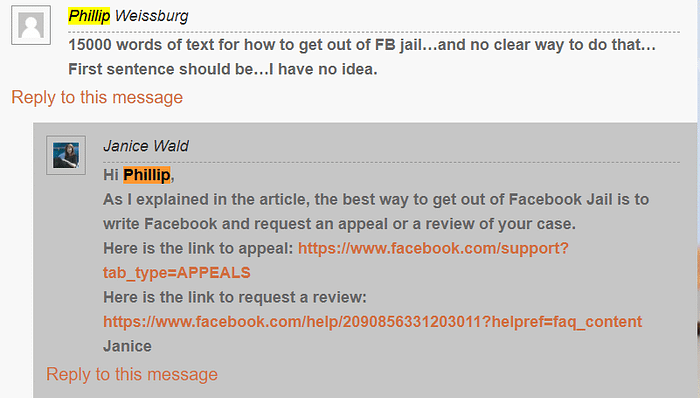 The commenter was correct in his criticism. My post did not satisfy user intent. I went back in and rewrote my introduction and put the information that satisfied user intent upfront.
If you don't follow these SEO content writing tips, you risk receiving these critical messages as well as losing rankings and readership.
Note: Trust is determined in many ways beyond the user metrics outlined above, and if your website provides users with the information that they need in five seconds then having a short time on-page will not negatively affect your level of trust but do know that having good user metrics is still important.
SEO Content Writing Tips: People Also Ask
What is SEO Content Writing?
Follow these SEO content writing tips for effective SEO content writing: Try to rank for long-tail keywords, address Google's E-A-T criteria, and optimize for user intent.
Wrapping Up: SEO Content Writing Tips
To recap, this post reviewed these SEO content writing tips:
Target long-tail keywords.
Use backlinks.
Build trust.
At the end of the day, search engines aim to give the best user experience to searchers. Therefore, specific and expert information given in the form of well-crafted SEO blog posts is one of the easiest ways to satisfy users and increase website traffic quantity and quality.
Readers, please share these SEO content writing tips that work to boost Google rankings in 2021.
I look forward to your views in the comments section. Can you suggest additional effective SEO content writing tips?
Authors: Janice Wald and a Contributing Author

Janice Wald is the founder of MostlyBlogging.com and co-founder of the Mostly Blogging Academy. She is an ebook author, blogger, blogging coach, blogging judge, freelance writer, and speaker. She won the Best Internet Marketer Award and the Best Blogger Award at the 2021 Infinity Blog Awards. Wald was also nominated as 2019 Best Internet Marketer by the Infinity Blog Awards and in 2017 as the Most Informative Blogger by the London Bloggers Bash. She's been featured on Small Business Trends, the Huffington Post, and Lifehack.
This post was made possible by the support of our readers.